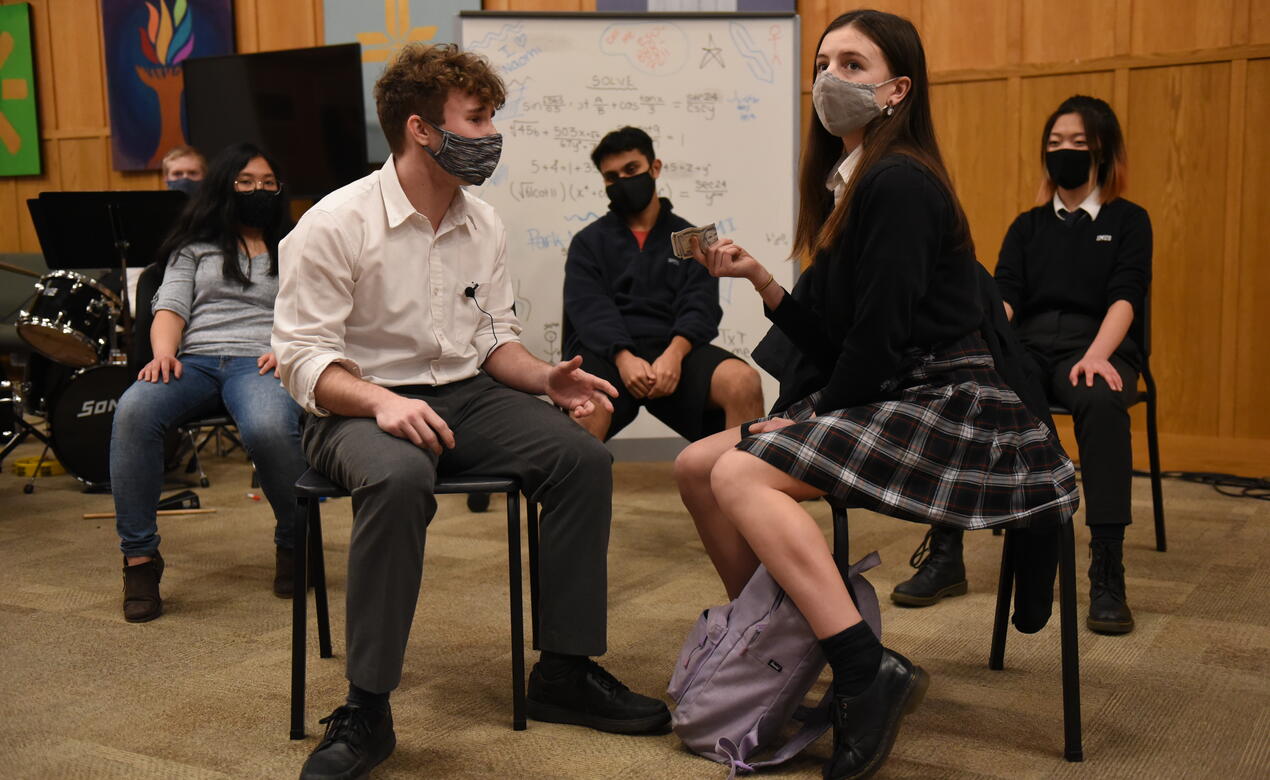 Putting on a high school musical is a complicated and massive undertaking at the best of times. Throw in Provincial Health Orders, safety plans, student cohorts, physical distancing and mask policies, and it's clear that safely staging a musical during a pandemic has significant added challenges. But when it all comes together, it's that much more rewarding!
When school began six months ago, the prospect of the annual musical seemed unlikely. As an added opportunity to the music program, the new Musical Theatre Club was founded so interested performing artists could safely get together twice a week to share their interest. But when students came across 21 Chump Street, a 14-minute musical from Lin-Manuel Miranda, they saw an opportunity to do something more – and something different.
This year, 21 Chump Street is almost entirely a student-run production, with some behind-the-scenes support from faculty. The directors? Two students in Grades 10 and 11. The musical director? A Grade 12 student. The actors and musicians? All students.
To meet health and safety guidelines, there are two casts (Grades 9/10 and 11/12) and all performers (including musicians) remain masked during the shows. The students this week have been presenting the show for small cohorted groups in the Chapel.
We sat down with the directors – Lucy O'Connor (Grade 10) and Devon Oneschuk (Grade 11) – and musical director Caroline Luo (Grade 12) to learn about this year's unusual musical theatre experience.
Why did you want to take on a director/musical director role?
Lucy – I thought it seemed like a cool opportunity to be in a bit more of a leadership position. Honestly, I wasn't thinking about being a director at first – I was just happy to be involved in musical theatre again. There seemed to be a bit of healthy competition between my friends and I to be the leads, and I thought, "They are doing a great job. It would be equally as fun to take on a director role." There was no downside to it. 
Devon – I've been in a lot of musicals but I've never really been interested in directing before. I saw this as maybe my only opportunity in high school to take on a leadership role like this. I just figured it would be fun to have a change and try something new, and it's been a really awesome experience
Caroline – I wasn't part of the Musical Theatre Club, so [choir teacher] Mr. Butterfield reached out to me in January and asked, "Are you interested in being the music director?" It sounded cool because it involves conducting and trying to problem solve, and it's something I've never done before. I felt like it would be really interesting and also a good challenge for me to do it, so I said yes.
What has the experience been like for you?
Caroline – I had been in the musical the last few years [in the ensemble and in the orchestra] but this is a really different experience. I have never conducted before so I've had to learn that. People have been really understanding and collaborating with me, which is really good. And it's nice working with really good musicians who I can go to for advice. One of the challenges I had was we didn't have the full score when I joined, just the piano-vocal score, so I had to listen to the recordings of the musical and then write out the parts for all of the instruments. That was really hard for me because all I know is piano – and I know nothing about percussion – but I have perfect pitch, so I can listen to the recording and I know what the notes are and what instruments are playing.
Devon – It has been more work that we initially expected but having Lucy and Caroline has really helped along the way. [Lucy and I] kind of stepped into it thinking, "We've both been in musicals, I'm sure we could just let people do their thing and we can kind of see what happens," but it definitely turned more into directing, choreography and administration work than we thought. Even something as simple as scheduling rehearsals, we wanted to create an environment where everyone could be involved and everyone could be at the rehearsals and collaborate because this is definitely a group effort. We wanted everyone to have an active voice in this process because this is so student-driven. I've always had respect for the directors, but I have so much more respect for the directors now just because of all of the work that it takes.
Lucy – My favourite part is the very artistic directing part. It's fun to watch the professional video on YouTube, which we have for inspiration, and adapt it to our musical. But it has also been very valuable to learn how to communicate well with people and figure out logistics – that's definitely been a very good learning experience. It's a very nurturing environment to do this because I have Devon to lean on and we have adults to help. I feel like it's a lot of responsibility, but it's definitely rewarding and it's definitely really fun.
How has COVID-19 impacted the experience of staging a musical?
Lucy – It has been very different and challenging, but not in a bad way. I think it's almost more valuable to learn, for example, how to express your face while wearing a mask, because then you're able to really understand your acting and how to convey your message. So there definitely are some good things that have come out of this while being challenging. I'm just really grateful that we've been able to do something this year because originally I was thinking there'd be no musical.
Caroline – I'm really grateful for this experience because this opportunity to be musical director wouldn't exist [in a normal school year]. I'm learning so much and this has been one of those unique chances where this is a great opportunity for me to learn. This is going to help prepare me for the next time I'm doing performance ensembles. 
Devon – This show wouldn't be happening without COVID; so as much as there are challenges, this whole experience would never have come about if there wasn't some problem-solving that had to happen. So in some ways it's been frustrating to manage cohorts and masks and distancing – there's supposed to be a kiss in the show that obviously won't be happening – and all of the hurdles, but it's rewarding taking each one of them on as we go. Everyone's been so patient and so understanding through all the uncertainties, and we've all just been like, "We're going to do this, we're going to put in the work, but we're going to roll with it." I feel like we really have everything sorted out to the best of our abilities and the problem-solving involved has just made us all become closer and really work towards something student-made. Everybody involved is very grateful that this small little piece of musical theatre was able to happen this year.