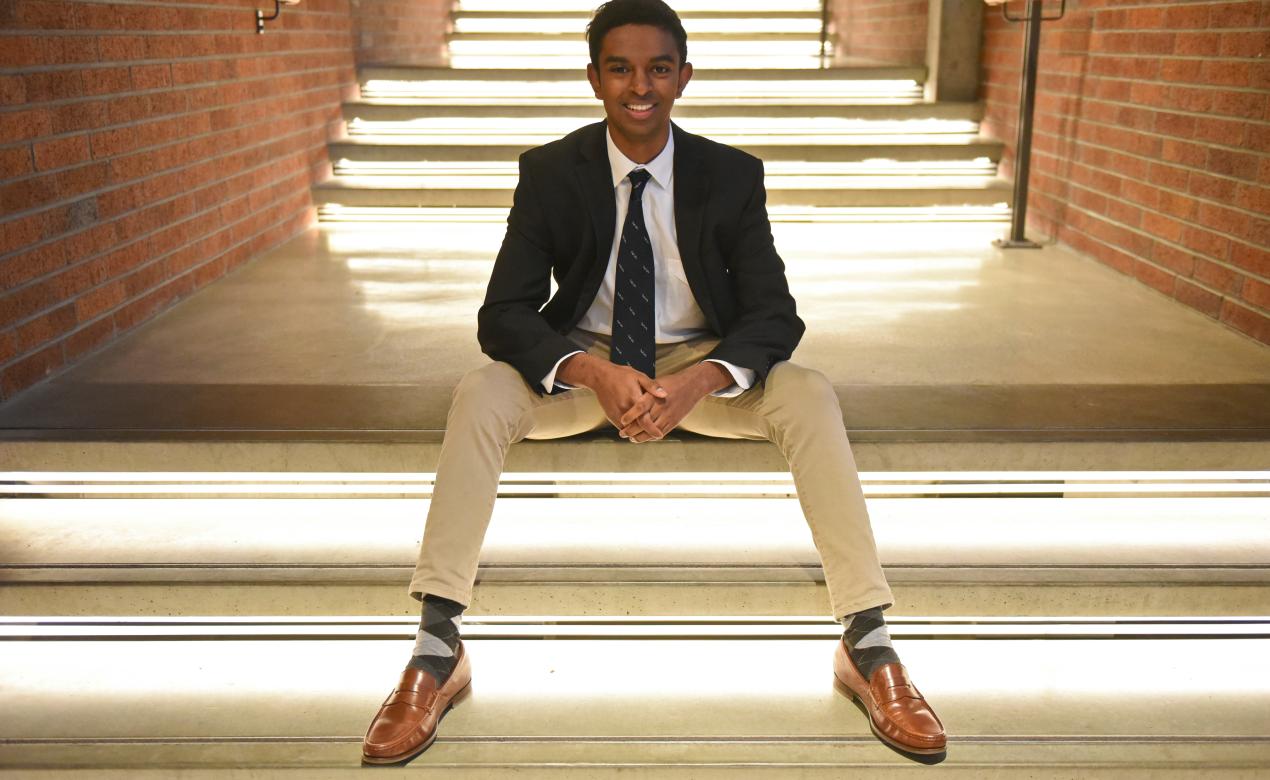 This story originally appeared in the Spring 2020 edition of School Ties.
Dawit Workie '13 and Anthony Quainton '46 arrived at our school as boarding students from Seattle, albeit 65 years apart.
Their stories, while distinctly different, follow a similar path from reluctant student to celebrated scholar and distinguished professional. Both alumni were invited back to campus to speak at the 2019 Founders and Benefactors Dinner as part of a celebration of the school's legacy and culture of philanthropy.
Small beginnings
Missing home and somewhat doubtful of the community they would find on campus, Dawit joined SMUS in Grade 8 when he was 13 years old, while Anthony was nine when he started studying at St. Michael's School. It didn't take them long to realize that they had joined a special community that opened the world to them.
"I don't believe there are as many tight-knit communities as the one I was lucky enough to enjoy for those memorable five years," Dawit said. "Living with 40 boys from across the globe was certainly eye-opening. Kids from Hong Kong, Veracruz, London; kids who had grown up in fundamentally different cultures from different parts of the world, and I remember thinking to myself 'there is absolutely no way I'm getting along with any of them.' It didn't take long for me to realize how wrong I was.
"Rugby, in addition to basketball, accounted for some of my most cherished memories; memories that took place in countries I would have never imagined visiting before SMUS. Whether it was trips to Argentina or Hawaii, whether it was following a heart-wrenching loss or an exhilarating win, I continue to cherish each one of these special moments with some of my closest friends today."
The student body was less geographically diverse for Anthony, but that didn't mean they weren't introduced to the world. On Sunday evenings, in their boarding house common room where a fire roared in a little pot-bellied stove, Headmaster Kyrle Symons would read to the boys from the works of Rudyard Kipling and Sir H. Rider Haggard.
"Adventures in India and South Africa were there in our imaginations for our taking," Anthony recalled. "It was a world to be explored, one in which we were expected to be engaged even from our seemingly remote perch in Victoria."
Big impacts
Both went on to prestigious post-secondary educations. Dawit earned a scholarship to Dartmouth College where he graduated with a BA in Mathematics and Social Science with high honours. Anthony earned a BA from Princeton University and a B.Litt degree from Oxford University as a Marshall Scholar.
"SMUS opened the door to Dartmouth which turned out to be an amazing experience itself," said Dawit, who was the beneficiary of several scholarships and bursaries as a student and is now a SMUS donor. "I wouldn't have been both academically and athletically prepared if it wasn't for my time at SMUS."
He is now an associate on the investment team at Battery Ventures in Boston, Massachusetts.
Anthony is a Distinguished Diplomat in Residence Emeritus in the School of International Service at American University in Washington, D.C. Before joining the faculty, he spent 38 years as a member of the United States Foreign Service. He held posts as ambassador to Peru, Kuwait, Nicaragua and the Central African Republic. A SMUS donor for more than three decades, he has also been an advisory governor on the school's Board of Governors since 2010.
"When thinking about where I was before SMUS, and those five years of unforgettable experiences, unbelievable friends, the academic and athletic rigour and the doors SMUS opened, to put it simply, it was pretty life changing," Dawit said to the guests at the Founders and Benefactors Dinner. "It has given me the desire and hope to be in a position one day where I can give back and provide the same opportunities to the next generation of students."
That is a sentiment echoed by Anthony, who noted that the early benefactors of the founding schools could not have dreamed of the buildings, bursaries and sports facilities that would be afforded to the school through the generosity of its community. They serve as an example to us today, he said, as the current community of alumni, parents, students and staff contribute to building an "even greater school for the 21st century."
"You will cherish and recount the stories of your time here. In addition, you will, I know, stay committed to the school's culture of excellence, its commitment to developing the leadership potential of all, and its willingness to embrace the diversity of this city, this country and this world," he said. "We know we are not alone in this rapidly changing world. It is ours to change. It is ours to support."
---
Give back
If you are interested in joining Dawit Workie '13 and Anthony Quainton '46 in giving back to the school, visit smus.ca/giving to learn more.