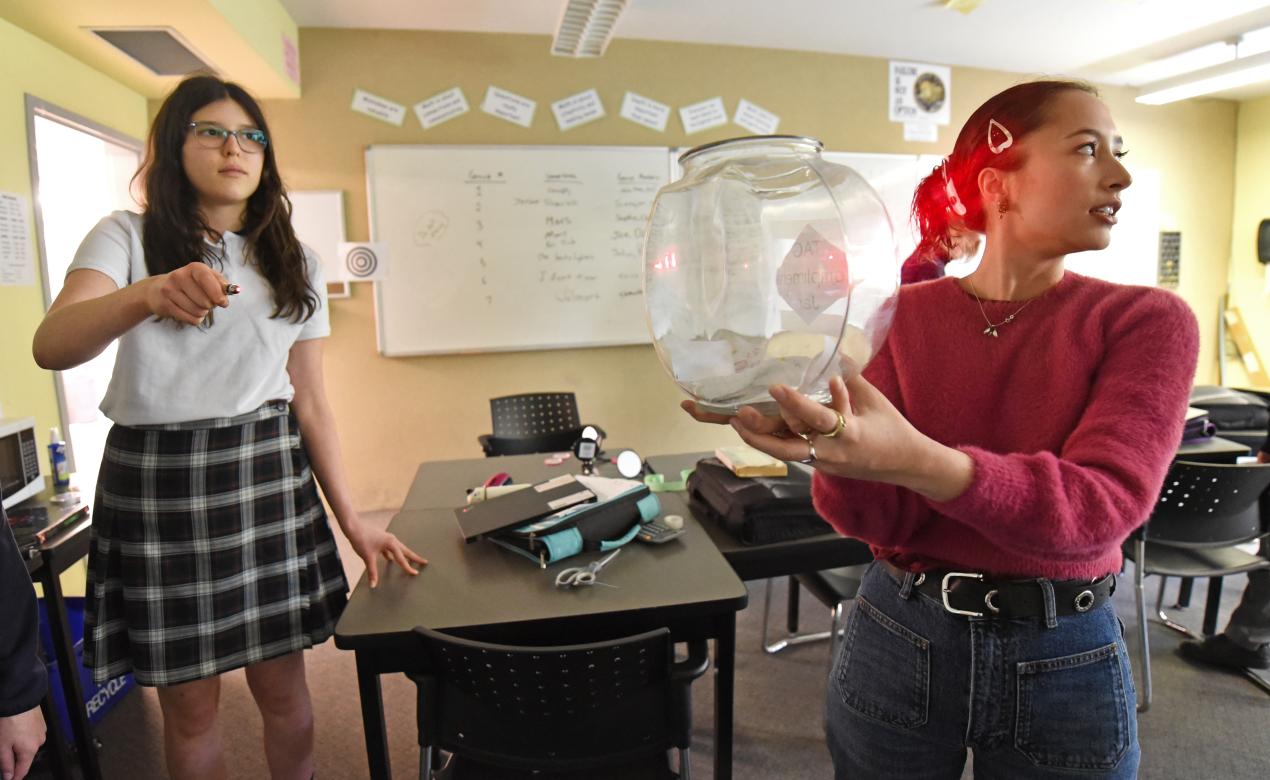 Ann Makosinski steadily holds up an empty fishbowl in her cupped hands. Her eyes scan the walls of a Middle School classroom in search of a small red beam of light.
Today, the 2015 alumna, known for her science and engineering prowess, is working with Grade 8 students as they enjoy a hands-on activity introducing them to electromagnetic radiation. Using a red laser pointer and mirrors, the class was challenged to hit targets around the classroom by reflecting the band of visible light off as many surfaces as possible.
Shining the laser through the fishbowl at the right angle, as discovered by students Keith and Ella, splits the light into two separate beams to hit two different targets.
"That's really creative!" Ann says to the pair of Grade 8 students, impressed by their ingenuity and ability to think outside the box, as she lends them her hands to help hit the targets. 
Ann, who now lives in New York, recently returned to SMUS to share her story and help inspire a younger generation of creatives. During her multi-day visit, she spoke in assemblies and at Alumni Weekend chapel (scroll to the bottom of this story to watch the full chapel), and worked alongside students in the Junior School Imagination Lab and in science classrooms.
A Bit About Ann
Ann attended SMUS from Grade 4 to her graduation in 2015. From an early age – even before arriving at SMUS, Ann was taking apart electronics, creating inventions and bringing her ideas to life.
"I wasn't given many conventional toys as a kid. My parents wanted me to be bored because what happens when you allow your mind to be bored is you're forced to be more creative with whatever you do have around you," Ann says. "My first toy was a box of transistors and other random electronic parts. I would take my hot glue gun and resources from around the house and make inventions."
In Grade 6, Ann entered her first science fair. Her interest stemmed from going to the science fair at the University of Victoria to see friends from her old school participate.
"I think I was the only person at SMUS doing science fair projects. I was very self-conscious, so I didn't tell most of my friends I was doing science fair projects," she says.
During her time at SMUS, Ann entered 10 science fairs. It was her Grade 10 science fair project that ultimately changed her life.
Inspired by a friend in the Philippines who failed a grade in school because she didn't have electricity and couldn't study at night, Ann built a functioning battery-less flashlight powered only by kinetic energy: the heat of the human hand. That invention landed her at the worldwide Google Science Fair at the start of her Grade 11 year, where she won best in her age category.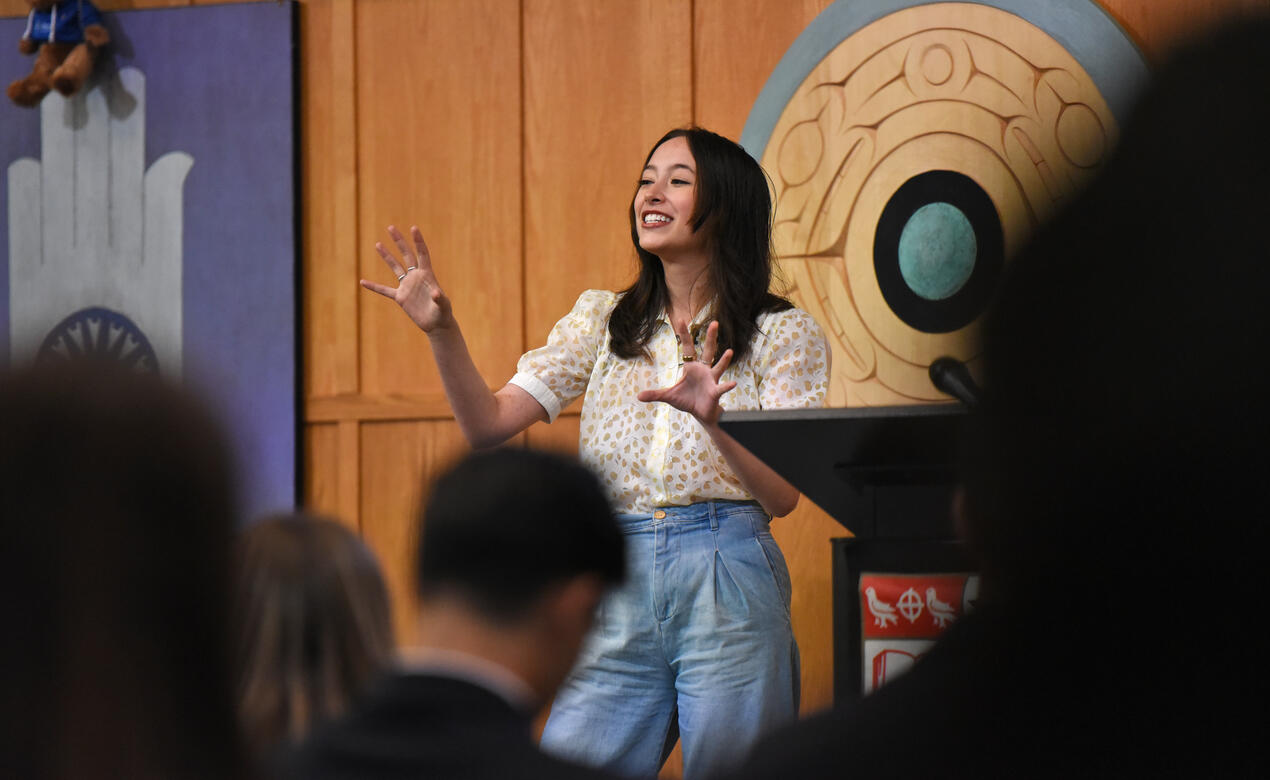 "That's when things totally changed for me. I came back here for Monday assembly and one of my teachers pulled me up in front of everyone and announced that I'd won," she says. "I had tried hiding. I'd done science fair for so long because I was afraid people would judge me, and all of a sudden this is happening in assembly. I was like, 'Oh, god!' – but it was a beautiful growing experience."
Through her Grade 11 and 12 years, Ann spent a lot of time away from school travelling to conferences and public speaking events. She says it was an exciting time for her, and she felt supported by her teachers who provided her the flexibility and understanding to allow her to follow this path.
"I'm truly thankful for the wonderful coming-of-age experience SMUS gave me."
The Science of Art and the Art of Science
"To develop a complete mind, study the science of art, study the art of science. Learn how to see. Realize that everything connects to everything else."
With a group of intent Grade 2 students surrounding her, Ann points to a poster in the Junior School Imagination Lab that displays the Leonardo da Vinci quote.
"I found science fairs gave me lots of skills I still use, a great combination of science skills and art skills. That's why that da Vinci quote is really appropriate for a tinkering classroom," she says. "I'm so happy to see this whole classroom is about science and art coming together."
The science component of creating and inventing is coming up with an idea, researching, prototyping and building. The art component, she says, is writing a report, making a poster board that is clear and easy to follow, and speaking comfortably and confidently to both children and adults when presenting your project.
As she approached graduation, Ann says she realized how important both of these disciplines were to her.
"I wanted to have a balance of science and art in my life, I shouldn't have to choose. I have a passion for storytelling, film and writing, but I also love tinkering and inventing so why can't I do both? I didn't want to have just one or the other," she says.
She turned down an engineering scholarship to take an arts program at the University of British Columbia. She subsequently moved to New York, where she studied acting and continued to innovate and build on the side. She invented the eDrink, a mug that charges your phone by converting the heat from a hot drink into electricity, as well as a line of children's toys that run off green energy.
At 24 years old, Ann has been named to top 30 Under 30 lists by both Forbes and Time magazines, has been named Popular Science's Young Inventor of the Year, and has a slew of other high profile accolades and recognitions under her belt.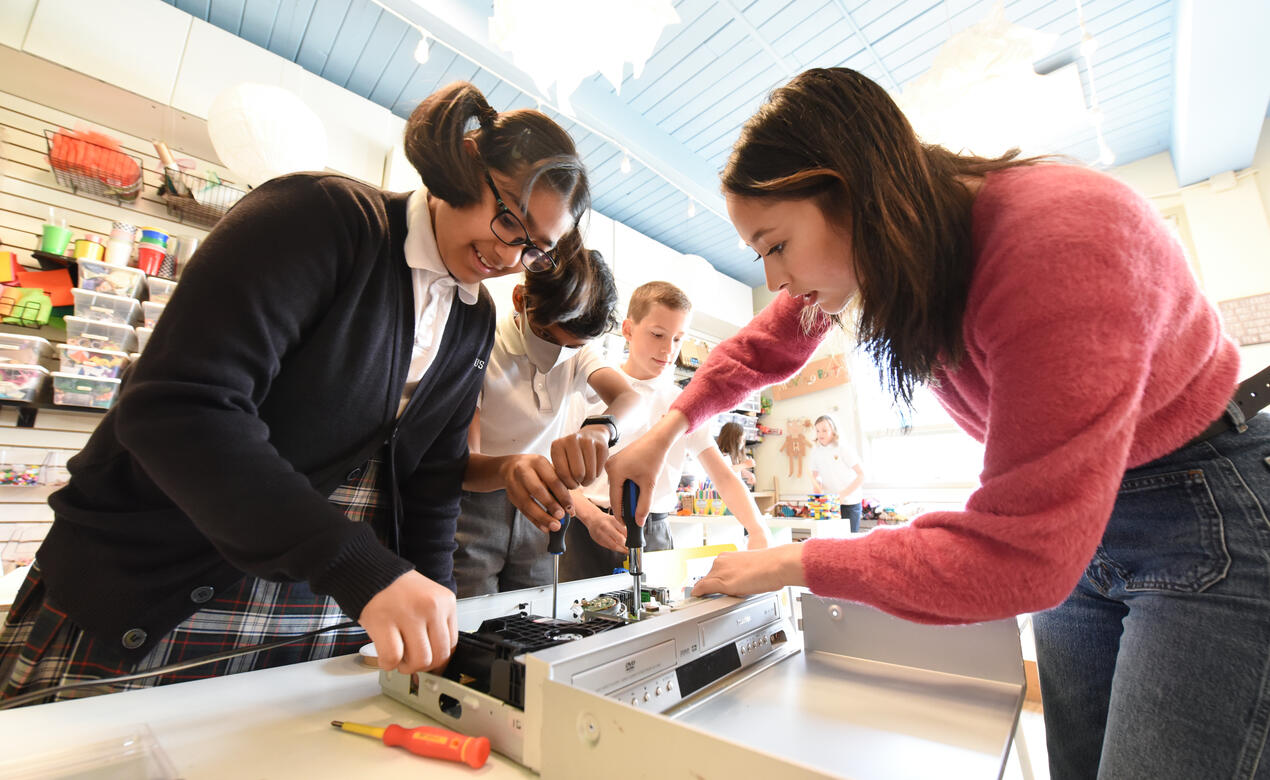 Ann credits so much of who she is today – a scientist, an artist, a creative innovator, an inventor – to the path her life took. She points to the take-apart station in the Imagination Lab where Grade 2 students are tinkering with an old VCR/DVD player as being reminiscent of her own childhood.
"I'm really excited you have this space to play around. I was doing that exact same thing when I was your age: taking apart old printers, computers, telephones, anything I could get my hands on," she says. 
As evidenced by the catalyst for building the human-powered flashlight, Ann is determined to use her skills and interests to make a difference in the world – even if that difference is in a classroom.
As she helps Grade 8s learn about lasers and takes apart a VCR alongside Grade 2 students, it's also evident that she naturally inspires other young people to embrace who they are (especially if they love science fairs!), follow their own path, and never give up what they are passionate about.