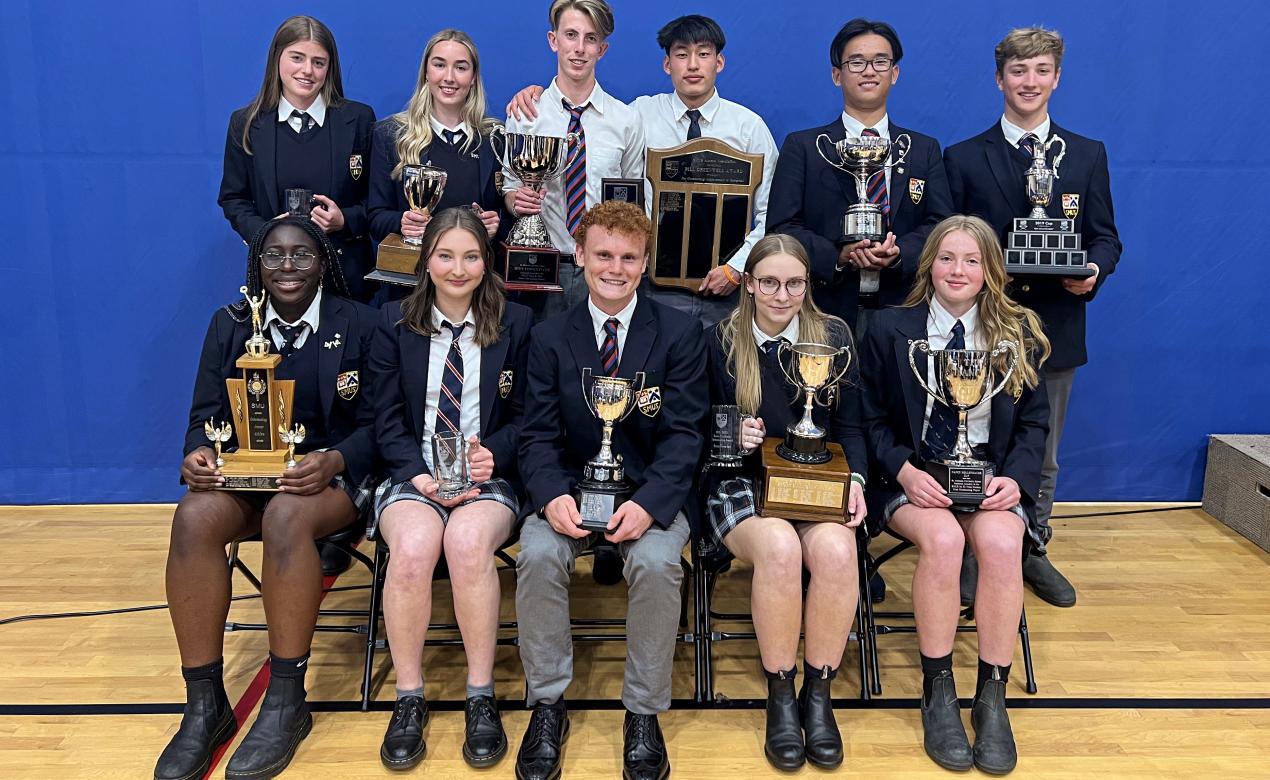 The 2021-22 athletics season came to a close last week, marking a momentous year of competitive sports after an 18-month hiatus.
Our athletes hit the ground running in September with team tryouts and didn't let their feet off the gas through the end of the spring sports season this past weekend at the last of the provincial tournaments.
Over the course of the year, six SMUS team won Island titles and 12 teams qualified for provincial tournaments. Moreover, squash players and rowers left their mark on the national stage.
Of particular note, the Field Hockey team earned silver at provincials, while the Tennis and Senior Girls Basketball teams earned bronze. Grade 12 runner Tion McLeish finished second in the Senior Boys Cross Country provincial race in the fall, and earned another two medals – gold and silver – at Track and Field provincials in June.
SMUS squash players won two gold, two silver and one bronze medal at provincials, and another gold and silver at the SMUS-hosted Canadian Junior Squash championships. On the water, the Rowing team came back from nationals in Ontario with four gold medals and five silvers.
Many top performers were recognized at the recent Athletic Awards Banquet. Congratulations to all athletes who took part this year and congratulations to those listed below who were honoured with a SMUS Athletic Award.
Major Awards
Parents' Auxiliary Cup – Outstanding Male Athlete
Calum Webber-Smith
Runner up
Tion McLeish
Peyton Cup – Outstanding Female Athlete
Makena Anderson
Runner up
Charlotte Hardy
Parents' Auxiliary Sportsmanship Award
Anna Fowler
Outstanding Junior Athlete
Chioma Duru
Billy Greenwell Award (Boys Basketball) 
LeRoy Wang
Dalziel Cup (Boys Rugby)
Eric Xiong
Nancy Mollenhauer Cup (Field Hockey)
Rebecca Stone
Legacy Cup (rowing)
Markus Muller
Judy Tobacco Cup (track and field)
Tion McLeish
Athletic Director's Merit Award
Alex Brown – Squash
Tion McLeish – Athletics
Team Awards
Boys Basketball – Jonathan Nguyen
Girls Basketball – Charlotte Hardy
Badminton – Jonathan Nguyen
Cross Country – Calum Webber- Smith
Field Hockey – Talia Pike
Golf – Jay Park
Boys Rowing – Malik Salamatian
Girls Rowing – Emma Curry
Girls Rowing – Sydney Sugar
Boys Rugby – Calum Webber- Smith
Girls Rugby – Natalia Schmidt del Rio
Sailing – Ava Galloway
Boys Soccer – Finn Klenz
Girls Soccer – Eva Cuddihy
Squash – Ryan Chow
Tennis – Paige Rothwell
Boys Track and Field – Tion McLeish
Girls Track and Field – Brianne McLeish
Boys Volleyball – Will Liu
Girls Volleyball – Delaney Arkell