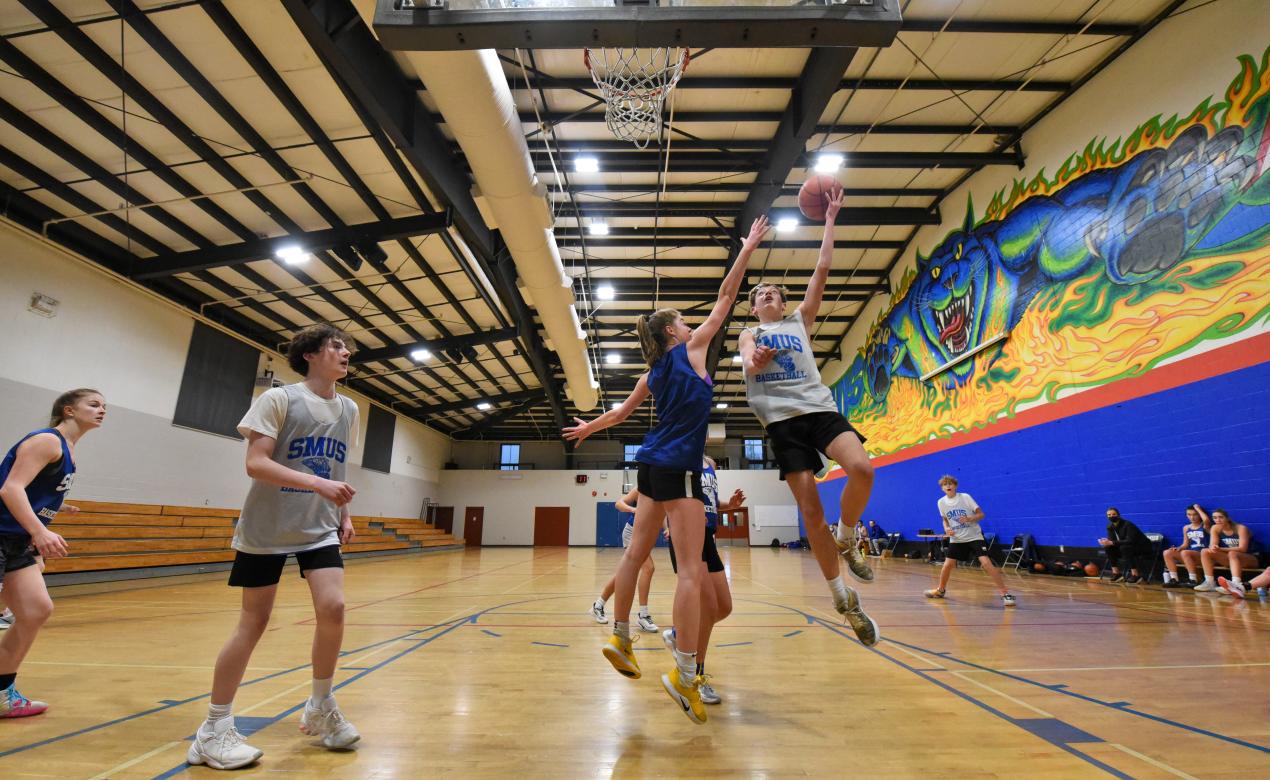 Second term sport continued to move along smoothly enough, even though disrupted at times by COVID-19 rescheduling, shifting government health orders and Ministry of Education policy.
Basketball
Basketball has seen many successes to date, with the girls taking pride of place. At the Junior Girls level, SMUS remains ranked No. 1 in the province, cruising through local opposition but more importantly recording a thrilling overtime victory at No. 2 Seaquam. In this 60-58 win, the Blue Jags overcame a 10-point deficit with just four minutes remaining in regulation. 
Alex Motherwell continued her recent fine play with a team high 15 points, while Maddy Albert, Olivia Vincent and Chioma Duru all figured prominently. 
Then, in the City playoffs, the Blue Jags moved to the final with a straightforward win over Spectrum before negotiating a sticky patch against Reynolds in the championship game. Charlie Anderson played a starring role with a game high 24 points. Albert was selected a tournament All-Star and Vincent was named MVP.
Meanwhile, the Senior Girls enjoyed four comfortable league wins, versus Belmont, Oak Bay, Pacific Christian School and Parkland, securing top seed for the upcoming AA Island tournament.
However, the BC No. 2 AA team did fall twice on an exhibition swing to the mainland. A hot start at No. 3 York House went for naught as the Tigers clawed back to triumph 58-57, before some late-game turnovers allowed No. 5 Notre Dame to come from behind and win 63-60 in overtime.
Avery Geddes, Charlotte Hardy and Brianne McLeish all played well in a losing cause. 
On the boys side, the Grade 9 Boys met their first real resistance of the season, well-beaten by both BC No. 2 Sullivan Heights and a scrappy Mark Isfeld. Some consolation came in the form of a big victory over Oak Bay. Davis Hardy and Wil Woods played very steadily, with the group now under no illusion as to the level of physicality required for playoff success. Next up is the full Island Tournament February 25-26 in Ladysmith.
The Junior Boys, based on recent victories over Claremont and Lambrick Park, completed league play at 7-1. As a result, the team secured top seed for the upcoming City playoffs. Damon Bains and Camilo Libreros Rios have shown very solid form, with newcomer Leupold Wang and Kian Colgate anchoring the defence. At forward, Evan Menard is rounding nicely into form.
In the City tournament, after a decisive victory versus Reynolds, the squad competed against a tenacious Claremont team, giving away multiple double-digit leads before scrambling home 54-51. Then, in the final versus Oak Bay, the Blue Jags were on even terms late into the fourth quarter before costly turnovers proved their undoing. Bains and Libreros made the All-Star team.
The Senior Boys Development team looks to complete its league commitments. Not dismayed by a last-second defeat by Claremont, the players, led by Phong Nguyen's 35 points, rebounded nicely to defeat Belmont.
The Senior Boys squad remained top of the local AAA competition, moving to 5-0, behind the strong play of Ethan Woods and Max Clayton. The wins, versus Parkland, Stelly's and Edward Milne, set up an important top-of-the-table clash versus Reynolds to determine final City playoff seeding. In this matchup, SMUS performed very strongly, romping home by an unexpected 36-point margin. Two comfortable playoff victories, versus Frances Kelsey and Stelly's, then followed in the City tournament. 
A final matchup against Vic High will determine pairings for the full Island championship, set for February 24-26 in Courtenay.
Rowing
Our rowers took part in a virtual regatta, the Beat the Beast Erg hosted by St. George's School. The event drew athletes from several Vancouver-area clubs, in addition to clubs and schools from the Fraser Valley, the Interior and Vancouver Island.
Forty-five SMUS athletes took part, many experiencing their first erg competition. In the U17 Novice Men division, Finley Rolfe (1st), Tiger Zhang (2nd) and William Song (3rd) led the way, while at U17 Novice Women Julie Schoch won silver. Both school groups placed seven rowers in the top 10 finishers.
Other medalists included Ava Tan (1st) and Emma Curry (3rd) in the U19 63kg race Owen Vincent (1st) in the U19 Men category, and Markus Muller (2nd) in the U19 72kg event. A good number of others also finished in the top 10.
Water and dryland training continues through this month for our rowers, with the first spring regatta set for March 5-6 at Elk Lake. 
Rugby
On field, rugby is well underway, with enthusiastic groups of Senior Boys, Junior Boys and Girls training several times a week. Congratulations to Dave Duru and Matthew Bennett, both selected to the Canada U18 camp to be held April 11-18 in Guelph, ON. The school season proper begins Tuesday, March 1.
Vivat!