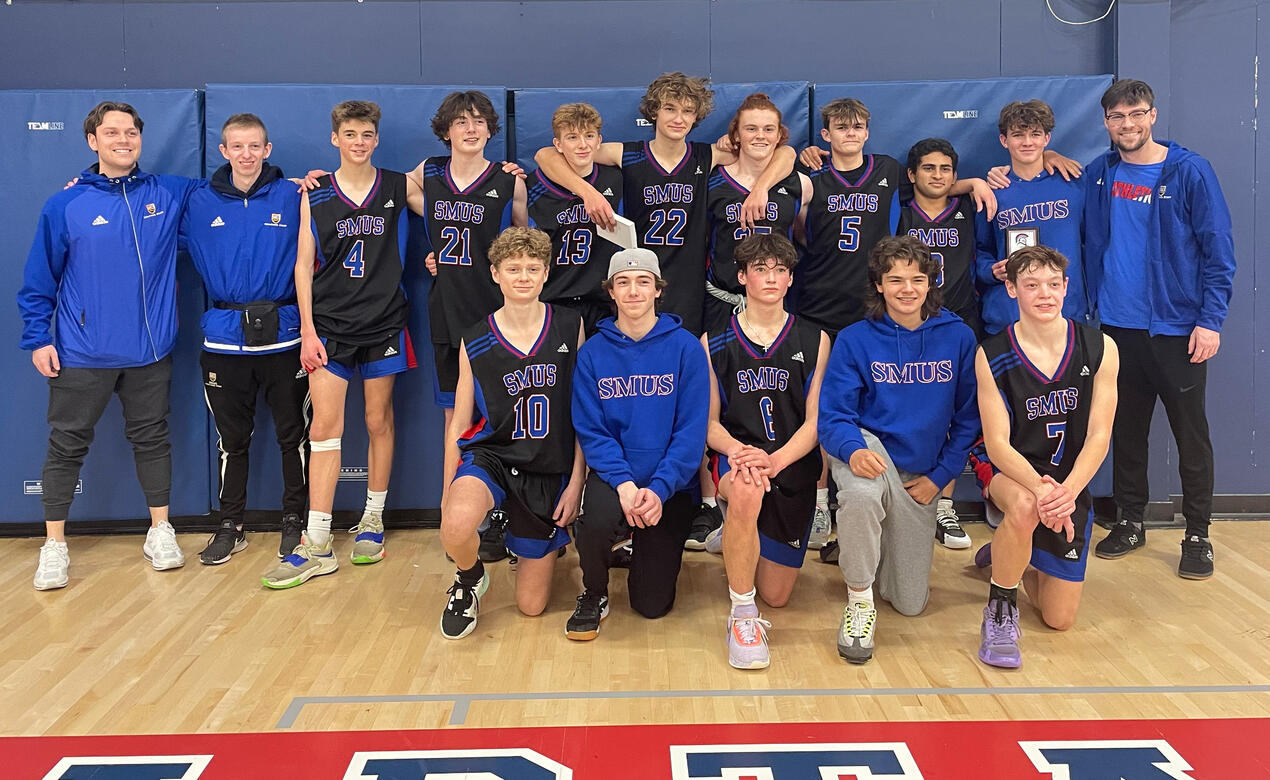 While rugby, badminton and squash continued their respective preparations for the 2023 season, basketball again commanded most of the attention, with five teams very busy the past two weeks.
Basketball
A skilled Grade 9 Boys squad remained unbeaten, thanks to another four comprehensive victories. First, Parkland became another league scalp. Then, on traveling to GP Vanier in Courtenay for an invitational tournament, the Blue Jags took care of the hosts, Brentwood and Dover Bay to claim the crown.
Point guard Dani Pelyhe was a force throughout, with Declan Longridge, Parker Sheehan and Henry Williamson also prominent. In the championship final, Eliot Tait and Will Zielinski then joined in as part of a commanding performance, with the SMUS fast break full of crisp passing and finishing en route to 82 points.
Pelyhe and Williamson further combined to win the tournament 3 point shooting contest. 
Now comes the acid test for the team, with a February 3-4 visit to Vancouver. On the docket is a demanding trio of games, vs St. George's, perennial BC favourite Vancouver College, and Collingwood.
Meanwhile, the Junior Boys, after an average league effort vs Lambrick Park, turned in their best performance of the season at the Claremont Invitational tournament. Three fine all round team efforts produced decisive wins vs Mark Isfeld (49-41), Dover Bay (57-32) and St. George's (60-45). These results, two against ranked opponents, will see the Blue Jags deservedly enter the provincial polls, with less than a month to go before the BC tournament.
Elliot Mairet was named MVP, while Davis Hardy, Jack Driscoll and Wil Woods took care of much of the scoring. On the defensive end, Zaki Pelyhe and Laurids Goedde were rock solid.
The Senior Boys traveled to the mainland for the prestigious Vancouver College Emerald event, losing to Handsworth and Heritage Woods before claiming a hard-earned victory over Walnut Grove. Unfortunately, momentum was then blunted by a 66-58 league defeat at GNS and an exhibition reverse to Holy Cross.
Achieving consistency is a goal for this season. Guards Oscar Lau and Taiga Parmar have had their moments. The Blue Jags now face six important league games in the next ten days, with key matchups vs Lambrick Park set for February 2 and February 10. The full Island AA tournament is set for February 23-25 at SMUS.
On the Junior Girls side, the team enjoyed three league wins, vs Royal Bay, Claremont and Belmont. These results ensured the team will enter the City qualifier as the #2 seed, with another matchup vs Oak Bay very much on the cards.
SMUS also journeyed to Chilliwack for the GW Graham tournament, splitting four games. Charlie Anderson registered an impressive 47 point outing vs WJ Mouat, with Olivia Pickering, Joss Olcen, and Cate Pontefract also playing strongly. A narrow 52-46 loss to BC #4 ranked Yale suggests that the team is not far off the provincial elite, as playoffs loom.
The BC AAA #1 ranked Senior Girls enjoyed a straightforward week, completing local league action with wins vs Reynolds and PCS. Then, a blistering first half saw the Blue Jags take a large halftime lead vs Lord Tweedsmuir, on the way to a comfortable exhibition triumph. Throughout, Makena Anderson and Avery Geddes have led the way, with Alex Motherwell providing some excellent passing and shooting. Chioma Duru, Olivia Vincent, Maddy Albert and Katie Maybie all took advantage of extra floor time and contributed well.
SMUS now heads to the Tessa Beauchamp Memorial Tournament, February 3-4 in Vancouver. On tap are tough games vs BC AAAA #2 Riverside, as well as AAA powers College Heights and Argyle.
Finally, congratulations to seniors Rebecca Stone and Skye Farish are in order. Midfielder Stone will join the powerhouse field hockey squad at UVic in September, while Farish will bring her speed and experience to UBC Rugby.
Vivat!