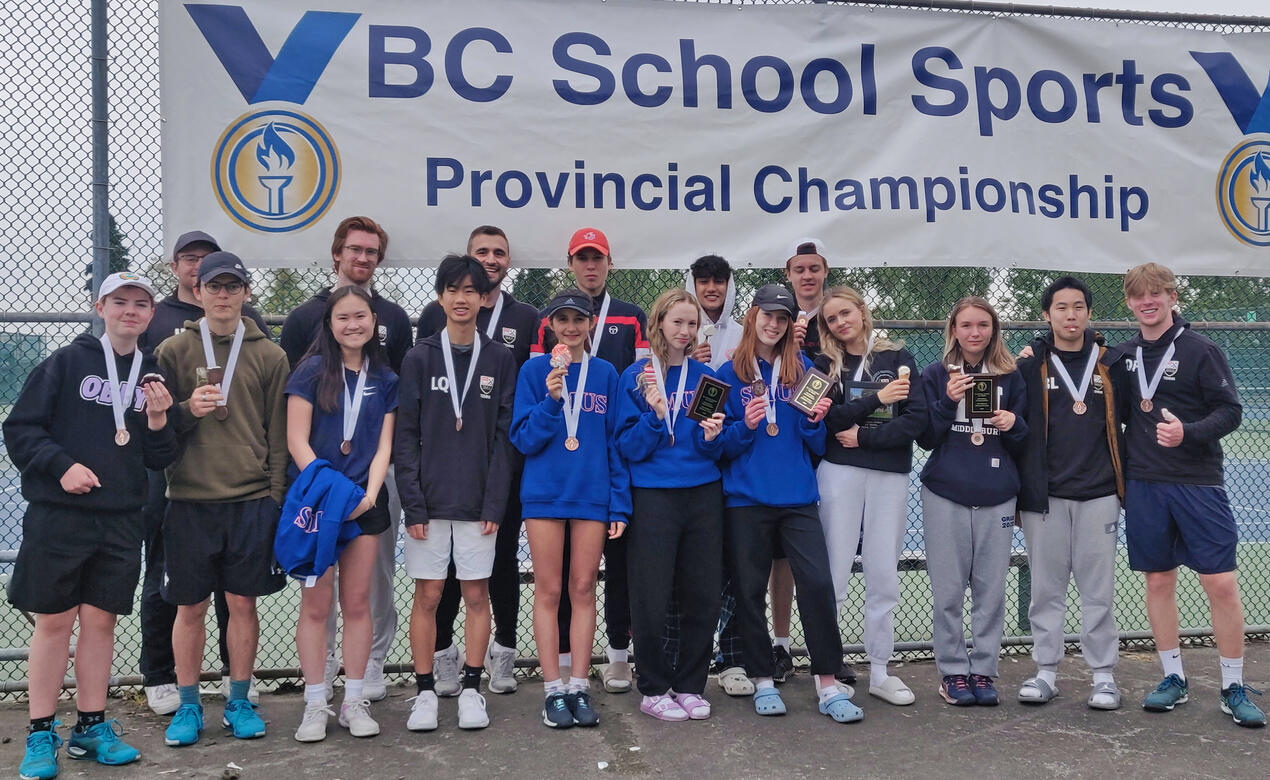 The penultimate week of the school sporting year came to an end on Sunday, with multiple SMUS teams coming home after competing in provincial or national championships.
Badminton
The Badminton team travelled to Richmond for its BC tournament. SMUS played seven matches, opening with a dominant performance versus R.E. Mountain on Day 1. However, two subsequent losses, to McMath and Moscrop, meant a difficult crossover playoff opener against perennial power Fraser Heights. A narrow 6-5 loss to Port Moody then moved the team to the consolation side of the draw.
Happily, the team turned in two excellent performances to close out the season, handily defeating both College Heights and St. Thomas Aquinas to finish with a 3-4 overall record. Manami Otani again performed strongly, while sisters Patty and Claire Boonsermmit proved resilient under pressure. Andre Wen was awarded team MVP for his consistency and leadership.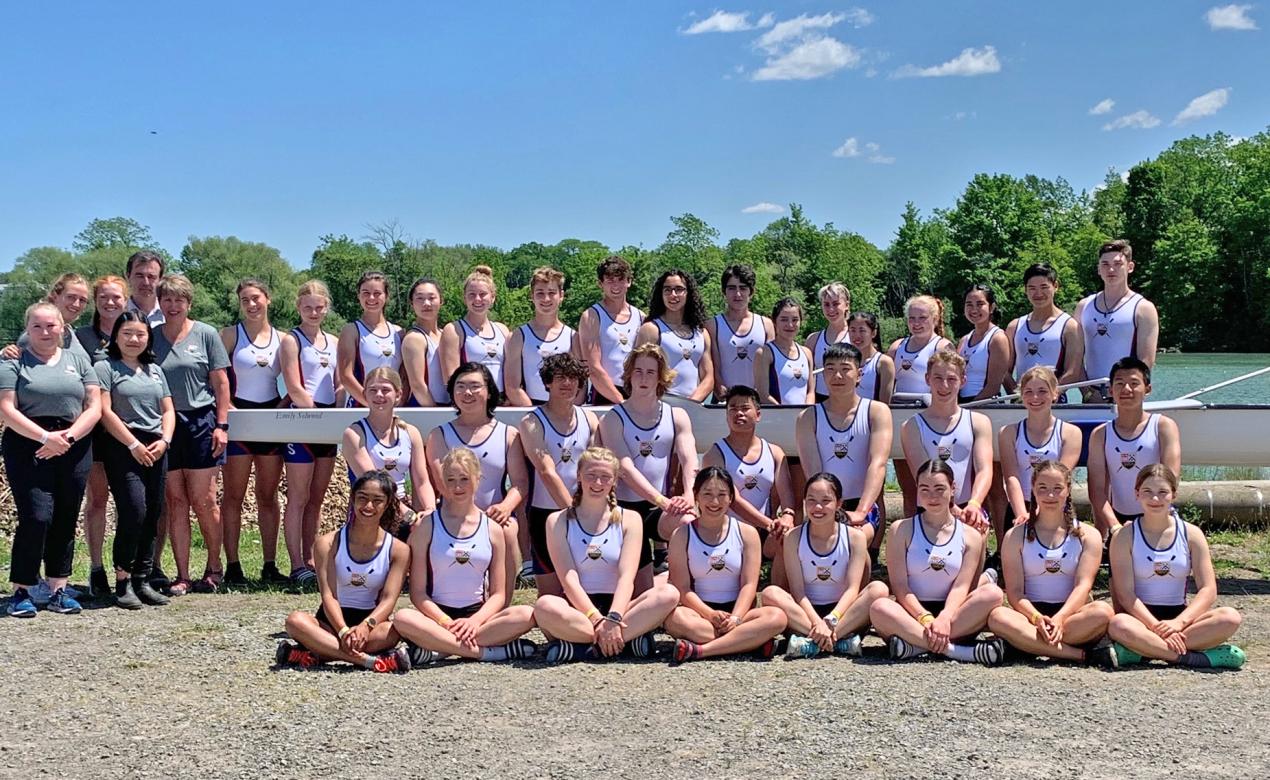 Rowing
Rowing travelled east to St. Catharines, Ontario, to take part in the annual Canadian Secondary Schools Rowing Association Championships. The SMUS crews performed outstandingly well, reaching eleven final races.
In a superb overall effort, nine of the crews reached the podium. In fact, four crews won gold in their their respective races, while the other five boats are bringing home silver medals. It was an incredible showing from all of our crews at the first national championship since 2019.
Kudos to Malik Salamatian and Ryan So, each of whom had the distinction of capturing two gold medals. Eighteen other rowers also claimed multiple medals. You can find full results of the CSSRA competition on their website.
Rugby
At the BC Rugby finals in Abbotsford, the Girls 7s squad came within an eyelash of the medal round, losing a quarterfinal to city rival Claremont in heartbreaking circumstances. A 19-7 lead heading into the final minutes did not quite stand up, as the Spartans scored the equalizing try in regulation with the clock well into the red, then the winner in extra time.
Otherwise, the Blue Jags played impressively all tournament, with Skye Farish and Chioma Duru prominent. Ruki Madzimure scored a number of long-range tallies, while Delaney Arkell and Ava Gillespie tackled strongly.
On the Senior Boys' side, the team could not quite take advantage of a dream draw, falling 28-17 to No. 3 seed Charles Tupper in the opening round. A win over Langley and a loss to Rockridge confirmed a 6th place overall finish. Captain Eric Xiong completed a fine season with three solid efforts, with Calum Webber-Smith and centre Dave Duru also in good form. 
The Grade 7/8 Boys team completed its season by hosting the Greater Victoria tournament. The team, led by Will Z., Dominic E. and Nicholas L., put together some stylish rugby in going unbeaten. Victories over Cedar Hill and Shoreline in pool play were followed by successes over Lansdowne in the semi-final and Arbutus in the final. SMUS retains the Bruce Kuklinski Trophy, last played for in 2019!
Soccer
In Senior Girls Soccer, SMUS opened provincials in Burnaby with two pool victories, dropping North Delta 2-0 and then Langley Fundamental 6-0. Sophie Olcen, Maddy Albert, Charlotte Hardy, Brianne McLeish, Rebecca Stone and Emma Koltronis all registered goals, while Eva Cuddihy had little to do in recording two shutouts.
Unfortunately, a somewhat subdued effort in the final pool match against a quick and aggressive Collingwood side resulted in a 2-0 defeat. A 2-1 extra time loss to Carihi and then a 2-0 victory over South Kamloops completed the season and a 7th place overall finish.
Senior defender Hardy was recognized as a Tournament All-Star.
Tennis
The SMUS Tennis team entered a well-balanced and competitive provincial event, played at Vancouver's Queen Elizabeth Park, as defending champions.
Opening 9-2 victories, versus West Point Grey Academy and South Kamloops, set the stage for a battle against a surprisingly strong Magee side. Inclement weather decreed shortened matches with the Blue Jags falling 4-3. This narrow defeat ensured a semi-final versus arch-rival Brentwood, with the two teams very equal in ability.
With the stakes high, the match, as had been the case at Islands, was always going to be on a knife edge. And so it proved, with Brentwood, after some high drama, just shading the eleventh match to advance 6-5. Disappointed but unbowed, SMUS did bounce back to defeat Collingwood and so claim the bronze medal. 
Throughout the tournament, Nicole Meyers confirmed her position as the top girls' singles player, while Paige Rothwell and Bianca Toaxen excelled in doubles.
On the boys' side, Cooper Mills, Sam Hamidian and Krissh Hora led the way.
Looking Ahead
Immediately on the horizon is the track and field provincials set to take place June 9-11 in Langley. In addition to prepping for provincials, athlete Owen Sandquist-Sherman recently competed in the BC Summer Games trials in track and field, coming first in the 800m race and second in the 1,200m race. The Grade 9 runner earned himself a spot on the Island team, and will compete at the BC Summer Games in Prince George this summer.
The SMUS Sailing team will conclude an enjoyable term at the Discovery Cup regatta in Cadboro Bay.
Vivat!