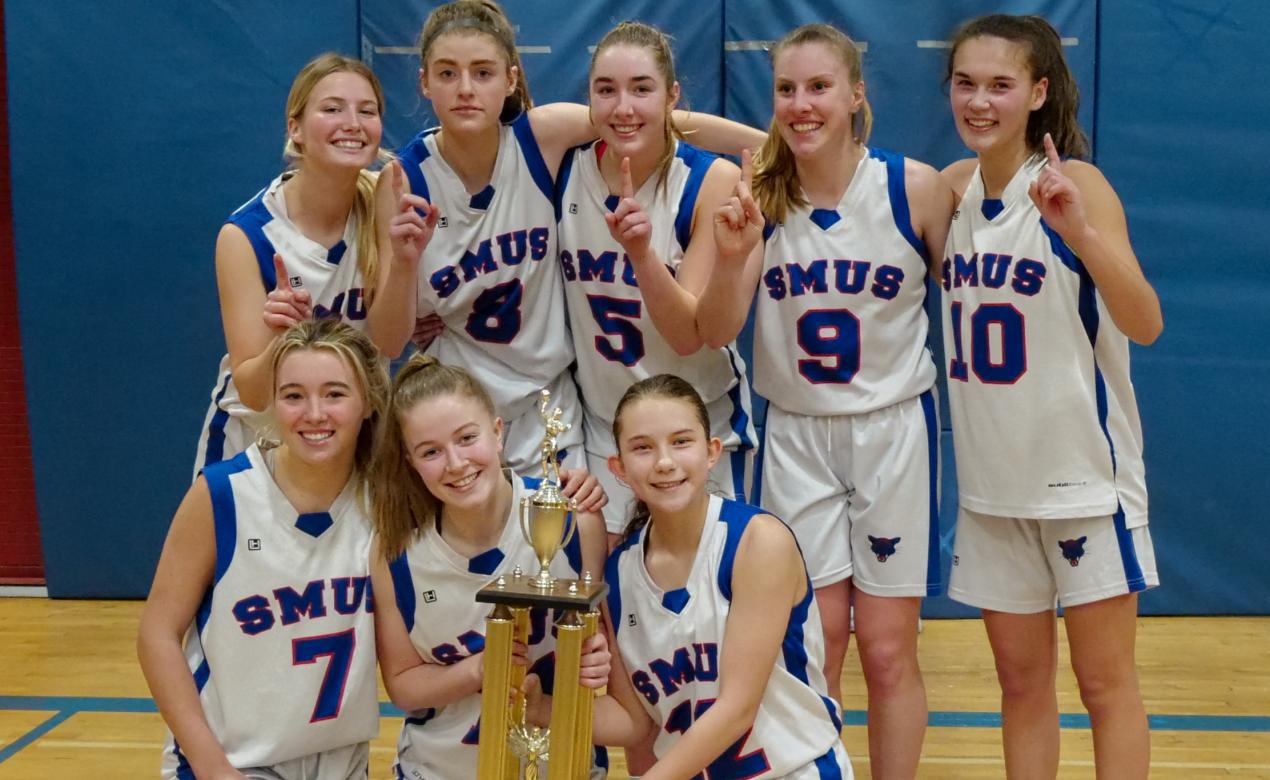 Recent weeks have seen a basketball bonanza, with SMUS teams enjoying significant success on multiple levels.
Basketball
For the first time in school history, every Senior School squad qualified for its provincial tournament, three of them as Island champions.
On the boys side, the Grade 9 Boys recovered smartly from some late January losses, moving smartly through both the City and Island competitions to capture both titles. In the latter event, comfortable victories over host Ladysmith and then Brentwood College were followed by a thrilling 52-51 win over Mark Isfeld. Wil Woods and Zaki Pelyhe each recorded key hoops, with point guard Jack Driscoll named tournament MVP. The team now moves on to the BC Tournament March 3-5.
At the Junior Boys level, SMUS struggled through some uneven performances, scrambling past John Barsby in opening round action but then falling to Claremont in round 2. A win over Mark Isfeld and a loss to Nanaimo confirmed a 4th-place overall finish and a subsequent low (25th) seed in the provincial showcase.
However, in the BCs, the team upset the form chart, winning its first two games before falling to tournament No. 1 seed Vancouver College. A subsequent win over Brookswood sees SMUS play a final game today (March 1) for 5th place. Win or lose, this represents an outstanding provincial placing for such a relatively inexperienced side.
As has been the case all season, Damon Bains, Kian Colgate and Camilo Libreros Rios have led the way.
Meanwhile, the Senior Boys gained some February momentum, going 8-1 over the course of the month, winning the South Island crown and then, following an exciting semifinal victory over favoured Carihi in the Islands, qualifying for BCs.
Guards Max Clayton and Oscar Lau have been in excellent form, with senior LeRoy Wang also a huge contributor via his all-round game. The team now awaits "Selection Sunday" on March 6 to find out its seeding for the provincial AAA competition.
On the girls side, as expected the BC top-ranked Junior Girls team mowed through the Island tournament in style, accounting for Royal Bay, Alberni and Reynolds with relative ease. Olivia Vincent, Alex Motherwell, Maddie Albert, Joss Olcen and Charlie Anderson all featured prominently. SMUS now moves on to the March 2-5 BC competition in Langley as the No. 1 seed.
Similarly, the Senior Girls, with Makena Anderson averaging nearly 30 points per game, Avery Geddes running the offence efficiently, and Brianne McLeish and Charlotte Hardy dominating the boards, swept through its Island opposition. Credit to a feisty Brentwood side, who scrapped and hustled its way to a 30-27 halftime lead in the final game. However, normal service resumed after intermission, as the Blue Jags fired on all cylinders to win going away 73-47.
The team, as the No. 5 seed, opens BC AA Tournament play in Langley versus No. 12 Collingwood.
Squash
Away from the hardwood, the SMUS squash team competed in the BC Jesters Pacific Northwest Junior Championships, held at the Cedar Hill Squash Club. In an event showcasing the top junior players from all across Canada, Lucas Quon finished 6th in the Boys U17 competition, narrowly losing in the quarterfinals. Alex Brown and Christian Yuen both placed 4th in their respective U19 categories. Furthermore, Alden Weymar, Stuart Kerr and Roshan Pathak all finished above their seeded starting positions. The team now looks ahead to the provincial championships! 
Spring Sports (Rugby and Soccer)
On field, rugby training continues. Senior Boys and Junior Boys exhibitions March 8 at Brentwood College and March 10 versus Claremont should give some indication as to the prospects in store. Hooker Eric Xiong, flanker Calum Webber-Smith and lock Ben Ingimundson look set for solid seasons. 
Likewise, Junior and Senior Girls soccer tryouts are now underway, with both groups flush for numbers and looking strong.
(Top photo courtesy of Talia Pike)