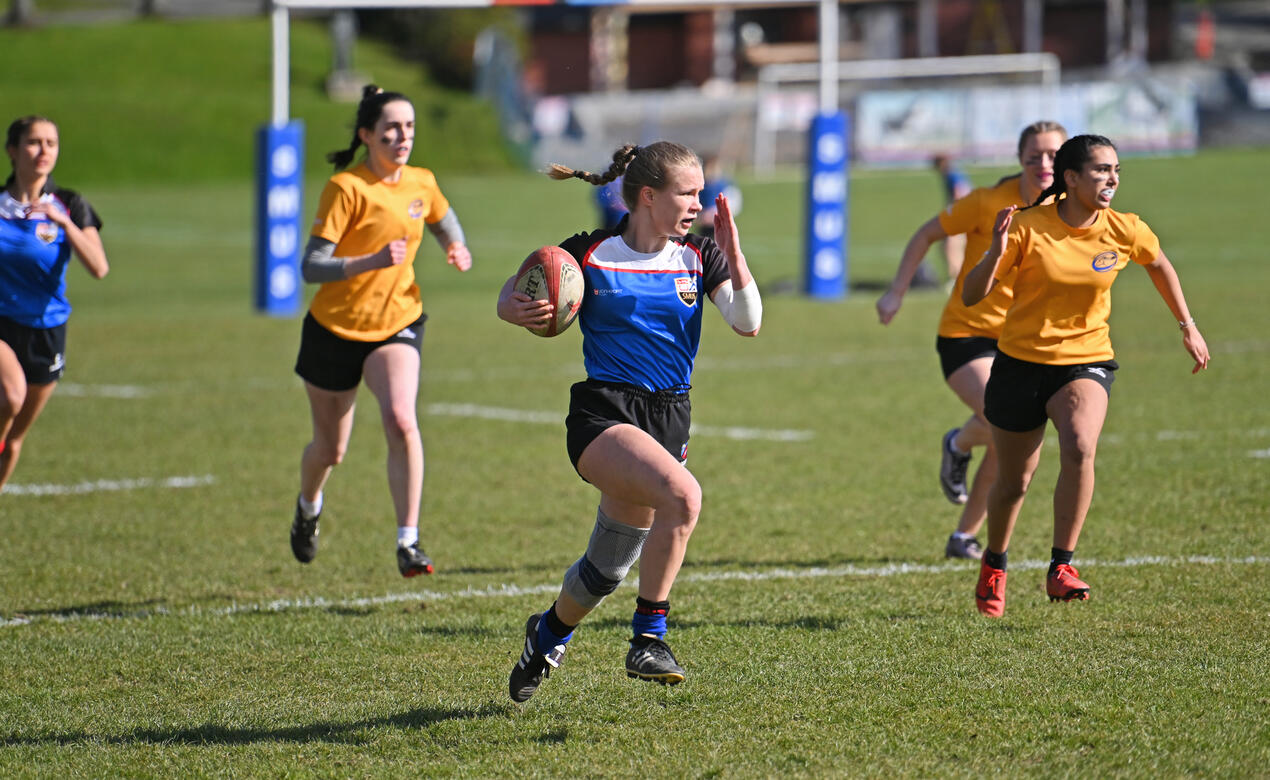 With the basketball season complete, school sport quickly swung to spring term events in the final days before Spring Break.
Rugby
The Senior Boys started Island league play with a 45-5 victory versus a gritty Cowichan Secondary side. In glorious conditions, SMUS notched seven tries, with captain Carter Haddow, prop Martin Bures and hooker Savo Mrdjenovich all prominent.
Two days later, once again under sunny skies, the team defeated Brentwood. Fly half Matthew Bennett, a Canada U18 squad member, gave an outstanding performance, registering four tries and five conversions in what ended up a comfortable victory. 
Next up was a 38-19 victory versus St. Maximilian Kolbe Catholic High School, on tour from Ontario. A skillful and disciplined first half saw the Jags jump in front 31-0. However, the visitors roared back after the break, closing hard before a final SMUS try proved decisive. Lock Hugo Accad, wing Helios Orozco and centre Alex Liu all played strongly.
At the Junior Boys level, SMUS also enjoyed wins over Cowichan and Brentwood, both by 36-10 scorelines. Some slick backfield play, featuring Markus Djurickovic, Jack Driscoll, Wil Woods, Marcus Lam, and Des Grant, produced several high quality tallies. Up front, captain Ewan Webber-Smith, Kingston Hollis and Tristan Mo provided the necessary physical edge.
The Girls Rugby team opened its season with three exhibition matches against St. Maximilian Kolbe. Both squads showcased a high degree of skill, with the home team edging the various encounters. For the Jags, who should be very legitimate provincial championship contenders, captain Skye Farish dominated in attack. Likewise, Harper May, Ava Gillespie, Chioma Duru, and Alex Motherwell were others who shone.
Soccer
On the soccer pitch, in what promises to be an equally strong side, the Senior Girls opened with two decisive league victories. First, thanks to goals by Makena Anderson, Hollyn Withers, Rebecca Stone and Gabi Perez de Camino, SMUS defeated Stelly's 4-0.  Then, against Oak Bay, two early markers, courtesy of Talia Pike and Sophia Eiley, staked the Jags to a 2-0 lead. A final strike, in the last minute by Maddy Albert, supported by strong defensive work from Amanda Adams, Sophie Olcen, Wynn Brown, Allegra Nelson, and goalkeeper Eva Cuddihy, confirmed the 3-0 win. 
Meanwhile, the Junior Girls split a pair of league matches, dropping Claremont 3-0 but tripping up vs Stelly's 3-1. Then, to close the term, the team registered a 5-0 exhibition victory versus Vic High. Goalie Yanyu Zhang and defender Isabelle LeRoy played strongly, while Kate Fraser, Kate McQueen, Julia Rothwell and Joss Olcen paced the offence.
Field Hockey
Athlete Anna Mollenhauer '17 is again due congratulations. The alum, winner already of several national awards and who recently closed a spectacular collegiate field hockey career at the University of Victoria, claimed a further notable prize when named the 2022 Sport BC University Athlete of the Year.
Vivat!