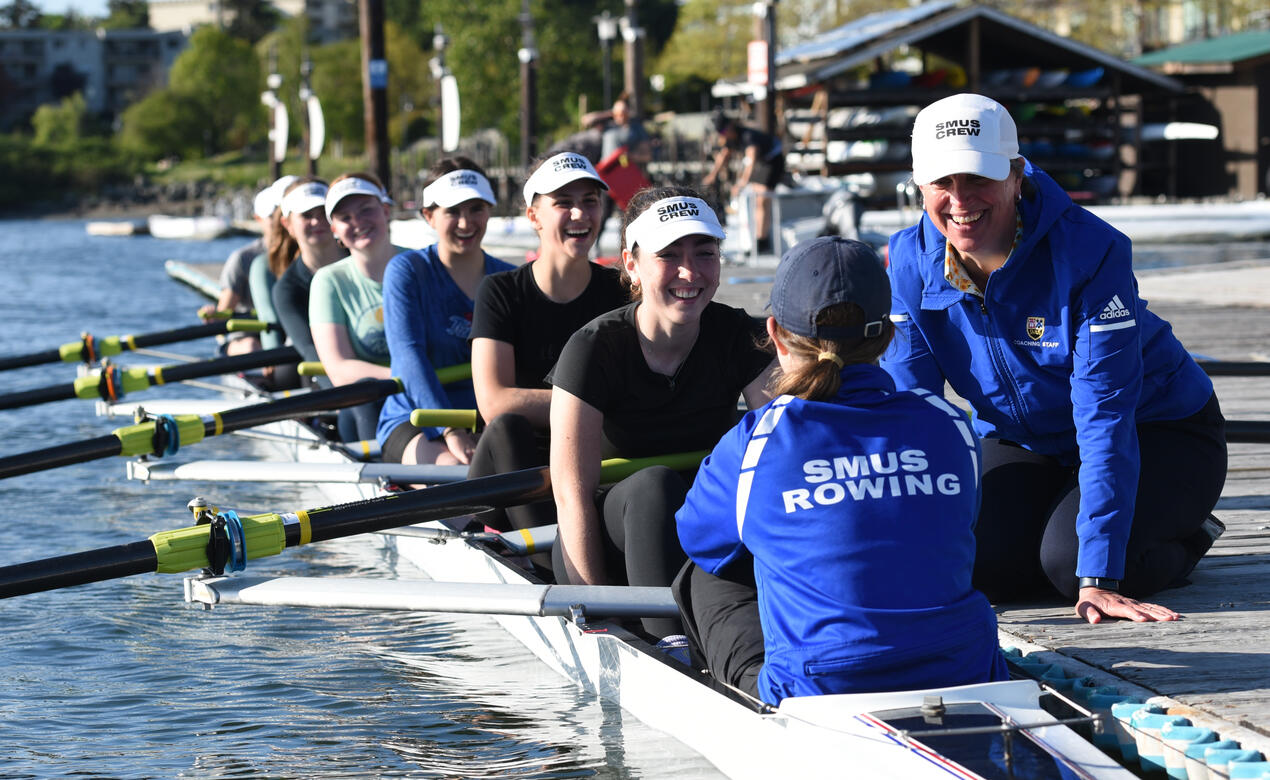 Over a fortnight of action, from May 1 to 14 there was plenty of high drama on the SMUS sporting scene.
Soccer
Senior Girls soccer took pride of place, first defeating Edward Milne to finish league play unbeaten and in first place. 
Top seed in the City playoffs, the Jags promptly took care of Royal Bay in quarterfinal action before a 2-1 victory vs Oak Bay in the Final Four. This resulted in a trip to Starlight Stadium, home of Pacific FC, for the Ryan Cup championship vs Stelly's. 
In a very competitive match, though having the better of the chances, SMUS managed the only goal when striker Talia Pike coolly slotted home from just outside the penalty spot after a neat flick on by Makena Anderson.
Throughout the past month, the team has shown real balance and played a very disciplined, organized style of game. Goalkeeper Eva Cuddihy has proved very difficult to beat, with Sophie Olcen anchoring a stingy backline. In midfield, Amanda Adams, Wynn Brown, Sophia Eiley, Maddy Albert and Rebecca Stone have been prominent, while Hollyn Withers has linked well in attack.
The Jags now advance to the AA Islands, set for May 15-16 in Courtenay. On the line is qualification for the BC Provincials two weeks later.
Meanwhile, the Junior Girls ended a most enjoyable season in hosting the Islands tournament. While conceding three goals in the opening six minutes to eventual champion Spectrum, SMUS battled back to 2-3 before losing. However, the team then exploded for 14 goals in victories over NDSS and Gulf Islands to advance to the bronze medal game vs Oak Bay. Alas, despite the fine efforts of Cate Pontefract, Kendyll Adams, Avery Geddes, Kate McQueen, Joss Olcen and goalkeeper Emily Wu, the Jags dropped a penalty shootout heartbreaker.
Rugby
In rugby, the Girls enjoyed two busy weeks. The Development team won three of its four 7s matches, accounting for Claremont B, St. Margarets, and Stelly's but falling 15-5 to Esquimalt. The team, which has improved out of all proportion this term, plays its final matches on May 23.
The Senior Girls Rugby team took care of business vs archrival Oak Bay, winning 33-7. Then, with Alex Motherwell to the fore, SMUS dropped Spectrum 27-5. However, following a second victory vs Spectrum, the Jags struggled for possession and urgency vs talented Claremont.
Nonetheless, the team bounced back to shut out both Esquimalt and Stelly's, thanks to strong efforts from Skye Farish and Harper May. These latter results confirmed SMUS as the #2 seed in the BC qualifiers May 17-18 in Nanaimo.
The Junior Boys battled well against Fraser Valley powerhouse Robert Bateman, closing to within three points late in the second half before losing 25-17. Flanker Rhys Tuohy led from the front, well supported by Ewan Webber-Smith, Kingston Hollis and Henry Scudamore. Then, vs Oak Bay, SMUS scrambled back from a slow start to close within nine points midway through the second half. However, two late opposition tries then put something of a gloss on the final scoreline.
Next up is an Island semi-final on May 16 at Shawnigan. Much is at stake, as the winner advances to the Island final and qualifies for provincials. 
The Senior Boys team, having struggled in the Alumni Day match vs Collingwood, rebounded well vs Fraser Valley champion Robert Bateman in a key AA Island-Mainland crossover matchup. Carter Haddow, Martin Bures, Anton von Oldershausen, Alex Liu and Sebastian Salomon Wong all crossed for tallies, with Matthew Bennett adding three conversions and a penalty goal in a crucial 34-17 victory.
Then came the annual Boot Game vs Oak Bay. Definite underdogs, SMUS played bravely, despite being under considerable physical pressure throughout. Three counterpunch tries, one a sensational 80 metre sprint, chip and chase by Bennett, and some timely penalty kicks saw the Blue Jags somehow in the lead, 25-17, with nine minutes remaining. Alas, a dream upset was not to be, as a series of little errors then allowed the Barbarians key field position from where they scored twice to prevail 29-25.
Looking ahead, the team can expect to face Brentwood in the Island AA final on May 25 at UVic's Wallace Field. The result will go a long way to finalizing rankings for the BC tournament in Abbotsford.
Rowing
Multiple rowing crews traveled up island to race in the Shawnigan Regatta. The three-day event was blessed by sunshine and warm temperatures. 17 of the 20 SMUS boats reached finals, with gold medals gained by the U19 Mixed 2X, the U19 JV 4X- and the U17 W 4X+. The U19 Mixed 4X- captured silver, while the U19 W JV 4+ U17 W 4+ won bronze.
Well done to all, and best wishes to the 26 team members who will now continue preparations for the Canadian Secondary Schools Championship, June 2-4 in St. Catharines, Ontario.
Track and Field
In final tuneups for the upcoming Lower Island and Island qualifying meets, several Track and Field athletes turned in several strong performances. Caitlyn Chen (discus), Owen Sandquist-Sherman (3000m), Finlay Hlannon (hurdles) Brianne McLeish (shot put), Henry Morton (1500m) and Leupold Wang (long jump and high jump) all reached the podium. Likewise, the Senior Girls 4 x 100m relay team of Abby McLeish-Shaw, Annabel Howard, Roberta Lee, and Amelie Fleck claimed a bronze medal.
Badminton
On court, Badminton completed a variety of tournaments. Congratulations to all those who brought home the first place trophy in the Junior City competition. Nicole Li, Larisse Zhao, Kimberley Koo and YouLan Li played especially well.
At the Senior level, while SMUS fell to Mt. Douglas in the City Finals, the team still moved on to the full Island competition in Nanaimo. Wins vs Shawnigan and QMS were followed by a thrilling semi-final vs host Dover Bay. Kudos to Chelsea Wong and Chicha Cheepcheawcharnchai, both of whom recorded amazing comeback victories in their respective singles games.
While Mt. Douglas again proved too strong in the final, the Jags runner-up finish gained them a place in the Provincials June 1-3 in Vancouver.
Golf
A relatively inexperienced Golf team took part in the ISA Invitational May 8-9 in Squamish. Cameron Bono turned in a pair of solid rounds, while Sting Zhang fired a solid 79 in windy conditions on day 2.
Tennis
Tennis completed the second of its three main tournaments, with Waturu Yamano and Robert Huttegger in top form in an Island semi-final vs Shawnigan. The final, vs Brentwood, saw SMUS dominate singles play, with Felina Yang and Cooper Mills to the fore. However, three wins from four matches proved just enough for Brentwood to claim the title 6-5.
SMUS now has a series of practices before departing for the BC AA Championships May 24-27 in Vancouver.
Sailing
On a glorious Saturday at Cadboro Bay, SMUS Sailing performed very well in the Discovery Cup, the first regatta of the season. Conditions were ideal, with hot sunny weather and a 15-20 knot breeze coming off the beach. For a good number of the team, this was the first time they had sailed, let alone raced in such brisk, windy conditions. In what was a very fine overall group effort, Anna Eales, Sierra Jacob, Beatrice Sharpe and Janet Andrew raced with particular distinction.
Three weeks from now, on June 10, the various crews will compete in the Island Schools Regatta.
Finally, congratulations are due Muiredach Casey '21, selected to the national U20 Rugby debut for matches vs Uruguay and Spain over the past ten days.
Vivat!