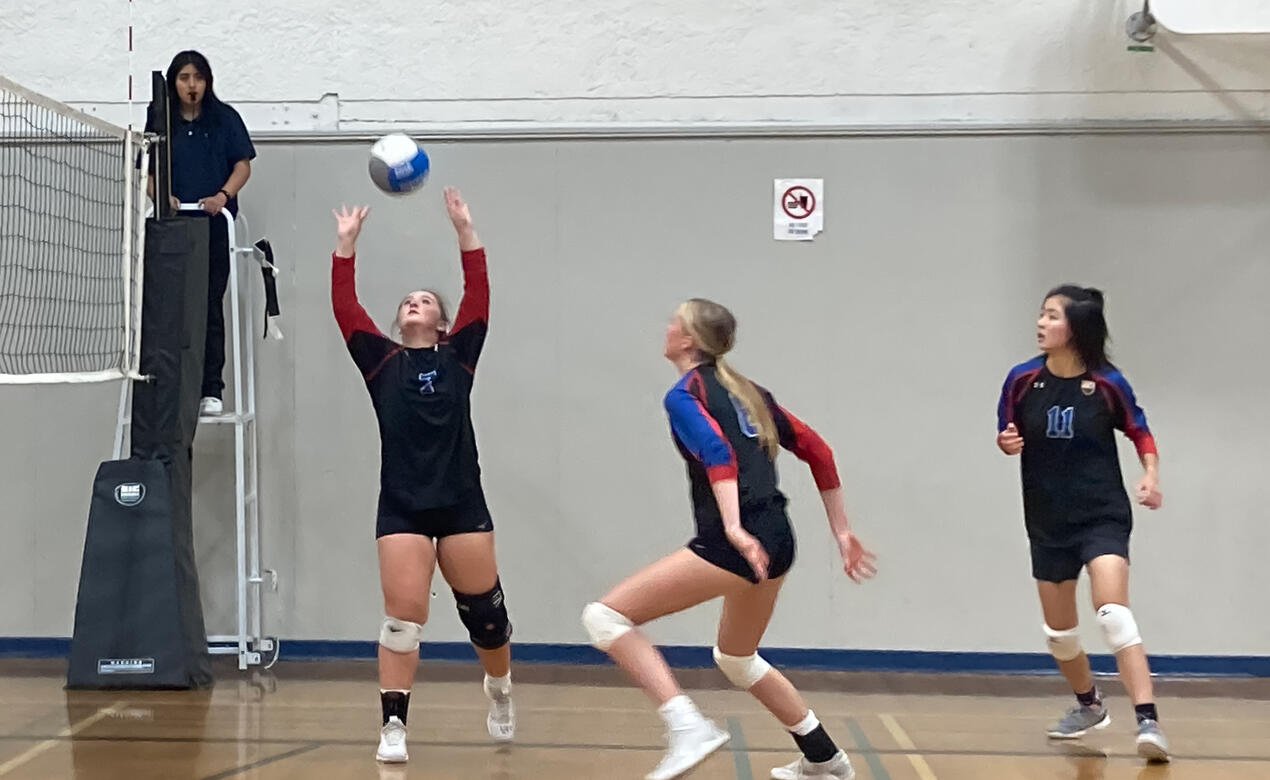 Senior Girls Volleyball
The SMUS Senior Girls Volleyball team swept its two final-day matches to earn fifth-place honours in the Vancouver Island AAA championship tournament, hosted by Vic High this past Friday and Saturday.
The Blue Jags entered the tournament as the third South Island seed in a field that included five schools from the North Island and three from the South.
SMUS began the tournament on Friday by winning an exciting three-set match (29-27, 23-25, 15-10) against North No. 2 Mark Isfeld of Courtenay, a team boasting a powerful offence. The Blue Jags' defence was in full gear, however, led by libero Emily Wu, and solid serve receive from Joss Olcen, with smart tactics attacking from the front and back row by Charlie Anderson. Serving was key in the win, with notable service runs from Yanyu Zhang and a well-balanced offence run by team captain and setter Ava Gillespie.
SMUS's second preliminary pool matchup was against Stelly's, the South's top seed. The Blue Jags struggled to contain the offensive variation and driving float serves of the experienced Stingers squad in this match, falling 21-25, 15-25.
SMUS faced Carihi, the North's No. 4 seed, in its final pool match. It was a very close contest – the teams were within three points of each other the whole time–but the Blue Jags just couldn't find a way to pull ahead, losing 23-25 and 24-26.
Pool A ended up in a three-way tie for second with Isfeld, SMUS and Carihi each posting one match win. Tie-breaking procedures came down to sets for and against, leaving Isfeld with the edge with four sets won, Carihi next with three sets won, and SMUS in fourth place with two sets won. With that, the Blue Jags were knocked out of contention for a BC tournament berth as only the top three Island teams qualified for the provincial AAA championships in Dawson Creek.
On Saturday, SMUS defeated Ballenas 25-14, 25-23 to advance to the Island fifth-sixth game. The Blue Jags came out ready to play once again against Carihi, this time pulling out the win with a three-set decision (25-18, 8-25,15-9). Senior players Katie Maybie and Tomoe Hayashi made outstanding offensive contributions for SMUS in the front row, while Maddy Albert played a solid backcourt game as libero, and Gillespie left a stamp on her SMUS career, delivering impressive balls to all of her hitters while becoming an offensive threat herself.
"SMUS proudly finished the eight-team tournament in fifth-place behind Brentwood, Stelly's, Wellington and Isfeld," says Head Coach Melanie Bendfeld.
Senior Boys Volleyball
The Senior Boys Volleyball team also finished in a three-way tie for second in its preliminary pool at the Vancouver Island AA championship tournament in Courtenay. The Blue Jags tied with Lambrick Park and Ballenas, each with one win and two losses in Pool A behind Isfeld at 6-0.
SMUS opened with a 16-25,16-25 loss to host Isfeld and also fell 16-25, 23-25 to Lambrick. In their third match, the Blue Jags rallied from a 12-25 first-set loss to beat Ballenas in three sets (12-25, 25-17,17-15).
"We unfortunately drew the short end of the stick (in the tiebreaker) after coming off a big win against Ballenas," says Head Coach Brady Doland, whose team was relegated to fourth spot in the pool despite beating Ballenas, which placed third, with Lambrick second.
The results put SMUS in the seventh-eighth match as the Island tournament wrapped up on Saturday. In that contest, SMUS fell 12-25, 21-25 to Highland of Comox. "We ran the full bench and all 15 players got to see court action in our last game against Highland," Doland says.
"Everyone played really well," Doland adds. "Connor Kipling set excellently all weekend, Elliot Mairet and Nicholas Lee had some big hits and well-timed blocks, Lincoln Faulkner, Kaden Fulller and Jack Dube had some hard outside hits. Our libero, Ryan Liu, played really well all weekend digging up some wild balls and his serve receive was on point."
Doland described the Senior Boys 2023 campaign as an "awesome season and the boys improved a ton."
"This is one of the most resilient teams I have ever coached and loved to always come back down by four in the third set to pull off the win."
Soccer
The SMUS Senior Boys Soccer team left Sunday for the provincial tournament in Burnaby, which began early Monday morning with a game against Langley Fundamental. This is the 10th time in the past 11 years (excluding 2020 which was cancelled due to COVID-19) that the Senior Boys have qualified for the provincial tournament.
The Blue Jags are the third seed from Vancouver Island and are also seeded third in the BC tournament's Pool A. Other teams in their pool include North Vancouver Windsor, the No. 1 seed from Vancouver, and Northwest BC champion Mount Elizabeth from Kitimat.
The Blue Jags were to meet Langley Fundamental at 9 am. and Windsor at 12:45 pm in Monday games before wrapping up pool play with a 10:30 am game Tuesday against Mount Elizabeth.
The Blue Jags' pool games against Windsor and Mount Elizabeth will be livestreamed at https://bcss.tv/.
SMUS Head Coach Evan Fryer pointed to the Windsor game as potentially the Blue Jags' biggest challenge, as that school includes a soccer academy.
"We'll need to win our group to make it into the final four," Fryer says.
Visit the BC School Sports Provincial Championship website for updated scores and information. 
Basketball
SMUS Senior School basketball teams are in full preparation mode as the season quickly approaches.
The Boys basketball teams will take part in an Alumni Saturday program this week in the single gym. The Grade 8s will take on the Grade 9s in a game at 11:30 am this Saturday, followed by a Junior Boys intrasquad game at 12:30 pm and the Senior Boys/Alumni contest at 2 pm.