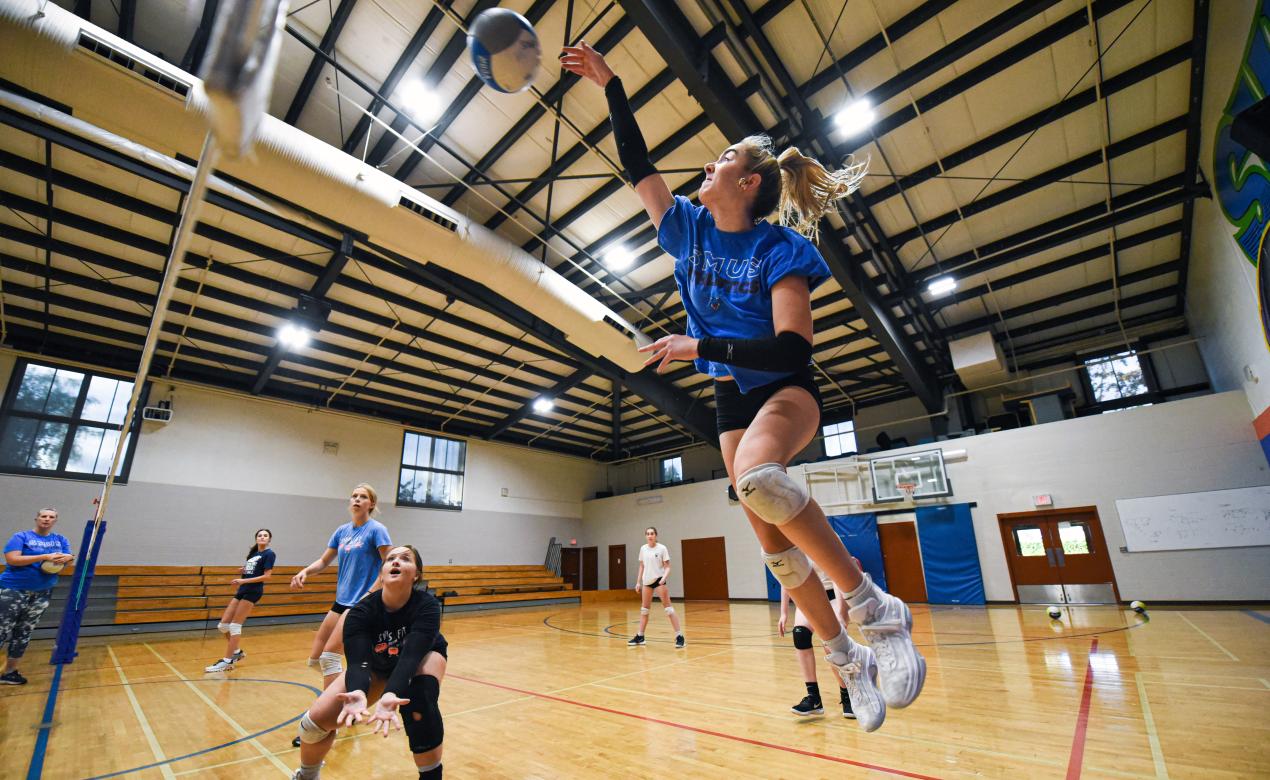 With SMUS athletics still basking in the Senior Girls Field Hockey provincial championship, focus turned to Soccer and Volleyball as both programs took aim at provincial qualification.
Soccer
In what promised to be the most competitive Island AA Boys Soccer tournament in decades, all eight competing teams appeared a very good chance of claiming one of the four BC berths on offer. The Senior Boys, seeded South No. 3, conceded an early opening goal versus Brentwood before going on to control the remainder of the match. However, it was not until the 55th minute that striker Samuel Bruninx, thanks to a superb header, notched the equalizer.
A very sluggish start then saw the Blue Jags well on the back foot versus Glenlyon Norfolk School, who also went ahead early. Slowly, SMUS came back into the contest, only just failing to finish several promising chances. However, the Gryphons then clinched a well-deserved 2-0 victory with a late marker.
The combination of Day 1 results left SMUS needing a win in its final pool game the following morning against Carihi, while also requiring other scores to go its way. On the UVic turf field, in bitterly cold and stormy conditions, the team knuckled down effectively versus the Tyees, with Brunnix notching a brace in support of shutout goalkeeping by Rayan Shariaty. A subsequent 4-0 bronze medal performance versus Gulf Island was then just the icing on the cake. Bruninx completed a stellar tournament with a natural hat trick, with Joe MacKenzie-Elrick adding an additional goal from the penalty spot.
SMUS is now competing in the BC AA Tournament this week in Burnaby.
Volleyball
The Senior Girls Volleyball team traveled to Campbell River, with one measly berth allotted to the Island AAA event. SMUS opened with three pool successes on Day 1, overcoming a slow start to defeat Ballenas in three sets, before sweeping Vic High and Mark Isfeld. Alienor de Nanteuil and Charlie Anderson performed particularly well.
On Day 2 the Blue Jags battled City rival Stelly's in the semifinal. Unfortunately, though Sophie Olcen displayed strong leadership, smart front-court play and courageous serve receive, the Stingers gained revenge for earlier defeats by winning 25-16, 26-24 and 25-15. This result ensured that SMUS could no longer advance to provincials, though a straight-sets victory, again versus Ballenas, provided some consolation. Ava Gillespie, Maya Brinham and Makena Anderson led the way.
Congratulations in particular to all the graduating seniors on fine high school volleyball careers.
On the Senior Boys side, there was disappointment as well. A solid season record of 20-8, in addition to a 25-16 triumph over BC No. 6-ranked Pacific Christian School, ensured Island qualification. Still, the Blue Jags then faced a tough playoff road. Much hinged on the first round of pool play, versus North No. 1 and heavy favourite Mark Isfeld. An outstanding opening game win, 25-21, and then a 22-20 lead in game two, had SMUS on the cusp of a huge upset. But it was not to be, as the Ice clawed back to narrowly advance.
SMUS then dropped a pair of games to Vic High but rebounded nicely to claim a key win over Wellington. 
In a do-or-die quarterfinal, the team battled hard but lost 25-21 and 25-17 to Lambrick Park. This confirmed a sixth place overall Island finish.  
Nonetheless, the team made huge strides overall. Shout outs to Ryan Killoran, who stepped flawlessly into the setting role, and Nathan Chiao, who transferred seamlessly from Libero to power hitter. Leupold Wang became one of the most powerful hitters in the league, with Geoff Lei an accomplished defender. Finally, Ethan Woods, Oliver Ealing, Jonah Johnston and Hugo Accad worked extremely hard and improved significantly over the course of the season. 
Likewise, the Junior Boys also took part in their Island championship. Seeded 12th in the 16-team event, a top three placing and a BC tournament berth seemed unlikely. Nonetheless, the Blue Jags turned in a terrific effort, playing wonderfully and missing out on provincials by the slimmest of margins.
The tournament opened with SMUS scrambling back versus Wellington before falling to top-seeded Spectrum. However, a dominant performance over Esquimalt then catapulted the Blue Jags into the quarterfinals. In this contest, against Highland Secondary of Comox, the team survived a roller coaster, with the first game going deep into extra time. However, with Connor Kipling, Elliot Mairet and Martin Winnett all to the fore, the team eventually confirmed its passage to the final four.
While the semifinal versus Claremont proved a bridge too far, the bronze medal match against Mark Isfeld still left an opportunity to reach provincials. While the Ice took game one easily, SMUS then recovered from 21-24 down to square things up. However, a dominant Ice early serving run in the deciding game left the Blue Jags unable to recover.
Congratulations to all team members on a successful term's work.
Rugby
The Grade 9 Boys Rugby team ventured up Island to play an unbeaten Shawnigan Lake side. Short of practice time and cohesion, but long on natural ability, the team enjoyed a terrific tussle against the hosts, sharing equally the eight tries scored during a splendid encounter. Once again, Declan Longridge was a tower of strength, with centre Des Grant also a force. Scrum half Dani Pelyhe's quick and accurate passing sparked the backline, with Parker Sheehan and Will Zielinski the main beneficiaries. In the end, goal kicking proved to be the difference, with Quinn McMeekin's three successful conversions key to the 26-20 victory.
In alumni rugby news, congratulations to Matt Klimchuk '20, who gained his first official Senior Men's international cap when he came off the bench in Canada's recent 37-25 win over the Netherlands.
Squash
The Squash team was in action at the UVic Open. In Men's A action, Roshan Pathak and Jeffrey Leung placed 1st and 2nd in the Plate event. Julian Trinder and Rory Davison both turned in solid performances in the Men's C competition, while Charlize Keens won a silver medal in the Women's B flight. Then, Natasza Grzechowiak captured the Women's A title.
Basketball
Some 10 basketball teams are already well underway, with the school gyms a hive of activity. Middle School league play has commenced with the Senior School seasons set to begin next week.
Vivat!