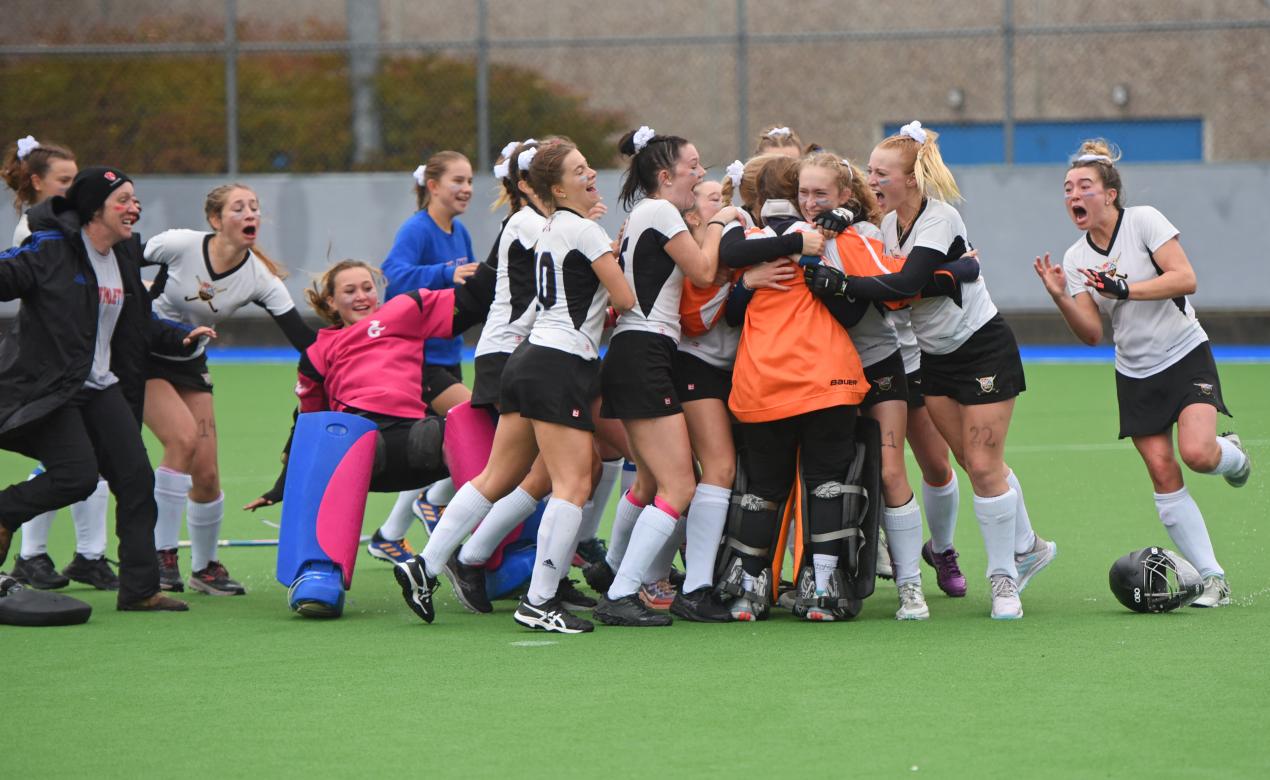 Another blue banner is set to be hung in the rafters of the SMUS double gym, as an emotional provincial win capped a tremendous week of sports for our Senior School athletes across all sports.
Field Hockey
It was always going to be a close-run season, and so it proved. A Grade 12-laden Senior Girls Field Hockey squad faced the end of a superb season. A single shootout defeat to Crofton House in October in the final of the Bridgman Cup notwithstanding, SMUS had won all its other games.
However, the campaign would be judged on the Blue Jags' performance in the BC AA tournament, held November 2-4 at the University of Victoria. Entering the event as No. 1 seed, the team had to banish any memories of a one-goal loss to York House in the 2021 provincial final and look to sweep through what promised to be a highly competitive field.
SMUS opened with comfortable pool victories versus both Keremeos, Southridge and York House, scoring 14 goals in the process. The team then turned its attention to the business end of the competition. 
A well-organized Windsor side from North Vancouver provided the quarterfinal opposition. It took SMUS some time to break down a stubborn defence, with Amanda Adams and Mia Muller finally notching goals in a 2-0 finish.
An upset and a quirk in the draw then saw the Blue Jags again matched with York House in a semi-final. The defending champions remained on even terms until just before halftime when Eva Cuddihy, via a penalty flick, broke the deadlock. She then added a second from the spot, before an empty net marker confirmed a 3-0 win.
In the championship final, played for the most part in driving rain and a strong wind, SMUS, perhaps wary of a slow start, dominated the first half action versus Little Flower Academy. Still, despite relentless pressure, numerous corners, breakaways and goalmouth scrambles, the Blue Jags could not manage to connect from in front of the net.
After halftime, the game then swung slowly in favour of the underdogs, who gained more possession and started to threaten on attack. With two minutes remaining in the third quarter the Angels executed a superb penalty corner to grab a 1-0 lead.
Time ticked on relentlessly, the clock moving towards the last minute. Then came a magical passage of play, as a SMUS counterattack from deep was finished in style by Cuddihy. 1-1, with the final buzzer confirming the match would be decided via shootout.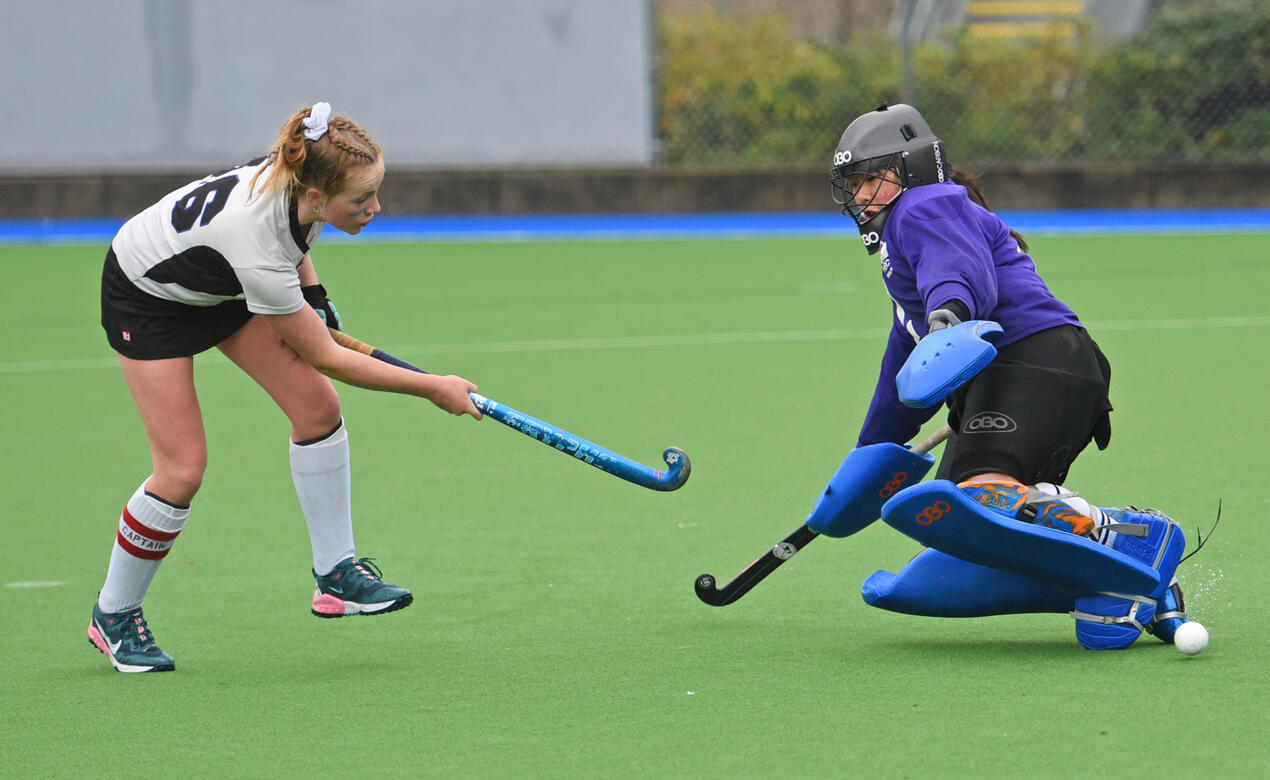 A jam-packed, pro-SMUS crowd certainly enjoyed what followed. Calm finishes by Adams, Rebecca Stone and Allegra Nelson, allied to three scintillating saves by goalkeeper Talia Pike, resulted in not only a 3-2 shootout triumph but, after so many close calls in past years, the gold medal and a coveted BC Championship blue banner! (You can watch the full championship game on YouTube.)
Congratulations to all the players, and coaches David Kerr and Stef Sloboda. For three consecutive months, starting with an August tour to Germany, the team played at a consistently high level, while also displaying excellent camaraderie and sportsmanship!
In alumni field hockey news, Anna Mollenhauer '17 helped lead the University of Victoria Vikes to their fourth fourth consecutive U SPORTS National Field Hockey title, sweeping a best of three series versus York University. Mollenhauer capped a superb collegiate career by winning tournament MVP honours and being named U SPORTS Player of the Year for an unprecedented third time.
Cross Country
Three Blue Jag athletes were among the 900 runners spread across four divisions who took part November 5 in the 2022 BC High School Cross Country championships. Even pre-race rain and strong winds failed to dampen spirits, as the stunning Royal Roads course, complete with views of the Juan de Fuca Strait, the Olympic Mountains and Hatley Castle, stood up well to the elements. 
In the Junior Girls competition, Avery Geddes, no doubt somewhat fatigued from a big contribution to the school's field hockey title in the days prior, placed 56th in a starting field of 248. Likewise, Owen Sandquist-Sherman (Junior Boys) and Charles Gosselin (Senior Boys) produced solid races in high quality fields.
Rowing
The rowing team completed its short, eight-week fall season with a very competitive showing in the City Championships November 5 and 6. All 56 SMUS competitors made light of a wacky mixture of rain, wind, sun and rapidly changing temperatures. Across 10 events in Novice 4X-, Open 4X-, Open 8+, Novice 8+ and Open 2X, the Blue Jags captured two gold, two silver and five bronze medals.
Rugby
The Grade 9 Rugby team slipped and slithered through the rain in an otherwise entertaining match versus Brentwood College. Strong running and offloading led to early tries by Declan Longridge, Tristan Mo, Henry Williamson and Quinn McMeekin, with the latter's goalkicking further keeping the scoreboard ticking over. Brentwood battled back strongly, especially in the second half, closing down the early deficit.
SMUS now concludes its season with an away match versus unbeaten Shawnigan Lake School on November 10.
Soccer
The Junior Boys, having qualified at the last possible minute, split four games at the Island Tournament. A 1-0 victory over fancied Royal Bay and a straightforward victory over Frances Kelsey were offset by losses to Brentwood and Alberni. The latter reverse proved particularly costly, as numerous dangerous scoring chances went for naught in a costly and frustrating 1-0 defeat. Centre back Marcus Lam completed a fine season, while a whole raft of Grade 9s gained valuable experience for the future.
At the Senior Boys level, the Blue Jags finished up City league action with an away loss to top-seeded Reynolds, before then dropping a 3-0 decision on the road to Royal Bay in a Colonist Cup quarterfinal.
Centre backs Matthew Bennett and Kian Colgate have been on good form, while Cole Michel and Sam Brunnix will be under some pressure to provide timely scoring.
Volleyball
With playoffs looming on the horizon, Senior Girls Volleyball split six matches at the Belmont Invitational, with wins over the hosts, Highland, and Stelly's balanced against narrow defeats to Oak Bay, John Barsby and Brentwood. Setter Ava Gillespie and left side Makena Anderson featured prominently, with the team now readying for the Ron Greene City playoffs and then the full Island AAA championship November 18-19 in Campbell River. There will be little margin for error in this latter event, with only a single berth to provincials granted to the Vancouver Island zone.
Meanwhile, the Junior Girls Development team, led by Manon Denux, Pema Dolkar and Emily McMillan, swept a series of Halloween evening league games to secure a spot in the City finals.
On the boys side, the Senior Boys squad continued a steady track towards the post-season, moving smartly through league action as well as scheduling stiff competition against a series of AAA provincial powers such as Claremont and St. George's. Also on the docket was a November 5 play day at Mount Douglas. As has been the case all season, setter Ryan Killoran, libero Geoff Lei, hitters Leupold Wang and Nathan Chiao played impressively.
Once again, SMUS hinted at its full potential, producing several of its best games of the season. Various reserves, such as Hugo Accad, stepped up in pressure situations, which bodes well for upcoming playoff games. 
The Junior Boys team closed out its final week of league play at home last Thursday. A straight set win versus Royal Bay, with Elliot Mairet to the fore, then saw the Blue Jags split sets versus second seed Lambrick Park before dropping two 25-23 nail-biters to No. 1 Mount Douglas. Defensive specialist Martin Winnett continues to be a force to be reckoned with, well supported by Noah Melo, Connor Kipling, Tommy Hong and Jacob Meadows. 
The team is trending nicely, qualifying in 3rd place in the City. The group gets set for the full Island tournament November 9 and 10 at Belmont.
Vivat!