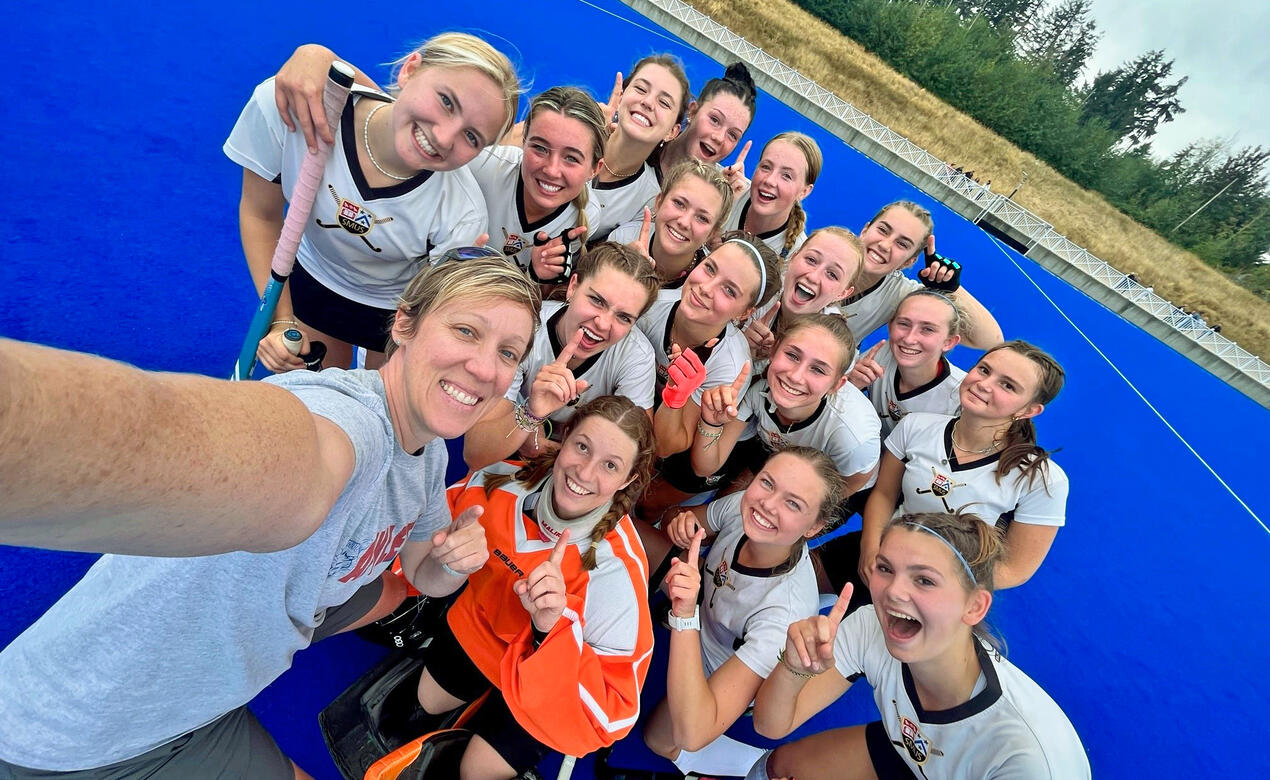 With the start of a new year, competitive sport got quickly underway, with many athletes trying out for a multitude of teams. In what is always a highly compressed fall term, a number of these squads took to the field and court in invitational tournaments.
Field Hockey
The Senior Girls Field Hockey team entered the premier division of the Friendship Cup. This event was held at Shawnigan Lake School and featured many of the top teams in the province.
In pool play, SMUS moved smartly through its opening three matches, defeating Little Flower Academy 3-1, Collingwood 2-0, and Cowichan 3-0. Then, in the semi-final versus Crofton House, rock-solid defence did not allow a single shot on goal in a dominant victory.
The final pitted the Blue Jags against city rival Oak Bay. In this encounter, second-half goals by Eva Cuddihy, Amanda Adams and Anika Delichte secured a convincing 3-1 win and the tournament title.
League play commences this week, in what promises to be a special year for a talented group of players.
Soccer
In Senior Boys Soccer, SMUS hosted the annual ISA tournament. Pool wins over Collingwood (4-1) and Mulgrave (2-1) put the team into a de facto semi-final against Brentwood.
In this game, two early opposition goals left a mountain to climb, and although midfielder Samuel Bruninx then halved the margin with a neat finish, the Blue Jags were fortunate to be only 2-1 down at halftime. The second period saw no change in the score line, although SMUS pressured hard in the final 10 minutes and just failed to capitalize on a number of excellent chances.
In the bronze medal game versus Glenlyon Norfolk School, the team rebounded nicely, with goals by Kian Colgate, Neil Pakrasi and Cole Pontefract producing a 3-0 lead. Pontefract added a second goal after intermission, with Takaaki Ohara, pressed into goalkeeping duties, recording the shutout after a series of acrobatic saves.
Volleyball
The Senior Girls opened their season at the 32-team UBC Tournament. While a 1-2 finish in pool play moved the team to the consolation side of the draw, SMUS rebounded to beat North Burnaby and Semiahmoo to even its overall record to three and three.
Throughout, the players battled hard, with returnees Sophie Olcen and Skye Farish leading the way. Alienor de Nanteuil, Ava Gillespie and Tomoe Hayashi also made solid contributions.
The Senior Boys took part in the Camosun College event. With pretty much a brand-new team, and short on experience, the team worked extremely hard and made considerable progress in winning two of five matches, with all going the full three sets.
Leupold Wang paced the attack, notching multiple aces and spikes, while Geoff Lei displayed an effective combination of defensive and serving skills. Of the rookies, Nicholas Lee made a very credible start to his season.
At Junior level, huge turnouts for both the Girls and Boys necessitated a long tryout process, with team selections now finalized as league play gets underway.
Likewise, Cross Country, Rowing, Grade 9 Rugby and Junior Boys Soccer are soon to open their accounts, with racing and matches set to begin.
Vivat!