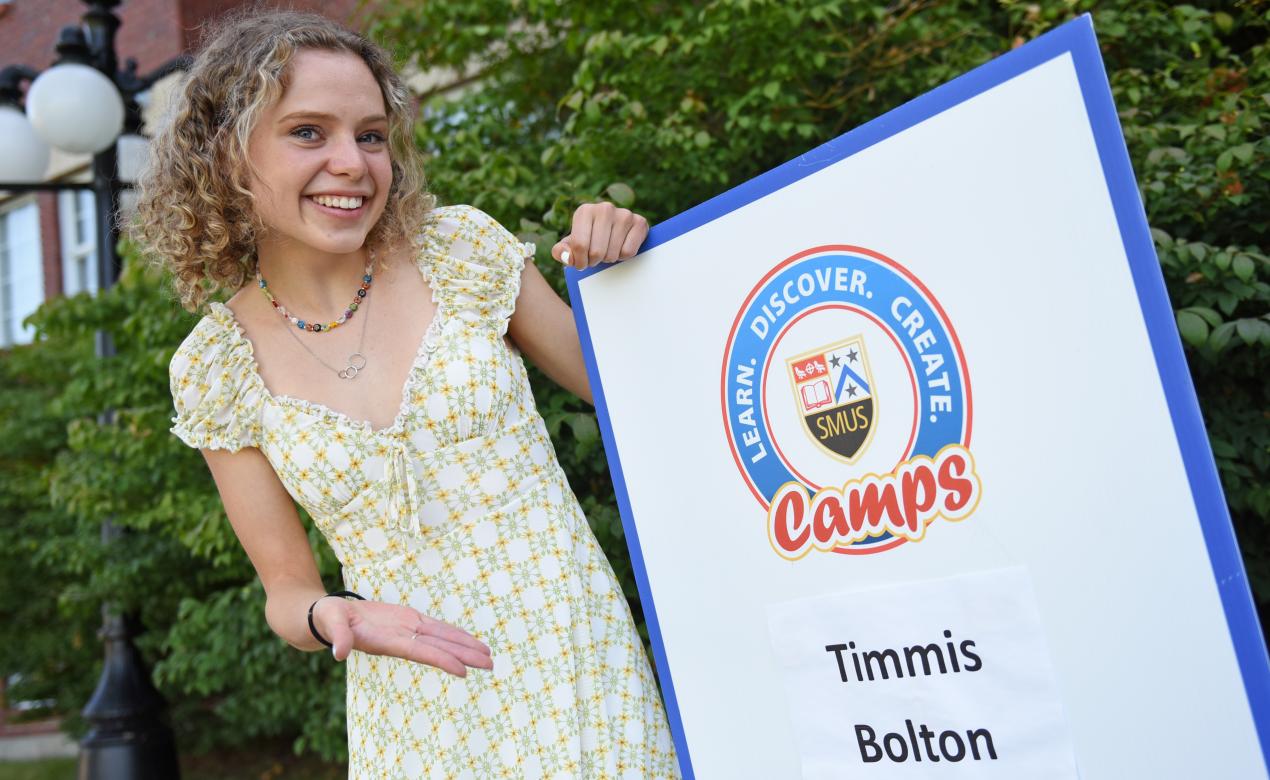 Some opportunities that come across your plate happen to be exactly what you need at that moment in your life. Such is the case for Aysha Emmerson '18, former Head Prefect and current Harvard student, as she was looking for a rewarding summer job that she could balance with her thesis research.
"In thinking about what I wanted my summer experience [back on Vancouver Island] to be like, I thought, 'What better way than to reconnect with the place that has created me and given me so much?,'" says Aysha, who is working in boarding this summer. "I'll take any sort of opportunity to work with youth because you benefit so much from working with them and because I understand anything like this to be a mentorship relationship."
Aysha was a day student during her time at SMUS, but says she was always intrigued by the boarding experience. As a summer houseparent, she is now supporting youth who are living on campus while they participate in a variety of programs – from English language camps to soccer academies. This type of work supporting youth is a big part of who she is, she says.
"I've done a lot of work around the development of youth, and I was really interested in living that out on more of an academic, intellectual level, while also facilitating opportunities for empowerment and instilling confidence," says Aysha. "That's central to my personal mission: I'll take any opportunity where I can help a youth rethink themselves and feel more secure in themselves."
The other (less academic) side to this role that she loves is it's so much fun working with teenagers and getting to know them in a boarding setting.
"SMUS does fun very well. Yes, it's an academically serious environment, but we also know how to have moments of true community and how to create great opportunities for silliness. From all of those different experiences that I had through high school, those have scaffolded into this repertoire of fun ideas that help me to engage a group of 60 students," she says.
"It has also been quite hilarious to be on the other side of the boarding shenanigans. I've heard the stories from my friends who were boarding students but I now actually understand the dynamics going on in the houses!"
Leadership in Boarding
Aysha says she sees her role in boarding, alongside that of her fellow houseparents, as a community-builder.
"Our job as houseparents is just creating the space and setting a tone of positivity to allow friendships to form. It's just so beautiful to see them embracing one another and to see how naturally they become friends," she says. "When you bring in kids who are passionate and curious, and who are brave enough to come to a new place together and open themselves up to an experience like this, those friendships in that community build up from the ground."
The flipside to that is that she, too, finds it rewarding to be part of this community.
"I'm really enjoying getting to settle into the community and getting to commit myself to community-building and feeling the supportive presence of other people in the house," she says.
Craig Kelley, Director of External Programs, says the skills Aysha brings to the boarding community have been invaluable.
"Having someone like Aysha come join the summer camps is great. She brings all that previous experience that she had from SMUS and from university. She immediately stepped into the role and got to know kids really well right away and started to create those bonds," Craig says. "I think that comes from her time being a student here. She clearly understands what it means to be a leader, what it means to be part of a community, and what it means to support other people."
Coming Back Home
Aysha is currently completing a degree in resilience studies at Harvard University. Her thesis research brought her back to Vancouver Island this summer, as she analyzes resiliency in the context of the Fairy Creek blockades.
Coming back to SMUS after four years away has also allowed her to reassess the path she wants her life to take after earning her undergrad.
"[My brother and I] talk about our high school experiences still and we understand those as very foundational aspects of identity. … SMUS means home. I've had a very shifting sense of home these past four years, and I haven't felt particularly grounded to a specific place. But I found myself wanting an experience of groundedness and of home," she says. "It's been nice to be here and to think about who I was back in high school and really recognize how much my interests have changed and evolved since then, but also the things that have remained core and central."
She hopes to earn her degree later this year before embarking on the next chapter of her life, which she says will be further education. And while it may not be a permanent place in boarding, her desire to support people will absolutely continue – and she knows she's welcome at SMUS if ever she wants to return home again.
"Home is the place that you go back to, and I love that I have a place here at SMUS that I can come back to."