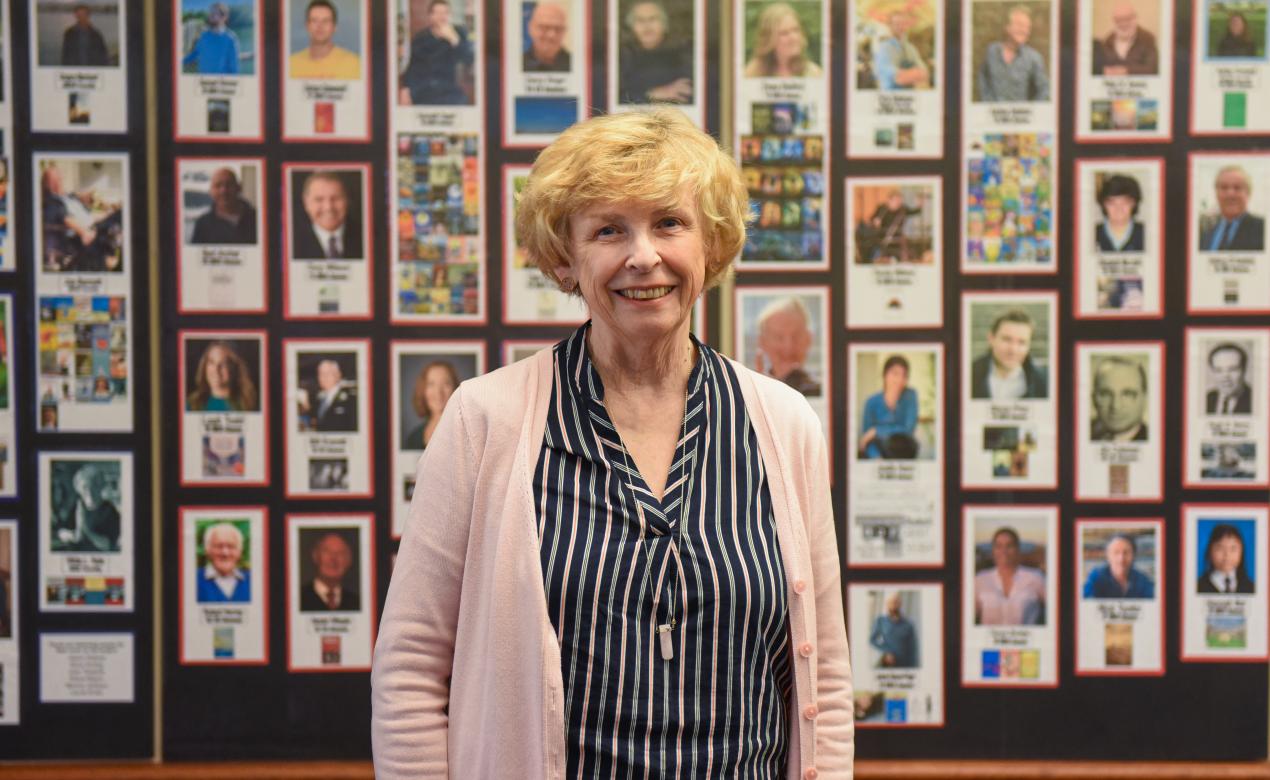 Have you ever wondered if the work you do in English class leads anywhere, or if your dreams of becoming an author will ever pan out? Well, St. Michaels University School is the place to be if you want to make it happen!
There are many published authors who were once students (or who still are students) in our community. In honour of our school's 50th Jubilee, Senior School librarian Mrs. Joan Tweedie wanted to celebrate the many people associated with SMUS who have made positive contributions to the world of literature.
"I wanted to celebrate our Jubilee in the library, and I thought that profiling our alumni authors would be a great way to recognize our history. Firstly, it would be of great interest for people coming back during the Jubilee year. And secondly, it would be an inspiration for current and future students to see the quality of work that has come out of our English program," Mrs. Tweedie says.
More than 70 names were found, including current students, alumni, faculty, and parents of students and alumni. These people have published in a variety of genres, fiction and nonfiction, young adult, dystopian, sci-fi, textbooks, memoirs, poetry, children's literature and more.
Not all names on the list are authors – some people are editors, illustrators and artists who have contributed their skills to the literary world.
"It's been an exciting process going through our history and researching all of these people," Mrs. Tweedie says. "Of course there are people we found who were here long before I was, but I've been here for 31 years and it was a lovely reminder of people who'd been through the school. For example, a couple of the students who've written were in the Book Club with me, so that was exciting."
The youngest authors are current Junior School and Middle School students – Hannah Bai '30, Jacob Paetkau '30 and Haley Paetkau '27 – who have written and published books.
"It tells me that the inspiration and support is starting right at the Junior School. From Kindergarten to Grade 12, teachers are empowering students to write and express themselves in a safe environment," Mrs. Tweedie says.
Books and authors on the list include: Kings, Queens, and In-Betweens (by Tanya Boteju '96), the Immortal Merlin series (by Emma Shelford '03), the helpful Surviving Civilization's Collapse (by Phillip E. K. Symons '55), Warsaw 1944: The Fateful Uprising (by Alexandra Richie '81), the Silverwing series (by popular children's author Kenneth Oppel '85), and truly enticing titles, such as Manage Your Online Reputation: Don't Let Angry Clients, Jealous Lovers, or Ruthless Competitors Ruin Your Image (by Tony Wilson '74).
Books by current staff include Rev. Keven Fletcher's When It Matters Most, Junior School teacher Gary Barber's Different Speeds and Different Needs: How to Teach Sports to Every Kid, and Dreams in a Box by library evening supervisor and alumna Ashley Cornwell '98. 
Now on display in The Snowden Library are posters that celebrate these authors and their works. The display shows pictures of the authors and the covers of their books. Mrs. Tweedie and the library staff have put a tremendous effort into gathering details about these authors and their stories. The displays can be found on the walls between the Glasserie and the adjacent bookshelf, and near the fireplace.
Also in The Snowden Library is a collection of many of these books – those that were already in our collection or those still available to purchase – that community members can flip through and read.
Current library staff have worked hard to collect this impressive list of authors. The staff who worked together to create this visual celebration include Mrs. Tweedie, Mrs. Schlag, Ms. Jeanni Waksel and Ms. Erwin. Grateful thanks are extended to volunteers in The Wilson Archives, who helped source information: Mrs. Brenda Waksel, Mrs. Diana Nason and Mrs. Monica Jackson.
We hope this display does what Mrs. Tweedie intended: feed the aspirations of students (who might find themselves on this display one day!) and motivate them to continue to read and write.
Students and Alumni
Bert Archer '86 
Hannah Bai '30
Claire Battershill '04
Andrew Battershill '06
Stephen Bett '66
Tanya Boteju '96
Rachel Boult '97
Laura Bradbury '90
Ashley Cornwell '98
Jim Coleman '29
Dariusz Dziewanski '97
Bill Everett '39
Alastair W. Gillespie '42
John Riley Gishler '60
Robert J. Harvey '42
Joelle Hann '86
Jeremy Hanson-Finger '05
Hugh G. Henry '78
Jenny Huston '90
Chris Hutchinson '90
Alan Iturriaga '20
Kate Jacobs '91
Jasper Johnston '16
Jodi Lundgren '84
Elizabeth McLeish '86
Nicholas Morant '27
Kenneth Oppel '85
Haley Paetkau '27
Jacob Paetkau '30
Steven Price '94
Eric Protzer '11
Anthony C. E. Quainton '46
Alexandra Richie '81
Andrew Sabiston '82
John Schreiber '59
Emma Shelford '03
Samuel Simons '09
Danny Singer '64
Philip E. K. Symons '55
Leah Todd '00
Nick Tooke '87
Timothy Williams '83
Tony Wilson '74
Emily Jungmin Yoon '09
Faculty and Retired Faculty
Gary Barber
Chris Bateman '94
Joe Bennett
Stuart Dunlop
Keven Fletcher
Jennifer Fraser
Catherine Greer
Hilda L. Hale
Dorothy Hawes
Michael Jackson
Tessa Lloyd
Gregory Marchand
Ian Mugridge
Linda Rajotte
Alan Rees
Colin Skinner
Kyrle C. Symons
Ruth Wellburn
Terence Young
SMUS Parents
Rick Archbold
Robert Bateman
Robert "Lucky" Budd
Ramsay Derry
Peter D. Johnston
Pat and Rosemarie Keough
Sarah Leach
Jean Paetkau
Dan Pontefract
Roy Henry Vickers