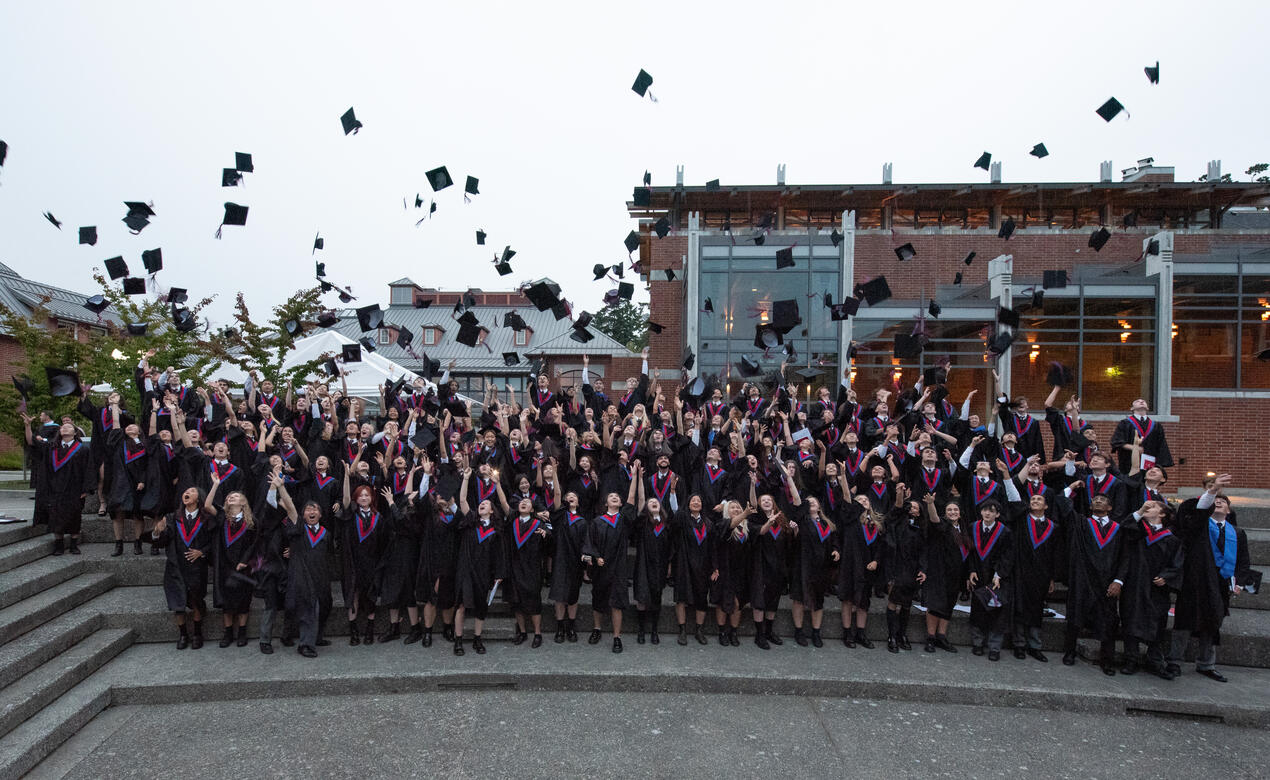 We are incredibly proud to celebrate the graduating Class of 2023, and recognize their accomplishment in reaching this milestone moment.
Our 151-member grad class is a group of exceptional young people and role models who are about to embark on the next stage of their lives – and we could not be more excited to see what the next chapter brings for them. 
For many students in the Class of 2023, much of their time at the Senior School included the COVID pandemic. They overcame the hurdles that this presented, and have come out the other side as resilient leaders. During the graduation ceremony, Head of School Mark Turner commented, "There is a curse of uncertain origin, "May you live in interesting times". The times you, young leaders, are inheriting, are most certainly interesting. There's no doubt that tomorrow we will need leaders of talent, compassion, integrity, and vision. Take hope and optimism in the fact that there are many here tonight."
These students of eighteen nationalities will head off to a wide variety of schools and countries near and far next year. One-hundred-twelve grads will stay in Canada, studying at eighteen different schools, while another seventeen students will study at sixteen American schools. Thirteen students will attend schools internationally in the UK, and a further ten students will be attending institutions in Australia, Asia, and the European Union. Four students will take a gap year to work, travel and take a year of discovery before embarking on their post-secondary pathway. 
Below are excerpts from valedictorian Daniel Benjamin's speech, which you can watch in full as part of the Grade 12 Graduation Ceremony video at the bottom of this story. 
Browse and download photos from the Grade 12 Graduation Ceremony on the SMUS Photo Gallery. Photos of members of the Class of 2023 on stage can be found by typing their full name (eg. Daniel Benjamin) into the "simple search" bar.
Valedictory Address (excerpts)
Thank you to my classmates for electing me as valedictorian. I may not have won the coveted head prefect position, but I knew that eventually, my incredibly handsome face would win you guys over. 

Graduation is not only a time to reflect back on the fun and wonderful memories we have made and what we have achieved, but also a time to look to what the future holds. With the risk of sounding cliché, I'd like to offer some advice. We stand here today on the brink of a significant transition, far larger than simply from Junior School to Middle School or Middle School to Senior School. After sharing up to 13 years together, we are finally going our separate ways. It's evidently a bittersweet moment, which I'm sure will cause some tearful goodbyes, but this moment holds the possibility to be a key turning point in our lives. 

As we go out into the world, with the goal of making a difference in our own unique way, we can look at this transition as an opportunity to accept and address the mistakes and regrets we may have had throughout our lives up to this point, whether it be in terms of school, personal relationships with family and friends, or in our own morals and qualities. Let go of these past regrets, but do not let go of the lessons you learned from them.

Between the already established social setting and comfortable familiarity of our actions, it can be difficult to take the time and courage to reflect on what we want for ourselves and actually commit to achieving it. The weight of expectations from others can also make it hard for us to identify who we truly want to be. Moving on from high school gives us all a chance to take that difficult step forward without worrying about the familiarity of ingrained routines and what other people think of us. While it may seem that we already have firmly ingrained identities, we are actually still in the process of forming them.

I want to recognize that while it is important to stay true to our values, don't be afraid to inspect your ideals and search for ways in which you can aspire to be better. This is not an invitation to compromise your morals and beliefs simply for the sake of conformity with others' ideas or in response to peer pressure, but an entreaty to look inward and think about who you are, and what you want. The American poet and philosopher Ralph Waldo Emmerson said that "to be yourself in a world that is constantly trying to change you is the greatest accomplishment."  Look at these forks in the road, where you have the choice between a path often travelled which may not perfectly align with your ideals, or the option to forge one of your own, as tests of your character, and do not give in.

In our years together at SMUS, we have acquired a solid foundation, and we must build upon it. I hope that when we come back together for our class reunion, each and every one of us can talk with pride of what we have accomplished. 

I'd like to end with a final congratulation to our class of 2023. We did it!