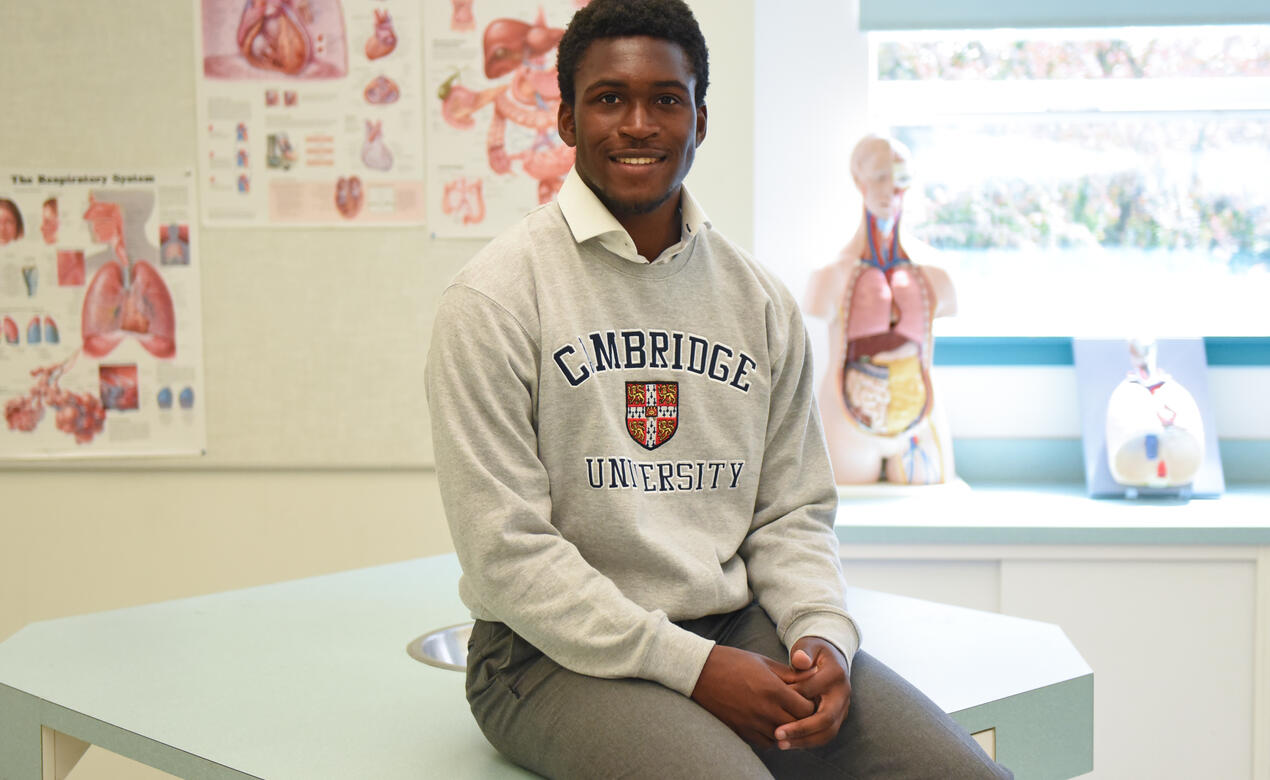 Getting into an Ivy League university these days is really hard. Getting into Cambridge University is harder still. And getting an offer to study medicine at Cambridge is almost unheard of, as it's among the most selective programs in the world.
Grade 12 student Dave Duru has done all of that. He is one of just 22 international students who received an offer to study medicine at the University of Cambridge beginning in September. 
"It's an outstanding achievement to get an offer for direct-entry medicine in the UK, and exponentially moreso for that offer to be from Cambridge," says Ruth McGhee, Director of University Counselling. "It's the first direct-entry medicine offer to Cambridge that anyone at SMUS can remember." And, as anyone who knows Dave – his teachers, classmates, teammates, and even opponents on the rugby pitch – would tell you, it couldn't have happened to a better person.  
"I wasn't groomed for Cambridge," Dave says. "In Grade 8 I didn't have great grades. With COVID-19, I decided on my own that this was what I wanted to do. I just thought it would be right for me. I felt fortunate to have the opportunity to go to SMUS and I wanted to do the best that I could."
Dave acknowledges that getting the offer from Cambridge was hard, given the selectivity of the program and all that goes into the application process. "Other students might think it's impossible. But as someone who is actually going to go to Cambridge, it feels different. It's all about perspective. It feels a bit more normal to me." 
But Dave's accomplishment is hardly normal – perhaps because he's not your average student.
The Path to Cambridge
To even be considered for Cambridge, you need more than just good grades. 
Dave met all entry requirements, and then some. He achieved extraordinary marks through high school. He took Advanced Placement courses in all areas of science and medicine, as well as calculus and macroeconomics. 
He also challenged himself by taking many extra courses beyond what's required to graduate, including summer and enrichment courses offered to high-school students, as well as higher-level university courses. Dave will graduate later this month having earned 142 credits, 62 more than the 80 required for graduation in British Columbia.
Dave scored in the 99th percentile on his SATs and also succeeded (in the top 0.5%) on the BioMedical Admissions Test (BMAT), an entry requirement for top UK medical schools.
As a School Prefect and captain of the Senior Boys Rugby team, he models our school values and has also been a strong leader in our school community.
Outside of school, Dave has volunteered for Island Health helping to facilitate COVID-19 vaccines as well as giving his time to the Royal Jubilee Hospital Step Up Youth program to support other youth during the pandemic.
As part of the application and admissions processes for Cambridge, Dave had to write a daunting 4,000-character personal statement. Here, in a polished, academic essay, applicants discuss achievements related to their course of study, academic interests and research, relevant life experience, and future goals.
Finally, after impressing Cambridge at every step with his exemplary exam performances, academic and personal résumé, and personal statement, he had two rigorous interviews with professors at Cambridge before receiving his offer of admission.
Why Cambridge? 
Dave says he initially applied to Cambridge because of "the prestige" of the school. Then he quickly became inspired by the quality and the breadth of the medicine program.
"Cambridge prepares you for medicine in the most optimal way," Dave says.
In this program, students hone their scientific aptitude with three Pre-Clinical years. There is no real connection to patients during this time. After the first three years, students begin their clinical training, moving through rotations at the world-famous Addenbrooke's Teaching Hospital. 
"You are exposed to many different areas of specialization, so you can see what you are most interested in," Dave says. "Even when you become a doctor, you may still need to train for another 10 years to specialize. That's another reason I wanted to go to Cambridge – it gives you the opportunity to delve into different specialties." Right now he says wants to go into surgery, but hasn't yet made up his mind about which area. 
Dave looks forward to living at Gonville & Caius College, which is as ancient as it is beautiful. It boasts notable alumni Stephen Hawking and James Chadwick, to name just a few.
He says he is inspired by those who went before: "I think being in that environment will help me reach my full potential." 
Conditional Offer 
Technically, Dave's offer is conditional upon his achieving top scores on the AP Biology and AP Chemistry exams he took in May. The catch, however, is that these results don't come out until July. 
"It felt like my exams went well, but I suppose there's a chance I won't get those 5's," Dave says, knowing that his post-secondary plans now hinge on AP results.
In addition to Cambridge, Dave received offers to study at many other prestigious universities, including Ivy League schools. That said, he has committed himself fully to medicine at Cambridge.
"I don't really have a Plan B. I rejected all my other offers to put pressure on myself. I think it'll be OK. It's only a bad idea if it goes wrong!" 
The whole SMUS community is behind him and is incredibly proud of his accomplishment.
"Dave is a special person," says Megan Parry, Dave's University Counsellor. "Personally driven, he is always respectful to others, modelling our school Values in all that he does. I grew to admire him enormously as we worked together through the university application process, and I know how much his teachers appreciate him and enjoy teaching him. Cambridge will be lucky to have him and we are excited to see what his future holds."