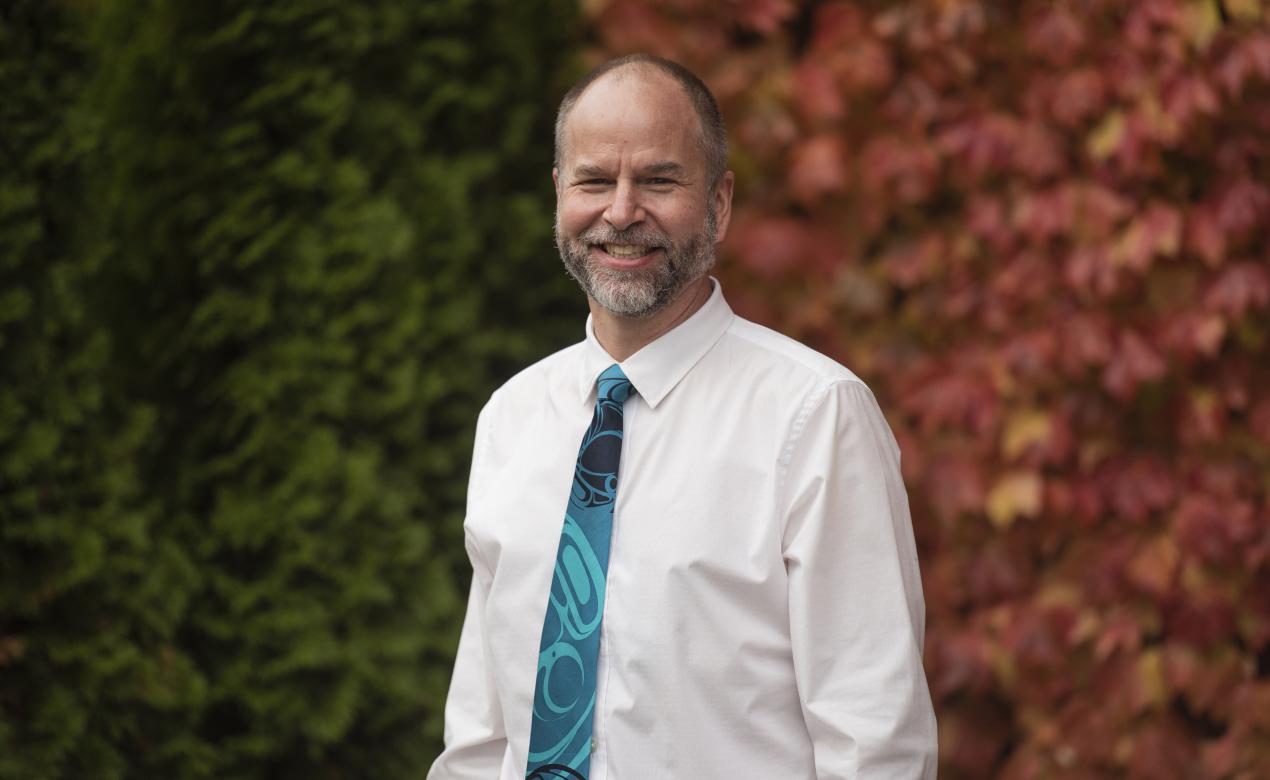 Chapel provides a platform for asking ourselves great questions about life. Over the years, I've found that students and parents sometimes have questions about Chapel itself. What follows are some of the standard questions and answers about Chapel at SMUS.
For ease of navigation, I have separated them into three sections:
Understanding Chapel
What do we mean when we say 'Chapel'?
Several things. First, 'Chapel' names a physical building on the Richmond Road campus. Second, 'Chapel' refers to weekly community gatherings held on both the Richmond Road and Victoria Avenue campuses. Third, 'Chapel' captures a wider program focused on exploring values, identity, and meaning.
Why does the school have a Chapel building?
After decades of marching down to St. Luke Anglican Church for Chapel on Sunday, students at the school more than 50 years ago teamed up with a couple of teachers to promote the idea of erecting their own gathering place. Built largely by teenage hands during the early 1960s, the Chapel testifies to the sheer will of the student body.
Does the connection to St. Luke's mean that the SMUS Chapel is part of the Anglican Church?
No. Neither SMUS nor the Chapel has ever been a formal part of the local diocese. Clergy associated with the school have been members of the denomination, but that's a different matter. The school's Chapel is completely independent of any religious organization.
Is SMUS Chapel a religious gathering?
No. Although overtly religious in the past, Chapel no longer promotes a particular doctrine or tradition. The only aberration to this statement is the continued presence of a few Christian hymns, shared on occasion. We sing them out of respect for our heritage and because the music is beautiful.
Why does the school have a reverend?
Tradition. There was a time when Chapel strongly reflected Anglican practice, so it was led by an Anglican priest. Today, Chapel reflects the diverse backgrounds of our current students. It just so happens that I'm ordained in the United Church, but there's no guarantee that the next Chaplain will be a member of the clergy.
So what does the current Chaplain do?
Advocacy for our communal values weaves through all of my work. Along with the speaking and storytelling associated with Chapel, I'm often invited to take a life coach role with students and staff. Because of my previous work as a management consultant with a background in facilitation and mediation, I'm also brought in to process explorations and challenging conversations. Of course, the laundry list of roles traditionally associated with being a Chaplain (pastoral care, weddings, funerals, event prayers, etc.) are all part of my portfolio, bringing me into contact with students, staff, parents, and alumni. Perhaps most importantly, I'm responsible for providing a supportive platform for students when they present their own ideas and experiences through Chapel.
Why does SMUS have Chapel?
If Chapel didn't exist at the school, we would need to invent it. Every community that strives to be intentional in its work requires a time and place to gather as a whole. Especially in the context of cultural, economic, and geographical diversity, we need regular reminders of our common aspirations and foibles, along with the values that hold us together. Each time we give these ideas voice through a wisdom story, a nuanced question, or a student reflection, we further strengthen our ability to discover our individual and collective promise – which is exactly what Chapel is about.
The Ins and Outs of SMUS Chapel
What does a standard Chapel look like?
At the Junior School, we open with a few words to set the theme. After a student lights the candle and leads us in taking three breaths, a question is posed and the students silently consider their response. Usually, several of the students offer thoughts and there are times when everyone shares with their elbow partner. We then join in a song that's accessible even to our youngest. Once the message or story is shared, we again take three collective breaths and close our time.
At the Middle and Senior Schools, many of the patterns are the same. We set the theme, take some breaths, pose a question, and hold a period of silence for reflection. The theme might focus on an event within the school, an experience of a student, or an international issue. Next, we share the day's Words of Wisdom, which are followed by a piece of music offered by a student. The message takes any number of forms from a single speaker to a series of individuals, often involving images and clips. We close by singing together before taking our closing breaths and departing.
Why do we take three breaths at the beginning and end of Chapel?
It's not because we don't know how to breathe. Taking three collective breaths allows us to slow down together and ground ourselves in the moment. I know it sounds odd – but it works. Some students take the practice with them, using it to settle themselves before exams, speeches and tough conversations.
Why is there silence after the question?
Most gatherings begin with a question related to the day's theme. The silence that follows is a 40-second opportunity to pull out our initial thoughts. It's good to figure out what we think before hearing from others as we're more likely to listen critically, discern what's true and integrate the good stuff. Articulating our own thoughts also prevents us from absorbing someone else's words like a brainless sponge. Chapel is anti-sponge.
Why do we sing together?
One of the ways we express unity is by joining together in song. We're good at it. From Kindergarten to Grade 8, every student participates in Choir as part of their education. Some continue the pursuit all the way through Senior School. Our school musicals consume most of our community. In other words, when music is a part of nearly everyone's life, singing in Chapel is a natural extension.
Why do you tell stories during Chapel?
Although messages often take the form of TED-style talks at the Middle and Senior School levels, all three schools hear wisdom stories. Far from being childish, these stories speak to the deeper questions of human experience, as expressed by cultures across the world and throughout time. They open a whole different angle of exploration, meeting us at our own individual levels while inviting us to ask questions about ourselves and our world.
Why isn't Chapel optional for some students?
By its very definition, Chapel is a whole community event. If members were able to absent themselves on a whim, it would become something different and arguably lesser. Of course, if a student feels morally opposed to the concept of Chapel, a separate program can be arranged, covering the same themes. Basically, the program is not optional, but its form can be.
Why aren't students allowed cellphones in Chapel?
Chapel is a matter of people and place. Phones get in the way because they shift our focus to other people and other places. By setting aside our phones, Chapel offers an opportunity to disconnect for half an hour. Some students love this. Other students struggle. We all power down so that the moment is possible for those who enjoy it.
Is there praying in Chapel?
No prayers are spoken in Chapel. We share 'Words of Wisdom' which capture the essential moral teachings of different faiths and philosophical traditions, none of which are directed towards a deity. The only communal prayers shared on campus are at events unrelated to the Chapel: the Remembrance Day Ceremony, the Christ Church Carol Service, the Closing Ceremonies, and major Community Dinners.
Is SMUS Chapel like going to a church/synagogue/mosque/temple?
It depends. If your place of worship is values focused with lots of questioning and lively participation, then yes, you might find some similarities. On the other hand, if your place of worship is all about set answers and beliefs, then no, Chapel is absolutely nothing like it. Most significantly, Chapel does not assume that everyone shares or should share a particular belief system.
How is Boarders' Chapel different from weekly Chapel?
More than half of the Boarders' Chapels are led by the Boarding Houses. These gatherings tend to be more personal, less structured, and a bit longer with more student-generated music and clips. Because the whole Boarding community attends, ranging from babes-in-arms to old hands, there's a different feel to these evening gatherings.
What are the Pillars for?
When we examined how we were developing students and staff as leaders, we realized that we hadn't identified the qualities we hoped to engender. After talks, surveys, and discussions that involved all grades, staff, and alumni, we settled upon four: Service, Honesty, Respect, and Courage. We refer to them whenever we reflect on leadership within our community.
Getting More out of Chapel
How can parents contribute to Chapel?
Simple. Ask your children about it. Help them explore the ideas that are raised. Don't worry if they stare blankly at you from time to time – not every message will land. The program's value lies in the long run rather than any single message. If your children are at the Junior School, feel free to join us for Chapel on Monday mornings and look for letters from Tessa Lloyd that explain the virtue of the month and what questions you might explore around the dinner table.
Who decides what gets discussed in Chapel?
Our Junior School follows the Virtues Project, which means that each month we focus on a particular quality of character. Supporting work undertaken in classrooms, Chapel provides a whole school platform to highlight the virtue, which often works its way into writing assignments and further discussions. At the Middle School, Chapel themes are developed in conversation with the directors and staff, who identify what's going on within the student community. This has lead to anywhere from explorations of humour to reflections on the significance of belonging. When it comes to the Senior School, student voices are centre stage. Whether it's general guidance from the Chapel Team or whole event leadership from Councils and Clubs, most of the gatherings are student led.
How can students become more involved in Chapel?
The intriguing thing about Chapel is that its value to us as individuals largely relies on us as individuals. If we go looking for benefit, we'll probably find it has much to offer. If we go expecting little, we'll probably receive exactly that. With this in mind, the first level of involvement is simply the decision to get the most out of each gathering. When a topic strikes our interest, we can carry on the conversation in the hallways, in class, and around the dinner table. We can also decide to take our place at the front, leading a presentation or sharing our musical talents. Feedback is always welcome, particularly when a gathering stands out in good ways or bad. Finally, at the Senior School, join the Chapel Team – the group that shaped Chapel into what it is today. More importantly, it's the group that influences what Chapel will become.
If you have any other questions about Chapel not answered in any of these blogs, please email me and I'll be glad to connect with you.