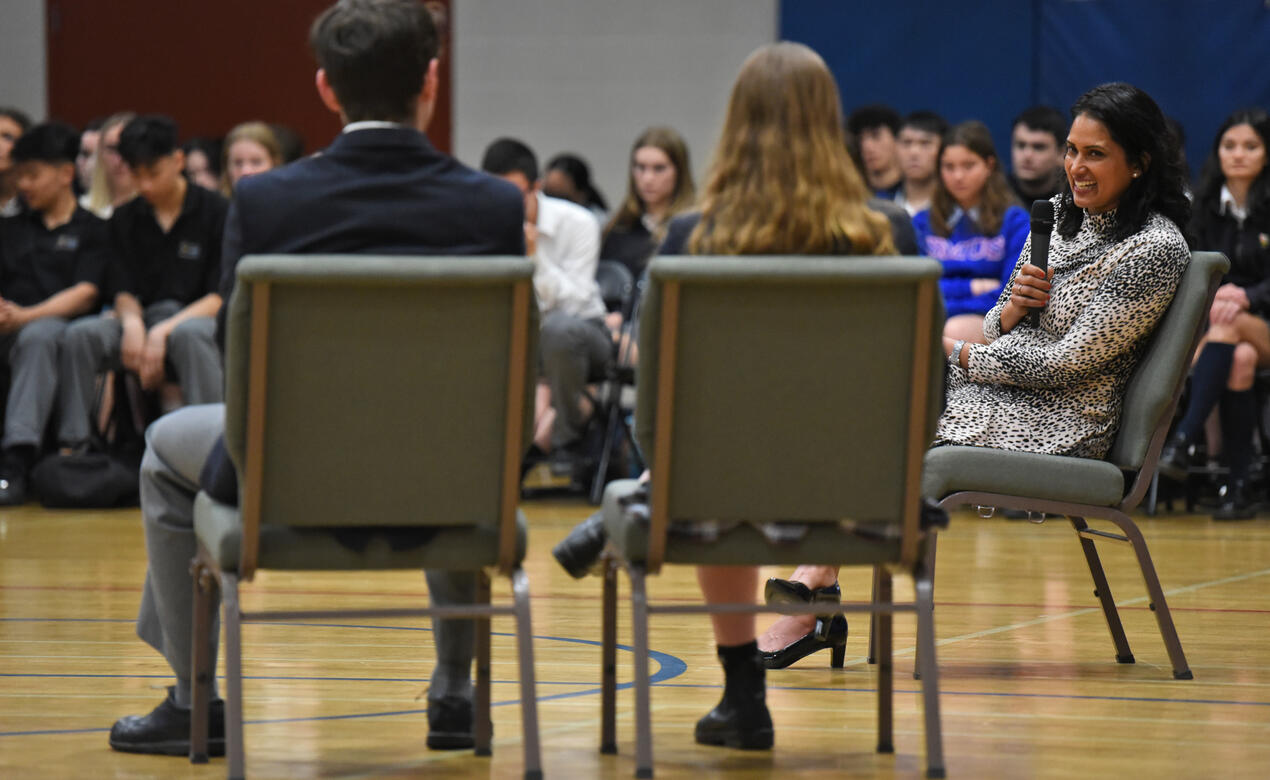 We were recently incredibly fortunate to welcome Gargee Ghosh '93 back to campus to learn from her, hear about her life and present her with a well-deserved Distinguished Alumni Award.
Gargee is President of Global Policy and Advocacy for the Bill & Melinda Gates Foundation, where she oversees government affairs, economic policy, advocacy, and philanthropic partnerships in support of the foundation's goals around the world. She is also responsible for the foundation's regional offices and strategic presence in Europe and the Asia-Pacific region.
She was selected as SMUS's 2021 Distinguished Alumni Award recipient in recognition of her courage and service through the work she does, especially her recent work to help facilitate the distribution of vaccines across the world to combat the COVID-19 pandemic.
We hosted an assembly at the Senior School to present Gargee with her award.
"I had no idea what I wanted to do with my life. There are lots of kids at SMUS who have five-year plans, I was never one of them. What I did have was a lot of curiosity about what was going on in the world outside of this gorgeous campus, about why some people lived the way they did, about why the world seemed fair and not fair. And I can tell you now, looking back on 30 years, curiosity has been much more valuable than certainty for me," Gargee said. "For me it has allowed me to raise my hand for jobs and scholarships and schools. Curiosity has allowed me to land in foreign cities and countries and find a way to get to know people and build community. I gratefully accept this award as an affirmation that showing up in the world that way, with curiosity, an open heart and being willing to do hard work is a decent way to show up."
She then sat down for a chat, facilitated by Head Prefects Ryan Killoran and Talia Pike. Below are excerpts from that conversation.
How did you go from SMUS to where you are now?
My story is about walking in to doors as they open. It's about finding mentors,  it's about taking some risks, and it's about working really hard. 
How did going to SMUS shape your career path?
For me, SMUS was a time of learning how to think. I was recently asked what courses I took when I was here, and I honestly couldn't remember any class except biology. What I do remember is being pushed to think; to question what I was reading, not just to know the answers but ask why they were the answers and should they be the answers. I think that's a discipline that serves you so well no matter what you go on to do. 
What advice do you have for current students to help set us up well for the future?
Practice finding mentors as much as you can. Go talk to your teachers, not only because you got a bad grade or you need to miss a class, but to show what you're interested in and to build relationships. Always think about it that way; it's not transactional, people will see through if you just want something. I cannot tell you how helpful and meaningful it is to build relationships, have mentors, and be a mentor. For me, that is even more important than the grades you get and courses you take.