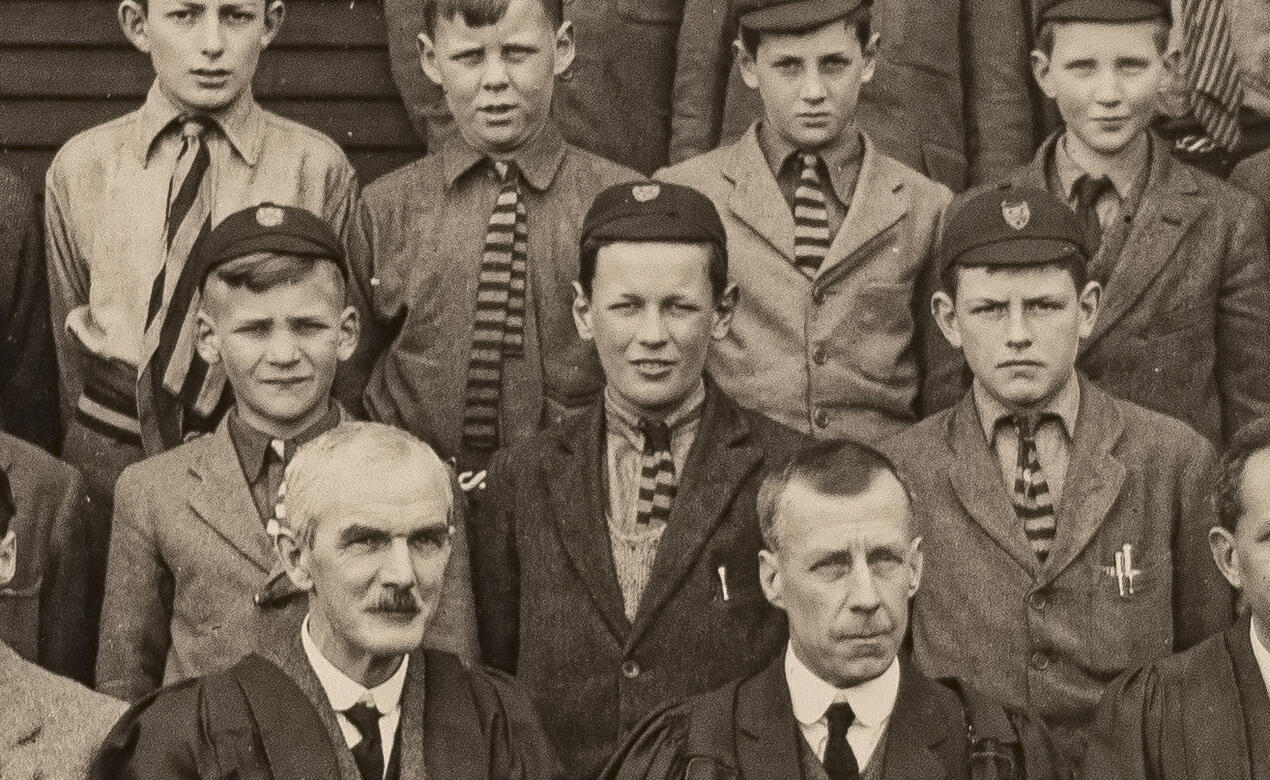 One of our Jubilee year projects is "Waiting to Be Remembered - Stories from St. Michael's School," a collection of incredible stories of connection and coincidence involving St. Michael's School Old Boys, researched and authored by Michael Nation (SMS '70).
Between January and June 2022, we will release stories by Michael Nation and we hope you will enjoy reading them.
---
A marriage proposal like the following (especially when it's delivered over the phone at 2 am) is unlikely to be a huge winner: "I've just bought a wooden toilet seat that I think will fit very well on top of that pail on the boat. It's sky blue, and I paid $8.50 for it."
But it worked for one St. Michael's School Old Boy.
----
John Heywood Daly attended St. Michael's School from September 1921 to June 1927. His father, John Joseph Heywood Daly, was a Manxman of Irish descent but spent most of his adult life as a rancher in Montana. Born in 1877, Heywood emigrated to the United States in 1896, choosing the dry air of Montana because of his tuberculosis, but also spending two years (1904-1906) working cattle in Argentina.
John's mother, Muriel Broadbent, was an Englishwoman, from Cheshire. Returning to England, Heywood married Muriel in the county town of Chester in January 1908. She may have remained in England for a few years because she was enumerated in the 1911 England and Wales census at her mother's cottage in Chester with her younger sister Dorothy. But she had joined Heywood in Montana by early 1912, and her mother and sister followed that year.
Mrs. Broadbent identified very strongly with the British Empire and was unhappy with the prospect of her first grandchild being an American. So the birth took place in Canada: John was born in Vancouver on Halloween day in 1912.
In 1920, the majority of the family – Muriel, John and Mrs. Broadbent – moved to Cherry Point on Cowichan Bay, Vancouver Island. Heywood came from Montana for short visits during the winters, and John spent many summers on his father's ranch in the US.
Perhaps because of the 'imperialist' proclivities of his maternal grandmother, John was sent to St. Michael's School, the kind of school – set up 'along English public school lines' – which was then thought to produce the next generation of gentlemen leaders of society.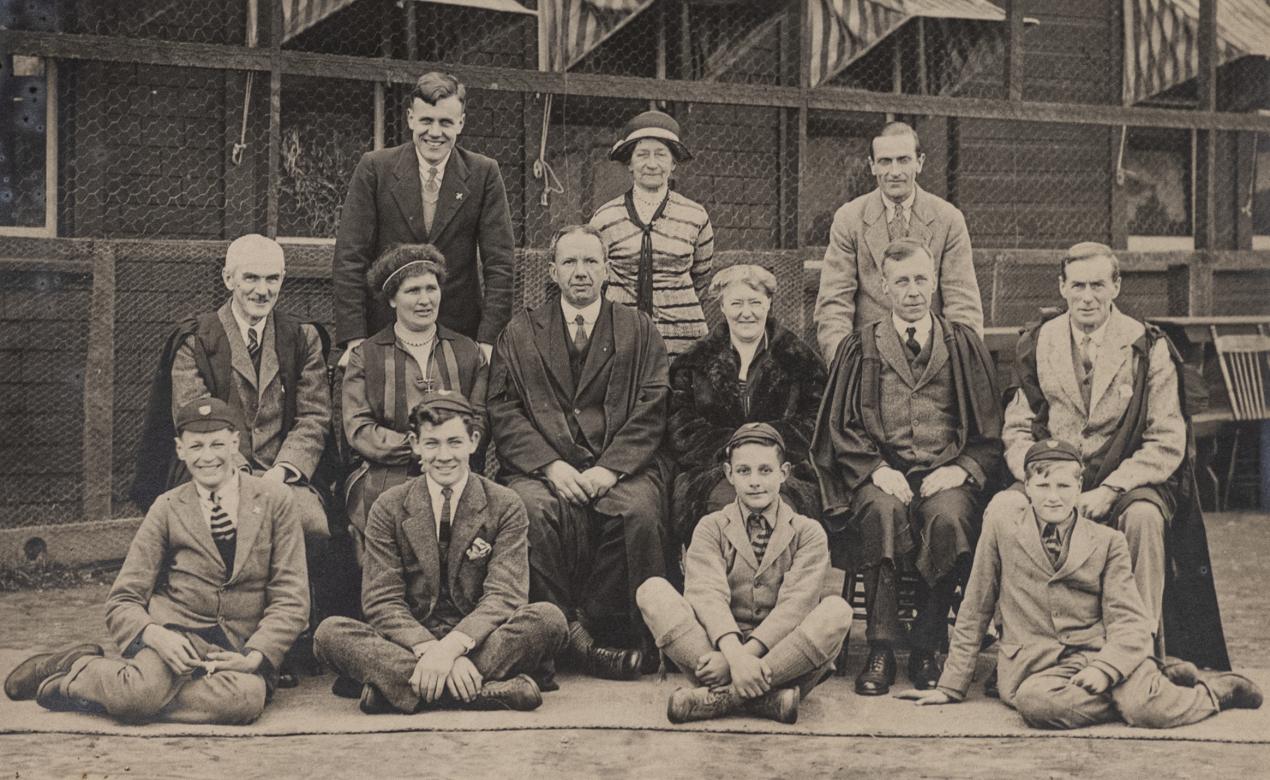 He was neither a top athlete nor a leading intellect in his class, but he must have been steady and mature as he was chosen one of the four school prefects in Grade 9, his final year. A strapping young man by then (he grew to be 6-foot-4), he had rather an adult face at an early age.
After finishing St. Michael's he was sent to another private boarding school, this one much further away, in Sedbergh on the edge of the Yorkshire Dales in northwest England. He was very homesick and unhappy for the three or four years spent there until he had to leave. As a result he came to hate English-type private schools, and returned to Canada with an abhorrence of the British class system.
Yet St. Michael's can't have been as unhappy a school for him as Sedbergh because he became a member of the Old Boys Association (buying a tie) and kept in touch with the Symons family over the years, leaving addresses through which school newsletters could reach him. The old Headmaster (Mr. K.C. Symons), while vacationing on his own boat in August 1954, even dropped in to see John at his home in Garden Bay, Pender Harbour on the Sechelt Peninsula – but of course John was away fishing.
He was on the Pender Harbour school board for several years in the late '50s and early '60s, and was an active member of the Parent–Teachers Association. In 1960, the high school had an exceptional principal. She set up a course on commercial fishing and got it approved as a two-year credit course by the Ministry of Education, the first such course developed outside of Victoria. The principal relied upon John for much of the material for the classes and he helped teach it.
----
John fished for 44 years, from the time he bought his first troller in 1934 at the age of 23, until his sudden death in 1978. Over the course of his commercial fishing life he owned a series of five trollers: Snark (1934-1937); Muriel D. (1937-1940); Muriel D. II (1940-1945); Kelp (1946-1952); and MoreKelp (1952-1978).
He became well known and well respected along the length of the BC coast. He also earned a reputation as a very successful fisherman, who followed his own instincts as to where the fish were and how to catch them. He observed that "… there is a factor some men develop and others have naturally and still others never seem to attain – that elusive and indefinable instinct, plus the ability to be able to think like a fish. I believe those humans who attain this somehow reach back into time and their evolution and 'tune themselves in' on those instincts we once possessed for survival several millions of years ago."
He fished alone for most of his career, though both his sons learned to fish with him. He rigged his troller with four helms or steering wheels so he could always handle the boat from wherever he was working on it.
In 1974, William Shawn, the legendary editor of New Yorker magazine assigned one of his experienced writers to work up a story on BC's commercial salmon fishing industry. Early in the course of her research, Edith Iglauer was advised to talk to a troller named John Daly. Very quickly successive interviews turned into a wonderful love affair. When Edith first went aboard the MoreKelp, John's last boat, she discovered it had no head. Accustomed simply to "going" over-the-gunwales when out fishing by himself, Daly, out of consideration for his new friend, installed an aluminum pail on the outer deck. The bucket and its accoutrements became the context of his marriage proposal.
Edith's response? "What a proposal! How could I resist him, and why should I? I laughed myself to sleep."
----
At our archives in the spring of 2021 I was trying to identify John in the collection of St. Michael's School pictures. I Googled his name and up came a book I had heard of, but not read, many years ago: Fishing with John. That was when I first made the connection between the book's author, New York socialite and writer Edith Iglauer, and "our" John Daly. But in the reportage about the book there was almost nothing about him apart from his name – and no photo. It was all about Edith.
That bothered me. It wasn't John who gave up his fishing life on the West Coast to move to New York (he disliked cities: "We are outdoor-equipped – for outdoor lives, not cities."). It was she who toted her duffle bag across the continent to a 41-foot troller based in a tiny bay on the Sechelt Peninsula. She made an extraordinary decision; but John was an extraordinary person.
John Daly was not the only St. Michael's Old Boy who became a commercial fisherman. At least three others of his school era did the same: brothers Paul and Jack Homer, and Bert Higgs, all of whom had communications with the school (sometimes through John) for many years. For a while early in their fishing careers, all four were based in Bull Harbour on Hope Island, just off the northern tip of Vancouver Island. In October 1936, their boats were called Teola (Paul), Oceanis (Jack) and Monabell (Bert).
John was also a close friend of members of the Chambers family from his childhood, and later two Chambers brothers were trollers like himself. Some of the news about John was reported to the Symons family by another St. Michael's Old Boy, Graham Chambers '33, three years behind John at the school.
I know of one very successful fisherman from my own time at the school, Bob Fraumeni. Bob was only a young deck hand when he met John in Port Hardy in the mid-'70s. He also kept in touch with Edith until the end of her life, at 101, in 2019.
After John died, a long-time Pender Harbour resident and friend of John's donated four acres of his land for a regional park to save a salmon spawning stream that runs through it. He gave it the name John Daly Nature Reserve.
Commercial fishing is dangerous and difficult work. As John told Edith, "On the water, you have to keep in mind all the time that the sea is out to get you. Treat the sea as if it is always trying to get you. It's the only way to survive. You can never really relax. Never!" Only a small proportion of men, and even smaller of women, manage it well. Still fewer love it and feel at home on the water. John Daly was one of those.
"John turned off the motor and we drifted, gliding silently on the rippling sea. 'The choice in views for beauty along this British Columbia coast completely overwhelms me,' he said. 'I love it so deeply that I want to put my arms around all of it. I want to pour the whole coast over myself.'"
---
Michael Nation (SMS '70) has been volunteering in The Wilson Archives identifying boys in the series of St. Michael's School photographs going back to its beginning in 1910. If any reader knows another St. Michael's School story which should be resurrected, please contact him through The Wilson Archives.