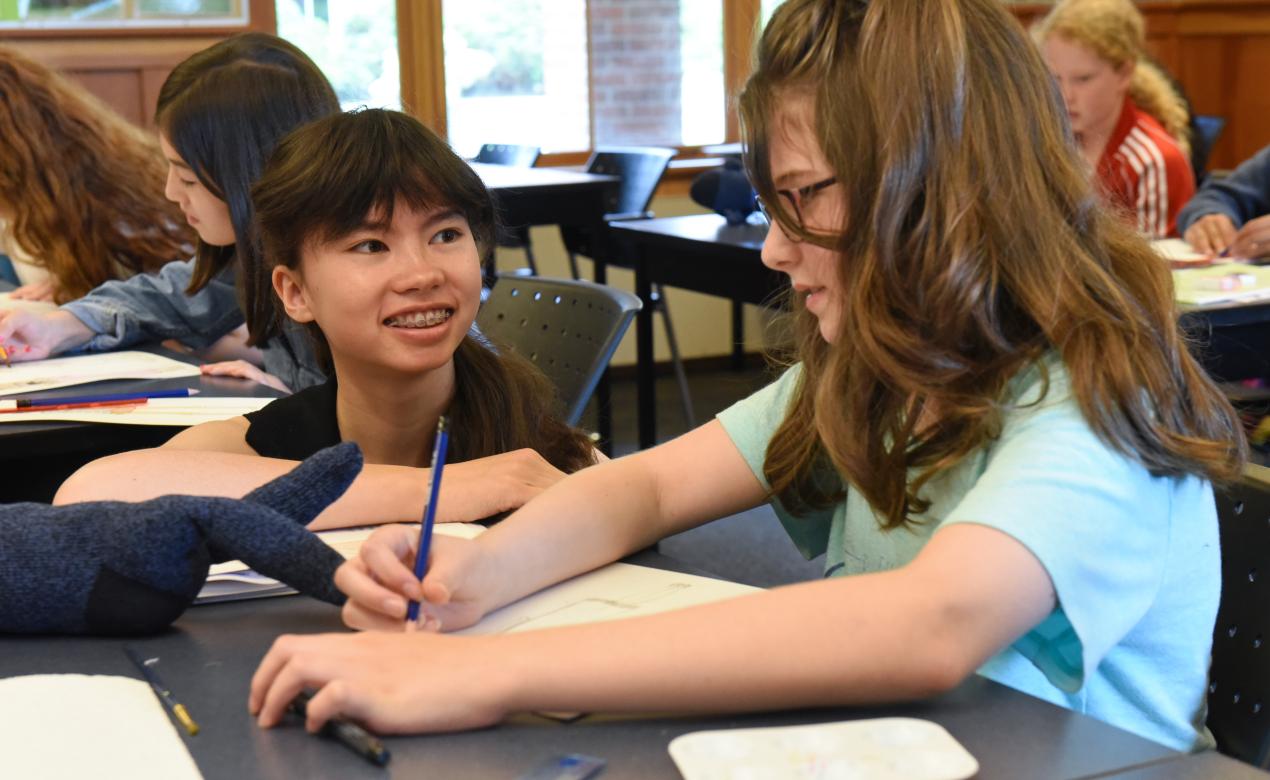 The entry-level catch-22 is a paradox many young people face while searching for their first summer job: you need a job to get work experience, but in many cases you need to already have work experience to get a job.
That's why SMUS Camps stepped up to offer students an opportunity that gives them invaluable skills and experiences, while also offering them a leg up in getting their first job.
"I think it's important to create opportunities so that they get experience and exposure, and they get some real-life practical skills so they can then more confidently apply for jobs or go into interviews or have the skills to succeed in their first job," says Melody Kassiri, who led the SMUS Rising Leaders camp at Spring Break.
The camp aimed to help teenagers learn about compassion, empathy, boundaries, connections and relationships, while also putting those developing skills into practice. It was designed specifically to help develop skills that teens could use as camp counsellors – a common summer job for students.
"It was a really comforting experience because before doing the [Rising Leaders] camp, I had no idea what to expect from possibly working in a summer camp," says Grade 12 SMUS student Neil Pakrasi. "But I feel like I was armed with the knowledge to navigate any situation, any eventuality, and I felt like I could really take on this job and do a good job."
Neil is one of 10 students from the Rising Leaders camp who applied for a job with SMUS summer camps.
"Having gone through the program with them and seeing them in action, I already knew that they would all be great fits for our camps," says Melody, who is also camps coordinator at SMUS. "But they all went through the hiring process because I also wanted them to have the experience of writing a cover letter and resume, and going through an interview. Ultimately what I was looking for was a willingness to try and put themselves out there, and to step out of their comfort zones."
All 10 of the Rising Leaders who applied for a job were hired as camp assistants to work with children and to support the adult program leaders this summer.
"I don't think I would be able to do this job as well without having done the [Rising Leaders] camp because I've never really had an opportunity to learn how to be a leader and get those skills," says Zoe Thompson, a Grade 11 student from Esquimalt High. "Melody taught us all of these important skills that are hard to learn by yourself or without direction, and I find that makes it easier to do the job.
"Every day I remind myself one of the things Melody taught us: 'Everything you do should have a purpose.' So I'm always thinking, 'How is this going to contribute to the relationships with these campers and their experience? And how am I doing things that positively benefit their experience?'"
Camp assistants are a crucial part of summer camps. They help camp leaders and younger students throughout the day, they are a peer and friend to the campers, and they lead fun game breaks.
"A lot of what we trained on was managing behaviour and conflict in the programs. They are a positive second person in the room that helps with crowd management, conflict management and being there for the campers. It requires them to be very flexible," Melody says.
The benefit of putting teenagers in these roles, beyond providing them with invaluable work experience, is that teenagers are consistently great with children, Melody adds. "They're energetic, enthusiastic, adaptable, eager, and they are amazing role models for the campers."
Neil says the experience working for SMUS summer camps had been wholly positive: "It's a lot of fun getting to do this job. It's hard to call it work."
Adds Zoe: "I know that so many of the leadership skills – being able to communicate, and being compassionate and empathetic to create strong relationships – are skills I'll use beyond this job. Especially as I look ahead to my final years of high school and university, and even future jobs, I'm really looking forward to applying these skills to what I'm passionate about."