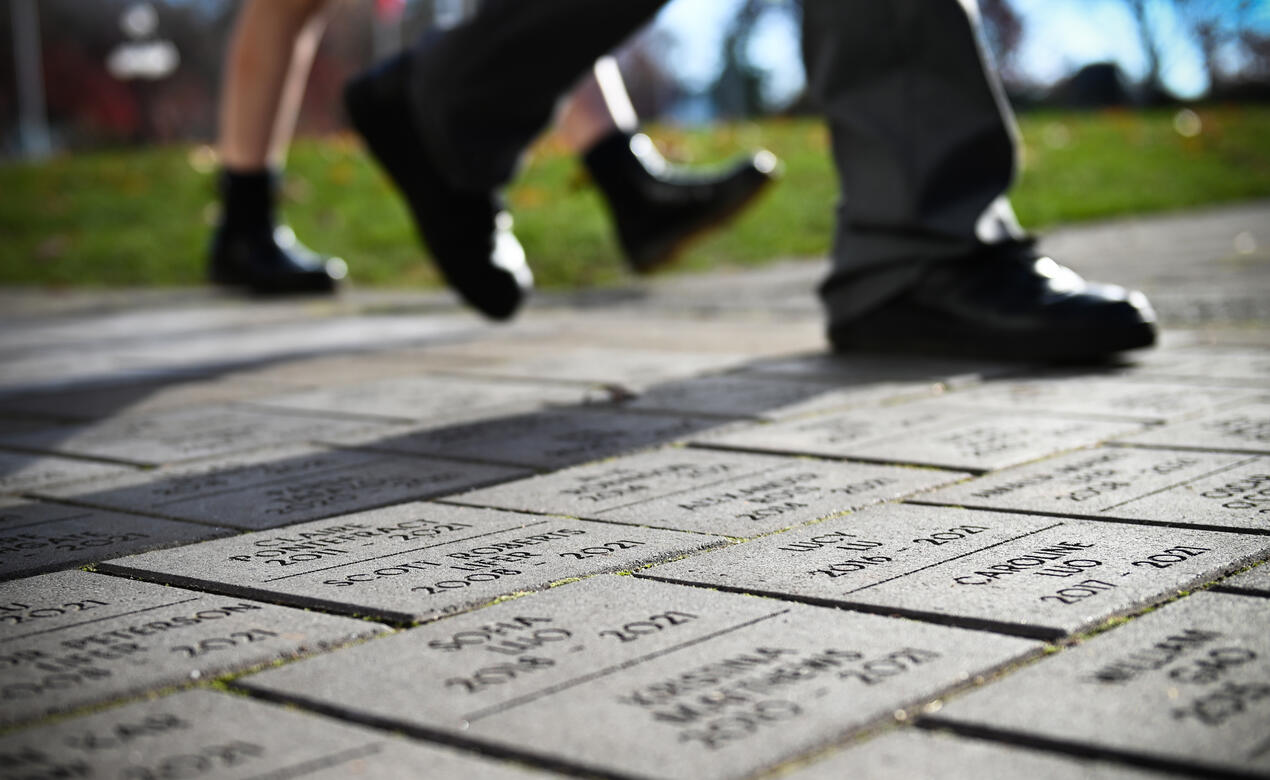 St. Michaels University School remains steeped in tradition while embracing progress. As the culmination of another academic year approaches, a bittersweet farewell to yet another remarkable class lies ahead.
Among our traditions, the Heritage Walk holds a place of significance, embodying the diverse legacy of over 2,300 alumni, staff, and friends of our institution. Tucked behind the venerable School House on our Richmond Road campus, this pathway serves as a poignant tribute to those whose lives have become intricately woven into the fabric of SMUS.
Since its installation in the Crothall Quad in 2007, the Heritage Walk has stood as a visual homage, honouring the collective journey and treasured memories cultivated within these halls. Notably, the bricks of our school founders were laid in 2018: J.C. Barnacle and W.W. Bolton unified in 1906, and R.V. Harvey joined their legacy two years later, while K.C. Symons established St. Michael's School in 1910.
Illustrating the Legacy of Our Founders by Rob Wilson, School Archivist:
W.W. Bolton, an alumnus of Cambridge University, demonstrated prowess as a track athlete. Ordained in 1881, he held ecclesiastical roles across England, Saskatchewan, Esquimalt, and San Francisco. In 1894, he embarked on a Vancouver Island exploration, founding a modest school on Belcher Avenue four years later. Bolton's tenure at University School spanned as Warden until 1920, followed by a sojourn to the South Pacific for governmental endeavors, ultimately returning to Victoria and resuming leadership at University School until his passing in Tahiti in 1946.
J.C. Barnacle, the inaugural Headmaster of University School in 1906, directed its trajectory for 17 years. Educated at London University, he arrived in Victoria in 1900, excelling as an athlete and mathematics educator while steering the school through the First World War and the challenging 1920–1923 transition. His tenure concluded in 1923 due to declining health, later passing in Barbados in 1939.
R.V. Harvey's legacy centres on a poignant letter from August 1914, articulating his enlistment in the Canadian Forces at the onset of the First World War. Participating in the second battle of Ypres, he succumbed as a prisoner of war in a German hospital in 1915. Known for his tenure at Queen's School in Vancouver, Harvey's brief yet impactful time in Victoria saw the inception of the Cadet Corps, Scouts, and the Shooting program.
K.C. Symons, born in India and educated at Dulwich College and Oxford University, arrived in Victoria in 1910, establishing St. Michael's School in Oak Bay. Overcoming initial enrollment challenges, the family-operated school burgeoned into a reputable institution under Symons' stewardship until his retirement in 1946 and passing in 1966.
The process of commemorating your legacy is both straightforward and deeply meaningful. Each engraved brick, bearing the student's name and years attended at SMUS, not only solidifies their place in our legacy but also contributes to a larger cause. The proceeds from each brick sale bolster our Financial Aid program, enabling deserving and diverse students to access exceptional educational opportunities facilitated by SMUS. It's an opportunity to etch an indelible mark on the campus that nurtured their formative years and to forge an everlasting connection.
Graeme Hyde-Lay, an alumnus and teacher of SMUS, aptly describes the sentiment:
"It is very special to be a part of the school's history and to physically be represented on the school campus. SMUS has been such a major part of my life, and walking through campus and seeing my name on the walkway brings back amazing memories from my time here as a student. It is a cool experience to walk down the lane and pick out names I recognize and think about people I maybe haven't seen in a number of years."
To the parents of our soon-to-be alumni, we recognize the significance of this juncture in your lives. The amalgamation of pride, nostalgia, and aspirations for the future defines this moment. Your unwavering support and engagement have remained the cornerstone of our community.
For any queries or assistance regarding brick orders, please contact [email protected]. Let us join hands in commemorating this significant milestone, bridging the past with the present and future, leaving an enduring legacy resonating through generations.