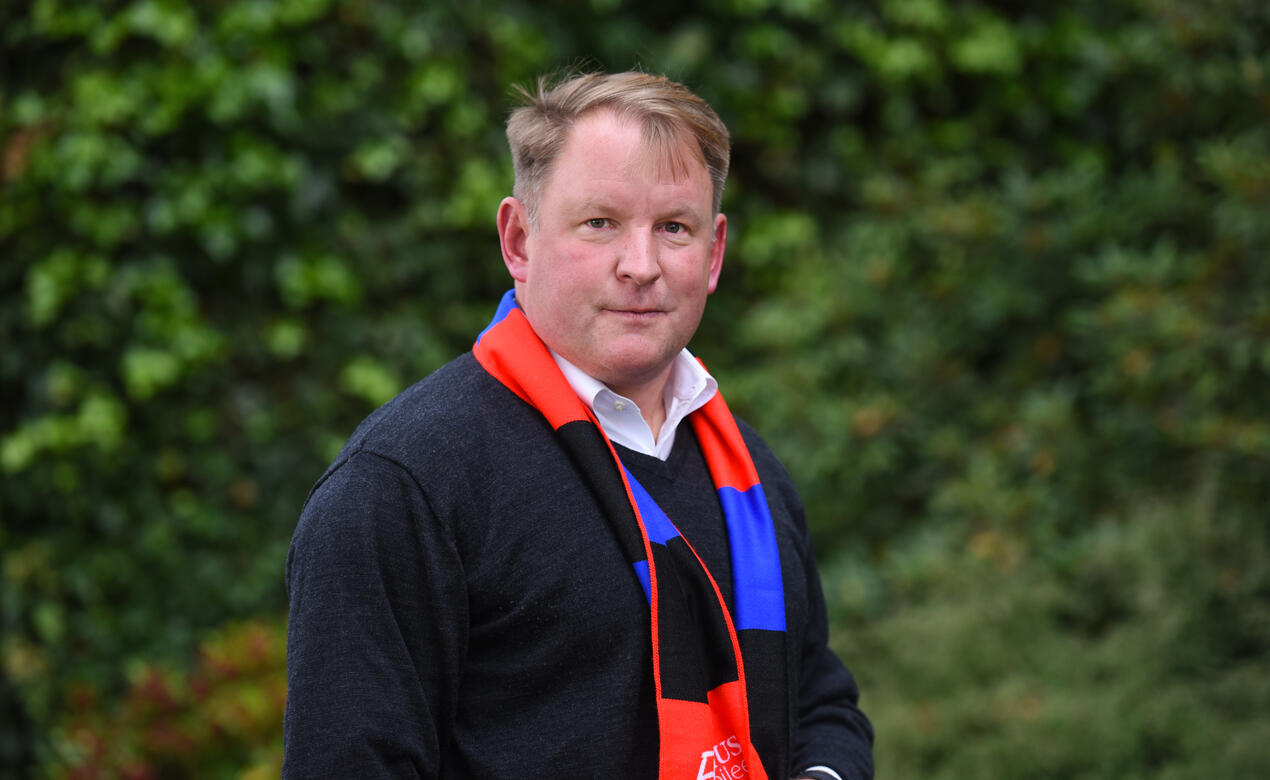 We are delighted to introduce David Longridge '88 as the Chair of the SMUS Society Board of Governors.
David first joined the SMUS community in his Grade 8 year as a boarding student. He was a School Captain in his Grade 12 year before heading to UBC, where he earned a degree in engineering physics.
He spent nearly three decades with Boeing in a variety of positions, beginning as a summer student working in the noise lab before becoming a full-time flight test engineer. He then spent about 25 years in a variety of marketing and sales positions as director and vice-president.
After sitting on the SMUS Alumni Association board, David joined the SMUS Board of Governors in 2016.
"The reason I did that is I regarded my time at SMUS as a genuinely positively life-changing experience. It made everything better," he says. "I also wanted to get a closer view of the school in preparation for our own kids hopefully coming here. Sitting on the board, I've realized just how good this school is on a more objective level than I ever would have been able to as a prospective parent.
"It is a huge privilege that I get to meet the educators that work at this school. Initially, I wanted to send my kids here, but it was only after being a governor that I realized I had to send them here. A lot of people don't get to see, in such detail, the professionalism and the passionate enthusiasm that pervades everything the school does."
David and his wife, Gretchen, live in Seattle with their two children, Declan and Evie. They hope to be able to send Declan and Evie to SMUS, as members of the boarding community, when the time comes.
Let's get to know David better:
What should parents know about the SMUS Society Board of Governors?
The Board of Governors are, first and foremost, governors – not alumni or parents of students at the school. When they sit at the board table, their mission is to think of what the school needs to do and how the school needs to be empowered to be successful 10, 20, 50 years from now. They are chosen from a wide variety of backgrounds and they are all enthusiastic about the school. We are all here as volunteers because we care about the school and the success of the school. We figure out what the school needs in terms of direction and empowerment to reach our school's vision.
How would you describe your role as Chair?
I believe my role is working with the governors to turn these visions into reality. What does the Campus Master Plan look like? How are we going to pay for it? What sort of education are we going to offer? My responsibility is to make sure that the board remains a team that is unified in its drive to execute these ideas. There will be disagreements, but I need to make sure that when all is said and done, the concerns any board members or committees might have have been listened to and debated, and then decided upon. Once decisions are made, we then move forward as a team because we have expressed our commitment to the school's vision.
What are you most looking forward to as Chair of the SMUS Society Board of Governors?
Being around the school and being around the staff at the school. Until I was on the board, I didn't pretend to know anything about the business of education. I am a firm believer that if you don't work in a field, you should probably listen and let people who work in a field tell you how it is. I feel very strongly about this. Being a governor has allowed me to meet with teachers and directors here to see how the machine actually works. Being Chair will allow me to do that even more. I'm really excited to meet with people who are great at what they do and, I believe since they work here, who have risen to the top of their profession.
What are you looking forward to, as it relates to the Floreat strategic plan?
The best parts are taking the more ethereal parts of Floreat and turning them into reality through things like the Campus Master Plan. That takes lots of hard work and some hard discussions but it's immensely satisfying. Doing something that shows you're walking the walk that you talked about is both satisfying and nerve-wracking. But one of the things that really appeals to me about this work and this school is it is uniquely Canadian. What we offer and what we continue to aim for is an education that appeals to students in Victoria and families around the world. But I know we have to keep moving in order to stay relevant, so turning those deliberate statements in Floreat into something that actually works is exciting.
What are you passionate about that the SMUS community might not know about you?
Anything with an engine in it. I'm a private pilot, I collect cars, and I love boats. But I also love riding my bike as much as I can. That's actually one of the things I really owe to this school. When I was in Grade 10, I said to Cliff Yorath, who was the Director of Athletics, "I'm not a good rugby player; I don't want to play anymore. I'd like to race bikes." And there was no bike racing program at the time here, but he said, "Alright, you can do it. But, I'm trusting you." The school let me do it, they encouraged it and they fostered it. The beautiful thing about schools like this is when you find a passion that the school hasn't discovered, they make room for you and what you want to do.
What is one achievement in your professional life you're most proud of?
I got a job at Boeing where I had 350 people working in 14 different countries for seven separate companies, and I was told to put them all into one team. These companies had their own histories and cultures, and Boeing had bought them; Boeing would be seen either as a savior or as an 'angry uncle' who was going to tell you how to behave. But I got them all together and made them feel like we had a common purpose and that it was going to be fun to do this. That was the most stressful but the greatest single achievement I have had.
What do you bring to the role as Chair? And what do you think you will gain from this experience?
I believe that I bring an ability to see things clearly and explain them succinctly without using jargon, without using management speak, and bring people along.
As for what I hope to gain: an even greater passion for education. At some point in the future, I'd like to come to the school and see an institution that I had some hand in crafting. I know that sounds a bit trite, but I want to see the school succeed and thrive. I'd love to see my kids say, 30 years down the road, "Our kids are going to SMUS." Then I'd know, "Okay, the Board and the School did something right."