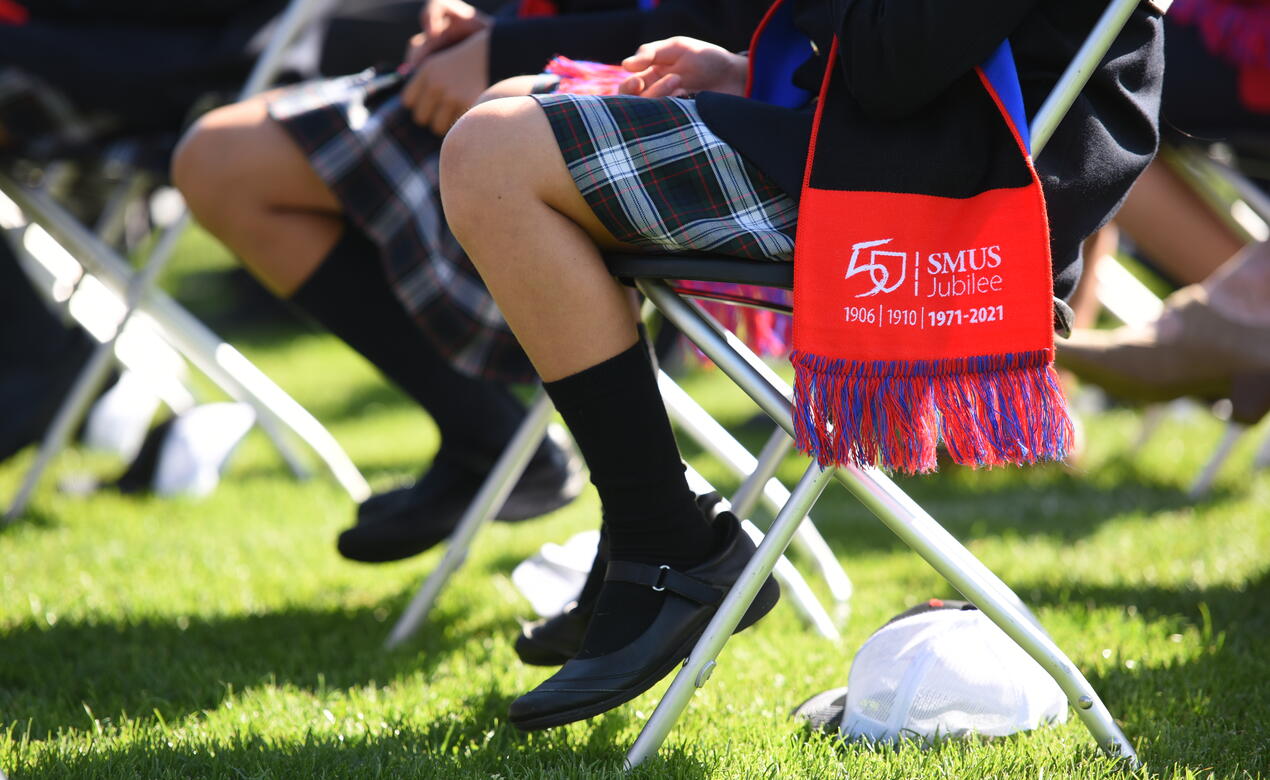 "Here we are: 2021. Fifty years after St. Michael's School and University School had the courage to join together, with preparing students for life at the centre of their plan. Everyone here today has benefited from that decision, and the honesty, respect, courage and service of everyone before us."
These words, read aloud by Grade 5 student Gabby M., sum up what and why we are celebrating this school year: our 50th Jubilee Anniversary!
On Thursday morning, students and faculty from our Junior, Middle and Senior School communities gathered together outside on the Richmond Road campus for a Jubilee Assembly that kicked off our Jubilee year.
The event included beautiful performances from Senior School band and choir students, and speeches that highlighted our past, present and future as a school and as a community.
Our Jubilee year, celebrating 50 years as an amalgamated school, is our opportunity to reflect on all of the growth and evolution that has led us to becoming the school we are today. It is also an opportunity for us to look forward another 50 years, and continue to evolve and make decisions that keep preparing students for life at the centre of what we do.
Below, read excerpts from some of the speeches.
"I invite you all to travel back in your mind's eye to that September 50 years ago. The school role was around 250 students, less than a quarter of the school today. There were 80 boarders, less than half our current community. Just imagine the nerves and the anxiety of those individuals as the two schools took the first cautious step to become one. The challenges and risks were enormous. There were two similar but contrasting sets of values. Many individuals still didn't have their new uniform. The schools operated to very different traditions and timetables. Motivations and hopes for the future were still a long way apart. Since then, on the journey through the last 50 years, much progress has been made. We have become united around our shared Values: courage, honesty, respect, and service. Our community has grown in size, in confidence, in reputation and in ambition. The arrival of girls in 1978 brought a fresh wave of energy and an increased desire to work towards equality. Over the course of the years, through the generosity of many donors, our campus has been developed beyond recognition to be one of the most appreciated and revered across Canada." – Head of School Mark Turner
"The decision to welcome female students signified the beginning of a long journey towards a more inclusive school. Now, in 2021, we realize diversity extends far beyond the binary of women and men. It extends to all gender identities, to people of colour, different cultural backgrounds, and to the numerous diverse communities that make up our school today. Co-education may have been our first step, but our work has not come without challenges, and surely is far from finished. It will never be, because, within any community, we can always learn and unlearn, and strive to be better. There is a long road ahead, but today, I'm grateful for how far we've come, and I can't wait to see how far we go. I am incredibly grateful to those who have helped make SMUS a school where I am so proud to call myself a student. Because of the brave SMUS women of the past, and because of the brave SMUS women of today, I get the chance to be here with you all right now." – Head Prefect Devon Oneschuk (Grade 12)
"As an international student born and raised in a country across the globe from Canada, I am more than grateful to be a part of the SMUS family and to experience a world-class education that is holistically designed for the betterment of each and every one of its students. The amazing facilities and opportunities in academics, arts, and athletics here have enabled students to challenge themselves, hone their skills, and grow their passions in a community surrounded by supportive and diverse individuals from around the world. I am grateful for the visionaries and the trailblazers of the school, who were deeply committed to creating a global educational setting. Despite many changes since the amalgamation of two schools, one thing remains the same: the strong ethos to provide an intercontinental curriculum to the best of the school's ability. As we sit here today, the campus is impressively beautiful with renovated buildings, but also very comfortable with the historic architecture that reminds us of the past, creating a vibrant community that inspires excellence. It is, indeed, a special place that enables students like myself to honour the past while heading to the future. I will never forget the moment I first stepped foot on this campus, the moment that changed my life forever. And for that, I am grateful!" – Head Prefect Jonathan Nguyen (Grade 12)
"People care about me at SMUS, which makes it easy for me to care about others and to do my best learning. But what will be important for me and my classmates, as we go through each grade, on to university and through life? And what will SMUS need to be like, for future generations of students in a world that can be kind of weird and is changing all the time. These were some of the questions that Mr. Turner considered when he joined our school three years ago and went through a year when he talked a lot about 'Looking, Listening and Learning.' The new strategic plan, called Floreat 2030, had tons of input from everyone connected to the school and has become the road map for the next 10 years. By the end of Floreat 2030, Gabby will be in 1st year university and I'll be at the end of my first degree thinking about what might come next. It's crazy to think about that time passing as we stand here today, but it's amazing to dream about the potential for these years before graduation, for SMUS as a community and for all the students who will benefit in the years to come. From this day forward, we will all have input into that SMUS of the future, as student learning changes, as the world evolves and as future needs come into sight. Along the way, however, if all of us continue learning, leading and serving, SMUS will flourish and its students will be well prepared for life. Vivat!" – Grade 5 student Gabby M. and Grade 8 student Dani P.
---
You can find and download more photos from the Jubilee Assembly on the SMUS Photo Gallery.
If you have never accessed the SMUS Photo Gallery, we encourage you to read this post to learn more. And be sure to visit the 'User Guide' section of the Gallery to find out how to best navigate the website.