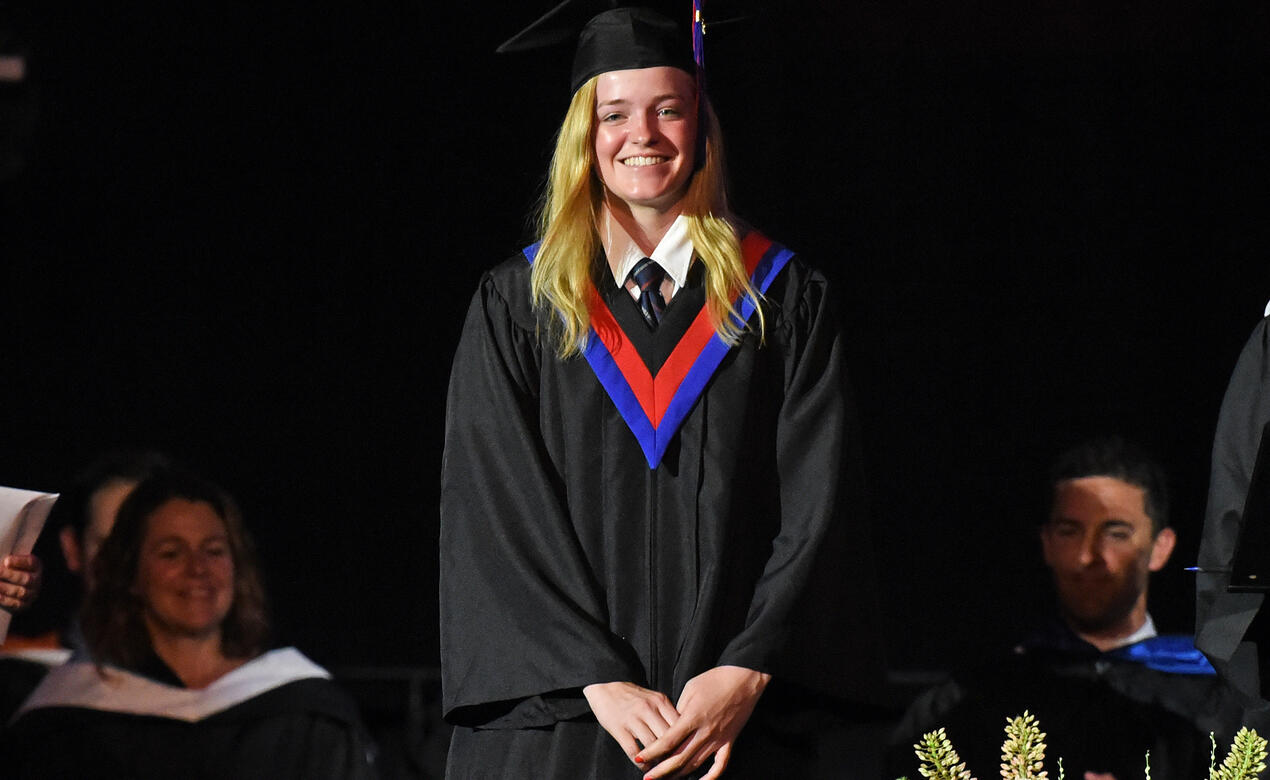 This is the first in a series of articles from our University Counsellors highlighting the stories of alumni and the paths they have taken after graduating from SMUS.
---
by Megan Parry, University Counsellor
Maggie Helmke '18 made a tremendous impact on the SMUS community during her final two years of high school when she joined our school. A scholar, leader, volleyball player, and baker in pursuit of the perfect chocolate chip cookie, Maggie set the standard high and was the kind of person who lifted her peers up to meet it. It surprised no one when she was awarded the prestigious Morehead-Cain scholarship to study at The University of North Carolina, Chapel Hill.
With tuition and living expenses covered, thanks to the scholarship, Maggie is the first to acknowledge her privilege in graduating with no debt. It has allowed her to side-step her earlier ambition to be a lawyer and public defender, and she now plans to avoid a desk job altogether. "I want to work with my hands. That I know for sure," she says. Her passion? Food.
Morehead-Cain Experiences
Morehead-Cain (M-C to insiders) gave Maggie the freedom to pursue a "life in food." With foodie parents, both avid cooks and accomplished brewmasters, food is a family tradition. Maggie is busy laying the foundation for her career goals by making food the centre of the exciting array of enrichment opportunities offered through M-C.
Her first "Morehead-Cain Summer'' started even before her first day at Chapel Hill. Morehead-Cain affords every incoming scholar the opportunity to take an outdoor leadership trip of their choosing, and Maggie embarked on a 25-day backpacking trip in Wyoming. "There's something special about climbing a mountain for nine hours a day. ... You make friends like never before." During her outdoor leadership course, Maggie found a best friend and created lifelong memories that she took with her to Chapel Hill.
At the end of her first year, she headed north to Toronto with four other M-C scholars to complete their Civic Collaboration Summer. Civic Collaboration, a program unique to M-C, sends groups of five students to work with local governments or non-profit organization on an issue they face. Working with Evergreen Brick Works, a local non-profit, Maggie's team conducted audits with the aim of promoting accessibility for people with disabilities in outdoor spaces such as markets. Her guiding motto was "innovate, ideate, implement." The experience changed her forever: "Now I try to think about accessibility in every facet of my life."
After two years at Chapel Hill, and with the COVID pandemic ravaging the globe in 2020, Maggie made what turned out to be a great decision for herself: she took a gap year. Inspired by the success of the small ice-cream business she ran out of her house in Chapel Hill, she spent five months working at Kiss the Cow dairy farm in Vermont. There, Maggie took the lead in making ice cream with the rich butter fat of the collective's Jersey cows.
Invigorated by her burgeoning love of farming, she worked remotely on regenerative agriculture projects for the Lexicon of Sustainability, an organization based in Petaluma, California, followed by a two-month stint on a permaculture farm in Texas, her third M-C summer enrichment program. She looks forward to one more, during which she plans to write a cookbook or start a podcast as a part of her Global Perspective Summer. She also plans to attend a summer study abroad as part of her final summer, another wonderful option for M-C scholars.
Reflections of SMUS
Maggie cherishes her memories of SMUS. "I am still very close to the friends I made at SMUS!" she says with a smile. "It didn't feel competitive. ... It felt like we all had each other's backs." A boarder, she loved the "inherent closeness" of boarding relationships. She remembers SMUS teachers as being very approachable. "They really care about learning." She is grateful for the AP Seminar and Research classes that set her up for success at UNC.
Now four years beyond high school, what advice would she give to current students? "Don't get caught up in the conventional view of success! Life is more than chasing a LinkedIn profile. So many students these days get caught up in trying to be perfect. It can be really toxic." Instead, she encourages students to, "Stop. Ask yourself what you really want to wake up and do." And one last tip: "Ditch your smartphone. You will have better friendships and better life experiences." Maggie is proud to say she now uses a flip-phone.
Anyone from the SMUS community is welcome to reach out to Maggie through SMUS Connect. You can also follow her Instagram about food: @munchingmargo.