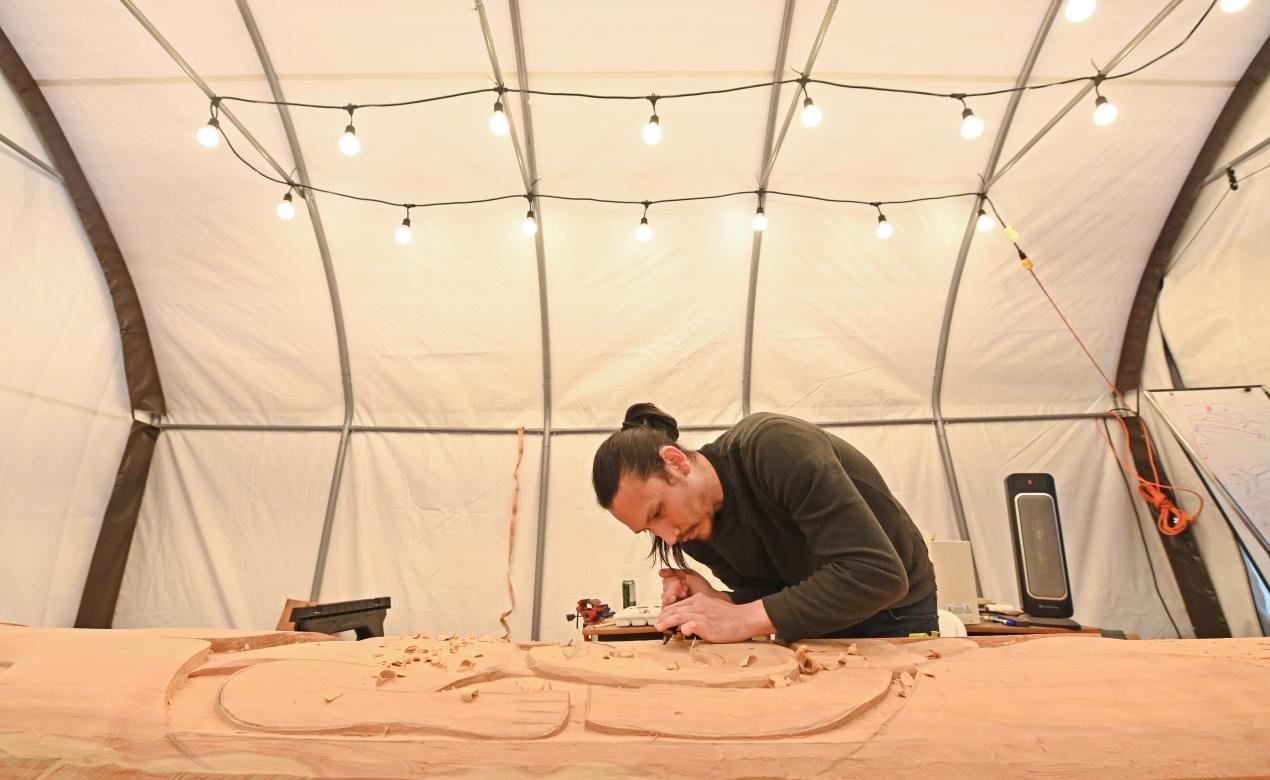 This story was initially published in September 2021, ahead of Dylan Thomas's first year as our school's Indigenous Scholar.
The Indigenous Scholar Program is possible thanks to the power of participation in the Annual Fund.
---
We are excited and honoured to welcome Salish artist Dylan Thomas to our school community this year as our inaugural Indigenous Scholar.
Dylan Thomas is a multi-talented visual artist from the Lyackson First Nation. His artistic talents and experiences are wide ranging, and include silk-screening, designing jewelry, painting, carving wood and stone, laser and water jet cutting, and sandblasting to create his works.
As the school's Indigenous Scholar, Dylan will interact with students and faculty across all grades, and they will work together on art projects at all three schools.
"This feels like an amazing opportunity; I'm so thrilled to be asked to do it," he says. "I feel like I can be valuable in getting a younger generation interested in Indigenous issues, history and culture. … I grew up off-reserve, and it was through art that I first got interested in my own culture and history. Even with non-Indigenous students, I think exposing them to our history and culture plays a good role in strengthening the relations between the communities, and hopefully encourages them to advocate to help preserve this culture and to keep it moving forward."
More details on the art projects that Dylan and students will be working on will be unveiled throughout the school year.
Passing Knowledge to the Next Generation
Dylan was always passionate about art, he says. As a teenager, he thought he would become a cartoonist or comic book illustrator. But he took on an apprenticeship with Kwakwaka'wakw artist Rande Cook after high school, which changed the trajectory of his life and his career as an artist.
"I was exploring a lot of nations' different styles of art and Rande got me focused on doing Salish art. I went from knowing nothing (about Indigenous art) to having a direction," he says. "I knew that this is the type of art I wanted to do. I needed to do Salish art; that is my ancestors' work."
Joining a school community seems to be a great fit for Dylan, who stresses that the relationship between teacher and student is important to him. He credits Rande for teaching him the basic understanding and details of Salish art that he could build upon.
"I've realized what Rande gave me (through that experience), so it became really important for me to be able to pass that along. This lineage of a teacher and student goes back millennia, and it unfortunately got broken during the Residential School and potlatch ban times," Dylan says. "But that relationship between the student and teacher is kind of what allowed Northwest Coast art to develop over those thousands of years. They were known as some of the best carvers in the world and that was because if you took on these teachings from a teacher, you were required to pass that on to the next generation. So I've taken that responsibility seriously."
Dylan is certainly playing a role in bringing Salish art to light in Greater Victoria. As the City of Victoria's Indigenous Artist in Residence, his work is on public display in City Hall, and adorning lamppost banners throughout the city.
"I remember as a kid whenever I saw like native art in public there was always just a cool feeling of being recognized and that your culture was valued. I think it's a really great way for the city to say, 'We recognize you're here and we recognize your history, your culture, your people and your value.'"
SMUS's Indigenous Scholar Program
The creation of an Indigenous Scholar position at SMUS was one of 10 strands that were identified by members of our local traditional community as central to our being good neighbours. With these in place, SMUS hopes to be well positioned to welcome Indigenous visitors, staff, and students into our school.
It was made clear during these consultations with the local traditional community that the presence of Indigenous faculty is pivotal to setting the stage for the relationship we seek.
To make our campuses a place where members of the Indigenous community feel consistently welcomed and valued, it's important that Indigenous students, their families and their communities see reflections of their experience in the school. Nothing speaks more to this than Indigenous community members working directly with all students, Kindergarten through Grade 12.
Spindle Whorls
Another strand identified by local Elders was having visual representation of local First Nations culture on our campuses. In addition to Dylan's role as Indigenous Scholar, the school also commissioned him to create four pieces of art.
In October, we will host a ceremony to welcome Dylan's pieces – four Spindle Whorls – into our community. Spindle Whorls were historically used by the Coast Salish to spin wool, and many featured carved artwork.
These four Spindle Whorls depict local stories that reinterpret our school Values – respect, courage, honesty and service – and will live at our Junior School, Middle School, Senior School and in the Chapel.
Four times a year, based on seasons identified by our local First Nations communities, the Spindle Whorls will be moved and rotated between campuses. They will also be brought together for significant community events. Keep an eye out for the September 24 SMUS Weekly for more information about the Spindle Whorl Welcome Ceremony.
We are incredibly fortunate to have Dylan bring his knowledge, talents and art into our community in many capacities this year, and look forward to seeing our students and faculty work with and learn from him.
"I'm looking forward to being a representative of Coast Salish culture at SMUS and being able to expose different age groups to that," Dylan says. "Through all my studies, both academically and culturally, I'm excited to work together on projects that will really, really captivate them and will appeal to students from Kindergarten to Grade 12."