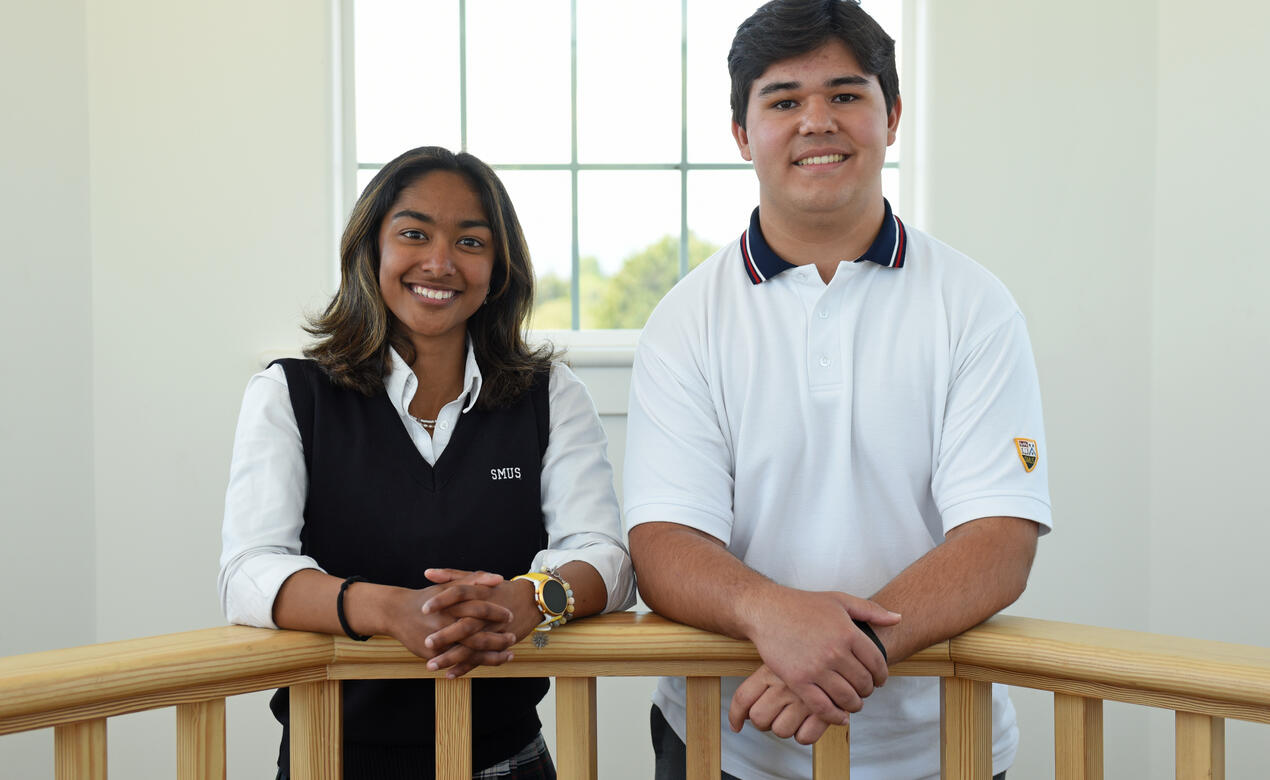 As we move into the spring season on campus and many people begin focusing on the end of the school year, a number of our Grade 11 students look further ahead to their final year at SMUS.
These students courageously put their names forward in the hopes of earning a formal leadership position in the school community while in Grade 12. The roles vary, and include being elected to sit on the Prefect Council, being elected a Council Head, and being selected to be the Head of a boarding house.
We are incredibly proud of all students who step up and step forward with the goal of making our school a better place. We thank every single one of them, whether they are successfully elected or not, for being role models in our school community.
The first positions that have been elected are the Head Prefects for the 2023-24 school year. We are excited to announce and introduce Maya Achuthan and Aidan MacKay as the two students elected to hold these roles next year.
We sat down with Maya and Aidan to get to know them and learn more about their aspirations for next year.
Why did you want to be a Head Prefect?
Aidan - I came to SMUS in Grade 6 and I remember the feeling of being a new student. It didn't necessarily start with seeing the Head Prefects, but it was the WEB Leaders that we had at the Middle School who showed us around the school and made us feel welcome. Since then I've always wanted to be part of that student leadership process. I was a WEB Leader in Grade 8, and now I think the next step in helping the entire school is striving to be Head Prefect. I really want to give back to the community.
Maya - My story is very similar to Aidan's. I came to SMUS last year from Edmonton, and it was definitely a change because I left a school that I had been at for 10 years. Coming here, I didn't know what to expect. I was so scared going into it because I didn't know how to build back all of those relationships I had before. At orientation, I met [then-Head Prefect] Devon and all of the Link Leaders, and immediately they made me feel welcomed. I made friends on my first day, I got to know teachers on my first day; it was so easy to make really strong connections here. It was so unique and it made me want to contribute to this community. From day one, I wanted to do everything I could to get involved here, and hoped that I could be a part of student leadership one day.
What makes Maya Head Prefect material?
Aidan - You can always tell when Maya's in the room – in the best way possible – because she's always involved and she is always friendly. She's always very nice to other people and is an all-around great person. She's also very strong academically and very dedicated to everything she takes on. Those are great traits for a Head Prefect.
What makes Aidan Head Prefect material?
Maya - Aidan exudes balance. There's something about him that is peaceful and always makes you believe that he has everything under control – probably because he actually does have everything under control. He always makes you feel like you're taken care of, you're fine. He is incredibly organized and he's extremely driven. He's a strong academic and a strong athlete, and he has proven that he cares about getting involved at this school. Aidan is a uniting force.
What role do you see the Head Prefects and the Prefect Council playing for the JK-12 student body?
Maya - I'm really excited to get to know the Junior and Middle Schools. When I was in elementary school, I remember looking up to the older students thinking how cool they were. Being able to bridge the gap between our schools and kind of being ambassadors to the younger students is exciting. That's really important to me because some of my biggest inspirations and role models have been other kids who were older than me and people I looked up to, even though they were only a few grades older. I'm looking forward to being able to help unite the whole school and show them what the possibilities are for their futures.
Aidan - My younger brother and sister have gone through the Junior and Middle School, and I know they have their own community feel down there, which is really nice. I remember when I was at the Middle School feeling how far off the Senior School felt, so I can't imagine what it's like to go from the Junior School community up to the Middle School and then Senior School. Like Maya, I want us to help bridge those gaps and transitions by showing the younger students that we were once in their shoes. We can also show them that they will have opportunities for leadership to look forward to as they move through the SMUS community.
What are you most looking forward to about next year?
Aidan - I'm really looking forward to hearing what everyone has to say about how the school is and where we think we can take it. We will get to meet a lot of new people within the school and from other schools, too. It's really exciting to be able to make greater connections and represent the SMUS community. That's such an important piece to me; being able to show how accepting we are as a whole community.
Maya - I'm excited to meet so many people, hear different perspectives and get to learn from them. I'm also excited to work with the rest of the student leaders; maintaining a culture of cohesiveness and being able to make decisions together and be a united student leadership front that really listens, that takes all those different perspectives into account and synthesizes them into action for the benefit of our community.