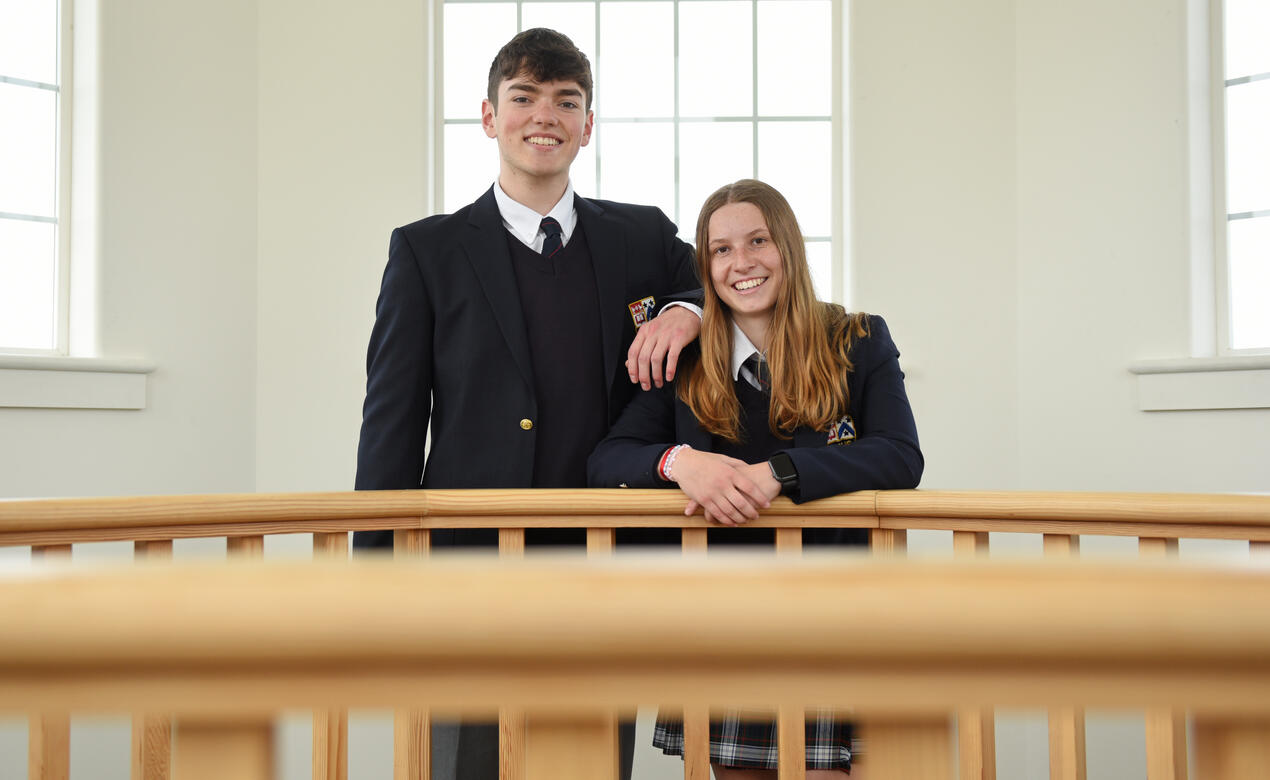 This story was first published in May 2022, ahead of the 2022-23 school year.
Our Grade 11 students are currently looking ahead to their final year at SMUS and the roles they wish to play in leaving a positive legacy by serving our community.
One such way many of them – nearly half of all current Grade 11s – aim to achieve this is by courageously putting their name forward as part of elections for formal leadership positions in Grade 12.
We are currently in the middle of election season, as our community members elect the School Prefects, the boarding Heads of Houses, and the students who will head school councils. We are incredibly proud of all of the Grade 11 students living out our school Values, particularly those of service and courage, by stepping up for the benefit of our community.
Elections for many of the positions were held throughout this week, but we are also delighted to announce that Ryan Killoran and Talia Pike were elected Head Prefects for the 2022-23 school year. Both Ryan and Talia have been at SMUS since they were in Grade 4 at the Junior School, and have lived the full SMUS experience across all three schools. We are excited to see these two and the rest of the Class of 2023 lead our Kindergarten to Grade 12 student body.
We sat down with Ryan and Talia to get to know them and to find out what impact they hope to make at SMUS.
Why did you want to be a Head Prefect?
Talia – When I came in Grade 4, I didn't know what Head Prefects were. But as I've grown up here and started to understand what they do, I've thought it was really cool that they get to represent the community and be a conduit between the students and faculty. I knew I wanted to apply for leadership opportunities in Grade 12 because I've done a lot of leadership work at the school and it's so rewarding to be able to make changes, get to know people and be a positive face on campus. That's something that's really important to me: bringing a positive attitude and spreading kindness and happiness to the people around me.
Ryan – I've always looked up to the Head Prefects. They have always been good people who have good leadership qualities – they're mature, approachable and charismatic – and I thought that if I could be one myself, it would be a good opportunity to give to other students what the Head Prefects have given me. I've been here a long time and I really want to be involved in the community, so I thought it was only right that I applied for a position like this.
What makes Talia Head Prefect material?
Ryan – Talia is probably the most outgoing person at SMUS. She is able to talk to anyone; she's such a good communicator, such a good leader. She knows every person on this campus and she cares individually for them, too. It's not enough for her to know their name, she has an actual interest in people. I think that skill is going to make her a great Head Prefect.
What makes Ryan Head Prefect material?
Talia – I've been telling Ryan ever since we found out what Head Prefects were that he would be great for this role. Everyone likes Ryan. He's such a great guy and he has so much outreach through playing sports and being in the musical. He really is an all-rounder. He's basically the model of a SMUS student. I remember talking with him in Grade 10 and he asked me, "Hey, are you going to run for Head Prefect?" And I was like, "Oh yeah, for sure! What about you?" He said, "Yeah, I will." And we both were like, "You know what? That could be a good Head Prefect combo!" 
What role do you see the Head Prefects and the Prefect Council playing for the K-12 student body?
Talia – I think of Head Prefects as the representatives for the school, not only within the SMUS community but we represent the student body – K through 12 – to everyone. I know that Ryan and I have both looked up to the Head Prefects for a long time, since we were at the Junior School, and I think that the prefects really show younger students how to be a SMUS student and how we are upholding our values at the school.
Ryan – I definitely think the prefects should be role models wherever and whenever the K through 12 students might see us. We set examples of how good SMUS students should act, and I think we should have the goal of being inspirational. I think one of the great things that makes the prefect system work well is there are different kinds of prefects [Health and Wellness Prefects, for example] so the students on the Prefect Council are able to prioritize what they want to do and what interests them, which is good for the progress that they can make.
What are you most looking forward to next year?
Ryan – I think that everyone's looking forward to next year because we're getting to the point where things are opening up more and we can have big events and assemblies again, like the All-School Christmas Assembly. I think it's going to be a very big year because we've missed out on lots of school spirit because things haven't been able to happen, so I'm looking forward to helping bring things back to make for a really fun year.
Talia – We definitely want to prioritize school spirit, but I also want to make sure the school is more inclusive, and make sure it's a good year for everybody. I've already started taking notes and asking people, "What do you want to do to make the school year better? What can we improve?" I want everyone to be heard so that we can either make things happen next year or work toward setting foundations to get important things achieved later on. I'm really looking forward to working with the prefects and with all of the students – we're going to get lots of great things done!