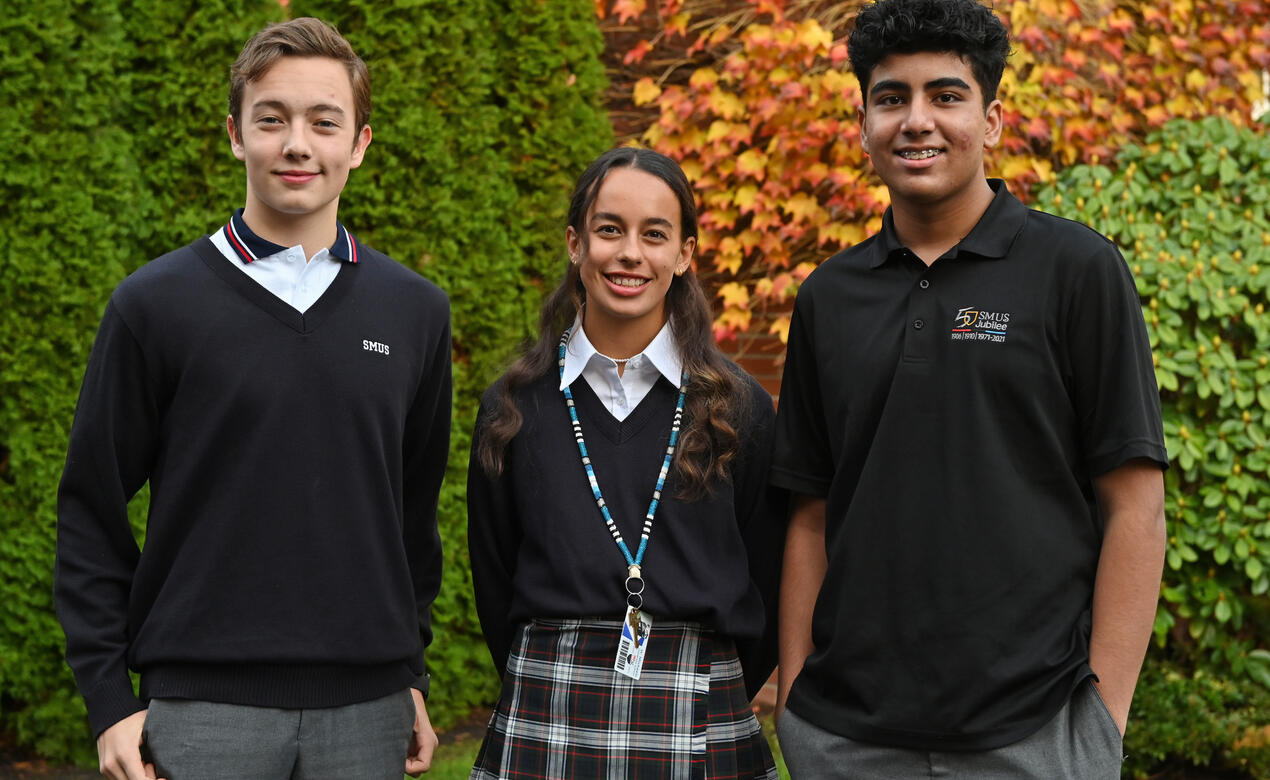 We are excited to announce the four amazing high school students who have been selected as the finalists in this year's The Best School Year Ever® contest.
"They may be finalists, but they're all winners," says Alexis Lang Lunn, Director of Admissions. "Each of these four is so special and so unique in their own way. It's exciting to see what they will be like at our school, and to see how their presence here will enrich our community."
The finalists for the 2021-22 contest are:
Evan Fuller
Evan impressed by being a strong all-round student and a positive member of his community in West Kelowna. Evan's involvement in his extra-curriculars demonstrate not only a true passion for what he does, but also an innate sense of curiosity about the world around him.
Digvijay Mavai
Digvijay's charisma and vibrant personality shone through his application and his video. Not just a strong academic student, Digvijay is a student who is open to trying new things and taking risks, and cares so deeply about his community in Calgary, and his family.
Avery Richards
Avery is a service-minded powerhouse whose contributions to her school and her community in Happy Valley, Oregon make her a stellar student. Skillfully navigating a busy schedule full of academics, arts, athletics, and many, many extra-curriculars, Avery is a great role model for all of those around her.
Naashkii Soler
Naashkii, from Canmore, epitomizes leadership by showing how she uses her skills to make a positive difference in the world around her. She is a smart, talented, and positive student who has an unmistakable passion and drive that make her a courageous and confident leader in her community.
"What I love about this contest is you don't have to fit a particular mould to be a winner in this contest. Each brings their own uniqueness to their entry but all four of them are authentically themselves and amazing students in their own way," Alexis says.
This year's contest drew hundreds of entries from all over North America, including from nine Canadian provinces and territories, and 37 US states.
While we normally look forward to an in-person campus visit from the finalists, this year the finalists will join us for a number of virtual events later this month before we announce the winner in March.
This year's The Best School Year Ever contest is awarding two grand prize boarding scholarships worth $65,000, and two finalist scholarships worth $45,000.
"What stands out in my mind when I think of this year's The Best School Year Ever contest is the quality of the students who applied," Alexis says. "It makes me reflect on the fact that there are some amazing young people out there who have great aspirations and are in search of the type of quality education that we offer. I'm hopeful and excited to be welcoming as many of them as we can to our school next year."