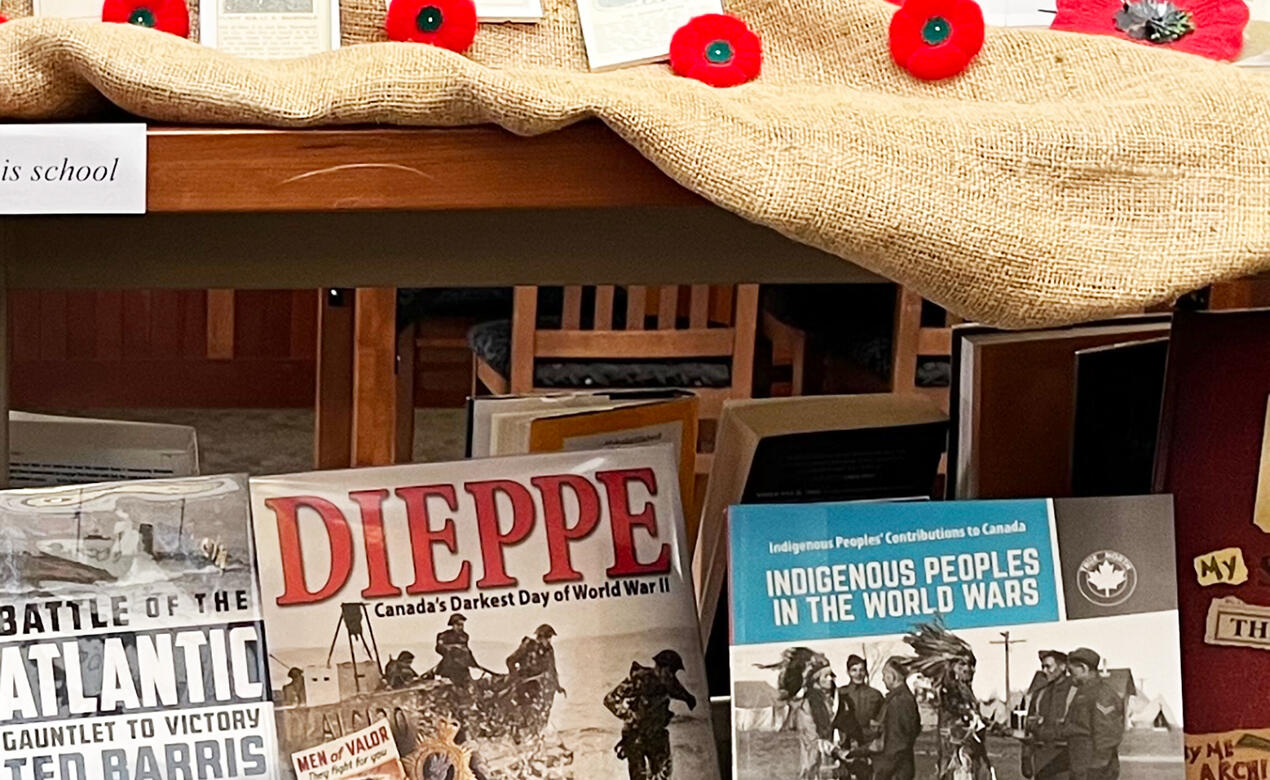 As is our longstanding school tradition, this year we will be gathering to mark Remembrance Day with ceremonies at our Victoria Avenue and Richmond Road campuses. For the Middle and Senior School students at the latter, many of the elements of the ceremony were familiar. There were bagpipes, and the playing of the forlorn "last post" on the trumpet. The Head of School Mark Turner read Old Boy Captain Harvey's letter, written after his enlistment in 1914.
And then, the faces of the many, mostly young men who served and died during the World Wars flashed across the wall, as their names were read, and a small candle was extinguished to represent every one who tragically perished.
The repetition of this solemn ritual, year after year, serves to highlight the importance our school attaches to honouring our fallen, and remembering all those who lost their lives in the terrible conflicts of the Twentieth Century.
This year, in an effort to meaningfully convey the wide range of veterans who have served with a maple leaf on their uniform, students had the chance to witness a few new faces. These faces have been chosen to represent the diversity that has been inherent, from the very beginning, in our Canadian military. Each face reminds us that, whenever conflict has arisen, Canadians from every walk of life, every gender, and every conceivable ethnic background have routinely stepped forward to serve their country.
The most recognizable face was that of our school co-founder, Captain Robert Valentine Harvey, born in 1876 to British parents in Liverpool, England. He represents the many young volunteers from British backgrounds who felt the obligation to join up and fight on behalf of the empire. At the age of 38, after being assigned to the 7th Battalion, Canadian Infantry (British Columbia Regiment), Harvey was wounded, captured, and eventually died on May 8, 1915, a little less than a year into the war. His loss was keenly felt by our University School Old Boys, and his story has a place of honour within our annual Remembrance ceremony.
Some may also have recognized the group shot showing members of the No. 2 Construction Battalion, an all-Black Canadian unit created after sustained lobbying from their community,  and mounting losses from the deadly attritional warfare in the trenches of the Western Front. Not allowed to serve in a combat role, they were restricted to performing menial but necessary labour tasks, like cutting down trees, repairing trenches, and digging latrines.
A few students might also have recognized Edith Monture in her nurse's uniform. Monture, a Kanyen'kehà:ka (Mohawk) from Six Nations, had to travel to the United States to seek nursing training. She then enlisted in the American military and served as a nurse close to the front in Northern France. She became one of the first Indigenous women to ever vote in a Canadian federal election, when the franchise was partially extended—out of political necessity—to service people and women with relatives in the military, in order to implement conscription.
Whenever conflict has arisen, Canadians from every walk of life, every gender, and every conceivable ethnic background have routinely stepped forward to serve their country.
Students may wonder about the story behind John Shiwak's solemn expression. An Inuk from Northern Labrador, Shiwak proved an extremely deadly sniper before he was killed in action on the banks of a canal in Masnières, France, during the Battle of Cambrai in 1917.
Another face featured and which likely elicited curiosity was that of Private Mary Ko Bong, one of only a handful of Chinese Canadian women who were able to serve in the Canadian Armed Forces during World War 2. Growing up in Victoria, B.C., Ko Bong had been forced to attend a segregated school, and had to wait until race-based restrictions were rescinded in 1942-43 to enlist. She, ultimately, joined the Canadian Women's Army Corps, and served as an instrument mechanic.
Finally, there was the bespectacled portrait of Sub-Lieutenant William Lore. After being rejected three times on racial grounds, Lore, an immigrant from Hong Kong who had studied engineering at McGill before working as a journalist in Vancouver, became the first Chinese Canadian to serve—and be commissioned as an officer—in the Royal Canadian Navy, in 1943.
He was also the first Allied serviceman to enter the notorious Japanese PoW camp at Sham Shui Po in Hong Kong at its liberation in August, 1945. 
The faces—and stories—of these diverse Canadians serve as a poignant reminder of how many different, fascinating, and important people we have learned about, over the years, who put their lives on the line to defend Canada in its hour of need.
Let us remember them. All of them.
David Lynch '98 is the Indigenous Liaison at St. Michaels University School, and teaches social studies at the Senior School. He holds a master's degree in history, specializing in the history of Indigenous-Settler relations on Vancouver Island's far West Coast. He is a longtime teacher-sponsor of the school's Pride Club, and is committed to SMUS's Equity, Diversity and Inclusion process.