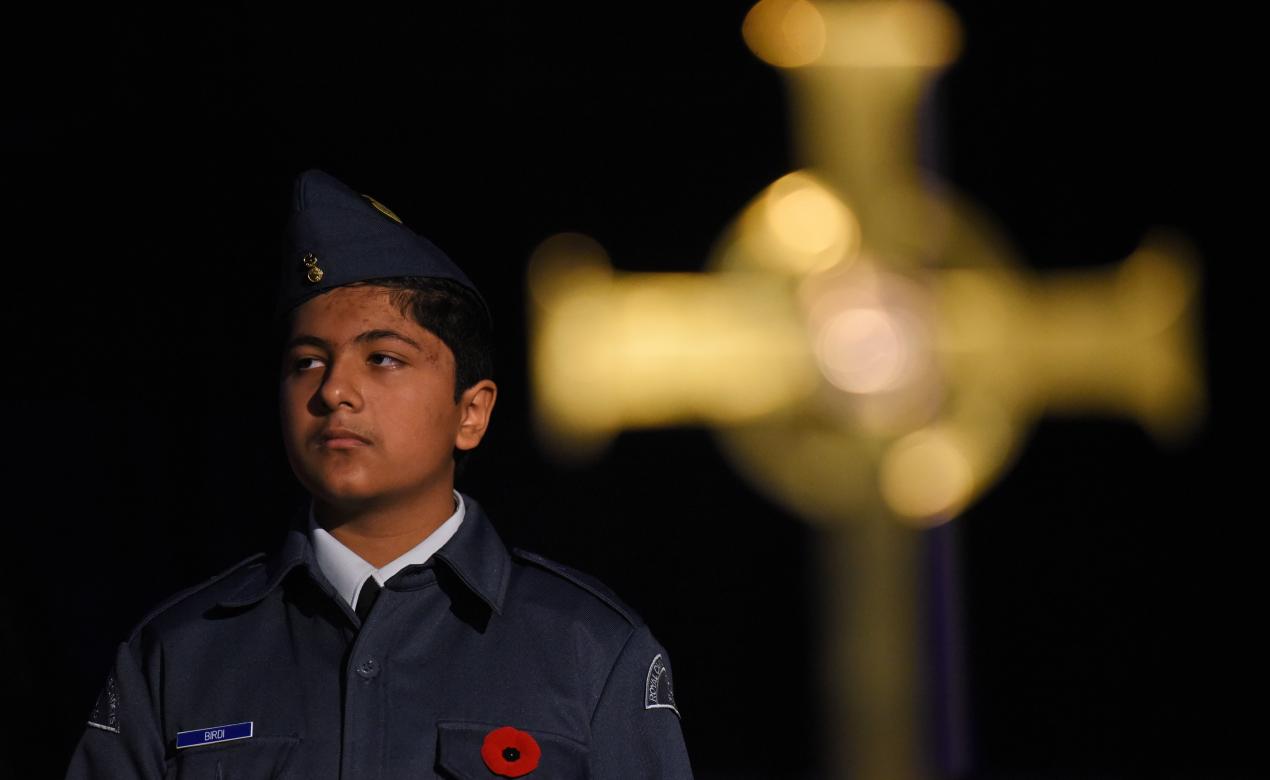 The St. Michaels University School community came together this week for two important Remembrance Day Services, at our Junior School and Richmond Road campuses. These services are among the most important annual traditions at our school, as we recognize the 134 students and faculty who paid the ultimate sacrifice during the First or Second World War.
It is deeply important for us as a school to never forget their names, and to pay our respect to them for their commitment to our country. 
It is also important to recognize the contributions of those outside of our direct school community, as there are million of Canadians who have served this country and who have fought to protect the lives we have today.
In his opening words, Rev. Keven Fletcher spoke about the context of a song performed during the service. The song is titled Barter, and it highlights how the beauty of life that we enjoy today came with a price. It's a crucial message that, more than a century after the First World War, we must never forget.
Below, you can read Rev. Fletcher's speech, delivered during the Middle and Senior School Remembrance Day Service. You can also watch the full Remembrance Day Service at the bottom of this post.
Remembrance Day 2022
Each year at this ceremony, our Middle School students offer a song. Today's centres on the beauty of life. It talks about blue waves, children's faces, music, the scent of pine. It goes on to speak of eyes that love us, arms that hold us, and thoughts that star the night.
The title of the piece is "Barter," as in, there's a price for this loveliness, a cost to be paid, an exchange that is made.
It's pretty easy for most of us to feel removed from such costs. We don't always see the trade-offs implicit in our choices.
Some of this disconnect has to do with age – not many of you Grade 6s are primary caregivers with jobs and mortgages. Life is pretty good because others put food on the table and a roof overhead.
Some of the disconnect has to do with our socio-economic status, our position in society. It can shield us from some of the more significant hurdles that life throws at others.
And some of the disconnect falls simply to our postal code, where we happen to live – here in Canada, our powerful neighbour has not chosen to invade us; those in Ukraine are not so fortunate.
In the Middle School's song, the lyricist eventually lays out the price we might consider paying in this barter for beauty and goodness. She suggests that we spend all we have for loveliness because it is worth the price whether measured in "years of strife" or "the giving of all we have been or could be."
And she has a point. The safe keeping of blue waves, children's faces, and arms that hold us is a worthy centrepiece for our priorities and approaches.
We know this to be true, and yet it's not surprising that we humans sometimes lose focus and stray. In fact, there are times when we make the price so much higher for others than it needs to be, through the systems we set in place and through the assumptions we hold about those who differ from us.
At our worst, our very worst, we fall into the madness of war.
This morning, we will spend an hour tallying the cost of war, name by name, from one of our founders to so, so many former students, each with their own set of parents and siblings and friends and partners. We remember not for their sakes (they're gone), but for our own – that we might become fully aware of the cost of war through bearing witness to the price they paid.
Ultimately, may our time together this morning deepen our own commitment to that which is most important to us, so that we not only avoid violence, but barter well for a world filled with blue water, bright faces, and thoughts that star the skies.
---
We have remembered the dead, now it is time to barter for the living with all the passion and compassion we can muster, pursuing truth – especially when the way is unclear and the stakes are high. 
And may we never lose focus in our commitment to beauty and goodness. Those waves that crash on our shores, those arms that hold us close, those thoughts that star the night.
Go in peace. Go and build peace.