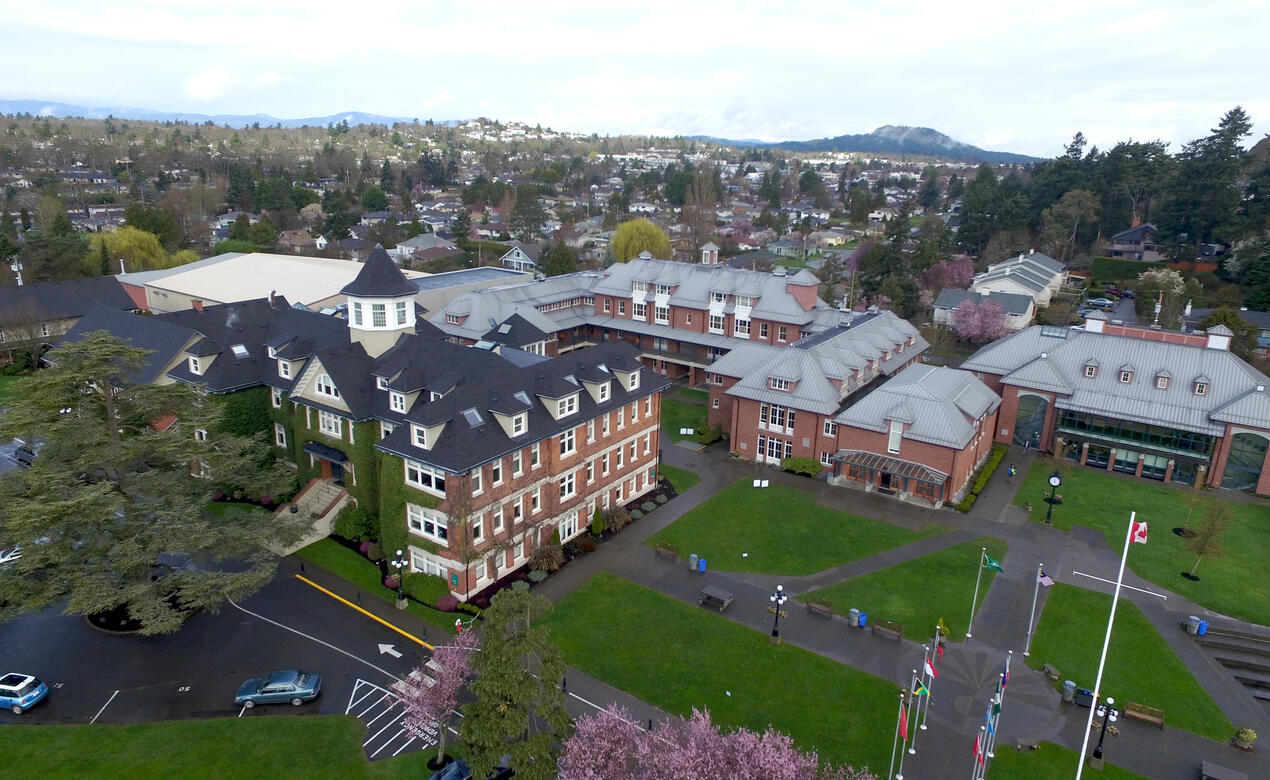 Every year, we like to recognize members of the St. Michaels University School community as they retire or move on from SMUS and take on new adventures.
We wish to thank the incredible faculty and staff members who collectively shared hundreds of years of service with the school before departing at the close of the 2021-22 school year. Thank you and Vivat!
Teresa Calderon de la Barca
Alison Galloway
Laurie Parker
Jane Rees '86
John Townley
Kathleen Cook
Amidst boxes of papers and a thousand end-of-year things on her to-do list, Kathleen Cook pauses in her office to leaf through a photo scrapbook, the pages stuffed with notes and memories from teachers and students alike. Given to her by the community at St. Michaels University School's Junior School, it is a tangible reminder of just how much she has loved, and been loved, in her 30 years at the school. 
Originally from Saskatchewan, Kathleen moved out to Vancouver in 1984 to teach Grade 1 at Collingwood School when it first opened, but made the leap across the strait when she and her husband, Kevin, decided they wanted to raise their children on the Island. 
The couple were already familiar with SMUS's values, and it seemed the perfect fit for their family. They joined the faculty together in 1991, with Kathleen initially hired on in boarding to run Timmis House, and Kevin to teach at the Senior School. 
"We always cared about being in a school where people are passionate about teaching and learning," says Kathleen.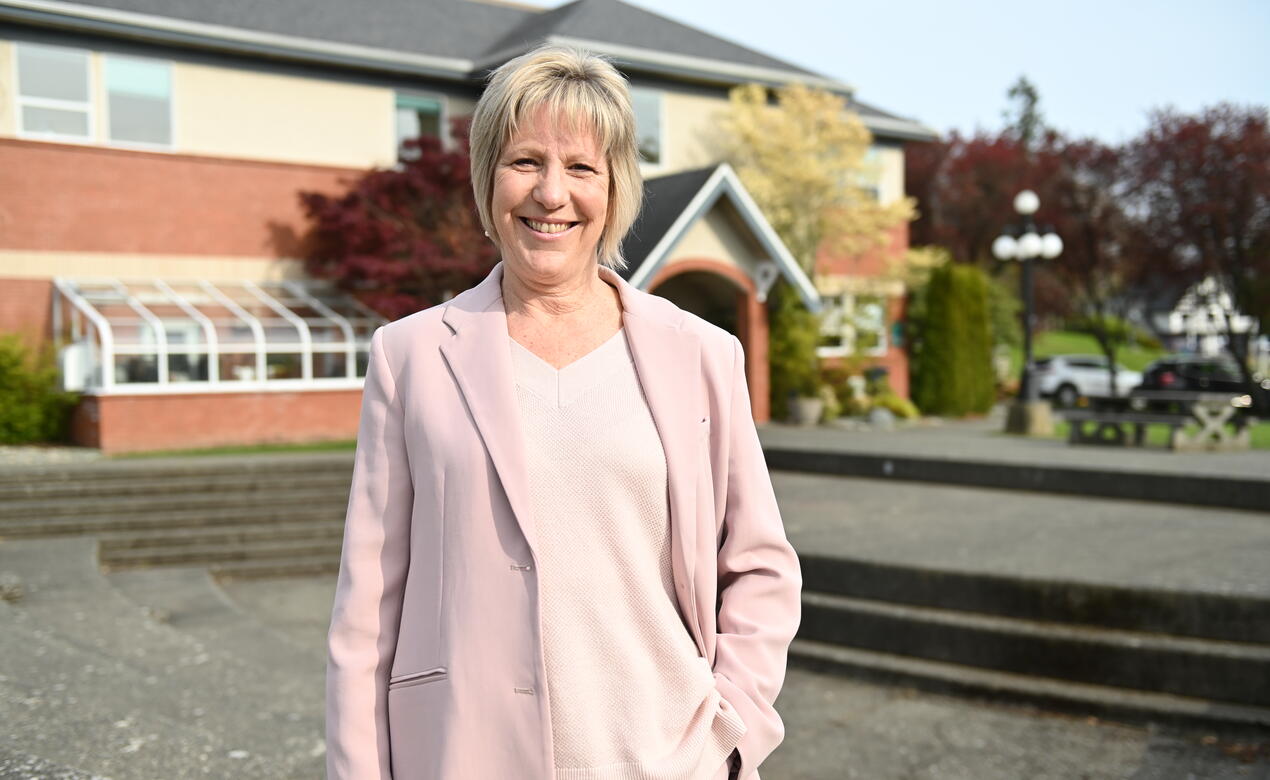 Kathleen spent the next 30 years serving as a houseparent, Director of Residence, teaching a variety of grades at the Junior School and working at the Junior School as Assistant Director and in admissions, something she's been involved with since her first days at SMUS. 
"I've worked hard to try to create a process that makes people feel welcomed and comfortable. Where families come in and feel supported and excited," she says. "It's one of the most wonderful feelings to interview a family and tell them about what we do, and to see their eyes light up, and for them to know they've found their place." 
For the last 13 years Kathleen has served as Assistant Director, a role that has enabled her to support all the Junior School's students in a far-reaching way. Whether it has been through maintaining the structures and systems that keep the school running smoothly, working in Admissions, creating the Leadership Assembly Program to teach the Grade 5s how they can be leaders and do good in their communities, or just the small daily interactions with students, encouraging them and helping them through some of their most difficult moments, Kathleen has been the lifeblood of the school. She spent the last three decades making sure students are set up for success. 
"Every move I make, it's thinking about the child at the core. What's best for the child? That's what has driven me," she explains. "A lot of my work is schedules and timetables, and helping to plan events and run the school, but the child in front of me is the most important thing to me." 
Her reach extended to the Senior School as well, where she and Kevin chaperoned service trips to Tanzania, Kenya and India, and came back to share the stories with the Junior School. 
"Part of my role is leadership and service, and how to help them make a difference in the world. It's important to me that all children in our school feel that they're leaders and that they have something to give," she says. "I care that every child knows that they have gifts, and our job is to help them figure out what those are and help them shine. Everybody has something to give." 
Kathleen is particularly proud of how the Junior School ushered in a new direction to education by being inspired by the Reggio Emilia approach. 
"It honours childhood and it honours children and their capacity as learners, and it believes in parents as partners," she explains. "Our school has grown and changed and I'm really proud of it. This is a very progressive, innovative, child-centred place where children are truly loved and valued." 
Not only does Kathleen have a long and cherished history with SMUS, but so does the rest of her family. Kathleen had a brand-new baby girl when she agreed to be Director of Residence. Years later, when her son was a toddler, she remembers him walking around campus, getting high fives and wide smiles from a sea of adoring Senior School students. 
"It's a community. The teachers and houseparents helped raise our kids. It's a family school. That's part of what we value about it, and that's why we've never left." 
Those now-grown children – Nicole '08 and John '16 – grew up to be SMUS Lifers and are still closely connected to their friends from their early school days, and Kathleen's second daughter, Stephanie, who was born with special needs, benefitted greatly from SMUS's tight-knit community and resources. 
From the stacks of picture books on her bookshelf to the carefully displayed hand-drawn art from students on the cork board, and even the quiet joy that radiates from her office, every inch of her space is suffused with Kathleen's deeply felt love for her place in the school. But although there is a natural shadow of sadness at her departure, Kathleen is excited to move into the next phase of her life.
"There's a time when you know it's time to move on to new things. And I hope that what I've been able to leave behind is a place where we support each other and where we see the best in each other," she says. "I have been so fortunate to work with such a wonderful staff of inspiring teachers, and I'm particularly glad that I have finished my career in partnership with Becky Anderson, as helping to lead with her has been a career highlight for me." 
While travel, volunteering and coming back to read with the Kindergarteners is high on her list, Kathleen has one major priority for retirement, and that's showering attention and love onto her grandbaby, Rhys. 
Her eyes light up as she glances out the window to where Rhys is playing on the grass with his grandfather. "I think it is a good time in my life to have more choice in how I spend my days. I want to have time for baby Rhys. I was so grateful to my parents who retired the moment our first baby was born, and we are choosing to do this now. I feel we can help my daughter and son-in-law with their family. It's a new stage for us, but I will be forever grateful for all that I have experienced at this school. The children have taught me so much." 
---
Jennifer Fisher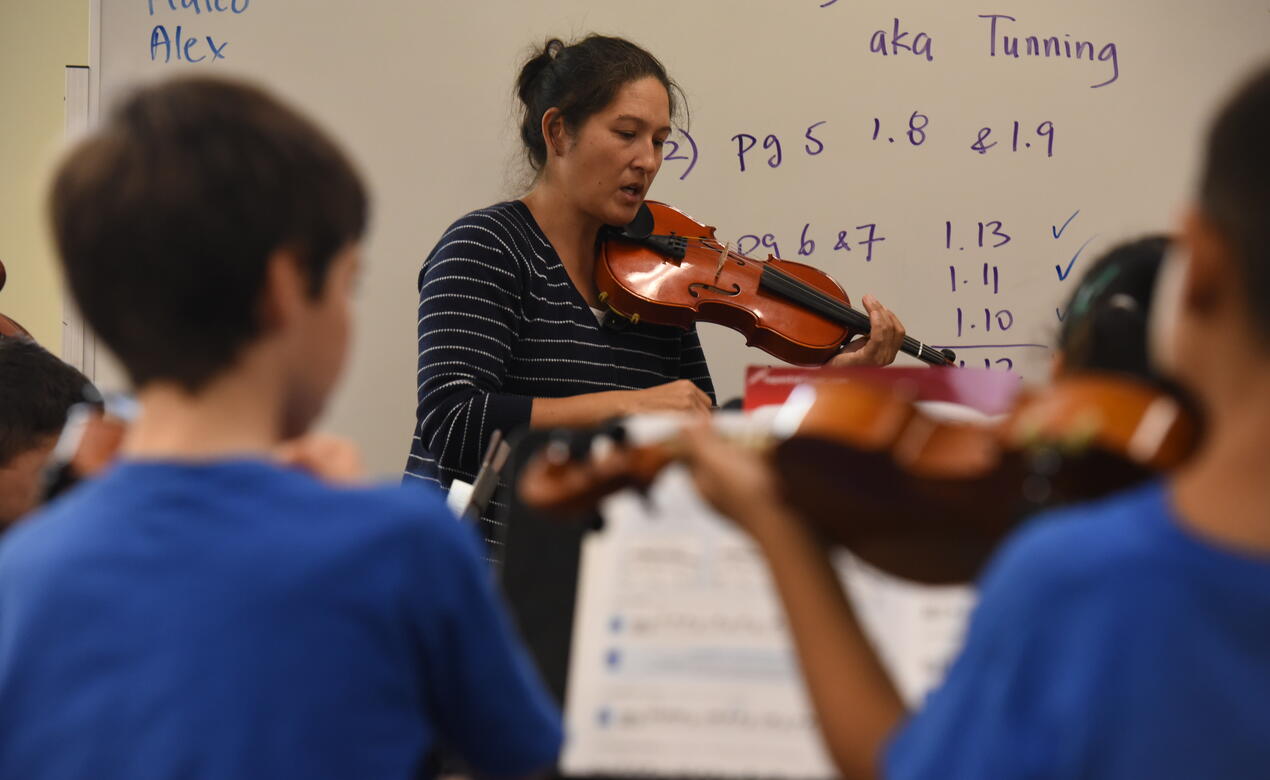 Jennifer Fisher has spent her entire life immersed in music, and over the last 12 years has passed on her passion and dedication to her craft to countless students as she's taught and assisted at SMUS. 
Born and raised in Victoria, she began playing violin at three years old. Jennifer excelled under the tutelage of noted musician Frona Colquhoun, and later joined the Victoria Conservatory under Sydney Humphreys.
Jennifer was also a founding member of the Greater Victoria Youth Orchestra under the direction of Stuart Knussen, and earned her Bachelor of Fine Arts in Music from UVic in 1995, studying with the Lafayette String Quartet and their first violinist Ann Elliott-Goldschmid. 
She'd been teaching privately for some time when she started her journey to become a certified teacher for the public system. Her oldest daughter wanted to take up the strings when she was in Grade 4, but the public school system didn't begin string classes until Grade 5. This prompted Jennifer to begin researching what was offered throughout the school district and was surprised to find there were only a few string specialists teaching strings. 
She went back to school and gained a Bachelor of Education as a music specialist, and very soon after was approached by former SMUS strings teacher Mary Smith to assist at the Middle School. 
"That's one of the great things about independent schools, is they can hire someone where that field is their passion as well as their degree," says Jennifer. "And when you love your subject, your kids can't help but have that energy." 
As Mary began to ease into retirement, Jennifer took on a full teaching role, and while she worked at both the Middle and Junior Schools, one of her favourite parts of the job was when she got to be the one to introduce her students to the world of music and performance. 
"I really loved working with kids that were just starting out," she says. "When they've never picked up an instrument before and you're just starting them out on their musical journey. It was exciting." 
With that excitement came hard work, and Jennifer laughs remembering being stopped by what felt like every other parent who would ask her how to motivate their children to practice. Some years she would do practice worksheets, or challenges between classes, but mostly it was about getting her students to understand the value of good practice. 
"If you practice well, it doesn't have to be a long time, and it doesn't have to be every day," she says, adding that the payoff for students is incredible. "It doesn't always happen right away, but over time it will. Don't give up because it's difficult now. My favourite memories are from after we'd finish a piece, and after the last note was played, the students would quickly turn to each other and say things like 'I didn't get lost!' or 'My arm feels like it's going to fall off,' and 'We did it!'" 
Between her five children, Jennifer has a son entering post-secondary, a daughter in France who's expecting and another son and his wife expecting in the next year, as well as two other daughters who are working and studying abroad, so she's looking forward to having a much less packed schedule and more time to travel as she leaves SMUS – though she's kept her name on the sub list, so she won't be very far. 
Looking back over her time at SMUS, Jennifer says she's thankful for such a collaborative, supportive environment, as well as the incredible professional development opportunities, and she'll carry many fond memories of bringing students together musically. 
"I hope I was able to impart the joy of music and the ability to share that joy when you play together with others," she says. "There's something special that happens when you work together towards a goal that everyone has contributed to achieving. 
---
Jerome Foenander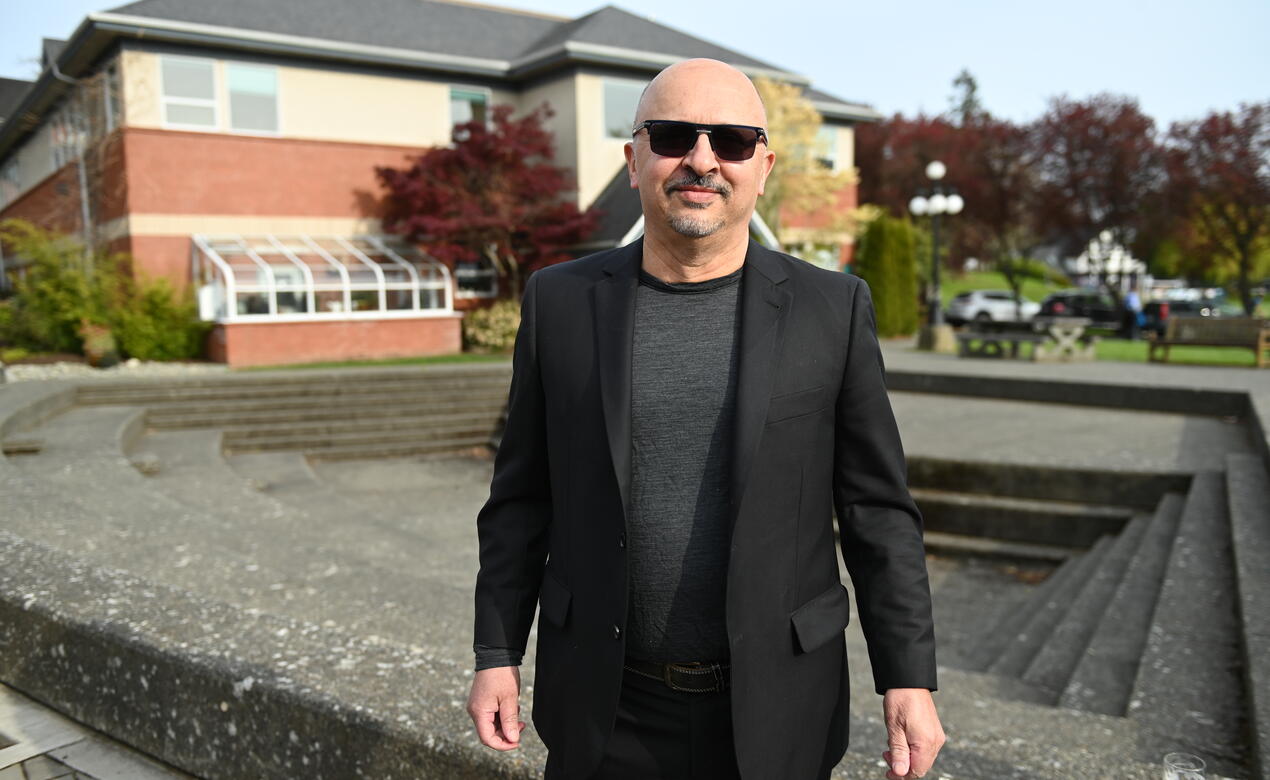 Jerome Foenander built his career on one foundational belief: to always treat his students with kindness and respect, and to encourage them to treat others the same. 
Often found practising an imaginary cricket or golf swing in his classroom while he taught, Jerome cultivated a friendly environment in his 18 years at St. Michaels University School, listening to his students and engaging them in discussions, but he also drew a hard line when it came to respecting others. 
"They knew I never took myself overly seriously," he says of his classes, "but they also knew never to disparage a group of people. Kindness is really important, and so is respect. Whatever you do, do it well, and have respect for what other people do. You don't know other people's backgrounds, so be kind." 
Jerome was raised in Australia, and travelled and had a number of work experiences before coming to teaching. He'd always wanted to be a journalist and follow in his father's footsteps, but found himself being nudged toward education. 
"I coached a lot of junior cricket and the parents would tell me, 'You've just got an amazing way with kids. You respect them.' I thought I'd get into teaching and continue with my coaching, and then end up in England being the cricket master at an independent school," he says, smiling. 
Once he began teaching, however, he utterly fell in love with it, especially the opportunity to dispel stereotypes. An avid sportsman, Jerome majored in history and English and minored in physical education, and never missed the opportunity to encourage his students to strengthen both their brains and their bodies. 
"I love the relationship that you form with kids," he says. "My whole thing has been to build relationships and trust with students, and once you've done that, you can teach them anything." 
He taught in Canberra, Australia for 12 years before coming to Canada, and first came to SMUS to take on a one-year contract teaching PE. When that year was up and Jerome was offered a position in the Middle School teaching English and then humanities, he jumped at the chance to share with students his passion for Yeats and Shakespeare, as well as for cricket and rugby. 
"The kids could see it was OK to like poetry and to like books, and they could still play really hard on the field. That's one of the great things about this school. It allows kids to follow whatever their passions are," he says, and then laughs as he remembers once seeing a student from Middle School playing the violin at a recital, his eye blackened from a recent rugby game. 
Jerome spent 14 happy years in the Middle School, but when a position opened up in the Senior School teaching English, he applied, eager to delve deeper into the world of literature. 
"Academically, English has always held my heart," he says. "I grew up in a small town, and as a little boy I'd come to life in the evenings when I read. Books were always my escape." 
He's quick to commend SMUS's library and extensive collection of literature, particularly the recent expansion in Indigenous stories and storytellers, a vital addition to the curriculum, he says.
Jerome spent the last four years of his SMUS career at the Senior School, with students he'd known for years from the Middle School, and was recently honoured by them. 
"The joy is, the kids that graduated this year I've known since Grade 6," he says. "They paid me the highest compliment: they asked me to give the grad speech." 
This has been a busy time for Jerome and his wife, as both their youngest boys graduated from high school this year. 
"Family is incredibly important to me," he says, and adds that SMUS's strong family-minded environment was a driving factor for sending his own son to the school. 
"My son came here because I saw it was a safe place for kids to learn and be what they wanted to be. And I think that has been fostered with the international aspect of the school, being in a class where there are literally kids from all over the world," he says. "There's a real sense that when you're here, you're here, and we'll take care of you." 
With graduation behind them, Jerome and his son are planning a six-week trip back to Australia this fall to see family and visit the places that formed Jerome growing up. And Jerome – who still wholeheartedly loves teaching – will continue on a slightly different path as a tutor next year, while looking back warmly on his long career at SMUS. 
"I've had good years here. I developed some absolutely wonderful lifelong friendships. There's been so many wonderful memories I'll take away with me," he says, and adds with a smile, "It's been a ride." 
---
Bruce Kuklinski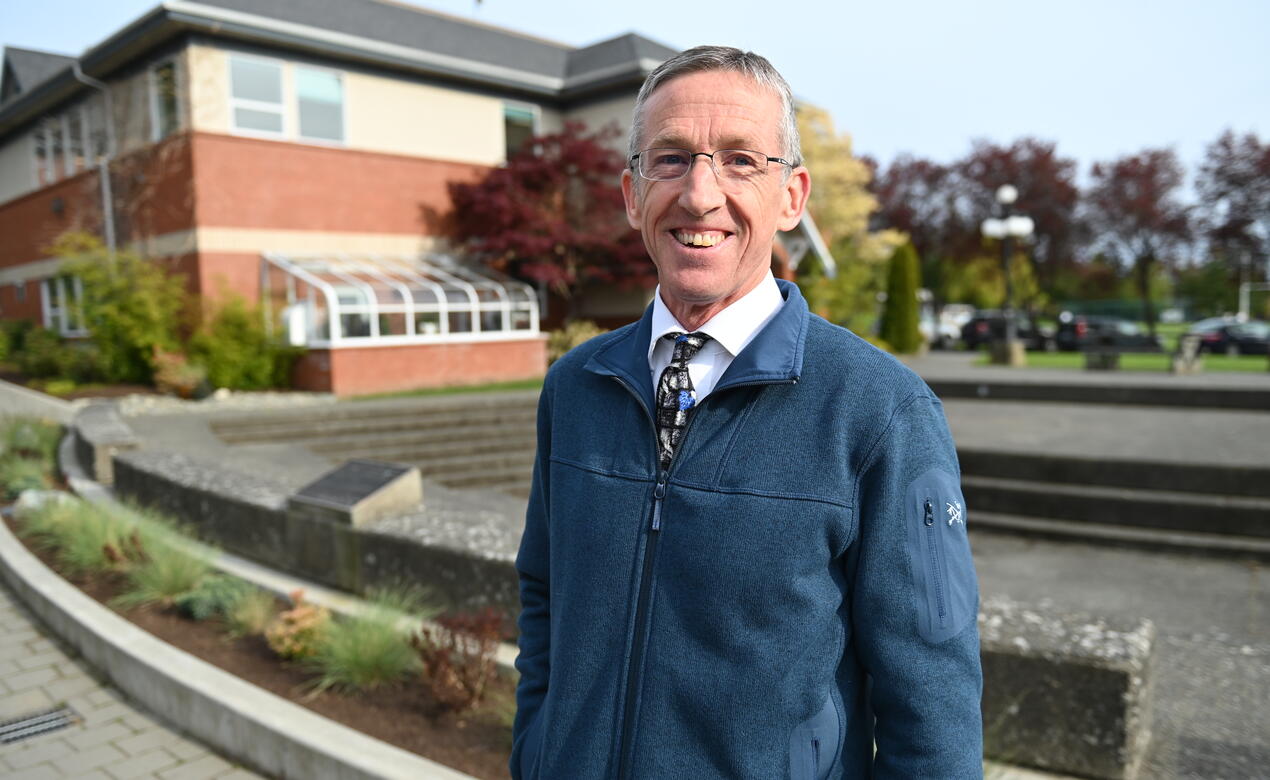 For the last 33 years, Bruce Kuklinski has shared his passion for sports and health with countless students as a much-loved teacher and coach, always leading by example with integrity, humility and dedication. 
Growing up in New Zealand, Bruce was the youngest of six and had numerous nieces and nephews from a young age. He realized quite quickly he loved looking after them, and when given the choice after high school between going first to university or to a teacher's college, he went for the latter. He knew immediately it was the right decision. 
"Every term you'd spend a little bit of time in the classroom, so even in the first week or month of being at teacher's college, you'd actually be in the classroom, first observing and then working with students" he says. "That was the genesis of it for me." 
His career at SMUS began in 1989 after he moved to Victoria to attend UVic for his master's degree in sports psychology. It was through friends of friends in Bruce's rugby circles that he learned of an open position in boarding at SMUS. 
Bruce jumped at the opportunity, began coaching rugby and then tennis at the Senior School, and the next year was hired to teach PE in the Senior School, also coaching soccer.
He thrived in the environment, being surrounded by excellence and experience.
"It's that international culture. The respect and understanding that we're all different, but we're all the same, and everyone has something that you can learn from," he says of SMUS. "Learning from knowledgeable coaches and teachers ... that was a key reason for being here." 
Bruce remained in boarding until the end of the 1997-98 school year – including one year as Senior Houseparent – while teaching PE at the Senior School and focusing on coaching Senior Boys Rugby, where he chaperoned four Spring Break tours to the UK and won a provincial championship in 1997. 
In 2005, Bruce moved to coaching rugby at the Middle School – including taking the Grade 8 team to Australia in 2007 – and transitioned to teaching PE and Health Education at the Middle School around the same time, revamping the program. 
Bruce's rugby refereeing career outside of school quickly took off, as well. He was an international referee for Canada from 1995 to 2007, working nearly 30 international events 15s internationals, many World Sevens Series stops and the 2002 Commonwealth Games. And over the last 12 years as an International Citing Commissioner, Bruce has served in more than 50 internationals, including trips to France, Italy, Scotland, Wales, Ireland and Australia, the 2015 Rugby World Cup and the 2016 Rio Olympics. 
"These honours to represent Canada as a referee and to be selected for other roles, that wouldn't have been possible without the support of the school," says Bruce. "I owe the school a huge debt of gratitude and thanks." 
Bruce has lived and worked with an enormous amount of heart while at SMUS, making lifelong friendships and connections with his colleagues and students, while striving to live as a role model. 
"I lost my mom to heart disease when I was really young, and I think in the back of my mind it was that I wanted to help people become fit and healthy. This is something that we as a society can control; our diets and exercise are a major issue," he says. "That's a message I've taught the kids every year. It's certainly been a motivator for me, to role model that for the kids." 
Bruce has also been heavily involved with SMUS's Terry Fox Run since his early years with the school. He first participated in the school's run in 1994 in support of his close friend and teaching colleague Ian Hyde-Lay, who had lost his mother to cancer, and Bruce began speaking to SMUS students about the run and the Terry Fox Foundation the next year after losing his own father to cancer. 
He sits back in silence for a moment. "There's a Maori word – Whānau. Family," he says. "But it's not biological family. It's that everyone is family. Everything is connected. That's a big part of New Zealand culture. And we are. We're all together." 
And that connection is everywhere in Bruce's history, including the most important relationship he gained through SMUS: his wife, Simone. They met at the school in 1994 when Simone began teaching biology in the Senior School, and the pair were married in the school chapel four years later. 
"Without her love, support and encouragement during my time at the school, little of my successes in and out of school would have been possible," says Bruce. 
From the deep connections to his mentors and closest friends on staff, to the students he's coached and shepherded halfway around the world, to the lessons he's imparted and the healthy habits he's encouraged and the relationships he's built – the single thread of his career echoes through an impossibly wider web at SMUS and beyond. 
He laughs and holds up his phone, speckled with stickers from Anna Mollenhauer '17, daughter of his friend and long-time Middle School teaching partner, Nancy Mollenhauer. 
"She loaned me her phone case and told me I had to keep the stickers on until she made the Olympics," Bruce explains, smiling. Anna is now on the Senior National Field Hockey team trying to qualify for the 2024 Paris Olympics, and Bruce has kept his promise. And should their team make it, "I will do everything in my power to be there," he says. 
As he readies himself to leave SMUS, there are too many wonderful memories to count. 
"Mostly ones you can't write down," he says with a laugh. "The rugby tours, of course, but just being around motivated, talented, highly skilled students, teachers and coaches – that's the memory. That's the best thing for me. I've learned more than I've taught anyone else.
"At the heart of it is a thank you. To colleagues, to staff, the grounds people, to all of the people behind the scenes that often don't get recognized and don't get thanked," he adds. "If we've got a huge tournament on the field, if it's not for the grounds people, it just doesn't work." 
He hopes to continue his international rugby citing, and is looking forward to attending some events as a spectator that he couldn't while teaching. But as for his immediate retirement plans? 
"For a little while, not very much," he says, laughing. "I'm going to be around. I'll probably pop in from time to time." 
---
Shona Lazin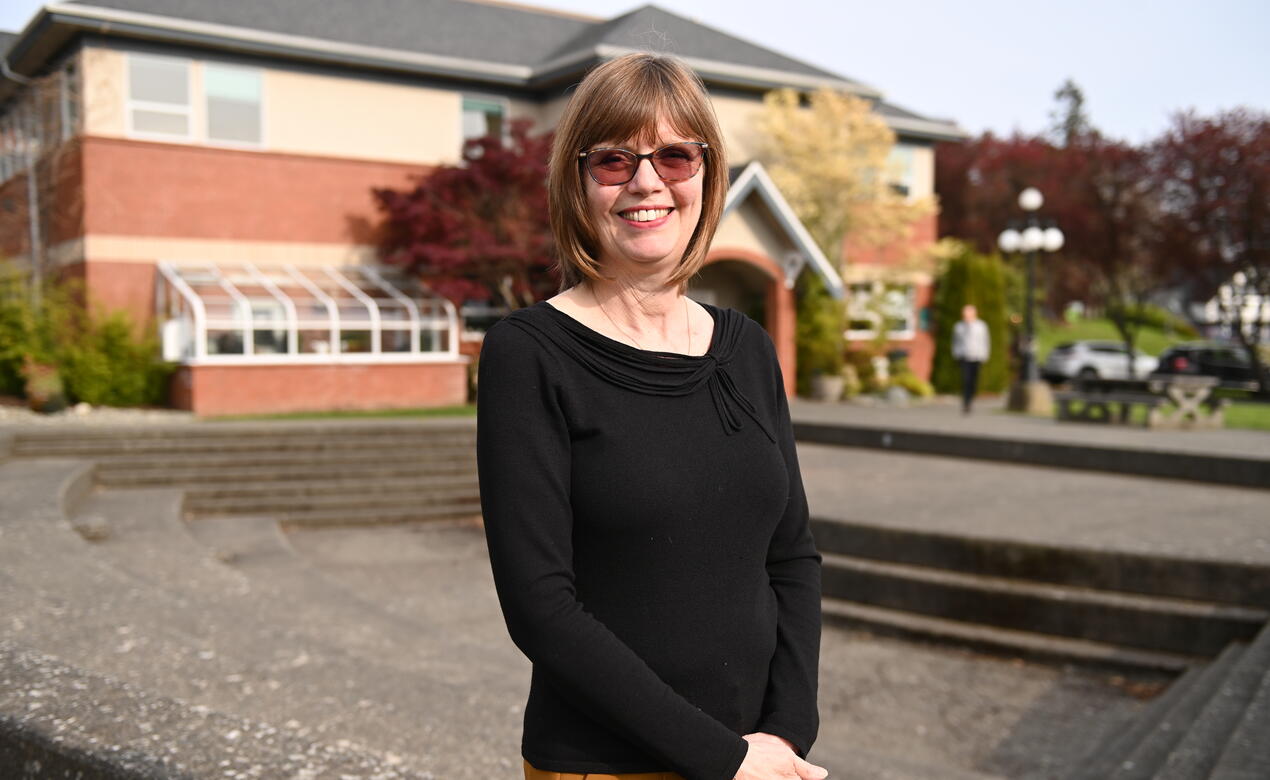 The moment Shona Lazin walked into the SMUS Junior School – with its red brick, bright windows and undeniable warmth – she felt immediately at home. 
"SMUS very much has a feel of the schools I went to in the UK," she says. "A lot of it is the history. And it's a very welcoming community. You're made to feel welcome right away." 
Shona came to Canada from the UK in the 1980s, and soon settled into a teaching career in Edmonton, taking a five-year break from the work force when her children were very young. But when her youngest graduated high school in 2015, Shona and her husband made the move to Vancouver Island, something they'd been thinking about for years. 
While transitioning to the West Coast sparked thoughts of retirement, Shona wasn't sure if she was done with teaching. Passionate about elementary grades since the beginning of her career, she'd spent the last 15 years teaching Kindergarten. 
Having heard about SMUS from a number of people after moving to Victoria, she decided to drop off a resume, and was very quickly hired on as an Associate Teacher for Kindergarten, supporting the core teacher and students in whatever they needed. 
"Coming here and having only 14 or 16 students in a class, and then two fully qualified teachers in each Kindergarten room was just a dream," she says. 
Shona spent the next six years becoming a beloved pillar of the Kindergarten team and the school, building relationships with students and their families, witnessing their incredible growth and promoting her fierce love of literacy. 
"I love the joy with which Kindergarteners approach learning. Everything is new and exciting to them," she says. "It's been a privilege to witness so many firsts and so many 'a-ha' moments: flying a kite for the first time, the excitement of being on stage for their first Christmas concert, learning along with the children on their weekly Outdoor Education expeditions. I'll miss the way they bounce joyfully into the classroom each morning, full of stories." 
Right from her first year, she'd also joined the hair and make-up team supporting the Grade 5 students in their annual musical production, an experience that became more poignant as she began to see her first Kindergarten students come through. 
"You lose touch a little bit the older they get, and it's so cool to touch base with them again at this time," she says. "It's such a wonderful experience for them and you kind of get a glimpse of what they're going to be like as teenagers." 
Throughout her time at SMUS, it was the sense of community that made one of the biggest impressions on Shona, whether it was chapel, welcome barbecues for the families and teachers, or the incredibly supportive environment. 
"From the first day at SMUS, I was made to feel welcome and have made many friends who will continue to be a part of my life. Community is key to what makes SMUS such a special place." 
As she moves into retirement, her time teaching may not be completely over. 
"I've left the door open. Never say never," she says, smiling. "I may come back and do the occasional day of subbing if they need somebody. And I'm sure I will come in and volunteer." 
Outside of the teaching world, Shona will be helping her husband with his law practice, leaving plenty of time to pursue her own interests of watercolour painting, reading, gardening and spending time with family and friends. 
But the two most exciting prospects in the near future are a trip to New York in October –something she's always wanted to do but couldn't because of the school year schedule – and bringing home a brand new puppy in the fall when they get back. 
"It'll be really nice to be able to travel outside of school holidays," she says. "I've always wanted to travel to places in September and October. Fall and spring will be great times." 
---
Christopher Linn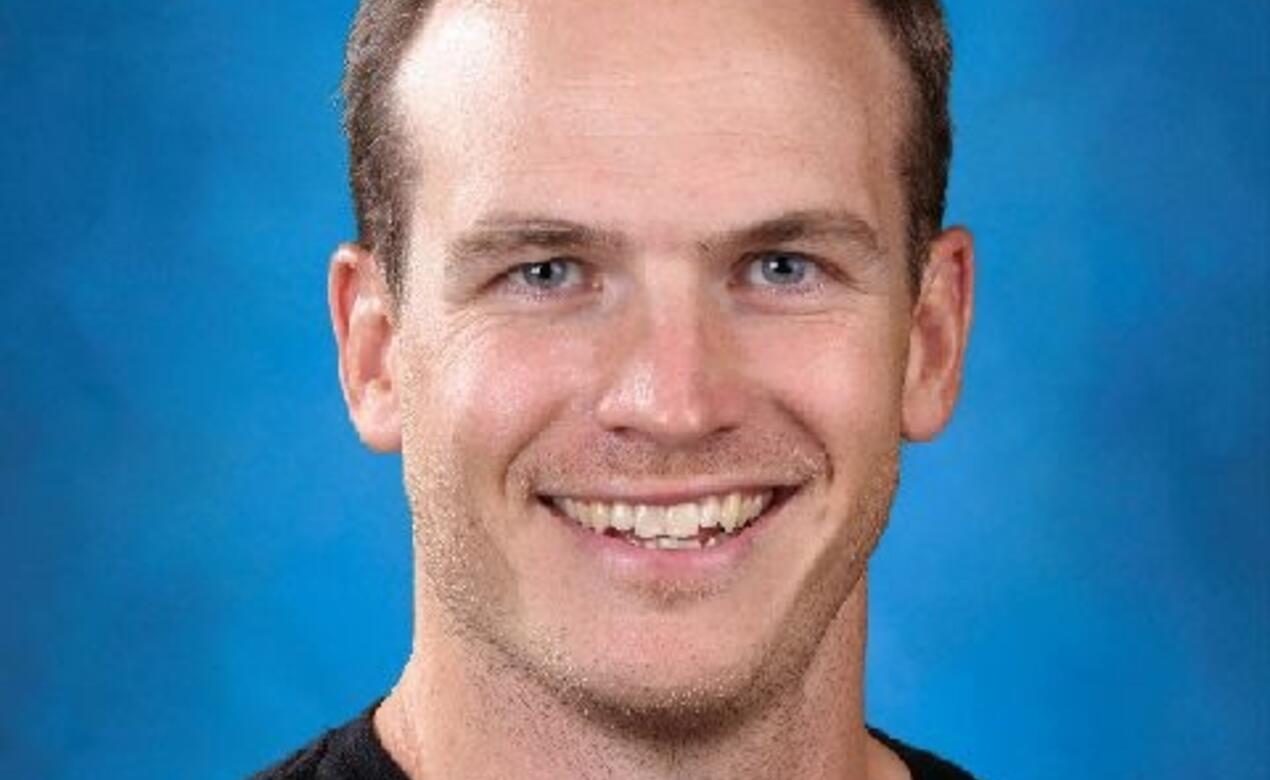 For seven years, Christopher Linn coached, scheduled, organized and co-ordinated every aspect of sport at SMUS, helping to keep the athletics department running like a well-oiled machine. A talented rugby coach as well, Chris came on staff in 2015 as Assistant to the Director of Athletics, and was responsible for a huge amount of logistical planning. 
"A large portion of the day to day was providing administrative support for the competitive teams and their coaches," he explains. "Organizing transport and accommodation, organizing food for everyone, as well as facilitating the intramural program for the boarding students who weren't involved with the competitive team sports." 
With so much to keep track of, "I definitely had to be as organized as I possibly could" he says, laughing. 
Chris first became involved with SMUS while he was still in university. Though he knew he loved coaching and working with young people, Chris knew that a traditional education degree wasn't the best fit. Instead, he pursued a bachelor's in recreation health education at UVic while he continued coaching rugby on his own time, and was in the last third of his degree when he came on board with SMUS through a co-op program. 
"It was another rugby coach, Ian Hyde-Lay, who got me in the door through an internship with the athletics department," says Chris. 
Chris worked as an intern for the athletics department, learning the administrative ropes, and became involved in coaching rugby, something he's had a passion for from a young age. 
"For me, rugby is the ultimate team sport, because it's built for any shape or body type, and it really doesn't discriminate against anyone. It really relies on everyone coming together. And it can bring out a leader in just about anyone." 
That sense of community and inclusiveness was something that attracted Chris to SMUS, both on and off the field, and encouraged him to stay on staff once he'd graduated. 
"Getting to work with Lindsay Brooke, the Athletic Director, was awesome," he says. "Our philosophies lined up really well, both athletically and at the school. She's just a pleasure to work with and always had my back, and is so dedicated to the school. Everyone that I came into contact with through work was so appreciative of the world I did and so easy to get along with. 
"The biggest thing for me was the community, both amongst staff members and the students. It's such a great place to work." 
Looking back at his years at SMUS, there are a few memories that particularly stand out. 
"I had an awesome opportunity in 2018 to go on a rugby tour in Australia with the Junior and Senior rugby teams, and that was definitely a highlight," he says. "I'd been on a few rugby tours through my own high school, so it was really cool to do it as a coach." 
As he leaves SMUS to relocate to Boston, he hopes to continue his career on the rugby pitch. 
"I've had the benefit of having a lot of really good and influential coaches throughout my own personal career, and it's something my own dad did and still does, so it was always something I'd thought about getting into."
---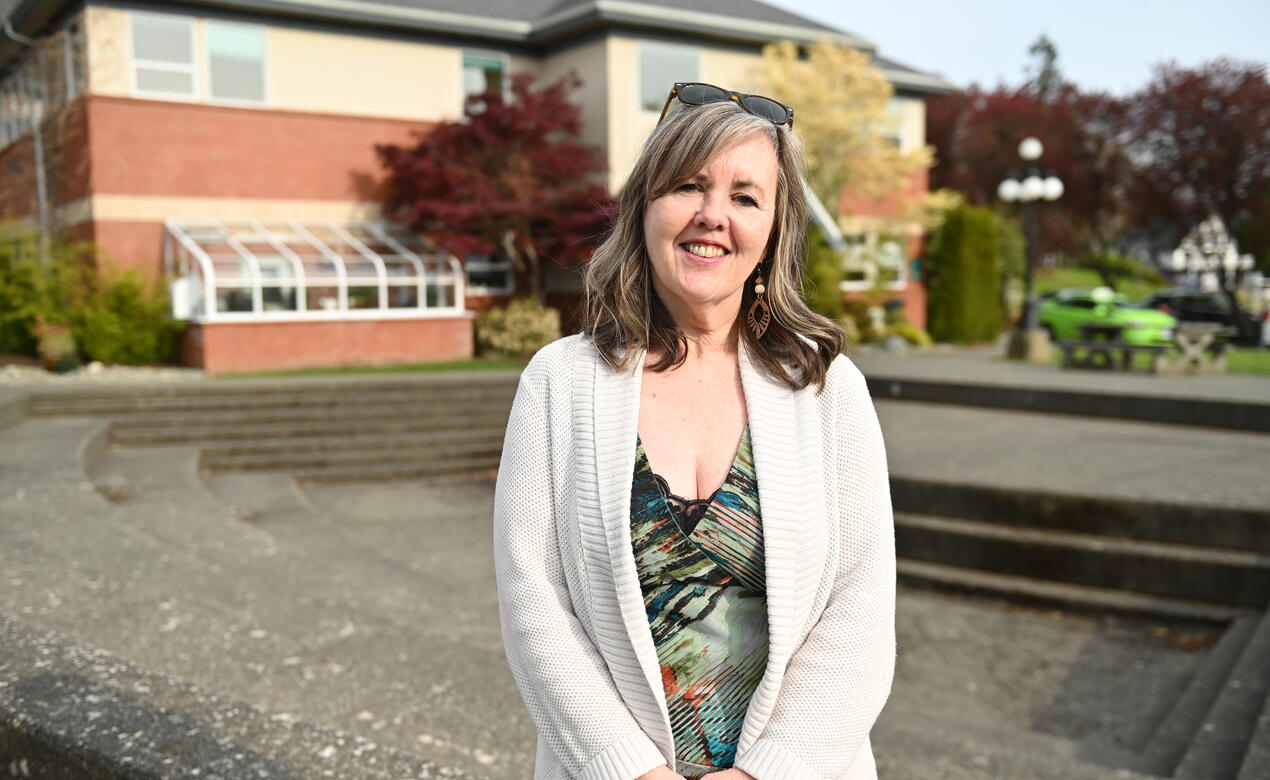 Paula Rennie
With her gentle manner, kind voice and unwavering dedication, Paula Rennie seemed made for her role in Learning Support at the Junior School, and from the moment she joined SMUS, it was an immediate fit. 
"I loved it," she says, and smiles. "There's definitely a joyfulness that I recognized right away. There was more of a familiarity between students and teachers – the students are encouraged to question and to think creatively – and I ended up really enjoying it." 
With early dreams of being a pediatrician, Paula knew from a very young age she wanted to work with children, but when she was in high school, she learned of a new five-year special education program at UBC focused on working with children with a wide variety of learning challenges, as well as regular education, and she jumped at the opportunity. 
Paula went on to spend 35 years in education, both in learning support and in regular education teaching Grades 2 and 5. And then in 2016, she moved from the mainland to Victoria. 
She heard about SMUS when her contracted position at Victoria's Project Literacy was ending, and first came on board in 2017 to cover a maternity leave in Learning Support. When that ended, she shifted to Associate Teacher in Grade 1 for two years, which was an entirely new experience. 
"I'd never been an associate teacher before, and I wasn't sure how that was going to go," she says. "But it ended up being a wonderful experience, and it rejuvenated me. The teachers were so welcoming, and very quickly we just became a team, and I loved that." 
Paula was then asked to take on the Learning Support position for two years, an area that has always been closest to her heart. 
"I enjoy the deep connections I've been able to make with students – and pre-pandemic, with their families," she says. "I've really loved the ability to focus on their strengths and encourage them to self advocate." Paula was able to help students with literacy and numeracy on a very individual level, something that gave her great satisfaction. 
And she's been well-loved in return. Students would ask Paula when they'd have a chance to come and see her, and when they could read with her. 
"That was a little temperature check for me, that it's something they feel very open to doing," she says. "I try to make it fun, and it's fun for me too. It's very much a win-win situation." 
"My philosophy in Learning Support is that everybody needs a little bit of help sometimes," she adds, explaining that any and all success she's had was built on connections with students and teachers. "It's so important to have a relationship with a student and get to know them. We have a lot of good data and assessments, and I'm 100 per cent behind all that, but it goes hand in hand with the relationship. That's what's worked for me." 
As she looks back on her five years at SMUS, it's with gratitude for the opportunity and the relationships she's built. 
"I feel very fortunate to have found the Junior School, because I came over [to Victoria] without a job, and within eight months I was working here, and one position led to another," she says. "I am sincerely grateful to have had this experience." 
And as Paula moves forward into retirement, she's excited to see what the future holds. 
"More cycling and hiking. I'm keeping my options open. I like to keep busy and have been doing a bit of tutoring already," she says. "I'm looking forward to staying up late on school nights and having more relaxing mornings!" 
---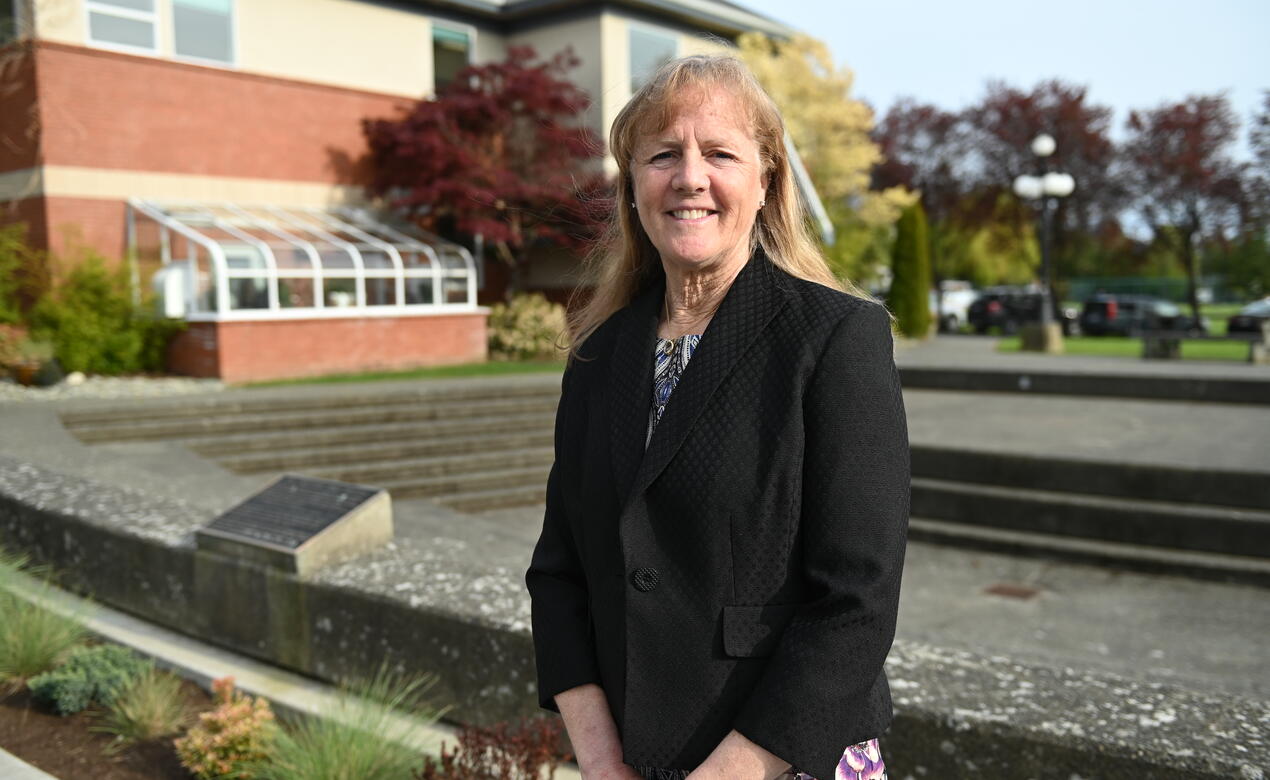 Judy Tobacco
Judy Tobacco is as passionate about athletics as she is about supporting equal opportunities for students, and over the course of her 32 years at St. Michaels University School, she's spread her love of sport and tirelessly advocated for an inclusive and wide-ranging Physical Education program. 
"I feel really strongly about making sure that people in the PE program, regardless of ability, have an equal chance to play and experience whatever we're working on," she says. "PE and the gym is something that should be part of everyone's lives. It should be somewhere that you're valued and that can be a value to you." 
Though she flourished as a PE teacher at SMUS, Judy's career in education had a bit of a roundabout start. 
Born in Campbell River, Judy grew up in Victoria and graduated from Mount Douglas Secondary in 1979 before a track scholarship took her to the University of California-Berkeley, where she was initially intent on pursuing a business degree. Having come from a family of teachers, it was a case of "avoiding what your parents do," she says, laughing. But three-quarters into her economics degree, Judy could not see herself working happily in an office space and she switched into the PE program where she immediately felt at home. 
"I thought, 'This was where I should have been the whole time,'" she says. She relocated back to Victoria and graduated with an Honours Education degree from UVic. 
Judy had known about SMUS since her high school days, having been in a track club with some of the first female students to attend SMUS, and when she was approached by fellow teacher Ian Hyde-Lay about an opening in the PE and Socials departments, she jumped at the chance. 
"Once I began teaching at SMUS I had several aspirations," she says. "One was to offer quality cross country and track and field opportunities to aspiring athletes, and two was to make every effort to be fully involved in many of the excellent extracurricular programs the school offers." 
Judy jumped in with both feet, in every respect. She worked every day to promote a growing and varied sport program, particularly for female students, and was instrumental in promoting the role of women and girls in the PE and athletics departments. 
She chaperoned more than 60 outdoor education trips, taking students out of their routines to challenge them with surfing, scuba diving, rock climbing, kayaking and more. 
"Working with students outside of the classroom where they are challenged has been incredibly rewarding," she says. "We're asking them to take safe risks and see what happens. Oftentimes it's not very successful, and then you ask what you can do to make yourself better." 
She recalls taking a group surfing, and watching as for the first few hours the students would fall off their boards and try to get back on repeatedly, without much success. 
"And then we'd come back after lunch and they start to get it, and they just can't believe they're doing it. It's great to be on the sidelines and see that trigger hit and their eyes light up," she says. "We get to see kids accomplish things and be proud of themselves. That whole process is what education is all about – having a problem or challenge, trying to figure it out, having a failure, and going back again and again." 
Judy was involved in eight international Spring Break trips, venturing to Kenya, India, Galapagos and the Dominican Republic among others, each trip an abundance of memories. 
"They were awesome," she enthuses. Whether the groups brought financial assistance, supplies or good old-fashioned sweat equity, each trip was an opportunity to see how a small group of dedicated people can make a difference in the world. 
"We were able to change lives for people," says Judy. "It was also interesting being there as a woman in those countries, because oftentimes women aren't given equal standing, even though they were often the ones who pushed for the classrooms to be built, and they were putting the extra time in after the fact." Women who worked 12 hours a day, spend another four hours carrying water, and still pushed to better their communities, she explains. 
"I think for a lot of our students it was the first taste of what they can do in their lives that will make a difference in the world," she adds. 
Judy also became involved in the Grade 10 Experiential Program and ran a five-day glass fusing boot camp for a number of years. Judy, who has a long history with glass art and has several of her own kilns, suggested it to SMUS about 15 years ago. 
"There's the artistic side of it, as well as a technical, chemical engineering side to it," she explains, and adds that it was a unique experience for the students to see her out of her normal role at SMUS as well. "It's energizing to see them in a different light, and it's good for them to have a bit more humanistic view of you. I think it's important for the kids to see the adults and teachers in their lives in all kinds of different areas. We're willing to cross over and try things, and the students are expected to do it as well." 
As she adjusts to retirement, Judy is looking forward to exploring her glass art further, branching into stained glass and welding as time allows, but mostly she's excited for a slightly slower pace. 
"I'd like to take a welding course, and I'll have more time for personal fitness now. After the last few very hectic years, I am most looking forward to having a more relaxed daily schedule and much shorter work days," she says. 
Looking back, she's grateful for her time at SMUS. 
"I loved coming in every day to the kids and their enthusiasm. I loved that I worked in a school with a strong community and values," says Judy. "There was always a really fun, energetic, professional group of teachers that I worked with. I couldn't have asked for a better place to work. I ultimately hope the students that I have taught go forward with the knowledge, skills and confidence to live healthy lives and continue to enjoy physical activity and sport through university and beyond." 
---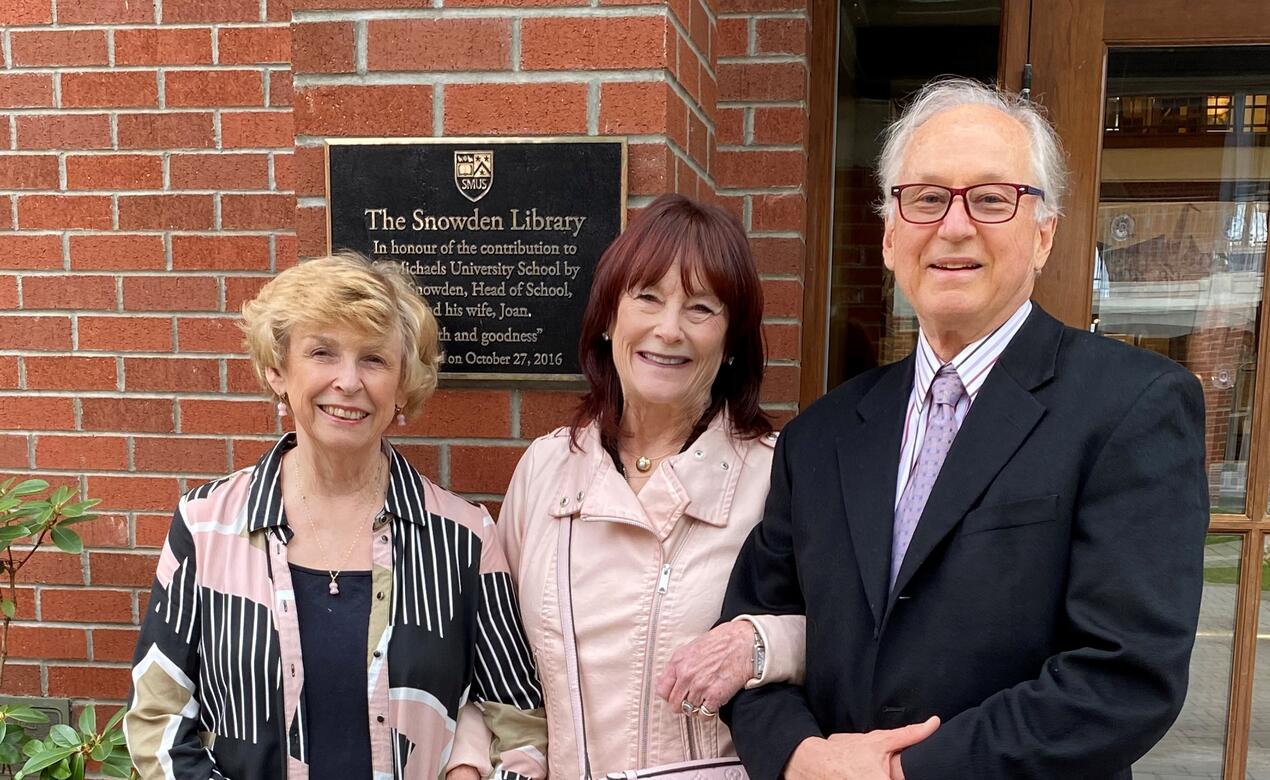 Joan Tweedie
Joan Tweedie has had a long and rich career at St. Michaels University School as the teacher-librarian for the Senior School, but if there's one thread that has provided a foundation for all her innovations, creativity and support, it has to be her absolute love of reading. 
For 33 years, Joan served with steadfast and joyful dedication to make the library a welcoming and supportive environment for students and faculty, staying on the cutting edge of new technologies and digital developments while honouring the traditions of SMUS. And in fact, it was the sense of tradition that made Joan fall in love with SMUS in the first place. 
"When I first walked up the steps of School House and through the entrance hall. I immediately felt at home and knew that this was the school for me," she says. 
Joan and her husband, Rob, moved to Canada in 1987 from South Africa to Penticton, where Joan spent two years as an on-call substitute, teaching any subject, any day, at any school, she recalls. When the family settled in Victoria so Rob could requalify in Canadian law at UVic, another opportunity presented itself for Joan. 
It was at a cocktail party for South Africans that Joan just happened to overhear that the previous SMUS librarian was returning to Cape Town, and Joan thought she'd better drop in. She managed to secure a quick meeting with then-Headmaster David Penaluna, and the rest was history. 
"He hired me on the spot," she says with a laugh. 
Joan would go on to teach classes on researching with academic integrity, teaching students how to use critical thinking skills and source evidence to "counteract the scourge of misinformation." And almost immediately she began creating programs to encourage a love of reading. That included book drives to benefit schools in South Africa, Nicaragua, Buenos Aires and more, and the Buddy Reading program which paired Junior School students with Senior School volunteers who wanted to share their love of reading. 
Joan started a Book Tea in 2009, an all-day event where she'd serve tea to staff who would drop in and chat about their favourite reads. Run annually – save for one year during the pandemic – the Book Tea is a favourite among faculty and staff, as is the brochure that the library puts out with all the recommended reads. Another initiative she started, which also happens in the spring, is her curated "book bags" for staff to take over the holidays, and summer reading lists for Grades 9 to 12. The library Book Teas are now a regular feature of the Grade 9 English program, as are the Book Club and the Buddy Reading program with the Junior School. 
"It's all about keeping the culture of reading going with the students and teachers. I've got used to knowing everyone's reading tastes," she explains, and then laughs. "It's grown from maybe eight people to nearly 40 now." 
A major project this past school year was the SMUS Author Wall. Created in celebration of the school's 50th Jubilee Year, the wall profiles the incredible array of published authors from our alumni, faculty, students and parents. Another display to celebrate Jubilee, located in the library gallery, is a visual history of the library since 1966. 
While there is a wealth of memories – both large and small – from her 33 years with SMUS, one opportunity in particular stands out for Joan. 
"In 2003, I had the once-in-a-lifetime opportunity to provide a vision for Head of School Bob Snowden for a school library for the 21st century. An honour indeed," she says. 
Encouraged by Dr. Tom Matthews, then-Director of Academics, Joan used a professional development award to travel to independent schools all around North America, observing, taking notes and asking questions. When she returned, she came armed with an abundance of ideas and was able to work closely with architects from Merrick Architecture on the interior design of the new library. 
"It was a real honour to have input into the design. Users don't always get that opportunity," she says. Part of that process included Joan writing out, in detail, the prospective function of every space in the library. "They took those ideas and created this space. They were very clever, the architects, and they listened. That was the key." 
Joan's vision was for a space that was "warm, welcoming and with no barriers," and one need only take a few steps into The Snowden Library to know that the endeavour was an overwhelming success. Built out with brick and an open cathedral ceiling with a glassed-in atrium at its peak, the space is suffused with natural light. A collection of small breakout rooms are scattered throughout its two floors, allowing students ample spaces for quiet study or collaboration. There's glass everywhere connecting spaces through sight lines, and a welcoming, curved front desk. 
The Snowden Library is now referred to as the "heart of the school," and with good reason, but there was another "heart" for Joan as well: when she and Rob served as Senior Houseparents of Winslow House for eight years. 
"It was an honour to be entrusted with the responsibility of guiding and nurturing 54 teenagers every year," says Joan, whose two daughters also graduated from SMUS. "It's a wonderful experience. You form very deep connections with the students and their families all over the world. We had a real open house policy – the students were welcome in our house any time, and they were always in our house." Joan smiles warmly. "It was their home from home, and that was just wonderful." 
Though her departure is tinged with the sorrow of leaving this home and community, Joan is excited for the future and the adventures ahead. A trip to Geneva is first, to see her daughter Clare '03 and two young grandsons, and then on to Toronto for time with her other children, Katherine '94 and David and their families. And of course, getting back to Cape Town is a priority, to see her sister and large extended family.
"My life is now an open book in which I can explore new paths," she says. "I trust that doors will continue to open for me, as they always have.
"I feel extremely fortunate in having had such excellent opportunities for professional growth in the 33 years I have spent at SMUS," adds Joan. "I have developed lifelong friendships with the most wonderful colleagues, working alongside dedicated and brilliant teachers. What more could one ask for in a career in education?" 
---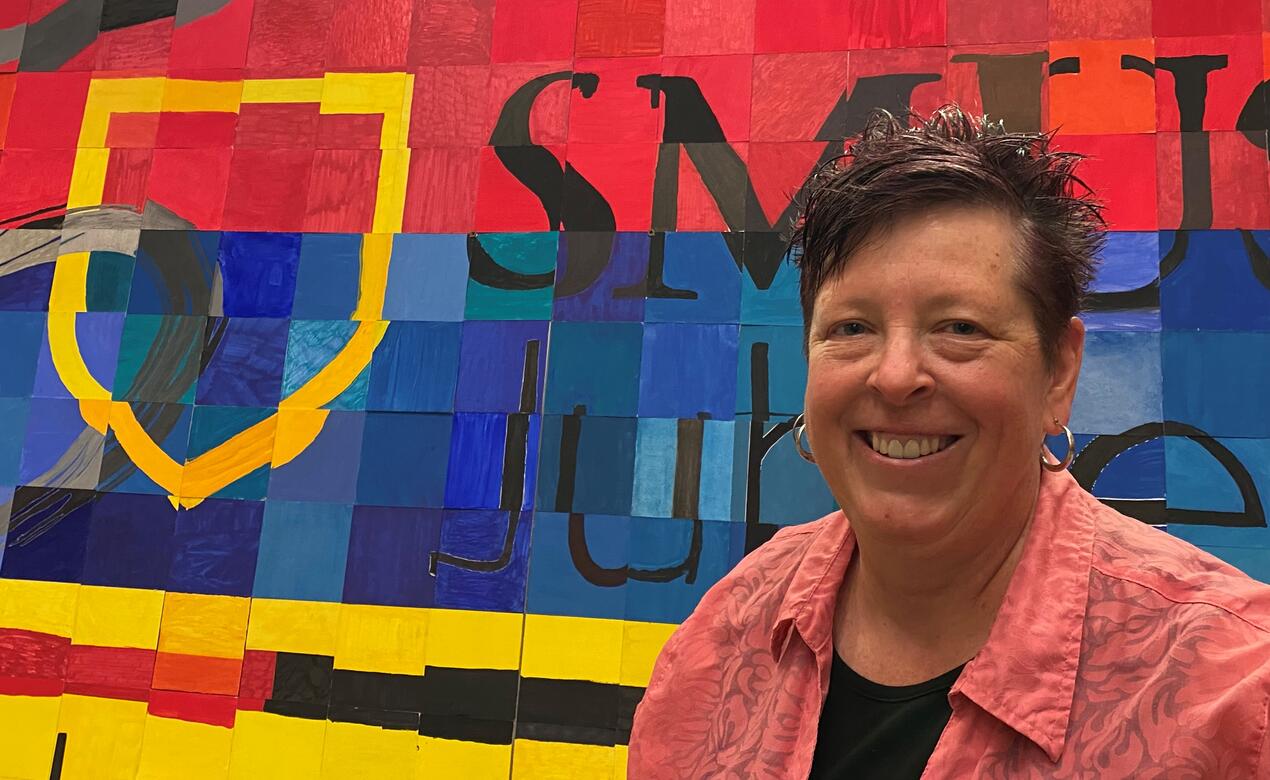 Leanne Wilkins
For Leanne Wilkins, one of the most important parts of art is being brave enough to dive in and try something new, and she's spent her 12-year career at St. Michaels University School encouraging her students to do just that. 
Leanne began teaching art in the Middle School in 2007, and wasted no time exposing her students to a huge variety of materials, styles and techniques while embracing the chaos and heart of teaching that age group. 
"It's such an incredible time in their lives," she says. "The change from Grade 6 to 8 is just monumental – physically, mentally, emotionally. It's just such a high energy and wacky place. That's what always keeps it interesting." 
But the most rewarding moments were always when a student had what Leanne calls their "aha moment." 
"There are those kids who come in and say 'I can't do art,' and all we ask of them is that they try," she says. "And then you see them showing improvement, they're growing, and finally something comes along and there's that moment where they actually like what they've done." She adds with a smile, "That's their aha moment." 
A lifelong artist and lover of all things creative, Leanne came to teaching after working in several other fields. Having previously studied audio, video and print production at Camosun College, she'd worked for the provincial and federal governments, but found herself craving a change. 
"I was doing less and less art, and I wasn't as happy," she says. "I started taking art lessons and making sure I was fitting art into my life. And then a friend suggested teaching." 
Leanne laughs as she recalls how she was resistant to the idea at first, having grown up in a family of teachers and educators, as well as being told by well-meaning advisors that art education was an extremely difficult program to get into. 
But when she applied to the Bachelor of Fine Arts as well as the Arts Education programs at UVic – and was accepted into both – Leanne decided to follow her passion and pursue the latter. And it was partway through that program that she made an invaluable connection with SMUS. 
"The Middle School art teacher was also teaching at UVic and I had her for one course," says Leanne, explaining the class was fantastic, with hands-on and practical aspects. When that teacher decided to further her own education, she asked Leanne if she'd be interested in applying to SMUS for the temporary leave position. When Leanne was summarily hired and that year-long temporary position transitioned into a permanent one, she made herself a home at the Middle School where she strove every day to encourage her students to – above all – be brave. 
Experimenting with perspective challenges or unorthodox materials helped her students think in new ways, which translates into incredibly useful skills for the other parts of their lives as well, she explains. 
"Art is basically troubleshooting. It's asking, 'How can we do this?' You've got this problem or challenge, now how are you going to navigate that? It works different parts of the students' growth. That's why it's so important for people's brains to have the arts in their lives." 
"It's about the process," she adds. "I'm trying to give them that opportunity – to not worry about the end product – and give them a voice to express things visually." 
Leanne credits SMUS for creating myriad artistic and creative opportunities for young students, from music to choir to art and more. 
"In other schools, they have to choose between music or art, but our kids get to do both," she says. "It's such an important part of their development, to expose them to so many different opportunities so that as they go into Senior School, they can focus in on what they love." 
Leanne made her mark on the school as well, with several projects and long-term installations, including a series of paintings representing a host of different religions which is displayed in the chapel.
Another of her projects is what's become known as the Legacy Art squares. Every year, her students each receive one blank square of a larger mosaic and are given a theme from which to draw inspiration for their individual tiles. Often, it's a quote – this year's was Jubilee themed –but each student only knows what their own tile looks like. The final assembled display is revealed at the Closing Ceremonies, when the students finally get to see how their unique pieces fit into the larger whole. 
From the Legacy Art to her inventive creative exercises to her unrelenting encouragement, Leanne has embodied art for SMUS and our Middle School, and as she leaves, she takes with her an abundance of memories and friendships.
She and her partner spent the summer close to home, enjoying warm afternoons painting on the sundeck and getting out on the golf course. And perhaps, "if the world is a little bit OK in the fall, we'd like to get back to Europe," she says. "I'd love to tour some medieval villages in Spain."