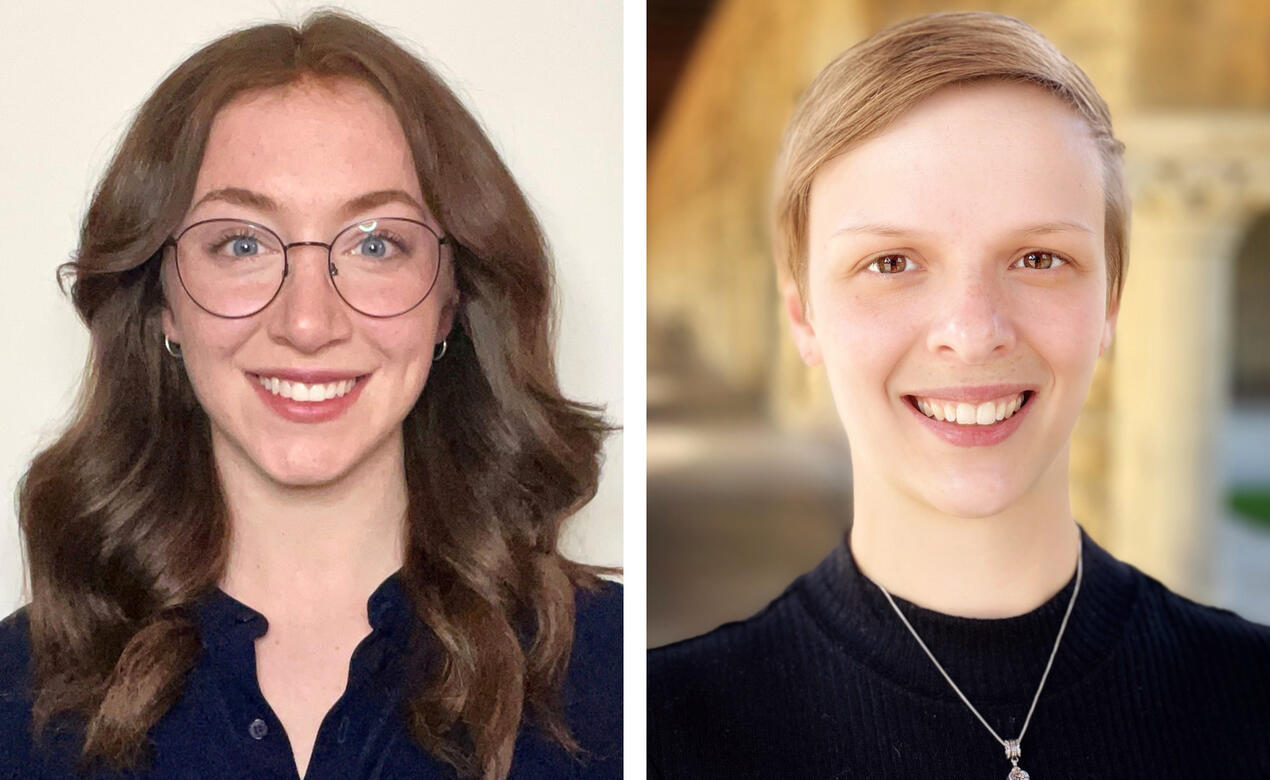 Jesse Lineham's path to medical school has long been influenced by members of the SMUS community.
The 2018 alumna, who just graduated with her Bachelor of Science degree, was recently accepted into medical school at the University of Alberta – and she credits her ties to SMUS as being instrumental in that achievement.
"I had taken a biology course in Grade 12 that really sparked my interest. It was kind of a one-off that I took because I wanted to expand my interests and I just ended up really enjoying it," says Jesse. "And the interest in medicine actually started because of my boarding roommate. Her father was an orthopedic surgeon and when I went to visit her in Germany he actually had me come into the operation room and hold implants and watch this surgery. And I thought, 'This is something I need to do. This is what I'm going to do.'"
As she went through the health sciences undergraduate program at the University of Waterloo, she knew that medical school would be the next step in her academic career. But she was unsure of what that process would require.
"As a first generation university grad, nobody in my life was able to guide me. My parents were a fantastic support and they were so encouraging and ready to help, but I needed somebody who had been there and who had firsthand understanding of what it was like to apply for medical school," Jesse recalls.
What she needed was a mentor.
Paying It Forward
While Kaylynn Purdy MD '10 was completing her bachelor's degree at the University of Calgary, she, too, was eyeing medical school. 
It was just happenstance that she attended a SMUS Alumni event in Alberta and met an alumna at the event who graciously offered to play a mentorship role to Kaylynn. That alumna was Nadine (Qureshi) Khalil '07, who has since earned a Doctor of Medicine and is working in the field of infectious diseases.
"She was a big help as I applied to schools – she did practice interviews with me," Kaylynn says. "I was so lucky to have had that happen just by chance. We didn't have [the online networking platform] SMUS Connect back then, but it was still the SMUS alumni network that ended up helping me out."
Kaylynn was accepted to and attended the Northern Ontario School of Medicine, and graduated with her Doctor of Medicine in 2018.  She is an Adult Neurology Resident at the University of Alberta and is currently attending Stanford University to earn her Master of Science degree in health policy. 
"I came from a place where I didn't really have a lot of mentorship opportunities growing up and it was a small town, so I didn't have many connections. So I've found that the connections that have happened for me have been so helpful and instrumental. I don't think I'd be here today without them," says Kaylynn. "I figured that if I could support someone in a similar situation as me, I'd be very willing to help them."
Alumni Mentorship
SMUS Connect, the school's online networking platform, is ground zero for our Alumni Mentorship Program. The program was established to take advantage of our school's global network; a community of people who have a desire to keep learning, share knowledge and help others.
It was on SMUS Connect where Jesse began her search for a mentor. 
"I was pretty open to getting help from anyone. I kept an open mind, so I tried to get in contact with some people who were working as dentists and some people in the public health field. And I was lucky that Kaylynn was the first person who got back to me," Jesse says.
The two met over Zoom and connected regularly over email as Jesse navigated her way through the application and interview processes. 
"We first connected in April 2021, and she really held my hand throughout the entire process from the moment I said, 'This is something I'm interested in and you're where I want to be six or seven years.' And she just said, 'OK! Let's do this right,'" Jesse says. "She's just been so, so great."
She also got advice and support from Ethel Kiggundu '13, who just this week earned her Doctor of Medicine degree from St. George's University. "That connection was briefly over text, but Ethel really was excited to hear that I got an interview and she gave me so many tips for the interviews. It's proof positive that relationships from SMUS don't stop after graduation."
After getting an offer from the University of Alberta, Jesse will begin studying medicine there beginning in September.
"It definitely was a lot of work, but I strongly believe I never could have done this without the foundation that the education at SMUS provided me and the relationships that are still going strong," Jesse says. "I wouldn't have known that I wanted to be a physician without my roommate's father showing me the operating room and without Kaylynn, who is exactly who I want to be. It was a lot of hard work on my end, but there was a lot of supportive handholding."
"It was so exciting when I found out she got into medical school," Kaylynn recalls. "It's nice to see people succeed. … I feel so fortunate to have gone to SMUS and have had relationships help me a lot. So if I'm able to provide that relationship to someone else, that's a great way for this community to work."
Now, with a bachelor's degree and acceptance to medical school under her belt, Jesse's SMUS Connect profile reads that she's willing to offer mentoring to current Senior School students or fellow alumni.
"Like Kaylynn, I would be so, so willing to help out students in the future because it made a world of difference for me," Jesse says. "I hope to pay it back 50 times over because I feel so lucky."
Join Jesse, Kaylynn, Nadine and Ethel, and register as a mentor on SMUS Connect. Or search SMUS Connect's online directory of more than 800 possible mentors who are willing to provide support on the next step of your academic or professional journey.