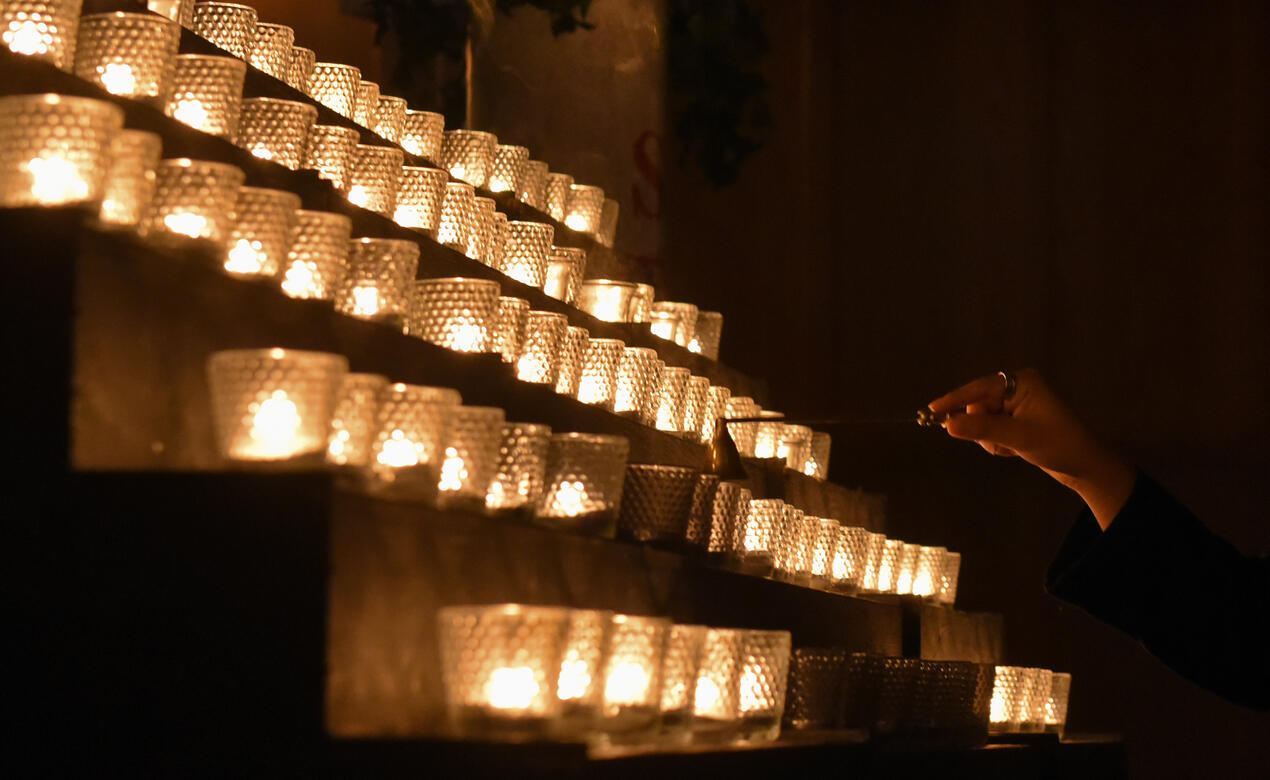 The annual Remembrance Day Service at SMUS is considered by many to be the most solemn, emotionally powerful event in the school year. During a normal school year, all students and staff of the Middle and Senior Schools, and several hundred parents, friends and guests compress their quiet, sober focus into an expression of gratitude.
By the time of the First World War (1914-1918), University School had been in existence long enough – eight to 12 years – for many of its boys to reach the age at which they could volunteer to fight. The school's Roll of Honour lists 63 boys killed in action during that war.
One of those is H. A. B. Jackson.
The pupils at St. Michael's School, which was founded only four years later, but largely for somewhat younger boys than at University School, were too young to have reached that age. Or so it has been thought by the St. Michael's School community for many decades.
In mid-2021, two pieces of evidence uncovered in the Wilson Archives prove otherwise. Kyrle C. Symons, in his school memoir, told of one boy, Arthur Jackson, killed in France. Arthur's name is inscribed on the very first page of the first St. Michael's School roll book. In fact, there are two Jackson brothers, Arthur, the elder (No. 12 on the roll), and Ronald (No. 13). In the column beside Arthur's name, the notation in red ink is "C.E.F.," the Canadian Expeditionary Force sent to the First World War. This is the same H.A.B. Jackson.
Hugh Arthur Bruce Jackson was born in Hamiota, Manitoba on December 2, 1898, followed by his brother three-and-a-half years later. Ronald Threlkeld Jackson (1902-1992) became a noted painter of marine life along the BC coast. Their father was a barrister. The family moved to Victoria in 1909, where they lived in The Grove at 1648 Rockland Avenue. (This house was later owned by Jim and Alice Munro.)
Arthur and Ronald entered St. Michael's School in August 1911 at ages 12 and 9, respectively. Arthur stayed less than two years.
There are a few details of their time at St. Michael's School. Both were very bright: Arthur was consistently the top student. He may have been sickly, because he was often absent for long periods. (At the end of the March 1913 most of the school was absent due to "scares of infection.") At the start of the April 1913 term, Arthur was no longer on the roll.
Both boys transferred to University School on Mount Tolmie in September that year, where they were No. 500 and 501 on that school's roll. Neither boy appears to have been athletic. Arthur did finally make it on to the 1st cricket XI as a lower order batsman. His cricket ability was assessed: "Jackson i – plays with a straight bat. Needs to put more force into his forward strokes. Very fair field."
He was still away from school for significant periods: "Challoner and Jackson i have returned after a prolonged absence."
The most significant event of the Jackson brothers' years at University School was the beginning of the First World War in Europe, into which crisis this corner of the Dominion was quickly drawn. The school was directly affected. Arthur and Ronald were present when Capt. Harvey's famous letter, "My Dear Boys…" was read for the first time. He and many other masters and Old Boys left to fight in the war. Even more sadly, the Jacksons were among the school body when, in June 1915, it learned that, on May 18, Capt. Harvey had died of his wounds in a prisoner of war camp. Old Boys were beginning to fill up the Roll of Honour. This was the environment in which Arthur was growing up.
For some reason, both boys moved to Victoria High School in 1915, where Arthur was in the Matriculation A class in October that year.
No doubt spurred on by the patriotic environment, Arthur enlisted in the C.E.F. in Vancouver on April 29, 1916, and was taken on strength of the 196th Battalion. On the date of that serious commitment, he was 17 years 4 months and 27 days old. He came in uniform to visit Mr. Symons shortly afterward.
The details of his infantry service, and when and how soon he transferred to the air, are not available. From the Canadian Encyclopedia: "When the First World War began, Canada did not have its own air force. ... The only route for aspiring airmen to join the British air service was to enlist in the regular Canadian forces and try to transfer once they arrived overseas, or to travel to England to apply directly." Arthur chose the first alternative, and succeeded in being posted to Royal Air Force 104 Squadron. The Royal Flying Corps (RFC) was the air arm of the British Army during the First World War. The RFC and the Royal Naval Air Service merged to become the Royal Air Force on April 1, 1918.
His squadron was moved to France in May 1918. Arthur had been promoted to 2nd lieutenant and flew a de Havilland DH9, a British single-engine biplane bomber.
With its headquarters situated near Nancy in northeastern France, No. 104 Squadron was one of three responsible for day-bombing.
A website dedicated to cataloging British air force actions in the First World War includes a photograph of Arthur, and describes the raid on which he received what was to be his fatal wound. On June 25, 1918, sent to bomb industrial targets near the German city of Karlsruhe, "Lieutenant Frank Waring Mundy and 2nd Lieutenant Hugh Arthur Bruce Jackson were shot up in their DH9 as were Lieutenant Anthony William Robertson and Lieutenant Montague Henry Cole in DH9 D1675. Mundy, Jackson and Robertson were all wounded. The Official History (vol. 6, p. 139) notes that one of these pilots was badly wounded in the arm but still managed to return. Sadly it does not name the pilot. Jackson subsequently died of his wounds."
It is not right that Arthur was killed. But it is right that his name be mentioned in the list of those to whom our school community express our gratitude on November 11, as the only St. Michael's School Old Boy killed in the First World War.