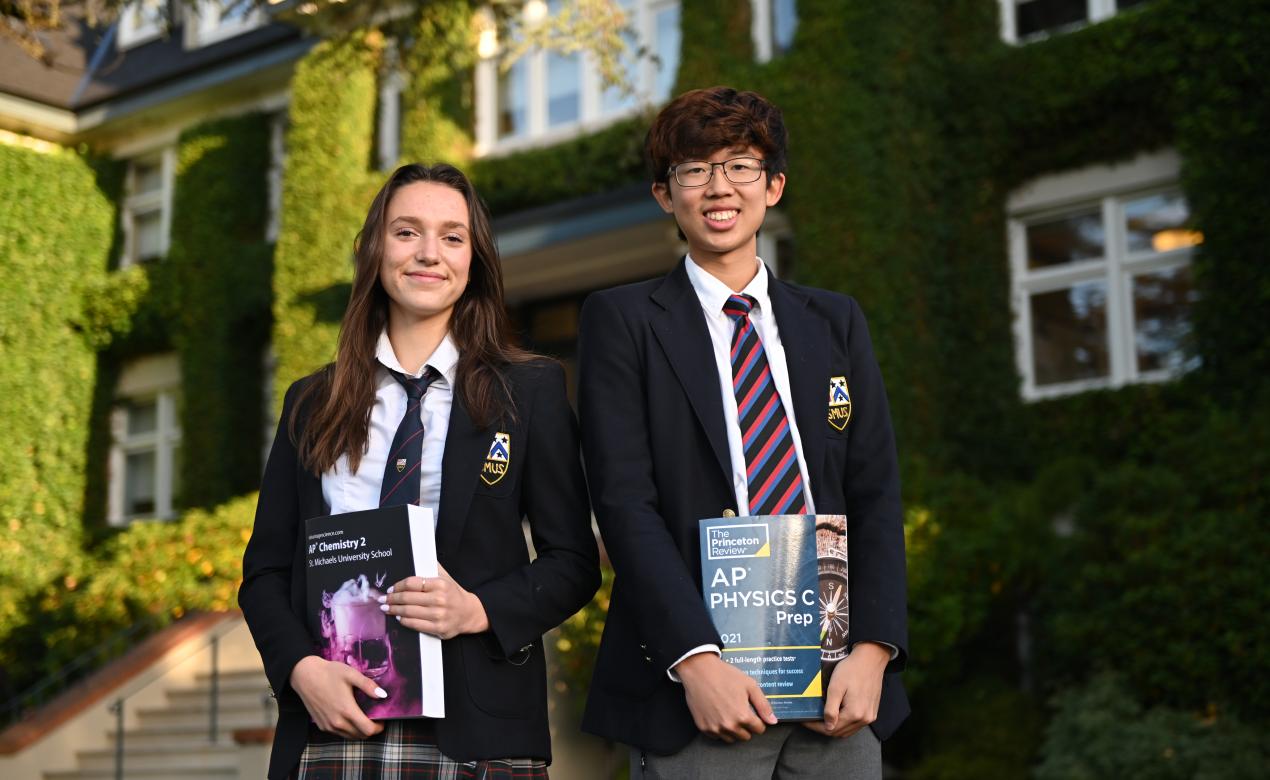 Senior School students who wrote Advanced Placement exams earlier this year achieved something truly outstanding: the average score across all 457 exams they wrote was a remarkable 4.1 out of 5.
That average is the highest our school has ever seen.
Denise Lamarche, Director of Academics, says these results are "exceptional" and highlights the academic excellence of the Classes of 2021 and 2022 (this year's Grade 12s, many of whom wrote exams in their Grade 11 year).
"Our average score is usually around 3.8 or 3.9, which itself is really, really great. So to get 4.1 is very exceptional for a school," she says. "It's remarkable to have been that successful, given everything that they've been navigating. I'm extremely proud of our students and AP teachers; they're incredibly proactive and hard workers."
SMUS students consistently score higher on their AP exams compared to provincial and global results, and that was no different this year. In AP Psychology, for example, SMUS students scored an average of 4.32, versus 3.42 in BC and 2.57 globally.
The scores in all AP subjects are a testament to the resiliency of our Senior School students, who faced new challenges and a different in-school experience during the 2020-21 year as a result of the pandemic.
We were fortunate to offer in-person learning to students all year. However, because health requirements placed limitations on class composition and course offerings, we restructured the Senior School timetable and moved to a six-term school year, which we believe also benefited students.
"We changed the timetable so that students had their AP subjects every day in terms one, three and five, including in the lead-up to the exams," Denise says. "The other piece that could contribute to that is because of our timetable change, students had to be more selective in their AP courses. They had to be more intentional in narrowing down which AP courses they would take to compliment the broad program we offer."
She adds that our academic advisors also find this selectivity to be beneficial to students, particularly depending on the individual student's post-secondary path. They suggest students work closely with their academic advisor on choosing their courses, and they encourage students to limit the number of APs they take to prioritize quality over quantity.
Terry Godwaldt, College Board Representative for Canada, also says the results are "a testament to the degree to which St. Michaels University School students are prepared for their future studies."
"I am especially impressed that, at the height of a global pandemic, 25 students went above and beyond, contributing to the global academic dialogue through submitting AP Research papers," he adds.
While Denise credits the Senior School students and their AP teachers, she adds that this success is a recognition of our school's entire academic program.
"We're a K-12 school, and I know many of our AP students have been with us since the Junior and Middle School. I don't think their success would have happened if it weren't for the foundation that was laid under them," she says. "It's important for us to recognize, especially when we're talking about AP results in their final years, how important that foundation of learning is. That really does start for many of our students at the Junior and Middle Schools."
SMUS's AP Numbers
(AP considers a score of 3, 4 or 5 on an exam a "success")
237 SMUS students wrote 457 AP exams in 2021.
The average AP exam score at SMUS in 2021 was 4.1.
95% of SMUS AP students earned an exam score of 3 or higher (success) in 2021. This is up 5% from 2020 and 2019.
36 students earned an AP Scholar with Distinction award, awarded to students who receive an average score of at least 3.5 on all AP Exams taken, and scores of 3 or higher on five or more of these exams.
135 members of the Class of 2021 wrote at least one AP exam in 2021.