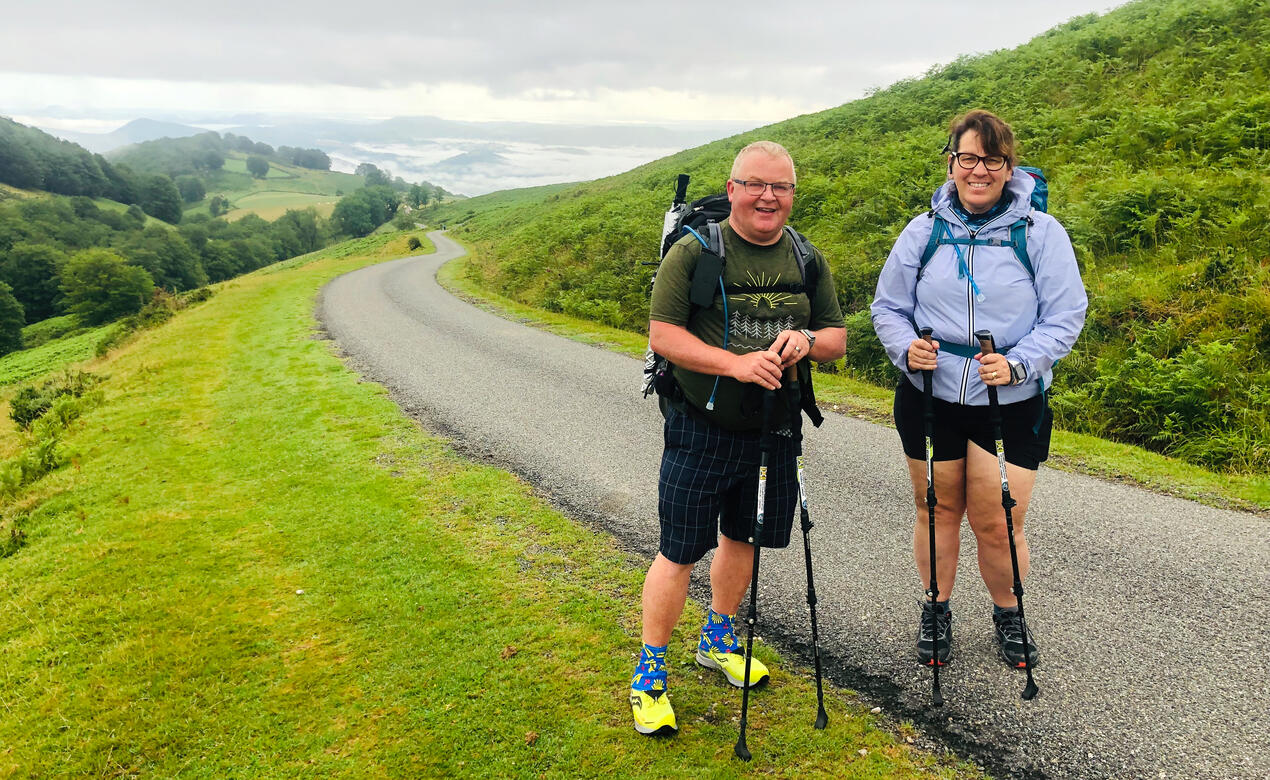 If you would like to learn more about the Camino Frances, Darlene and Richard are taking part in an info session with other members of the Canadian Company of Pilgrims on May 4 from 6:30 to 8 pm in the SMUS Chapel. If you're interested in attending this free event, please register online.
---
An ancient Chinese philosopher, Lao Tzu, once said, "A journey of a thousand li [miles] starts beneath one's feet." Written between the fourth and sixth centuries, this proverb means that one must begin their journey to reach their destination.
We found ourselves thinking of this saying last summer while walking the Camino Frances, also known as the French Way, a 790-km pilgrimage route from the town of Saint-Jean-Pied-de-Port at the base of the French Pyrenees, following river valleys, crossing the high plains of the Meseta, to Santiago de Compostela in northwestern Spain. Walked by millions of "peregrinos" or pilgrims since the early ninth century, the Camino provides a chance to journey through some of Europe's most breathtaking landscapes and architecture. Everyone has a different reason for embarking on this journey, but for us, there is the sense of introspection and camaraderie that makes this pilgrimage one of the most epic journeys in the world.
For a prepared and experienced hiker, this journey takes a little more than 30 days to complete. Like many pilgrims before us, we questioned whether or not we had the fortitude to complete the walk upon receipt of our "pilgrim passport," officially known as a Credencial del Peregrino. As experienced hikers, there are multiple challenges to face on this journey; the first is making the decision to walk the Camino and committing to walking a daily average of 25 km. How does one prepare for this type of journey and maintain a growth mindset? Perhaps the hardest part is committing and getting started.
In a symbolic way, the SMUS Portrait of a Learner embodies characteristics that are essential for proper preparation and personal growth on the Camino. Little did we know that we would experience a deeper understanding of initiative, integrity, empathy, resilience and well-being during our pilgrimage.
The first portion of the Camino Frances consists of rugged, exposed mountains, steep wooded hills, and river valleys. This landscape tests and conditions the body and forces you to take care of your physical well-being. Acclimatizing to these physical demands would have been more challenging had we not taken the initiative to properly prepare ourselves, including hours of cycling and walking with our backpacks in different terrains and altitudes in Greater Victoria early in the morning. To minimize the risk of injuries, we chose our equipment carefully, including hiking shoes, poles, and clothing. One week into the Camino, and our bodies thanked us for the preparation. We began to feel stronger, more confident, and lighter as we shed what was unnecessary.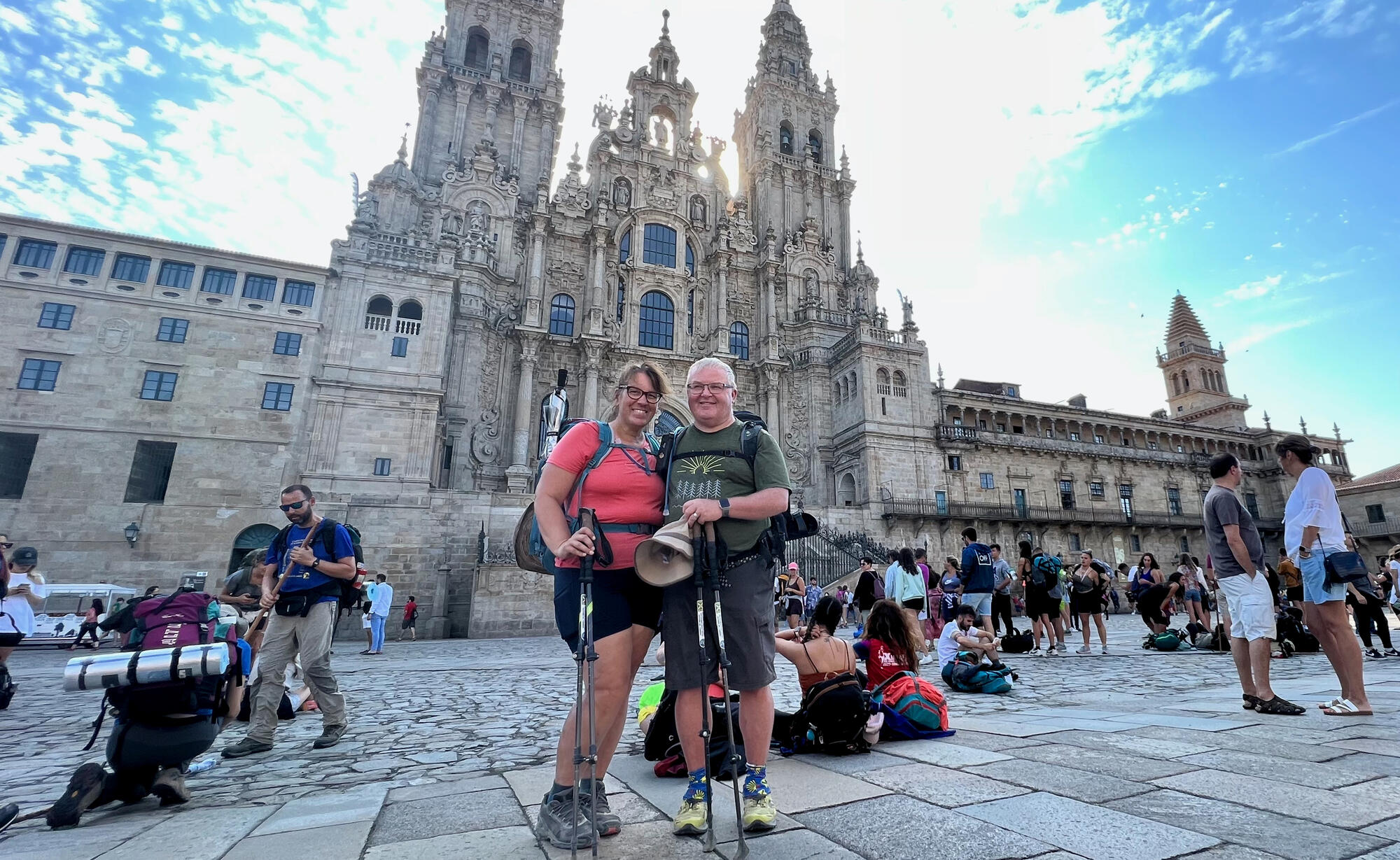 The second portion of the Camino demands both empathy and resilience. On the high plains of the Meseta we faced extreme summer heat as high as 49 C causing fatigue, uncertainty, fear, and sorrow. Some pilgrims skip this section and travel by bus or train to the next major city. We stayed, sometimes walking in silence. Other times, we walked with new friends, sharing stories, shedding tears, and offering comfort. We would define this stage of our Camino as a place for reflection, breathing deeply, joy, gratitude, gaining perspective, and healing.
The final phase of our Camino brought us back to beautiful mountains and forests in Galicia. Climbing to the highest part of our journey, Cruz de Ferro, brought a whole new perspective on living in one's integrity. We were tired but continue to look out for our fellow pilgrims making sure they are safe, have accommodations, and food to eat. Friendships are strengthened and are maintained to this day.
We struggled with and were so blessed by this journey. We traveled with so little and found peace and joy while making new friends. We lived in the moment, trusted that the Camino would provide all that we needed, and left with lighter hearts and deeper gratitude for our family. We began this journey by taking the first step and realized that the journey is as important as the destination – which is just the beginning. We regularly reflect on the growth we experienced through the Camino, and see firsthand how important the Portrait of a Learner characteristics are in all of our everyday lives. We carry the Camino with us always and hope to return.