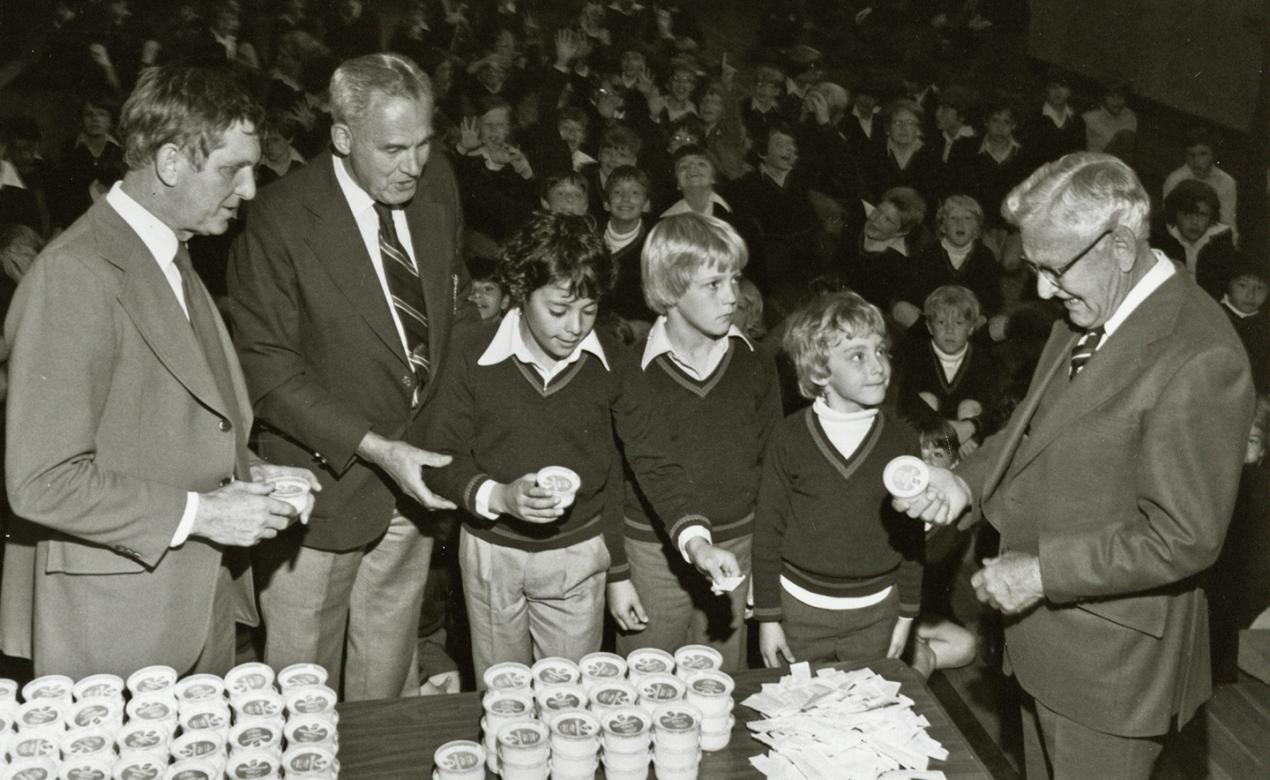 Kyrle C. Symons, the founder of St. Michael's School, was born on June 2, 1881. In 1931, he turned 50 and wanted to celebrate the day in some way with his "boys," the students. Knowing how much youngsters loved ice cream, he had a long discussion with colleagues centring on giving each student an ice cream cone at drill period.
After a long discussion as to whether the school could afford the $1.44 that it would cost to give each student and staff member ice cream, Symons indicated that he would buy the ice cream himself. It was at this point that the staff agreed that it would be tight, but the school would get the ice cream. And so the tradition of Ice Cream Day started – and has continued for 90 years.
Every year since 1931, Ice Cream Day has been held as close to June 2 as possible. From the original 72 ice cream cones, that number has grown to more than 1,000 students and staff enjoying a cool treat every year.
Traditionally, Michael Symons, grandson of Kyrle C. Symons, comes to our campuses to hand out treats to students and share some history. This year, however, Michael prepared a message to share with students about this important tradition:
"I would like to thank the school, on behalf of the Symons family for keeping this St. Michael's tradition alive. It is a pure joy for me to see the excited faces on the very young students, as they line up for this special treat, to the Grade 12 students, realizing this is their last Ice Cream Day. It is always an honour to see the Grade 12s hang about the ice cream table hoping to persuade us to give them a second, with comments like, 'Please, Mr. Symons, it is my last year and Ice Cream Day!'
I have talked to many past students and many ask if the school still does Ice Cream Day, and in every case when I say yes, they smile and indicate that this is as it should be!
Nihil Magnum Nisi Bonum/Vivat."
We look forward to celebrating the 2021 Ice Cream Day this coming week!