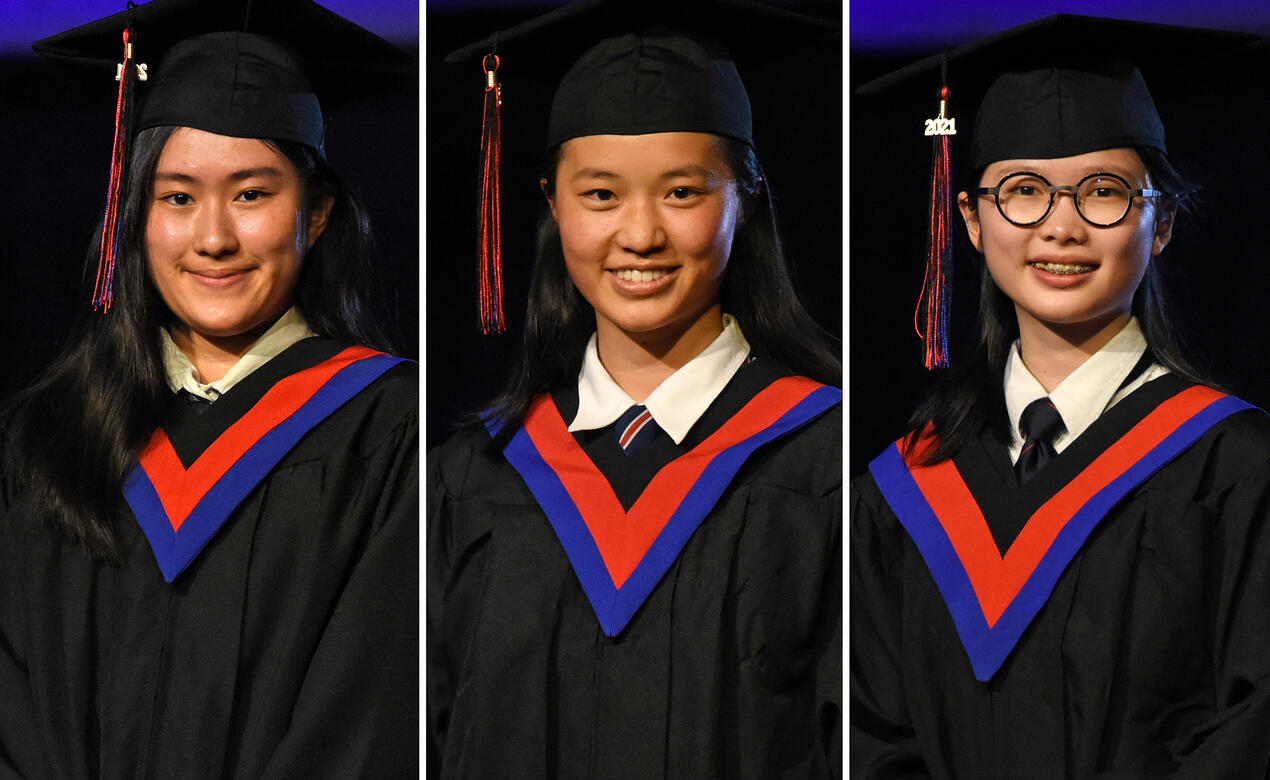 Three talented young alumni who graduated as part of the Class of 2021 received exceptional news in late October stemming from the Advanced Placement exams they completed in May. All three – Rin Audsabumrungrat, Mido Luo and Fa Phanachet – received a perfect score (earning every single available point) on one of their AP exams each.
Rin got a perfect score on her 3D Art and Design final, while both Mido and Fa earned every point possible on their AP Research paper and presentation.
A perfect score on an AP final is rare, let alone three students from one school earning perfect scores. To put it into context, only 46 students worldwide earned a perfect score on the 3D Art and Design final, out of 4,607 submitted. And only 375 AP Research students earned a perfect score, out of 24,024 finals.
"We are very proud of all three students who were recognized for having achieved this result. Their commitment and focus in these courses was really impressive, particularly in these areas that they were particularly passionate about," says Denise Lamarche, Director of Academics. "It certainly did not come without struggle and required resilience and the support and inspiration from their teachers. ... Both of these courses are process-oriented courses, which requires public demonstration of learning in the final steps. The steps that each of these students took through the entire school year to get to this end result is a wonderful demonstration of academic and personal success."
This great news comes in the same year that our students recorded the best-ever AP exam scores for our school.
Rin Audsabumrungrat
Rin's final art portfolio was focused on fashion pieces she designed. She created pieces themed around social and environmental issues in her home country of Thailand.
"These are issues that I am personally interested in. For example, there was infamous news in Thailand about black panthers being killed by a man who essentially got away with it because of his connections. So I did a piece based on that inspired by the legal system," she says.
"[AP 3D Art and Design] was challenging; it took a lot of time to prepare the portfolio, but it's something that I like and that I had fun doing. I didn't feel like I was doing an assignment because I was doing something that I was really passionate about."
Rin, who is now studying fashion at the London College of Fashion, was also selected to have her work showcased as part of the 2021 AP Art and Design Exhibit, which highlights the best of the best AP art portfolios from around the world.
Mido Luo
Mido's AP Research paper was titled, 'Predicting Resilience: The Impact of Initial Career Motivation on the Job Satisfaction of Health Professionals in Victoria, BC, During the COVID-19 Outbreak.'
"Since I was young, I've been interested in entering either the research or medical field. I've always looked at doctors, physicians and health workers as people who must have noble reasons for pursuing their career, so I wanted to investigate that," she says. "And then having the pandemic, these two areas came together to help me create my research question. Did those two relate to their level of job satisfaction working during the pandemic? Previous studies had shown that higher job satisfaction correlated with better patient care and quality of work."
Mido is attending the University of British Columbia and is studying science.
Fa Phanachet
Fa wrote her AP Research paper on 'Gender Bias in the STEM YouTube Comments: A Sentiment Analysis Case Study of the "Numberphile" Channel.' Using a sentiment analysis program, she analyzed more than 19,000 comments on YouTube videos to see whether there was a bias against female presenters.
"The technique that I used is a data science technique and that's what I'm interested in, that's what I'm studying right now. As a girl who is interested in STEAM, it was interesting to learn more about community," she says. "Numberphile was also the first YouTube channel that I ever subscribed to, so it's kind of been a big part of my journey into STEM."
She is now studying information systems at Carnegie Mellon University.
Following a Passion
All three students partially credit their success on their AP finals to choosing something they are interested in. They each encourage all future AP students to consider following a passion when choosing a topic for an art portfolio or a research paper.
"Pick something that you're really interested in. If you're passionate about your topic, you'll be more open to putting in as much time as you want into it," says Fa. "Getting to pick what you're interested in and really dig deep into that works really well for my learning style."
All three also credited their teachers for their invaluable support and advice as they worked through these AP finals. And now that they're at university, they say their AP experiences have proven beneficial.
"[APs are] very good preparation for university. I came out of AP Research with the confidence to read dense articles about information that you're not familiar with; that's very helpful because that's how you learn things in university. I gained the confidence to undertake any project I want on my own; I feel like I can learn anything with that confidence," Mido says. "The farther I get from SMUS, the more I realize how special the resources we have are, both for academic and personal growth. I hope other students can make the most out of the opportunities they have, too."