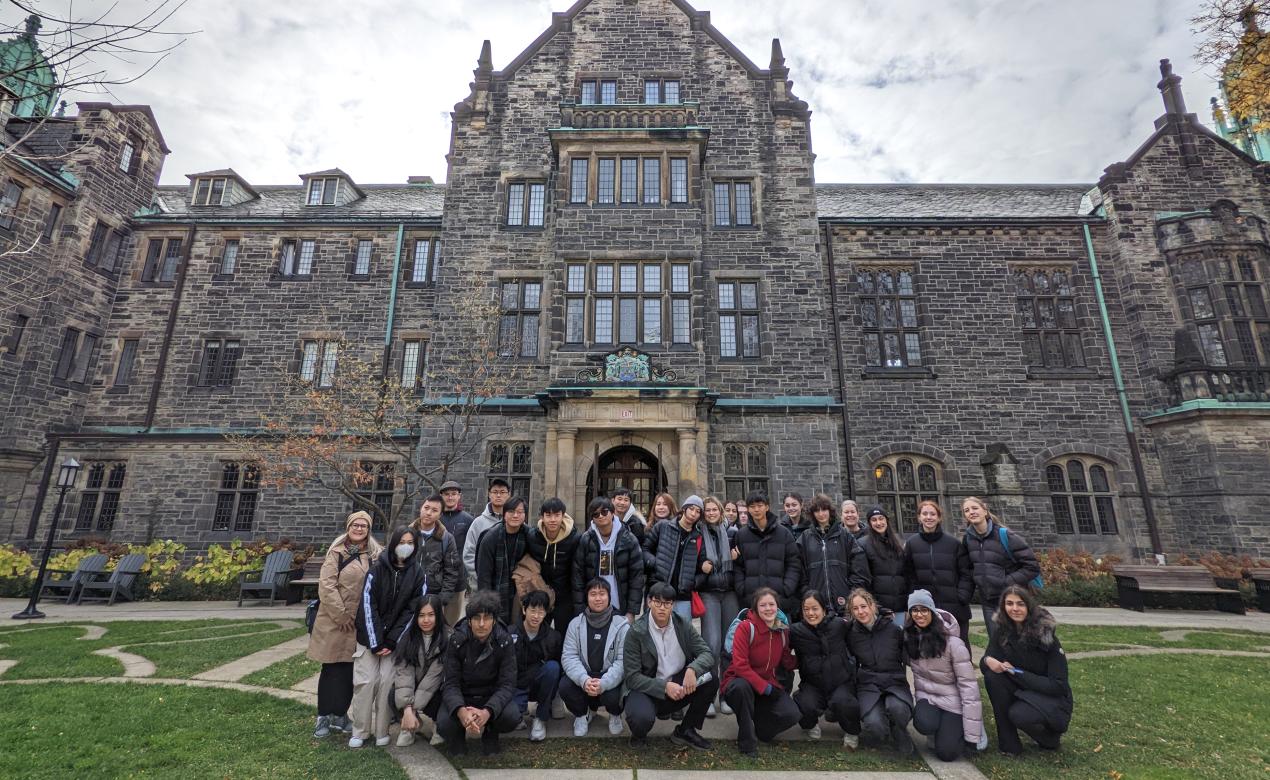 As our Grade 12 students look ahead to June and what path they will take after graduation, our University Counselling department is helping ensure students have as much information and as many experiences to make confident choices about their future.
That's why 29 students travelled to southern Ontario this past weekend to visit 11 universities and get a feel for the campuses, learn about the programs, see the facilities and connect with SMUS alumni who study there. (You can watch a video recap on the trip at the bottom of this story.)
"We're all really glad this tour is back up and running again after COVID because we've seen year after year the value of a trip like this for our students," says Ruth McGhee, Director of University Counselling. "Nothing compares to an in-person visit to know how far it is between buildings or how the food is or what the dorms look like. Those are important details. Our students can learn about programs and courses online, but this trip gives them a sense of what it's like on the ground experiencing the reality of campus life."
Traditionally, 15-20% of our graduating class any given year chooses to study at a university in southern Ontario. Getting to tour so many schools in eight different cities helps give students a more authentic feeling of what it would be like living and studying there.
Historically, the Ontario trip has served as an invaluable tool for many – if not all – Grade 12 students who've participated either to reaffirm a chosen school, or to add a new school to (or remove one from) their list of schools they'll apply to. The students met up with a number of young alumni studying in Ontario who say their experience on the trip was instrumental in making their post-secondary choices.
"I look at 2019 alumni like Jerry Wong, Tuan Anh Vu and Mylena Mendes who went on this trip and said it really helped crystalize for them what their path could look like and what their experience on that path would be," Ruth says.
In addition to Jerry, Tuan and Mylena, SMUS alumni at most of the schools shared their firsthand experiences at each school.
"Chatting with alumni provides an extra layer of connection knowing that that student has also been at SMUS and now they're at this particular university," Ruth says. "It breaks down some of those barriers and allows them to lean into finding out what's it like to study there. 'Did SMUS prepare you well? How different is it from SMUS?' If our students can anchor it in really familiar experiences here and link it to their experiences there, they will be better equipped to choose a university."
To see more from the Ontario tour, visit our Instagram and check out the 'University Tour' highlights.