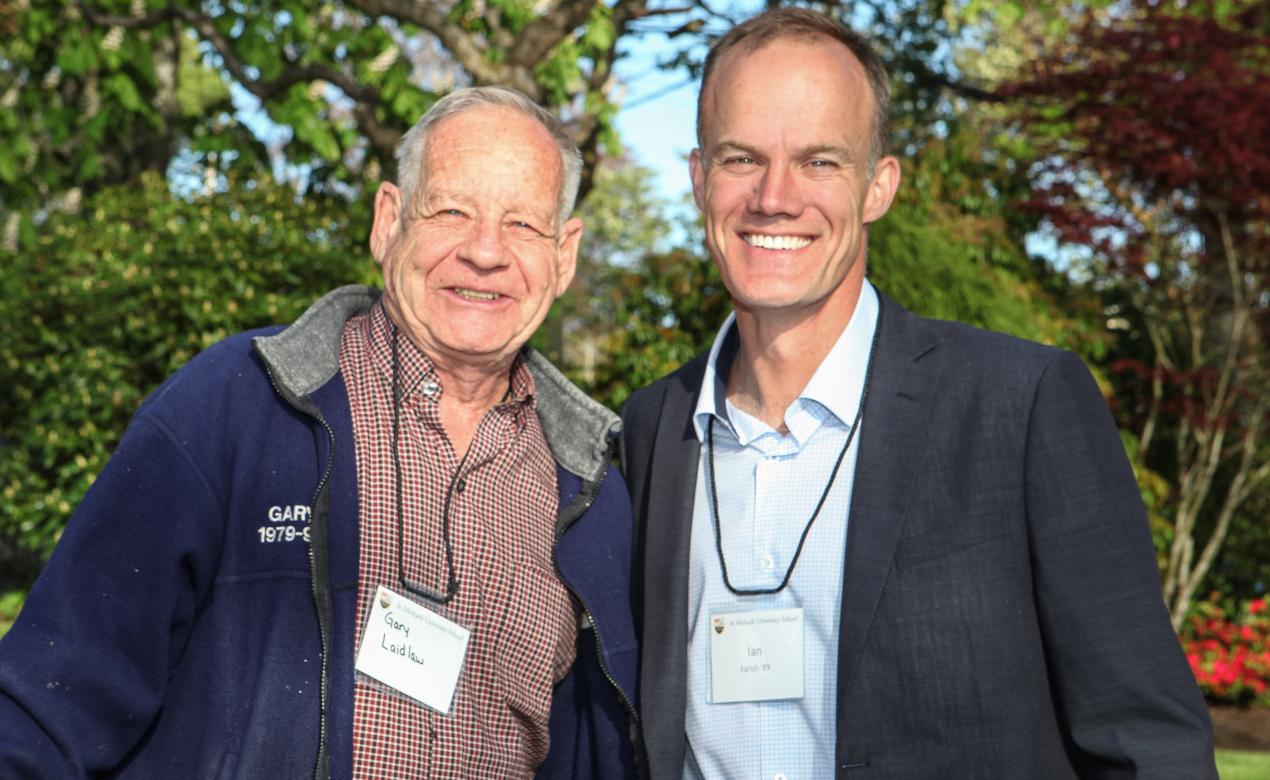 I am excited that this weekend we will finally welcome our whole SMUS community back to campus for the first Alumni Weekend since 2019. Alumni Weekend has come to mean a lot of different things to me over the years, and there are a few things I'm looking forward to this Alumni Weekend in particular. 
As a dad, I love bringing my family to Alumni Weekend. We walk the fields and watch a game, cruise the marketplace and listen to some great music. My own kids are either current students or young alumni themselves, and it's really wonderful to see each of them get involved and build their own connections to Alumni Weekend (my daughter is playing in the girls rugby game in the afternoon – we didn't have that in the 1980s!).
As an alumnus of the school, I enjoy telling my family about where I studied and lived as a kid in boarding. There were some hard times and some lessons learned among all the great memories of my time here. As we wander and I meet old friends, my kids might hear a tale or two of how we stayed up late, played rugby on these fields, and got into our share of trouble.
I love the social aspect and seeing former classmates most of all. I graduated in 1989, and I have been to my 10-year, 20-year and 30-year reunions. Each was so different. I had reservations at the 10, for sure. By the 20, most of us had kids and had changed careers a couple of times, so we talked about that as we shared a few memories. And the 30-year reunion – well that was humbling, but it was awesome! Fifty-six of us came back, some for the first time. I hadn't stayed up that late in the decade before, or since!
I come for Alumni Weekend to see my teachers, too. Too many to mention but so many storied names from our school's history (past and present): Ken Smith, John McIntyre, Grenfell Featherstone, Gary Laidlaw, Margaret Skinner, Ian Hyde-Lay, Laura Keziere, Peter Tongue, Mel Jones, Peggy Murphy, Rhoderi Samuel. A few of them have passed on and I think about them, too, at Alumni Weekend. I wish I could have seen Tim Cummings and Hedda Thatcher again to thank them properly. 
I've taught band at SMUS for more than 20 years now, and on Saturday we will play Holst's 2nd Suite, four movements. I love that the young musicians I work with every day will get the opportunity to make their own special Alumni Weekend memories when they perform for the community. A few of my predecessors have conducted this piece over several decades and I'll try to do them proud.
My ties to the school have become deeply rooted and intertwined as an alumnus, teacher and parent, but I know from experience that Alumni Weekend is a great event for all members of our community. I hope you will come with your families to enjoy the festivities and to celebrate our school history. I look forward to seeing you this weekend on the field!