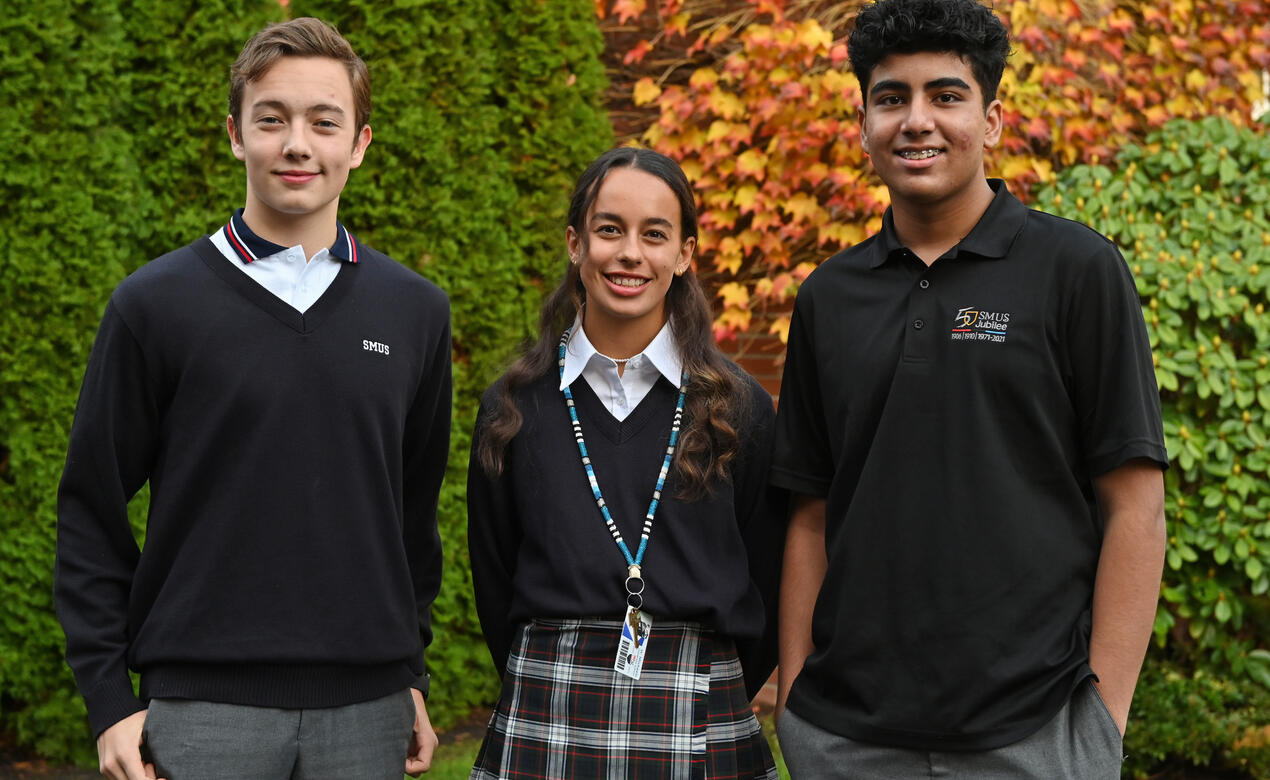 Do you know a student who would excel at St. Michaels University School? The deadline to enter The Best School Year Ever® scholarship contest is approaching and we're searching for amazing high school students from Canada (excluding Quebec) and the United States to join our boarding community!
The deadline for the contest is Wednesday, December 1, so if you know a student who is entering Grades 9-11 and would be a great fit at SMUS, we encourage you to let them know about the contest and encourage them to enter.
We sat down with last year's winner and finalists – Naashkii Soler, Evan Fuller and Digvijay Mavai – to learn more about their Best School Year Ever experiences so far:
Why did you enter the contest?
Naashkii – I was looking for more challenges and new opportunities. So when I came across the contest, everything about it just seemed like a perfect fit for me: the school, the environment, what the school stands for.
Evan – I heard about the contest on an ad on Spotify and entered. I didn't really expect to actually win it because it was open to all of Canada and the US, but I thought, "Hey, this looks really interesting. I wonder if I have a shot at this, so I might as well try it." And it worked out wonderful!
Digvijay – I learned about the contest from [2019-20 Best School Year Ever winner] Chanel. She posted about it on her Instagram and I found it really interesting. It looked like the school offered so much more than the high school I would be going to back in Calgary, so I just gave it a shot.
When you entered, what were you hoping to get from The Best School Year Ever opportunity?
Naashkii – There are so many more courses and opportunities available that I couldn't have done at my old school, like outdoor leadership, which I'm taking right now and I'm loving. And I was looking forward to the sheer amount of support I would get from the teachers, the staff, the houseparents and even from my peers.
Evan – One thing that I found particularly interesting was joining the boarding community itself. I did a bit of research before I entered the contest and it just seemed very tight-knit and like a really good community of people from all over the world that I felt I would love to be a part of.
Digvijay – I wanted to challenge myself because there was so much more offered through courses and clubs. Another thing that played a role for me was that the school would help me with the post-secondary process in finding what I really want to do in the future.
What do you like about boarding life?
Evan – It's really different from living at home with your family, which makes sense because now we have a 60-person family, and that's something I really, really love. It is like a family because you're all in the same building and you all eat at the same place, and then you can get these interconnected relationships that makes for a really cool environment. It's great having a group of people to be supported by.
Digvijay – I love boarding because I'm always with my friends and I'm never bored. If I want to hang out, I can just go to a friend's room, or if I need homework help, I can just go to one of the older boarders. And one thing that I like about boarding is that you make friends of all ages. You get to know each and every person in your boarding house really well, whether they're in your grade or if they're younger or older.
Naashkii – I love meeting people that I would've never had the opportunity to meet otherwise: people from South Africa, Germany, Japan, Hong Kong. It's so cool to learn about other cultures and other people's lives.
How has the experience been so far academically?
Naashkii – The classes are definitely challenging but they're also so rewarding. The teachers are so supportive and they want you to succeed; you can see that, and they'll really help you wherever and whenever they can. I'm taking a course this term called Social Justice and Decolonization, which falls into the social studies umbrella but it's so specific and exactly what I'm passionate about. It's very cool to have access to specialized courses that you're interested in.
Evan – There are way more courses than I've ever had before. I'm going to take Electronics and Robotics, and Computer Science, which were only available as extracurriculars at my old school. It's allowed me to branch out more, through the courses and the clubs, so I feel like it all sort of comes together to expand me as a person.
Digvijay – I love that there are a lot more opportunities that would never have been able to be offered at my old school. And I'm really looking forward to the AP courses that I can do next year!
What would you say to a high school student to encourage them to enter The Best School Year Ever contest?
Evan – Give it your all; anything that you think SMUS might want to know about you, just put it in your entry. SMUS is trying to get the best image of you as possible. It's really just about taking the step and entering. And if you get to come to SMUS, embrace as many of the opportunities you encounter!
Digvijay – Be yourself in your entry and focus on what's important to you. If there's something that has happened that's had a big impact on your life, I think you should incorporate that. In my entry, I touched on my family immigrating to Canada and how being an immigrant has changed my life and how, because of my parents' hard work ethic, I have a dream to succeed. I touched on that and I think that's what made my entry a little different and really personal.
Naashkii – Touch on what you love, what interests you, and what you're passionate about. You have nothing to lose; you can write a couple of paragraphs that could lead to you coming to this school. When I was entering, I thought, "I may not win, but there's nothing to lose." And then a few months later I'm living in Victoria, going to an amazing school, surrounded by literally hundreds of friends. It's crazy!
---
This year, two students will each win a full boarding scholarship for the 2022-23 school year, worth up to $65,000 each. There are also two finalist prizes, worth $45,000 each, available to be won. Learn more at bestschoolyearever.ca.