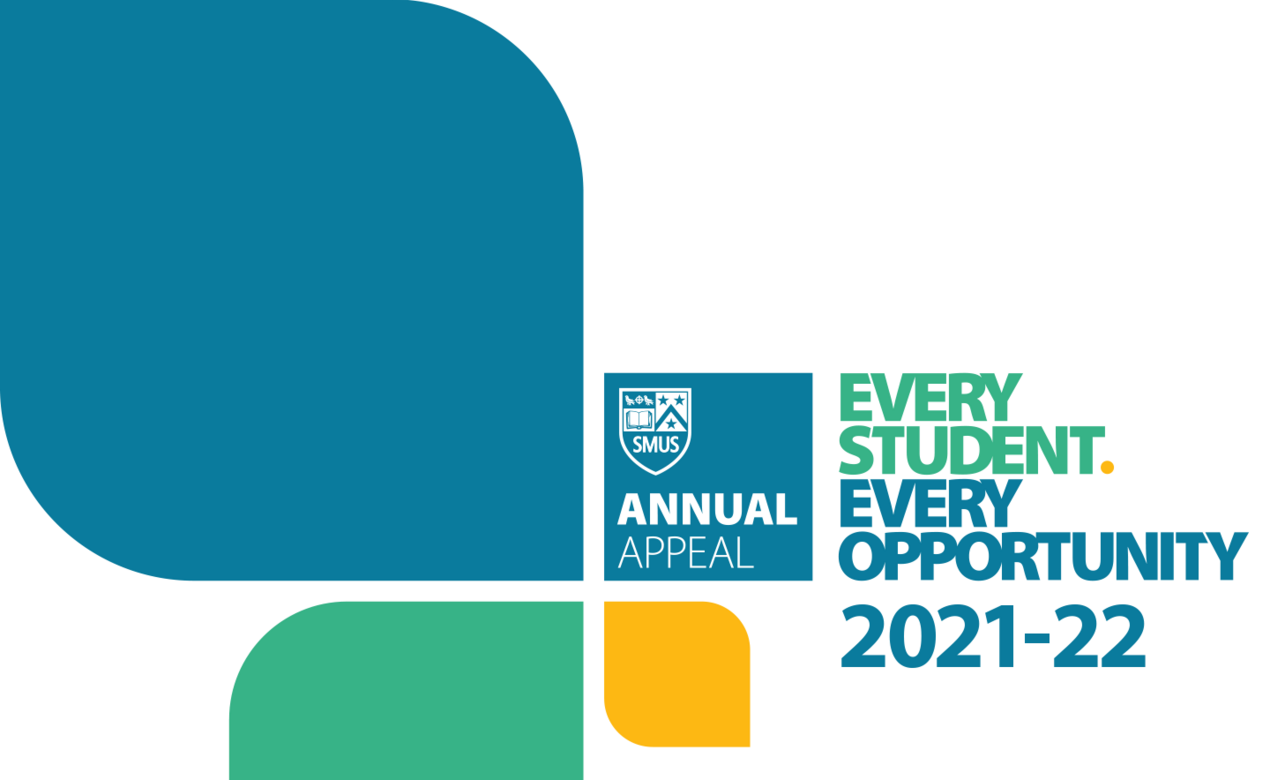 Why Support the Annual Appeal?
Find out why we ask our community to contribute to our Annual Appeal, and learn about the difference your donations make to ensure every student has every opportunity to succeed.
Annual Appeal Priorities
"The Annual Appeal is the barometer of our school's philanthropic potential; it is a foundational element of our financial sustainability as an organization of stature and longevity."
Shara Campsall, Director of Advancement
Goal: $75,000
Time spent outdoors is proven to contribute to better mental health and happiness in children at the K-12 level. Academic and social engagement are directly and positively impacted when children live and play outdoors. The disconnection from an electronic world and the physical satisfaction of skills acquisition in nature is a large part of the concept of 'environment-based education.'
Our SMUS program for outdoor education was expanded last year and includes outdoor activities for all students K-12; this remains a significant commitment by the school to resources including expert trainers, busing, overnight camps and equipment for activities. At the Junior School, all students K-5 regularly participate in out of class programs which are both linked to the curriculum, and foster deeper connections with nature and experiential learning. At the Middle and Senior Schools hiking, kayaking, SUP and rock climbing are available. At the senior level 3-day cohort 'outtrips' are offered by expert guides, and similarly outdoor leadership courses for Grade 11 and 12 students, involving sea kayaking courses, VHF radio certification, wilderness first aid and avalanche training and certification, are taught in greater depth.
Goal: $50,000
At SMUS, we believe mental health is at the core of a student's capacity for learning. Through presentations at grade meetings, classroom lessons and individual sessions, counsellors address the issues that affect all our students – including sleep, anxiety and stress. Alongside our pastoral care team and our Director of Health and Wellness, the counsellors work to create a healthy school culture where self-care is valued and practiced daily. From this will come learning, advocacy, confidence and competence.
Goal: $100,000
A new and innovative educational program will begin in the September 2021 term at all three campuses and will continue annually with a different master scholar. Our inaugural Scholar is artist, Dylan Thomas, the carver of our newly commissioned "Spindle Whorls" to display the school's four core values, which will be unveiled in September. Throughout the year Dylan will work with students and faculty to demonstrate and engage students in hands on carving. One key project for this innovative program will be the design and carving of a 12' Welcome Post to be erected at Richmond Road in the fall of 2022. The project will require support for the artist, tools, wood, the carving pole (Island old growth red cedar), and a temporary structure for students to work in for the year; at the Middle and Junior schools students will participate with Dylan on a print-based approach with history and education on the art forms and working with metal, stone and wood.
Goal: $50,000
SMUS's commitment to EDI is evidenced in school-wide training for faculty and staff, the creation of a representative and expert advisory committee, and student centred programs such as the Intercultural Council and Pride Alliance at Senior School. Multiple events in all schools bring awareness to a variety of issues – Orange Shirt Day and International Women's Day are two such examples. In much of our work around EDI we continue to be guided by Dr. Moussa Magassa, a renowned specialist in EDI, intercultural capacity development and anti-racism education. With his assistance we are gathering survey data to learn from our community, and benefit from Dr. Magassa's workshops.
Goal: $15,000
This initiative for specialized girls' coaching and mentoring allows for effective role modelling while delivering quality, on-call coaching expertise to our female students. Coaches at all levels exert great influence on their players/athletes.
Goal: $75,000
In conjunction with the recent formation of an Environmental Sustainability Committee of the Board, our focus is also on creating opportunities for learning and student input to a program that will align with Floreat 2030. A Sustainability Council has been added for all students, and opportunities will be explored with humanities and science curriculums to provide expert speakers, trips, events and support for the Green Team. In addition, we will need to undertake an Energy Study to help us understand our current situation, and how to gather and measure data to inform our planning and programs for the years ahead. This is a major priority for the school, and one which our students will be increasingly engaged in helping us address.
Goal: $150,000
This fund of unrestricted donations has been extraordinarily useful to the Head of School in responding to unanticipated and urgent needs during the school year. The flexibility inherent to this fund allows for immediate response to unbudgeted items and has proven invaluable to ensuring the best possible learning opportunities for our students across both campuses.
Goal: $300,000
St. Michaels University School students receiving financial aid come to us with a wide diversity of backgrounds, and all with a strong commitment to school culture and excellence. A commitment to the importance of philanthropic support for this diversity and excellence is entrenched in our Strategic Plan under the sustainability of our school, now and in the future.
Goal: $200,000
The Wenman Pavilion dates to 1986 and the statue of long-time and legendary cricketer and Master, W.R.G. Wenman (US 1912–1971), was erected on the field in his honour in 2009. The sports Pavilion has fallen into disrepair over the past decade, and parts of the building were dangerous or unfit for use. This renovation project will see a new and expanded viewing deck for spectators, improved access to the building, and renovated washroom and change facilities. It will also be in regular use for events, meetings and alumni celebrations.
Goal: $20,000
In time for our Jubilee year celebrations, we are creating new locations to more publicly display some of our extensive archives collection to visiting alumni and other guests, while also celebrating what Jubilee means to us all. These displays will be located at both Richmond Road and Victoria Avenue to bring to life our rich history and traditions for students today. A book is soon to be published by the school, called "50 Treasures from our Archives," which will commemorate the Jubilee, and shine a spotlight on some of the most significant and memorable elements of our shared history over 115 years.
Goal: $250,000
An exciting and innovative classroom project at the Junior School will see SMUS testing the latest designs and pedagogical thinking relating to how children learn best. Building on a similar initiative in the Grade 4 classrooms, we will use our own Junior students to 'road test' furnishings, display systems and cabinets for student work, and group and independent furniture configurations, all of which have been shown to impact the learning environment and facilitate different strategies for teaching. This project will inform our educational philosophy related to new facilities in the next few years. (See also Junior School Pilot Project – Technology).
Goal: $45,000
Building on the facilities side of our Junior School Pilot project detailed above, the Junior School faculty and students will have the opportunity this coming year to test new, large-scale interactive monitors, video equipment, sound bars, and other related technology to experiment with multiple opportunities for technology integration aimed at K-5 students. Personalized learning, early acquisition of lifetime skills, AI and Smart Classrooms will all be explored by students and teachers alike, in advance of future technology decisions impacting the Junior School (see also Junior School Pilot Classroom project).
Goal: $100,000
Renovations already underway at Senior School in the Crothall building and the Science block will create large computer science, robotics and electronics laboratories. A digital media room is being designed with industry capable media workstations. These spaces and programs are also accessed by our Middle School students. A new Media Design 10 course is being added to focus on visual communication skills through graphic design and film. In the science building over the summer we have transformed one of the physics classrooms into a dynamic and STEAM-focused learning environment that will enable teachers and students to interact with new hardware and software, including interactive large monitors to collaborate, display and communicate this teaching and learning. We know this will be a great test classroom to inform us about potential new projects and learning spaces for the future. In conjunction with this, a new smaller learning space downstairs in the building is also being renovated.
Additional items that have been identified by our faculty include an industrial grade laser cutter, high quality camera equipment for the design production and media design programs, and much-needed robotics supplies and equipment, which will allow students to be more competitive in this field.
Goal: $75,000
All students in the Middle School are provided with laptop computers as an annual requirement within our technology plan. At the end of their time at Middle School students keep their individual laptops, ready for the next step in their journey. Giving students the right tools to allow for flexible learning modalities was crucial during the challenges of COVID-19 and will be an ongoing focus to maintain progress for students in Grades 6-8.
Next Steps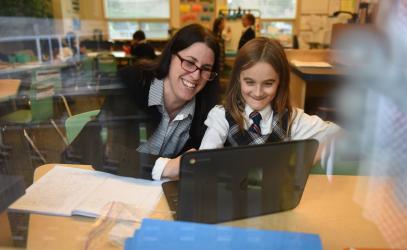 Learn how you can donate online, by mail or phone.
Learn more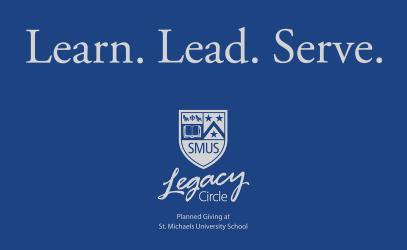 Remember SMUS in your will to make a gift of a lifetime to the students of St. Michaels University School.
Learn more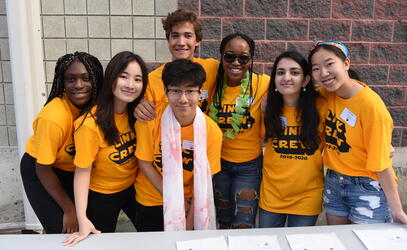 Reach out if you have questions or would like to discuss your giving options.
Contact us