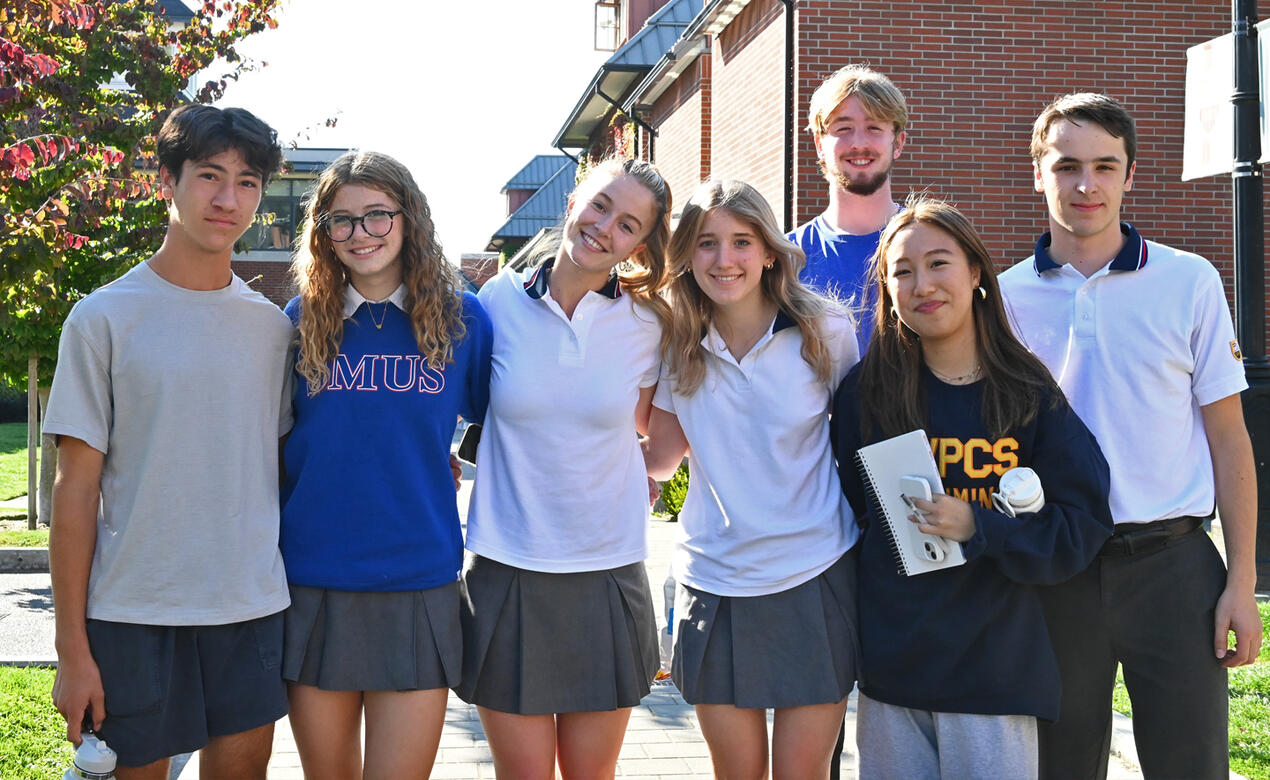 Last Friday afternoon, the annual Student Leadership Retreat got underway for a two-day, collaborative workshop series aimed at providing this year's prefects with valuable organization and leadership skills to set them up for success—both in their new roles and along their future career paths. 
The event kicked off in the Sun Centre on campus, a perfect space for goal-setting and blue-sky thinking, said Senior School Assistant Director Ritch Primrose, while a catchy playlist of tunes, including a Primrose favourite band, The Lumineers, greeted 35 of SMUS's newly elected prefects, heads of councils, and heads of houses, as well as organizers and coaching facilitators. 
Attendees noshed on fabulous food from Romeo's Pizza one night, and Saturday morning smorgasbord of burritos and yogurt parfaits catered by John Perkins, manager of The Howard Café. 
The weekend was workshop-based with a focus on leadership-skills development and planning for prefects in their senior roles now, and post-SMUS. "It was a full complement of good skills that they would need to be good leaders—or at least as much as they can learn over two days," said Primrose.
Workshops were 45 minutes long with 10 minutes allotted to each topic. Themes ranged from the mundane, such as how to run a meeting, how to take minutes, and how to set an agenda to meatier topics like how to coach people and give feedback, set goals, and how to prioritize, according to Primrose.
Sandwiched between workshops were icebreaker sessions, one in which students "recognize their peers who possess outstanding leadership and character traits," said Primrose, adding that another session had group members share a personal photo of their choosing from this past summer and had to explain its significance.
New Wellbeing Council
One of the exciting items that came out of the two-day retreat was the introduction of a new eighth council. 
The purpose of the new Wellbeing Council, said Primrose, is "to be a voice for the students and anything related to students' wellbeing."
He highlighted that "getting feedback around that is something we should be paying attention to."
The Role of the Prefect
Elected each spring by students and faculty alike, the 16 prefects and two head prefects are accountable for a lot. For starters, they're a conduit between learners and staff, overseeing all aspects of student life. Above all, great prefects make a difference in the lives of their fellow students. Representing the SMUS community, prefects are kind, open, present and available. They're seen as an approachable body whom other students feel they reach out to, talk to—especially kids in the Junior  and Middle schools.  Prefects ensure students' and faculty voices are heard. 
 
In other words, new prefects have big shoes to fill. There's a lot to learn and specific challenges to confront and, eventually, to overcome. 
These senior students may be top of the K-12 food chain but they're pretty green in their new roles; for many, it can be daunting knowing you have to master the art of public speaking and the expectations that go along with emceeing weekly Monday morning school assemblies.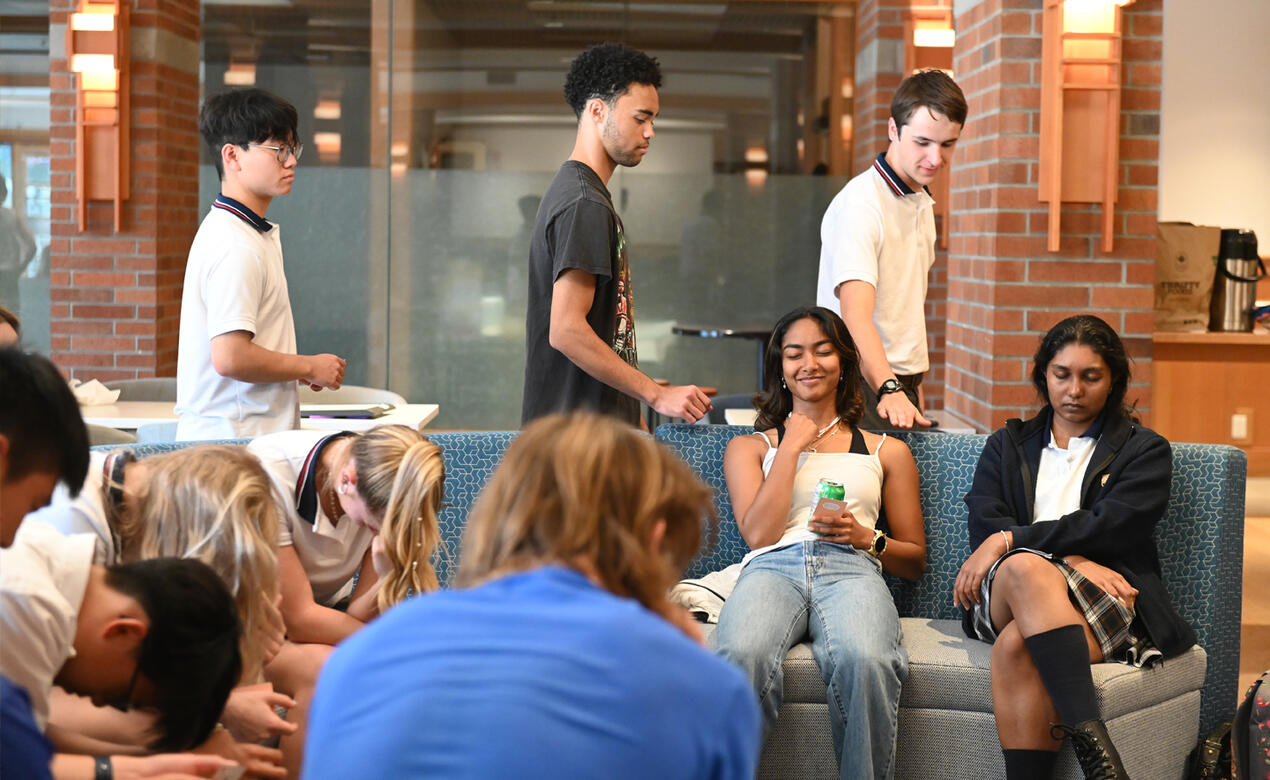 That's where Ritch Primrose and Ruth McGhee, Director of University Counselling, come in as senior-student senseis, if you will—to assuage speaking angst and coach these brave new leaders on how to get a fast handle on everything related to good governance and leadership skills.
 
Ritch's expertise involves modelling a self-directed approach. He meets with prefects weekly to coach them and support them through whatever they need to perform their jobs effectively. 
 
"We have a coaching approach at our school which involves a good reflective practice, asking open-ended questions, assuming that they already have the answers to a lot of the questions they have, while we guide them through finding solutions themselves," he explains. 
One scenario might be guiding prefects in preparation for hosting Monday assemblies—an event McGhee is passionate about. She led the Foundational Skills Workshop, aimed at imparting practical skills.
"We went through a range of things like short-and long-range planning, running a meeting, designing an agenda, and how to make a good announcement," and, McGhee's favourite: "how to give a good announcement at assembly without staring at your phone and mumbling into the microphone"
"I lose a year of my life for every student that stands up and mumbles into their telephone notes when addressing their message," she quips.
"Can you get up and tell me [your message] in 15 seconds…Be brief, be clear, and know your information well enough so you don't have to look at anything—let alone your phone. Please, don't bring your phone!"
 
That advice applies to whether you're giving a speech or chairing a meeting.
"They're real-world skills that they can take away from SMUS and apply in the work world," McGhee says, adding that for many students this workshop would be the first time they would see a physical meeting agenda in front of them.
"The reality is if you're organized and clear in your expectations of people on your team, your chances of success increase immeasurably. Because people know what's expected of them, and they know how to achieve what they want to achieve together, as a team. And, if you run a good meeting, people will know, and they will thank you."
McGhee was in attendance for this past Monday's assembly and says she was delighted to see her weekend training put into action.
"Two of the prefects got up to give an announcement and they did a great job. They employed the principles that we talked about on Friday. The first announcement out of the gate was a great one—so 'Good job!'"