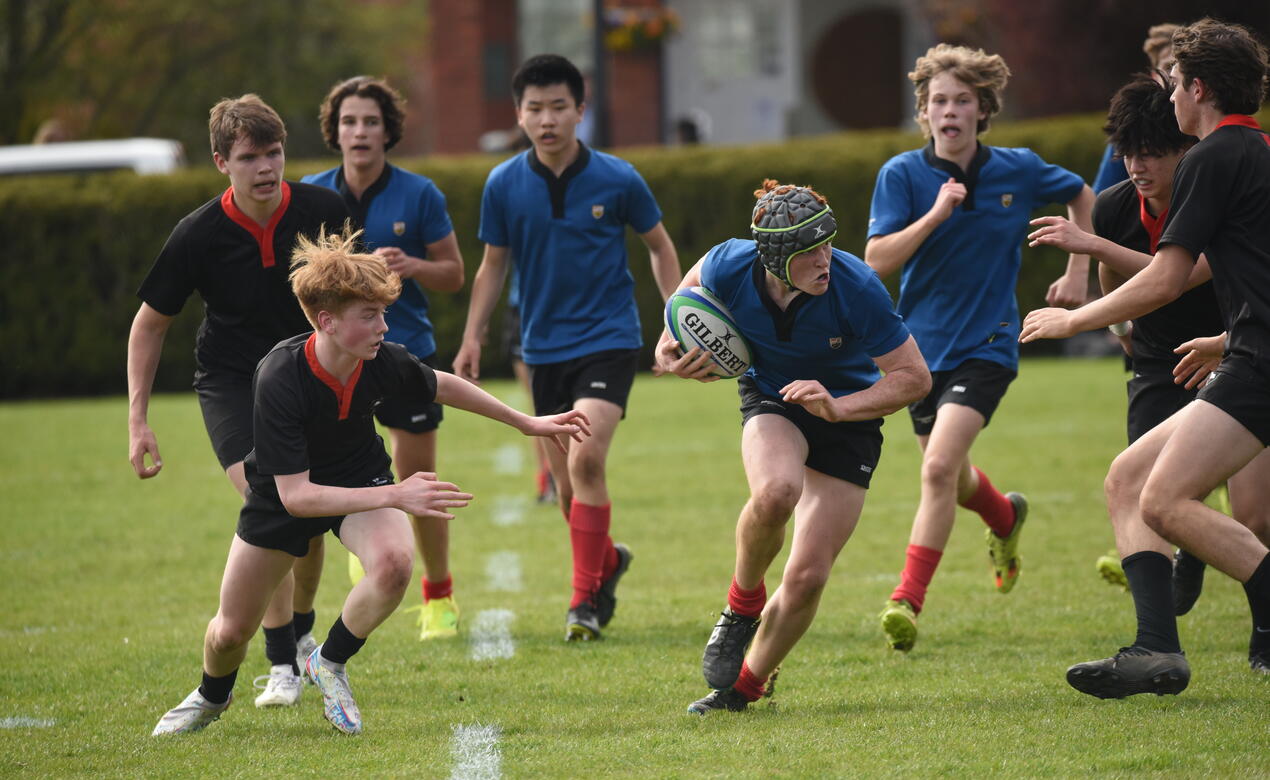 Fresh off the Spring Break holiday, multiple SMUS teams headed straight back into action.
Rowing
The rowing squad took part in the annual Maple Bay Regatta, held on Quamichan Lake, on April 9. Unfortunately, the event was marred to a degree by ever-shifting weather, with rain, hail, sun and strong winds making for very difficult racing conditions.
Competing against a variety of schools and clubs, SMUS claimed two gold medals in the Men's and Women's Novice 8+, four silvers and three bronzes.
In addition, for the first time ever, two boats qualified for the prestigious Windermere Regatta, set for mid-May in Seattle. Congratulations to both the Women's U19 4+ (Emma Curry, Lily Langtry, Kate LeRoy, Kerry Yao and Samantha Yee) and the Men's U19 4+ (Markus Muller, Owen Vincent, Xander Lelewski, Diego D'Lorm and Sydney Sugar).
For the full team, the next regatta takes place at Brentwood College on April 30 - May 1.
Squash
Meanwhile, the provincial squash championships took place in Vancouver. Kudos to Alex Brown and Christian Yuen, each of whom played superbly well in winning their respective U19 finals.
Also reaching the podium and capturing silver medals at U17 level were the brother and sister combination of Lucas and Sofia Quon. Likewise, in winning 13-11 in the deciding game, Anderson Brown claimed bronze in the U15 Boys event. Others who also performed strongly included Ryan Chow, Jamie Kim, Alden Weymar, and Katie Herring.
SMUS now looks forward to the last two events of the year. First up is the Jericho Jesters tournament and then the National championships.
Soccer
In soccer, the Junior Girls remained unbeaten in league play following a 2-0 victory vs Oak Bay. Strong defence negated all opposition scoring chances, while goals from Joss Olcen and Sophia Eiley paced the attack.
Games vs Stelly's and Belmont are on the docket for April 11 and 13.
At Senior Girls level, a brace from both Talia Pike and Makena Anderson paced the Blue Jags to a comprehensive league win at Mt. Douglas, with the team dropping Dover Bay 4-0 in the opening round of the UVic Invitational.
Unfortunately, a bevy of high quality, missed scoring chances and two late game defensive errors saw games against both Reynolds and Claremont go to penalty kick shootouts. Goalkeeper Eva Cuddihy, en route to a tournament All-Star selection, made several outstanding saves but they were not enough in what finished as one goal defeats.
SMUS returns to league action on April 12 and 14, against the same Reynolds and Claremont opponents.
Rugby
Rugby continued with the Junior and Senior Boys playing Shawnigan and Brentwood. The 1st XV dropped their two contests, scoring a number of lovely tries but struggling when not in possession. Josh Muwonge, Calum Webber-Smith and Eric Xiong played bravely, putting in countless tackles. A bust few weeks await the squad, with the Boot Game vs Oak Bay, an Alumni weekend tilt vs Collingwood and a Super Saturday match vs Robert Bateman on the cards in the next three weeks.
The Junior Boys continue to develop nicely. Behind the fine efforts of Enrique Gilardi Gutierrez, Savo Mrdjenovich and Nick Gordon, the team edged an absorbing contest vs Brentwood. While both teams' sides registered four tries, a second conversion by Jack Driscoll settled the affair.
Track and Field
The first of the weekly track and field meets took place on April 6 at Centennial Stadium, as athletes started preparations for the zone and provincial qualifiers later in the term.
A good number from SMUS enjoyed a taste of the action. Led by Brianne McLeish, Owen Sandquist-Sherman, and Molly Gramada, many took the opportunity to participate in particular events for the first time.
The second of a weekly series of competitions is set for April 13, again up at UVic.
Badminton
In badminton, SMUS opened league play with a 10-1 triumph vs Oak Bay. In a much more hotly contested encounter, the team, following an exciting win in Boys Doubles by Riley Torstensen and Andre Wen, slipped by Mt. Douglas 6-5.
This week features an exhibition match at St. Margaret's and the continuation of league vs Claremont.
Tennis
Finally, the SMUS Tennis team took advantage of some great weather in its opening match of the season vs Lambrick Park. A convincing 11-0 sweep hinted at some serious potential. Next week the players will look to maintain their early-season momentum against Oak Bay.
Vivat!