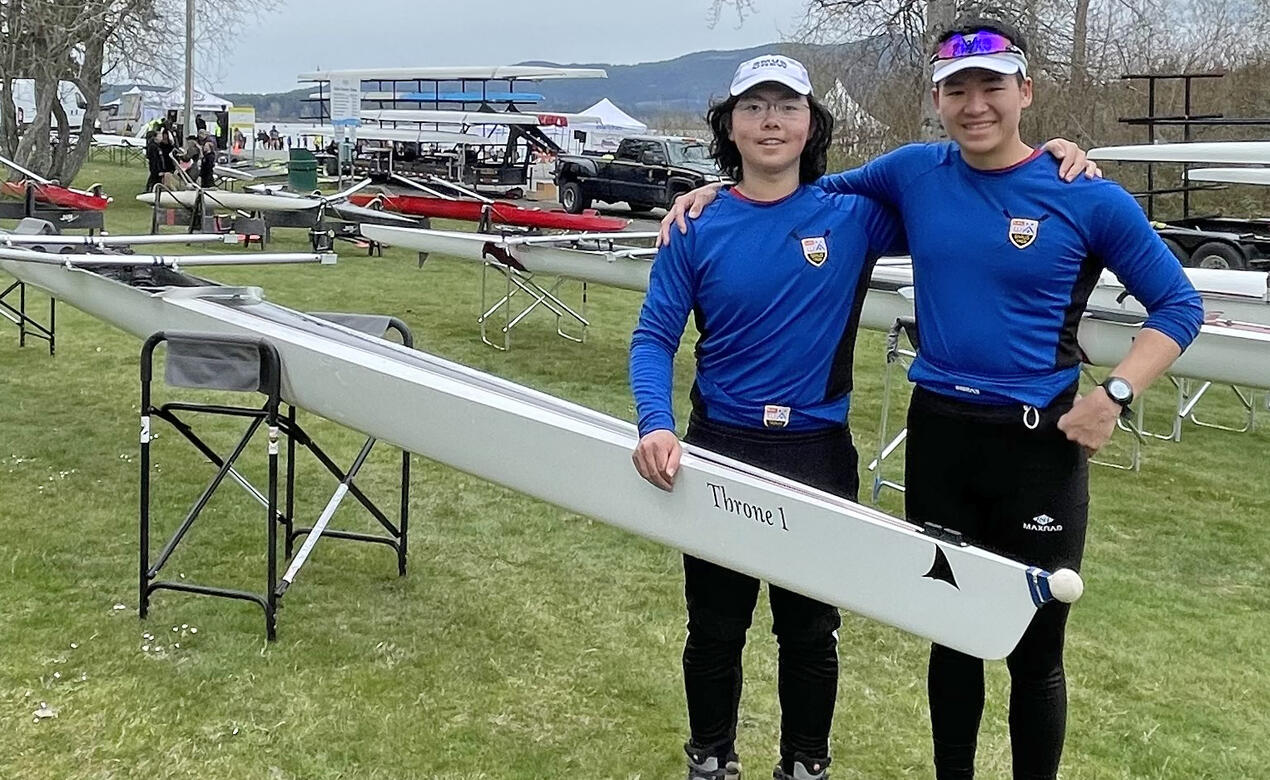 A very late start to the Spring term ensured a mad scramble as SMUS returned to various athletic competitions. Crammed schedules were the order of the day, as teams looked to clear a backlog of fixtures.
Badminton
Badminton moved smartly to the top of the City league, following wins over Claremont (7-4) and Parkland (11-0). Jaden Berger-North, Kyle Shek, Bella Lu and newcomer Trinity Tsui were all in top form. Next up is the SMUS-hosted ISA Tournament on Thursday, April 20.
Rowing
The rowing team opened its Spring regattas at Maple Bay on April 15 and 16. Eight clubs and schools from all across the Island enjoyed the opportunity to race on the new national 2,000-metre buoyed course. For the first time in several years, the weather cooperated, with forecasted rain and wind holding off.
Sixteen SMUS crews, in 10 events, turned in a solid overall performance. Reaching the podium were the U19 Women's 4X- who captured a silver medal. Finishing in third place in their respective events were the U19 Women's 8+, the U17 Women's 8+ and the U17 Women's 4X+.
Next up is the annual Brentwood Regatta, set for April 29-30.
Rugby
On the Rugby field, both boys teams swept two matches on return from the break. At the Junior Boys level, Peter Wang, Rhys Tuohy and Jack Driscoll all featured prominently in a comfortable victory versus a young and inexperienced Port Alberni side, with the Senior Boys following suit in their 43-19 win.
Things were far tighter two days later at Brentwood College School, with both SMUS teams needing to scramble back from two-try deficits to narrowly claim the spoils. The Juniors, down 12-0 early, recovered enough to take a 17-12 lead. Brentwood then scored to draw level, leaving captain Ewan Webber-Smith to register the winning try with only a minute to play. Des Grant and Theo Zeidler also dotted down for scores and ran strongly throughout. The Seniors also fell behind in the first half to a well-drilled Brentwood side. Slowly, SMUS came back into the game, finally securing enough possession to pressure the home defence. In the end, tallies by Carter Haddow and Martin Bures, both superbly converted from the right touchline by Matthew Bennett, proved to be the difference in a hard fought 14-10 victory.
The Seniors host Nanaimo on April 20, while a day later the Juniors enter a BC 7s Invitational in Surrey.
The Girls Rugby teams are off to a great start with our first exhibition in the city league this past Friday. This year, with 25-plus names on the roster we have registered two girls teams – yet another first for our school.
The Div. 1 team played Oak Bay and Claremont to narrow losses. In the Oak Bay tilt, the Jags started strong with early possession through 7 or 8 phases of play. Great ball retention at the breakdown lead to a solid team try and we held the lead at the half 10-5. SMUS was unable to hold on at the final whistle, losing 10-15. In the game against Claremont, SMUS started strong with an early 10-0 lead and some great play, but struggled to maintain possession. Line breaks and a solid offence by a strong Claremont side led to a narrow loss. 
Our Div. 2 team was led by captain Moe Ohara at their first home fixture. The first game against a strong and more experienced Reynolds side had the team on their heels as the opposition posted a handful of unanswered tallies. The SMUS girls rallied in the second game against Claremont's Div. 2 side. The game was characterized by some good back and forth with scores by both sides, and an even scoreline at the final whistle. 
Soccer
The Junior Girls Soccer team performed extremely well on limited practice time to draw 1-1 against Reynolds. Emily Wu enjoyed a strong outing in goal, supported by Isabelle LeRoy, Avery Geddes, Cate Pontefract and goal scorer Julia Rothwell.
 
Meanwhile, the Senior Girls remained unbeaten in league play, riding goal from Joss Olcen (2), Hollyn Withers, Sophia Eiley and Talia Pike to a 5-0 victory at Royal Bay. Then, the team split four matches at the UVic Invitational. After waves of pressure against Dover Bay, Maddy Albert finally notched the winner, which moved the Jags into the A Division quarterfinal versus eventual tournament winner Archbishop McDonald from Alberta.
In a very fast, physical contest, SMUS failed to take their scoring chances en route to a 2-0 loss. Then, following a 3-1 win over Royal Bay, the team met Edmonton's Harry Ainlay High in the consolation final. Thanks to goals from Maddy Albert and Makena Anderson, the game ended 2-2, with the Jags then losing the penalty shootout in the 6th round. Congratulations to Tayte Dowling who deputized in net with regular keeper Eva Cuddihy unavailable. Also, Pike earned team MVP honours.
Squash
The squash team competed April 14-16 at the BC Junior Closed Championships in Vancouver. Of note, Anderson Brown, just in Grade 9, placed 5th in the Boys U17 Gold division, upsetting two highly ranked opponents on his way to jumping up the provincial rankings. Also, Lucas Quon finished third in the Boys U19 event, while Grade 7 student  Carsten R. did the same at U13 level. Then, Keith Alexander, Kevin Yin and Enzo S. took all three medal placings at Boys U15 Silver level. Charlize Keens also played consistently well to claim second place in Girls U19 Silver event.
Congratulations to Brown, Quon, Roshan Pathak and Mila L. who will travel to Montreal May 6-10 for the Junior Nationals.
Track and Field
SMUS took part in the first meet of the season, April 12 at UVic's Centennial Stadium. Both the Senior Girls and Senior Boys Medley relay teams finished second in their races, while Owen Sandquist-Sherman (Junior Boys 1,500m) and Dominic Ely (Junior Boys 400m) also captured silver medals. Henry Morton also reached the podium with a third-place finish in the Senior Boys 1,500m.