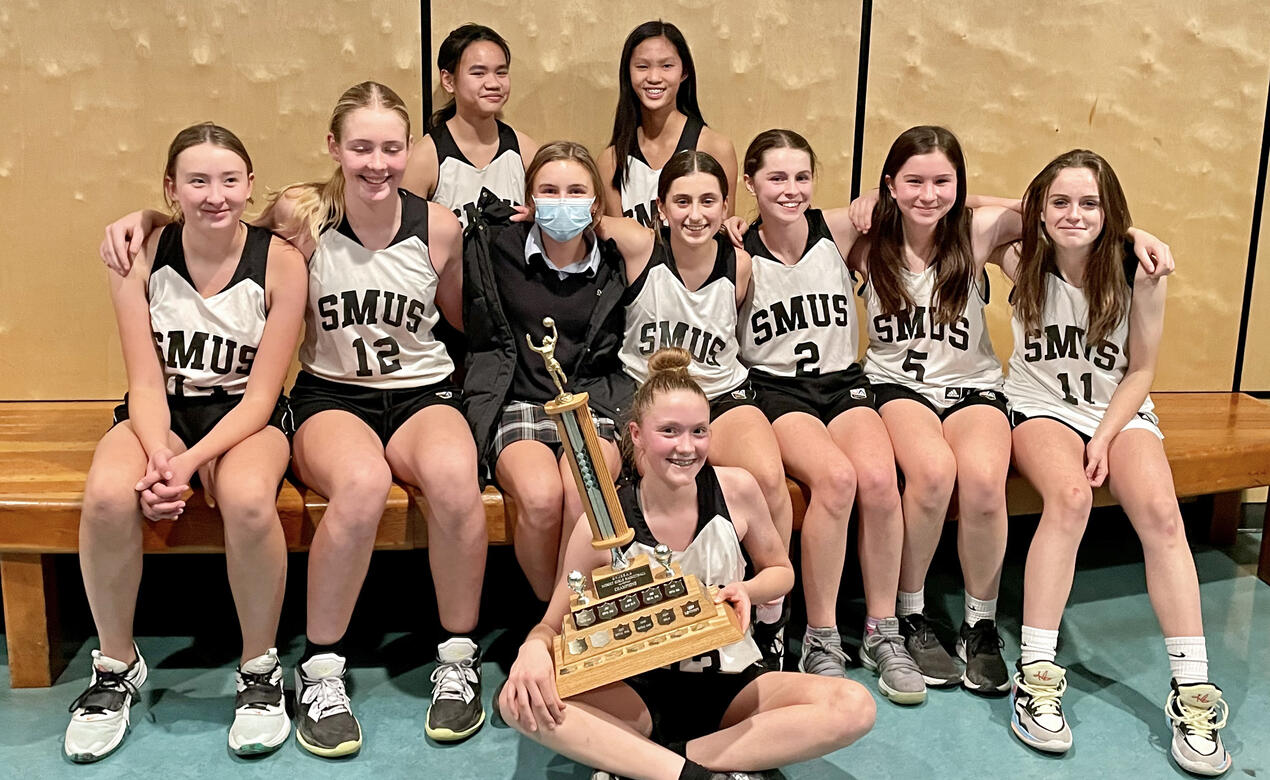 The fall term athletic season officially came to an end as the final event of the season was held.
Soccer
Fresh off scrambling to a third-place Island finish, the Senior Boys Soccer team traveled to Burnaby to take part in the BC AA Championships where they opened pool play against Burnsview. Down early, the Blue Jags fought back to 2-2 thanks to goals from Sam Bruninx and Taka Ohara. However, some problems then allowed the Griffins to gain the upper hand and an eventual 4-2 victory.
This result placed SMUS in a difficult position, with prohibitive tournament favourite Notre Dame next up. Set piece errors, in the 42nd and 47th minutes, resulted in costly goals. Nonetheless, the team battled impressively for the full 70 minutes despite the 2-0 defeat. Significantly, this was easily Notre Dame's most competitive match, as they romped to the title averaging well over five goals in their other four contests.
 
SMUS did finish the tournament in style, easily defeating Duchess Park and WL Seaton in consolation play before a handy 3-2 victory over Sands confirmed a 9th place overall finish. Kian Colgate scored four times, while Joe MacKenzie-Elrick performed strongly. Congratulations also to senior midfielder Matt Bennett on his well-deserved nomination to the Commissioner's 16.
Basketball
SMUS basketball teams saw a successful two-week stretch, as some Senior School teams began their season on a high note, while Middle School teams ended theirs on just as high a note. 
At Middle School level, the Grade 8 Girls Basketball team captured the City Championship with a decisive win over Gordon Head Middle School. Led by the strong play of Elspeth R., the Blue Jags pulled away in the second quarter, heading into halftime with a comfortable 10 point lead. Excellent interior defense and rebounding by Helen M. anchored the squad and help to shutdown the opposition. Bella M. worked tirelessly on defense and had some key baskets. Hannah K. was a steady force on both ends of the court. Isabella P. and Mimi I. played well in the backcourt to take care of the basketball and play tough defense. Mikaela D., Elizabeth H. and Mia W. combined for several baskets and a solid rebounding effort. Sadly, Anna B. was injured for the game, but led our bench cheering section. SMUS went on to win 38-22. Congratulations to all team members. With the victory, the team qualified for the BC tournament in early March.
Two SMUS teams competed in the Grade 6/7 competitive division this year, with both teams bringing home medals in their City Championships.
The Grade 6 Girls team lost their only game of the season to Central Middle School in the City final to win silver, while the Grade 7 Girls team won the third-place playoff by a resounding 20 points to win bronze. The team also went nearly undefeated this season, losing only once to Central in the semi-final match. Amelia E. and Addie T. registered big points, and Sydney M. put in a solid defensive shift.
At the Senior School, both the Senior Girls and Senior Boys, both ranked No. 3 in the most recent BC polls, continued their respective preparation via practices and a series of scrimmages. At the Junior level, SMUS enjoyed a banner start in winning three tournaments.
First, the Grade 9 Boys won at Oak Bay, comfortably defeating both the hosts and Pacific Christmas School in the first two rounds. Dani Pelyhe led the attack, well supported by Henry Williamson, Eliot Tait and Declan Longridge. In the final, Williamson, normally a forward, played particularly well at point guard while wing Will Zielinski registered 17 points in the 52-37 come-from-behind win.
At the Spectrum Tip Off tournament, the Junior Boys enjoyed three challenging matchups, but came through well in beating the hosts, Belmont and then Lambrick Park to claim the title.
Key three-point baskets allowed the Jags to reverse early deficits in two of the three games, with Davis Hardy and Will Porter prominent. In addition to adding some timely hoops of his own, guard Zaki Pelyhe played excellent defence. Jack Driscoll ran the offence effectively while newcomer Ewan Webber-Smith provided a physical inside presence.
Not to be outdone, the Junior Girls likewise picked up gold medals and a championship trophy. Comfortable victories over Reynolds, Alberni and Belmont propelled the team into the final against Pacific Christian School. In this game, SMUS allowed a handy fourth-quarter lead to slip, but hung on to win 49-43. Mya Beare, Ellie Lobb, and Charlie Anderson hit any number of three pointers, while Joss Olcen logged huge minutes and dominated on the defensive end. Likewise, posts Olivia Pickering and Cate Pontefract both guarded and rebounded strongly.
All teams will be busy through to Christmas, with league play in all divisions in addition to several more Invitational tournaments.
Rugby
Grade 12 athletes Matt Bennett and Skye Farish, and alum Ty Driscoll '23, will travel to New Zealand this weekend to represent BC at the World School Sevens tournament. Good luck!
Grade 10 athlete Molly Gramada and Grade 11 athlete Moe Ohara, members of the U16 Castaway Wanderers, helped the club team to a silver-medal celebration last weekend in the Provincial U16 Club final.
Squash
Good luck to Nicole Bunyan '11, Brooke Herring '18 and SMUS squash coach Vicky Lust, who are en route to Egypt for the Women's World Squash Team Championships 2022. Nicole is one of five Canadian athletes competing at the tournament, while Vicky is coach of the national-level team.  Brooke is competing for Team Japan.
Vivat!