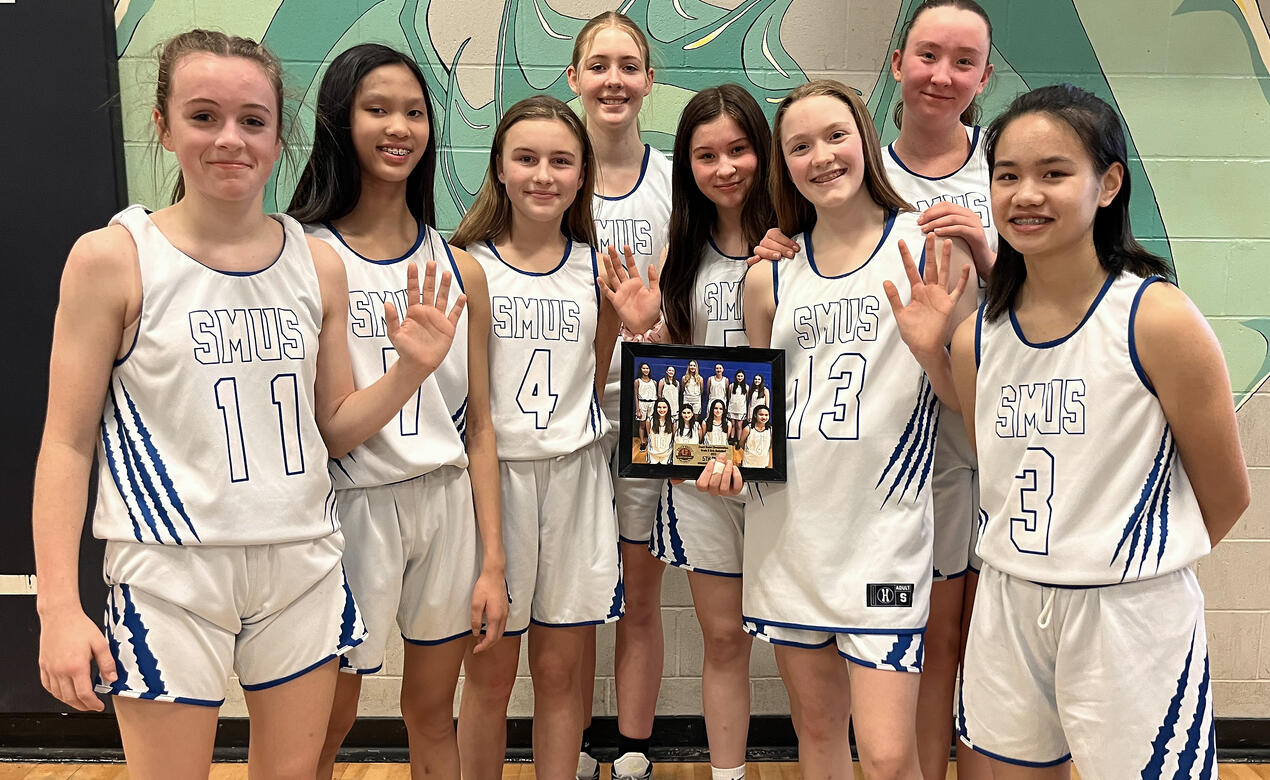 A very successful and demanding week featured the conclusion of the basketball season, with four SMUS teams on the mainland competing in BC championships, and the first spring competitions for some of our rowing, rugby and squash teams.
Basketball
First, the Senior Girls, ranked No. 1 at the AAA level, traveled to Langley. With a potential finals matchup versus No. 2 Abbotsford always looming on the horizon, SMUS did its part in moving smoothly past W.L. Seaton, Little Flower Academy and then, at the semifinal level, South Kamloops.
The final against Abbotsford certainly lived up to expectations. The two teams fought hammer and tong from the opening whistle, with the Panthers, led by its star guard, opening up a 30-20 lead near the half.
Undeterred, the Blue Jags fought back to within six points at intermission, then used the momentum to sweep into a five-point advantage (53-48) with seven minutes remaining.
Alas, then came a key surge by Abbotsford, with 12 unanswered points providing some separation. Huge hoops from Alex Motherwell kept SMUS in touch, but, in the end, it was not to be, with the Panthers claiming the title by virtue of a 67-64 victory.
For SMUS, Motherwell was named to the first All-Star team, in addition to being chosen Best Defensive Player. Makena Anderson, though heavily marked throughout, closed out a stellar high school career by also winning All-Star recognition. Likewise, point guard Avery Geddes, wing Maddy Albert and post Chioma Duru all contributed significantly to an extremely well-played and exciting championship game. 
Meanwhile, the Junior Girls competed in their own BC event, dropping Riverside in round 1 action. However, missed free throws proved costly in a heartbreaking 47-44 "Sweet 16" defeat to #4 ranked Holy Cross. The squad did recover to then beat Sir Alexander Mackenzie Secondary and Brittania before falling to Handsworth. In the end, the 10th place overall finish did really reflect the strides made by the entire team during the season. Led by the high-scoring Charlie Anderson, SMUS improved dramatically, with several other players also set to contribute a great deal at Senior level in 2023-24.
Then, the Grade 8 Girls took to the floor at their own BC tournament. Despite a ferry delay, the Blue Jags used a decided size advantage to first subdue Clayburn Middle School 61-47. Player of the game Elspeth R. led all scorers with 25 points. 
However, a formidable quarterfinal opponent then awaited SMUS, with Semiahmoo living up to its reputation with an impressive transition and shooting performance. Next up was a quick Crofton House team. However, with Helen M. dominating inside, the Blue Jags won comfortably.
This victory placed the team in a battle for 5th place, with Holy Cross as the opponent. While the Crusaders fired away from beyond the arc, SMUS, with pivot Mikaela D. well to the fore, kept pounding the ball inside to confirm a 55-43 triumph.
Congratulations to Elspeth R. on being named a tournament All-Star.
Next, the Grade 9 Boys won three of four games at their provincial tournament. After dropping Rutland in the round of 16 match, SMUS took Collingwood right to the wire before falling 55-52. A late comeback attempt was unsuccessful, with a three-point shot at the buzzer just spinning out. However, the team recovered well, playing some lovely hoops in dropping both G.W. Graham and Kitsilano en route to a 5th place overall finish. Guard Dani Pelyhe and forward Eliot Tait were selected as All-Stars. 
Rugby
The Senior Boys enjoyed two very good pre-season games versus Oak Bay and Claremont. Up front, newcomers Madison Li, MudMee Khankham and Hugo Accad each enjoyed successful debuts, while in the backs Sam Gramada and Nick Gordon featured prominently. The squad, along with the Junior Boys side, has a busy close to the term, with games against Brentwood and St. Maximilian Kolbe Catholic High School (Ontario) set for March 9 and 14.
Likewise, the Girls program, under the direction of Chris May and Ian Farish, also hosts St. Maximilian Kolbe. The team returns many players from a year ago and will definitely be a serious 7s contender at the local and BC levels.
Rowing
Rowing also got underway March 4-5, with some 20 schools and clubs from all over the Pacific Northwest battling strong winds and chilly temperatures in the Elk Lake Spring Regatta. SMUS crews achieved six podium finishes, with the U19 Women's Novice 4+ and U19 Women's Novice 8+ winning gold medals.
Many on the team will remain at school for the first few days of spring break for a training camp, with an eye to preparing for the next regatta on the circuit, April 15, at Quamichan Lake.
Squash
The Squash team took part in the Jericho Jr. Open in Vancouver from March 3-5. Ten Senior School athletes competed, with four claiming podium finishes. Notable results included Amya Naimi 1st in Girls U17 Gold, Anderson Brown 2nd in Boys U17 Gold, Rory Davison 2nd in Boys U19 Silver and Malcolm Hull 3rd in Boys U19 Silver. Also, SMUS alum Ryan Chow '22 placed 3rd in Boys U19 Gold.
Vivat!