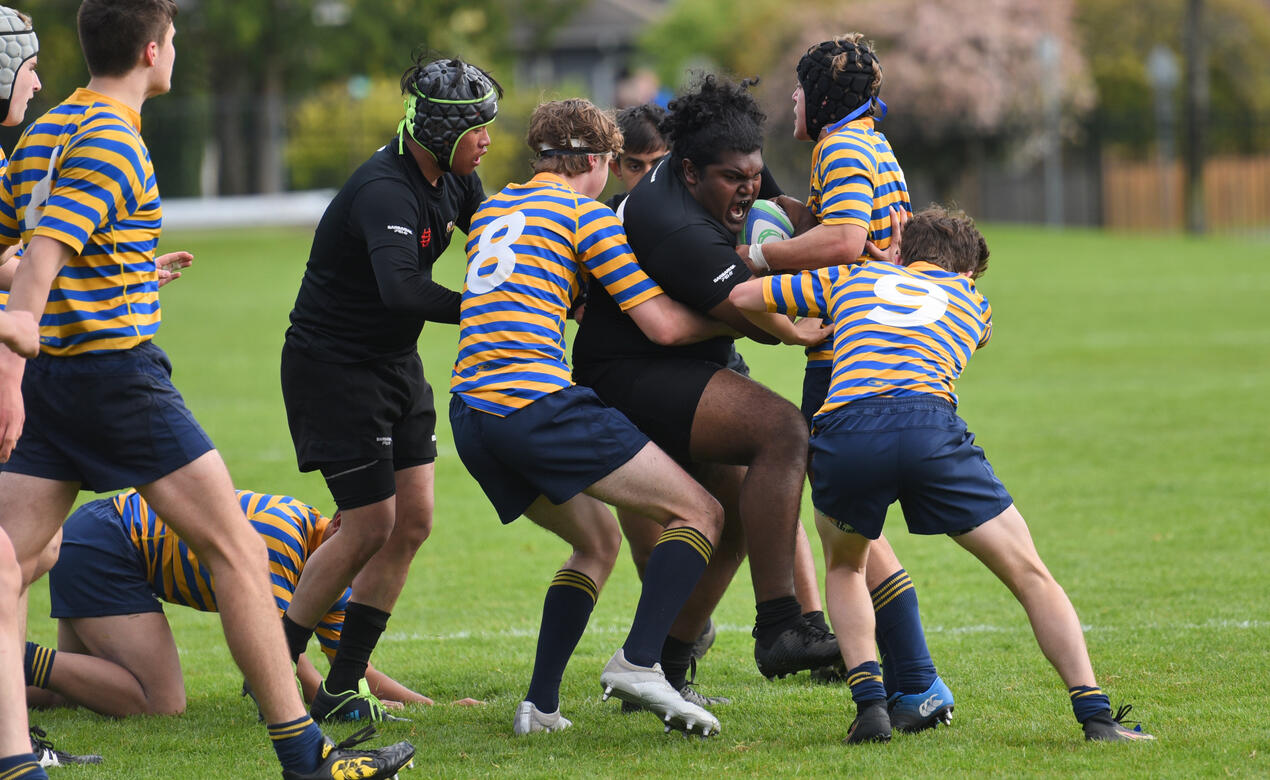 It has been an active couple of weeks for our athletes competing in spring sports.
Badminton
Badminton enjoyed a busy two weeks. With Claire Boonsermmit, Chicha Cheepcheawcharnchai, Riley Torstensen, Erik Lin, Kyle Berger-North and Patty Boonsermmit all in good form, the squad won two of three league matches, defeating Claremont and Oak Bay 9-2, but falling 7-4 to Mount Douglas.
At a hotly contested ISA tournament, the boys claimed a silver medal finish, with the third place girls also reaching the podium.
SMUS then opened city playoffs with another strong effort versus Oak Bay, running the table in an 11-0 win. Manami Otani celebrated the occasion with an excellent performance on singles.
Rowing
SMUS took part in the 50th Annual Brentwood Regatta, a three-day event featuring more than 1,000 athletes representing club and school teams from BC, Ontario, Washington, and Oregon.
While unpredictable weather, with everything from blinding sunshine to rain, fog, and strong winds, necessitated various delays, organizers managed to see the event through to completion. 
Overall, SMUS enjoyed a very solid performance. Twenty-four crews placed in the top eight of their events, with 13 reaching the podium. Of particular note were the performances of the U19 Novice Women 4X+, the U19 Novice Women 8+, and U19 Women 63kg 4+, all of whom captured gold medals.
Four boats, the U19 Men 4+, U17 Women 63kg 8+, U17 Women 63kg 4+ and U19 Men 72kg 4+ won silver. In addition, six crews, the U19 Novice Men 8+, U17 Men 4+, U19 Novice Men 4X+, U19 JV Men 4+, U17 Men 72kg 4+ and U17 Women 63kg 4+ finished with bronze.
Two SMUS crews head for Seattle this weekend for the prestigious Windemere Cup. Then, following the May 13-15 Shawnigan Lake Regatta, final crew selections will be made for the Canadian Secondary Schools Rowing Association national championships in Ontario.
Rugby
On the Rugby front, the Girls 7s squad enjoyed a successful outing at Shawnigan Lake School, winning two of three matches. While a series of handling errors necessitated a lot of tackling in a 42-7 loss to GP Vanier, the Blue Jags bounced back nicely to edge both Carihi and Cowichan. Skye Farish threatened all afternoon on attack, with Josefina Ingimundson also prominent. Other stand-outs included Gaby Shipley and Delaney Arkell.
The team then took part in a Canada Next Gen event, held April 29 at UVic. A win versus Stelly's balanced a defeat to top-seeded Mark Isfeld. On Alumni Weekend Saturday, with recent grads Jessica Nonay '20 and Kenzi Farish '20 suiting up as opposing captains, all the players enjoyed a highly competitive intrasquad outing.
League play begins May 6, with fixtures versus Esquimalt and Oak Bay.
Meanwhile, the Senior Boys Rugby team entered a demanding two week stretch of play, first snatching a 33-26 victory over Claremont on April 19. Three tries in the final nine minutes were required to overcome a 14-point deficit. Scrum half Louis Chang helped himself to a try and four conversions, while flankers Calum Webber-Smith and Eric Xiong covered acres on defence and carried the ball strongly.
Seven days later SMUS then battled rival Oak Bay in the annual Boot Game. A close and hard-fought battle saw the host Barbarians make better use of a strong wind en route to a 29-8 triumph. Nonetheless, the Blue Jags forward pack, while struggling in the lineout, gave as good as they got, with Carter Haddow scoring an excellent try.  
On Alumni Weekend, SMUS looked forward to a tussle with BC AA No. 1-ranked Collingwood. An even first half had the visitors, perhaps somewhat fortunately, in front 19-10. However, the Cavaliers then flexed their muscles after the break, ruthlessly capitalizing on any and all home errors to run out comfortable winners.
In the same time frame, the Junior Boys lost to Oak Bay in league action but rebounded versus Shawnigan Lake. Savo Mrdjenovich, Ewan Webber-Smith and Enrique Gilardi Gutierrez continued their fine form, with lock Liam Hoole also impressing with some powerful runs.
At the Middle School level, the Grade 6/7 team, led by Mateo L., Ben K., Seb E., Noah W. and Fraser T., defeated Cedar Hill but lost narrowly to Glanford and Monterey. Game understanding continued to improve, as did tackling, with the latter skill to remain a focus for the remainder of the season. 
The Grade 7/8 team produced sound wins over Arbutus, Lansdowne and Shoreline, with Theo E., Jordan M., Tom I. and Quinn M. performing well.
The Grade 6/7 Girls team played their first games of the season at Royal Oak against the hosts and Cedar Hill. Though outmatched in rugby experience, the whole team, led by Addie T. and Bella M., showed great resilience and growth.
Sailing
With the SMUS Sailing team, 24 sailors across Grades 9-12 are learning the basics of how to sail and how to race. While the first three sessions at Royal Victoria Yacht Club were hampered by high winds, all the students were eventually able to get out on the water and practise steering and sail trim.
The first regatta is set for Saturday May 14.
Soccer
Girls soccer took pride of place over the past two weeks, with the Senior Girls Soccer team in imposing form.
Indeed, the Blue Jags enjoyed a perfect run, winning eight matches on the trot. The team scored 21 goals without reply in league victories over Oak Bay, Belmont, Lambrick Park and Glenlyon Norfolk School, and then a successful defence of the ISA championship.
Goalkeeper Eva Cuddihy continued her outstanding play in registering multiple shutouts, well-supported by Allegra Nelson, Charlotte Hardy, Sophie Olcen and Amanda Adams in the backline.
Rebecca Stone was again a workhorse in midfield, while strikers Brianne McLeish, Talia Pike and Makena Anderson paced the attack.
SMUS then completed league play unbeaten, thanks to a pair of 3-0 victories over Lambrick Park and GNS. The team now embarks on what promises to be a successful playoff run, with the local Ryan Cup competition set to start May 5 at UVic. The Blue Jags will also start as top seed in the Island AA tournament on May 16-17.
With the Junior Girls, a bevy of scoring chances were unsuccessful in what ended a 2-0 away defeat to Reynolds. However, though not without some nervy moments, the Blue Jags secured a 1-1 draw versus Spectrum. This single point ensured the team a first-place league finish, with city playoffs set to begin May 4.
Squash
SMUS continued its recent fine form at the Jericho Gold tournament in Vancouver. Roshan Pathak, Stuart Kerr and Alex Brown all turned in excellent efforts, while Anderson Brown, Katie Herring and Lucas Quon won their respective divisions. The team now takes aim at the National Championships, set to be played in Victoria in a few weeks' time.
Tennis
The Tennis team battled impressively at the ISAs. Led by Paige Rothwell and Bianca Toaxen, the SMUS girls beat Crofton House, Shawnigan and Collingwood to reach the tournament final. Once there, they were edged out by York House in a closely fought final.
On the boys side, with juniors Sam Hamidian and Robert Huttegger to the fore, the Blue Jags finished in 3rd place, defeating Mulgrave but falling narrowly to Shawnigan Lake and eventual champions St. George's.
Next up was Glenlyon Norfolk School in the city semi-finals. The match was competitive from the start, with SMUS was able to capitalize from a huge doubles win by Nicole Meyers and Maddy Wilson. This set the tone for an 8-3 victory and a match versus Mount Douglas in the final on May 4.
The team then moves on to the full Island tournament in Mill Bay on May 9.
Track and Field
Blustery, cold weather impacted round three of the local track and field competition. Nonetheless, a good number of SMUS athletes produced solid results in a wide variety of events.
Of particular note were the performances of Leupold Wang and his brother LeRoy. The former captured both the junior high jump (1.7 m) and long jump (5.2 m) titles, with the latter claiming gold in the senior high jump (1.8 m).
Vivat!