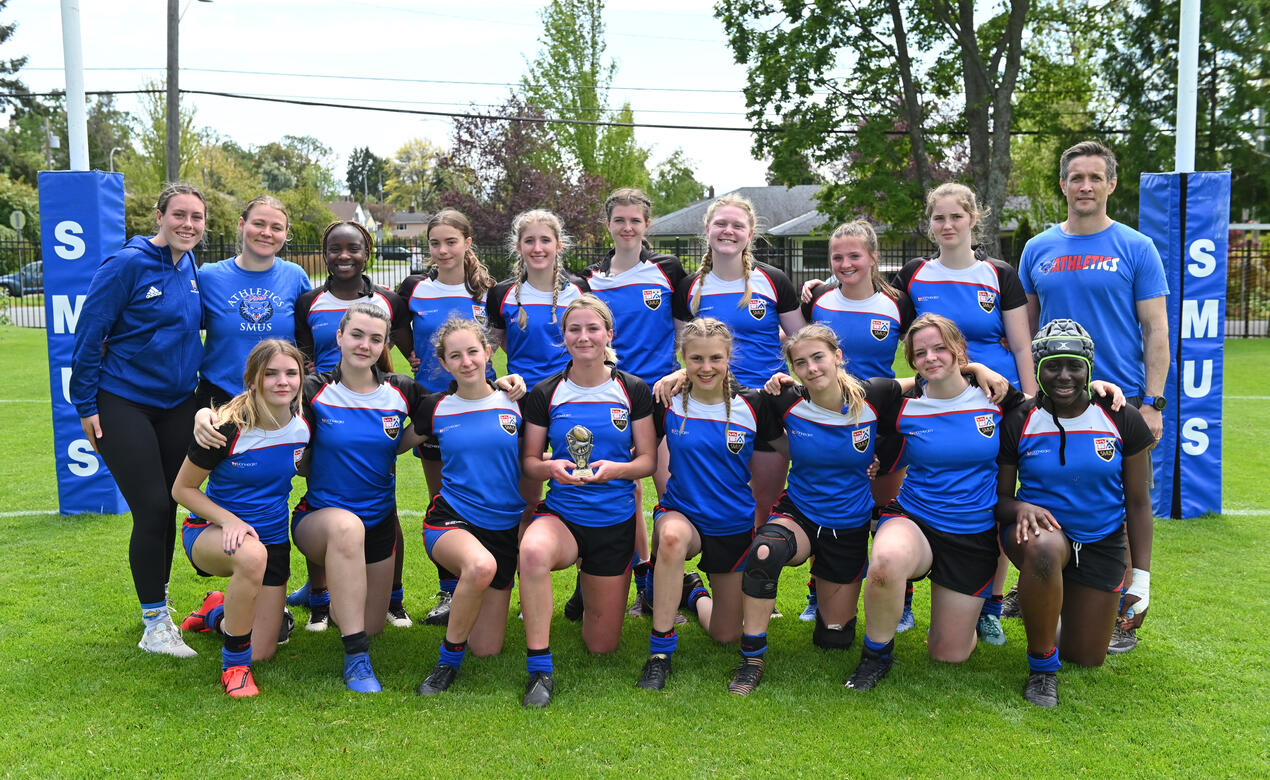 In a week featuring some wild weather, multiple SMUS teams took part in various Island finals. As expected, there were some outstanding performances, in addition to a couple of finals that went down to the final play.
Golf
High winds played havoc at the Island Golf tournament, held May 17-18 at Arbutus Ridge Golf Course. Low scores were nearly impossible, though Jay Park played extremely well. Luis Jesus Cortina Anaya, Cameron Bono and Hanryck Brar also demonstrated considerable improvement. Unfortunately, a sixth place overall finish left SMUS one position away from qualifying for the BCs.
Rugby
In rugby, the Senior Girls 7s team hosted Islands and romped through pool play with decisive victories over Esquimalt, Spectrum and Carihi. Then, in a very entertaining semi-final, SMUS, in front of a bumper home crowd, had the measure of Oak Bay 24-10, with Skye Farish in fine form.
The final, versus crosstown rival Claremont, was also on a knife edge. Two glorious first-half scoring chances were unsuccessful, with the Spartans then able to extend their lead to 12-0 after the break. A Farish score and conversion drew SMUS close, while a storming run by Chioma Duru also produced a try. However, the comeback was not to be in what finished a 19-14 defeat.
Both teams now await the final draw for the full provincial championships, to be played June 2-3 in Abbotsford.
On the boys' side, there was less joy, as the Senior Boys Rugby team was well beaten in their Island final by Brentwood. Two early scores from Brentwood were the perfect start, with SMUS unable to gain any traction in return. Centres Alex Liu and Dave Duru ran and tackled all game long, with captain Eric Xiong also prominent.
The Blue Jags now wait on final BC seedings and the draw for the June 1-4 provincial AA tournament in Abbotsford.
At Middle School level, both the Grade 6/7 Girls and Boys teams completed their seasons. In a Jamboree held at Shoreline, SMUS displayed tenacity and spirit against more experienced opposition, ably led by Bella M., Isabella P. and Amelia E.
 
The boys entered two teams in the City finals, both performing extremely well in the windy conditions. The development group improved in leaps and bounds through the afternoon, while the A squad produced some tremendous running rugby and some superbly committed defence. Led by Josh H., Remy A. and Noah W., SMUS went unbeaten, thanks to some tremendous running rugby and ferocious tackling. 
The Grade 7/8 Boys enjoyed a week of preparation prior to hosting their City tournament, with the Bruce Kuklinski trophy at stake.
Soccer
The Senior Girls Soccer team moved smartly through pool play in their Island championship, held May 16-17 at UVic. Strong winds proved to be something of a leveler in all games, with SMUS, after a 2-0 win versus Brentwood, needing a late marker by Talia Pike to squeeze by a pesky Edward Milne outfit.
In the deciding pool game, effectively a semifinal, the Jags, thanks to goals from Lauren Withers and Sophia Eiley, and a tremendous all-round performance by Amanda Adams, accounted for Mark Isfeld 2-1.
This result moved the team into the final versus local rival Lambrick Park. To the Lions' great credit, they notched two early markers with clever long-range shots. These proved to be the difference, despite a huge SMUS edge in terms of territory, pressure and possession. Crosses rained into the penalty area for the better part of 70 minutes, while multiple shots on goal and numerous goal mouth scrambles produced nothing. In the end, a Brianne McLeish penalty kick in the final minute reduced the score line to 2-1, but it was not enough.
Nonetheless, SMUS looks forward to the BC AA Tournament, set for June 2-4 in Burnaby.
Track and Field
In track and field, the Blue Jags set the early standard, making light of howling winds that, at times, approached 100 km/h. The hugely impressive Tion McLeish laid down a marker with three outstanding efforts, capturing gold medals in the 1,500 m, 2,000 m and 3,000 m steeplechase events. Not surprisingly, he was named the Island meet's Most Outstanding Performer.
With LeRoy Wang finishing first in high jump and also medaling in the long and triple jumps, Calum Webber-Smith winning the 400 m hurdles, and the respective relay teams all running solidly, SMUS claimed first place overall in the Senior Boys division, registering 113 points to knock off perennial favourites Oak Bay.
Other top-five finishers who qualified for the June 9-11 provincials in Langley, either at Senior or Junior level, included Ma'an Al-Hajjaj in the 400 m and 800 m, Owen Sandquist-Sherman in both the 1,500 m and 3,000 m, and Daniel Benjamin and Geoff Lei in the 100 m hurdles.
Abby McLeish-Shaw led the way for the Girls squad.
Other school teams looking ahead to major competitions include Tennis, which starts its BCs in Vancouver today (May 26-28), while the Badminton provincials run June 2-4 in Richmond. Rowing travels east to St. Catharines, Ontario for the National Championships June 2-5.
Vivat!